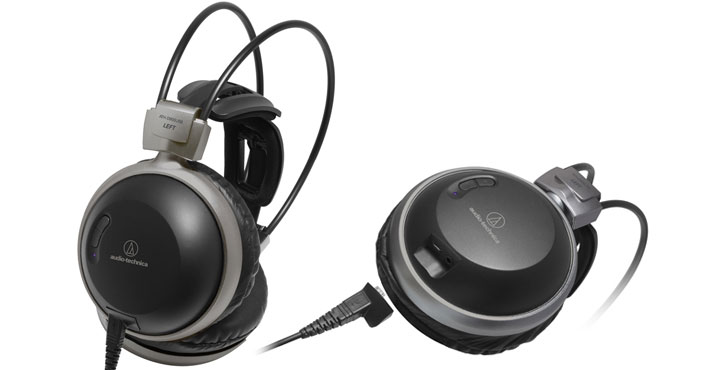 Audio Technica is a well-known brand in the audiophile community and even audiophiles who don't like their sound signature still respect them and their abilities. This is why when Audio Technica comes out and says that that are going to do the impossible – create a USB headset that will be good enough to satisfy even audiophiles – people sit up and take notice.
Specifically, Audio Technica just announced ATH-D900USB headset – slated for February 2014 release – will be the first pair of headphones to be equipped with a 24-bit USB DAC.  This pair of cans have built a high-performance USB DAC and headphone amplifier right into the left ear cup of their latest creation. This DAC relies upon Burr-Brown PCM1791 OP-AMPS and has the electric circuitry shielded to minimize EMI noise that reaches the massive 53mm drivers.
This configuration is rated for a very good SNR of over 95dB and 5 – 35,000 Hz frequencies. As with all high quality USB stereo headsets, these cans are capable of handling up to lossless 24-bit 192kHz audio with USB asynchronous mode support.
In addition to lossless USB streaming, the 32ohm headphones can be hooked up to an analog source via 3.5mm jack by swapping out the USB with a 3.5mm stereo cable. Rounding out its features is a built in volume controller – though this will only work in USB mode – and Audio Techinca's famous 3D wing support which allows for a form fitting design that is both secure and comfortable.
Unfortunately the ATH-D900USB headphones are set to have a MSRP of approximately $380 or about a $100 more than the analog ATH-D900's asking price. Keep in mind though that these audiophile-grade cans come with an integrated DAC to justify the price tag.