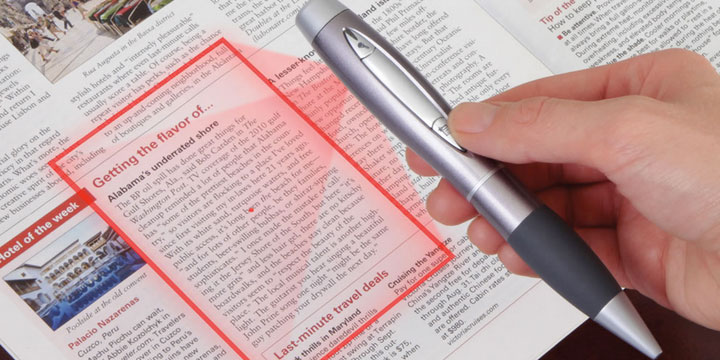 While multi-function pens are pretty much a dime a dozen these days, it is not everyday that you see one that can rises above the derogatory term of 'gadget'. This, however, is exactly what the Hammacher Schlemmer does as it not only is a fully functional pen, but it is a pen that can scan images, save them and at a later date transfer them to either a PC or Mac via USB. Best of all, it can also use its 1GB of onboard memory to record audio files via the integrated microphone. This pen literally can take the place of a scanner and a recording device. Of course, it can be used for writing to, though that does seem like a rather waste.
To transform this aluminium clad pen into a scanner, all you need to do is press down halfway on the shutter button. Then the integrated 5 megapixel sensor will kick into autofocus mode and at the same time, the pen will send out a red laser which frames the area to be taken. Center the red box over the image you want to scan and fully depress the trigger and the image is taken. The pen's USB rechargeable battery has about 300 shots per charge.
The only issue that we could foresee with this $125 multi-functional pen – besides the price – is its size. It is rather husky compared to typical Montblanc and is super-sized compared to a typical Bic pen. However, if you got to have a device that can do more than just write with, you may want to check out Hammacher Schlemmer to get one of them. For everyone else, we can think of another way to spend this kind of money.