With a massive footprint, the disaster-proof external drive certainly is not for everyone. But for anyone who needs their data to be safe even if their house suffers an act of god disaster, it should be on your short list.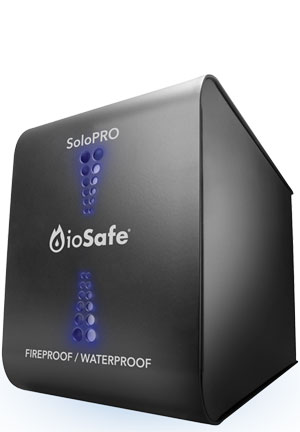 September 2010 Anthony Garland
One Massive USB 3.0 Drive
---
The SoloPRO (1TB tested) is a giant external storage unit. The actual dimensions of 7.1″ x 11″ x 5″ don't even do it justice. The best way to describe this single drive-based external drive is: big. How big you may ask? Think shoebox. Not only is it large, it is also heavy weighing in at an official 15 lbs. The reason the drive is so large is due to the fact that the chassis is made from thick steel with no plastic anywhere in sight. As it isn't your typical external storage, this unit is barely backpack portable and trades portability for durability. You can literally burn and / or drown this drive and it is guaranteed to keep on ticking. I will be putting these claims to the test later.
The front of the SoloPRO is pretty minimally decorated. You have some small nicely styled exhaust slits for internal airflow and some nicely painted information detailing the name and model. These slits emit a solid pale blue when the unit is powered on. It blinks when the drive is being accessed which is kind of cool in a geeky sort of way.
The back of the SoloPRO has much more in the way of connectors and areas of interest than the front. At the bottom is the external power supply connector, power switch and the USB 3.0 port. Above these ports is a small fan for active cooling. There is also a Kensington lock port to make stealing it difficult. If the idea of a "mere" Kensington lock is not enough security for you, the back lip of the unit has been extended and has two large holes drilled into the metal. You can bolt it down or use a padlock to keep it where you want it.
The rest of the back, both sides and top are slab sided with no distinguishing features. The SoloPRO looks a lot like the Monolith from 2001: A Space Odyssey. To be fair, the front has been nicely sculpted with a curvaceous look to it. So despite its massive size, it should actually blend seamlessly into most computer environment. Place it next to your UPS and no one will be the wiser.
After all the testing was over, the very first thing I did was tear down the drive. Its fireproofing comes from two large form fitting pieces of ceramic in which the hard drive is cocooned. Since the ceramic composite material can absorb copious amounts of heat before allowing it to harm its precious contents, these two pieces really are the secret to its success. The SoloPRO is also waterproof, thanks to being sealed in electrostatic shock bag. There is a small central hole where the necessary cables come out of it. To ensure no water leaks in, ioSafe has used copious amounts of silicon to seal this opening.
The internal hard drive ioSafe has opted for is a 3.5″ 7200rpm Hitachi 71000.c 1TB model. This is the newest two-platter revision of that particular model. The SATA to USB 3.0 bridge/controller is the JMicron JMS539. I will be testing both the USB 3.0 and SATA performance of the internal Hitachi drive alone.
As for warranty, ioSafe SoloPRO USB 3.0 offers a standard 3 year warranty with an included 1 year of free Data Recovery Service. The company also offers two extended warranty options. The first costs $50 and upgrades you to three years of Data Recovery Service (DRS), but it does not extend the typical portion of the warranty beyond the standard 3 years coverage. The second option, which goes for $100, not only gives you 5 years of DRS but also extends your normal warranty to 5 years.
Durability Tests
---
I first tested this unit with a dunk tank. It was submerged in a portable cooler overnight.
While this unit claims it is waterproof, it really isn't. To be more precise, the Hitachi hard drive inside the SoloPRO enclosure is waterproof, but the USB-to-SATA JMicron controller chip, the fan and even the blue front LED are not. This makes sense as only the hard drive is sealed against the elements. Extracting the hard drive inside and plugging it into free SATA port on any motherboard shows that your data is safe and sound.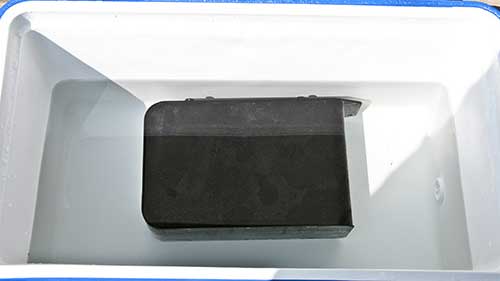 This drive has been tested against normal fire a few too many times. Instead of doing that, I challenged it with a batch of "homemade napalm". This is a mixture of benzene, naphthalene, low octane gasoline and a touch of citronella (for flavor). I'm saving the magnesium and aluminum powder for a later test with Super Napalm. Adding this to the mixture will keep the fire burning even underwater. This test will last 30 minutes; while the SoloPRO is already dead from its dunking, it will be interesting to see if it can withstand a moderately intense fire like it is rated for.
Please note: this is not something you should try at home. Everything USB takes no responsibility if you are foolish enough to try this. Handling these materials requires extensive training and finding a recipe on the Internet does not count as training.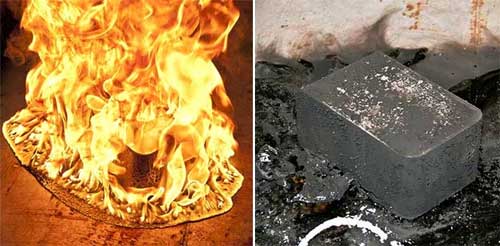 Over 2 gallons of napalm fueled this pyre during its 30 minute roast and flames rose 8 feet high. As for the unit itself, the ioSafe SoloPRO got nice and toasty, to the point the fan inside it burned and popped. Again, after opening the unit, the drive and its contents are perfectly fine.
Crystal DiskMark Benchmarks
---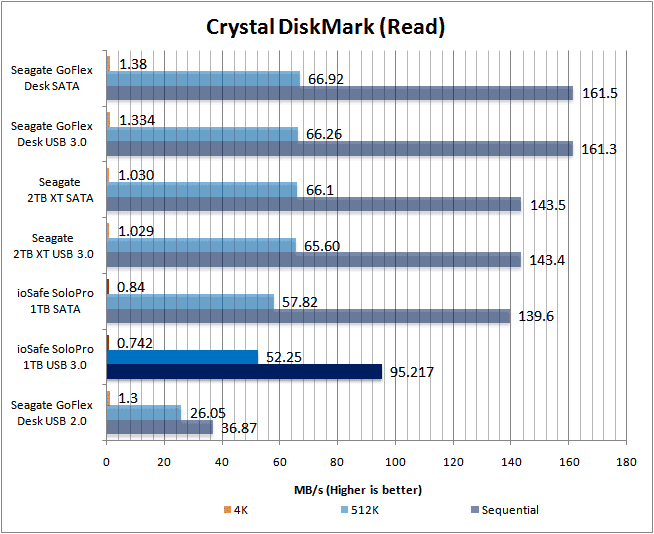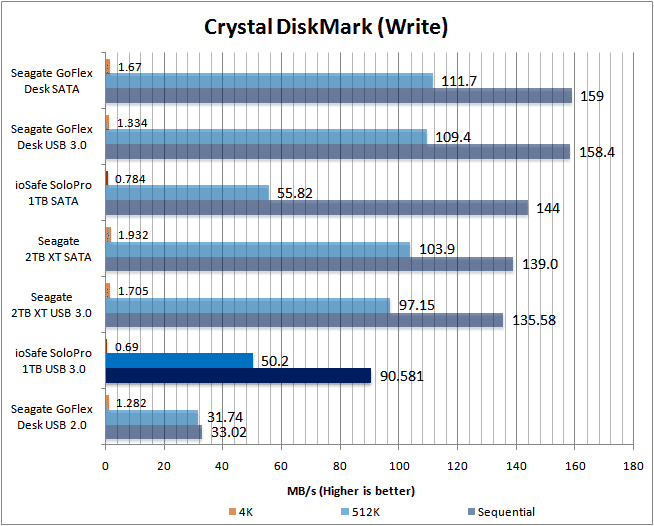 I can see an across the board performance hit with this enclosure. It appears that you are going to have to live with slightly lowered performance, if you want as much protection as this drive can provide.
Real World Performance
---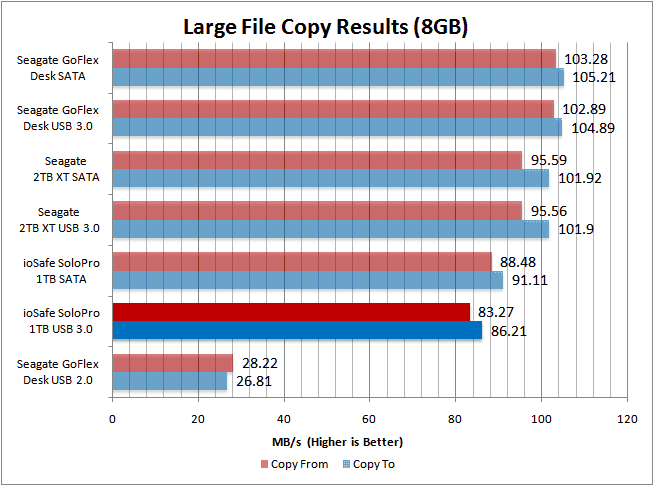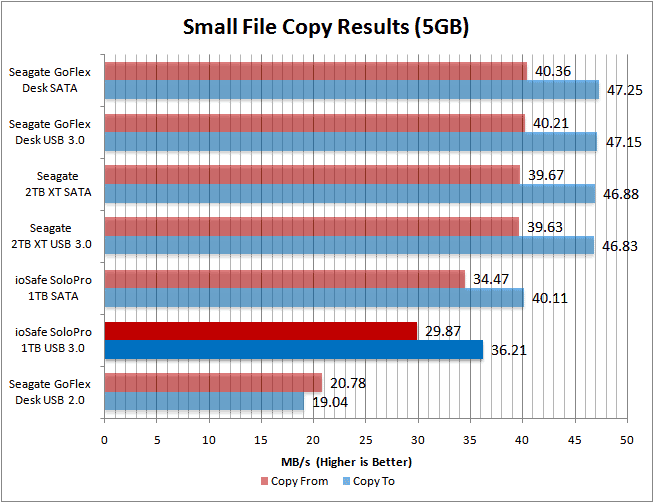 All the tests agree that this is not a top end system when it comes to speed.
Recap
---
While the ioSafe SoloPro USB 3.0 (1TB) is not the fastest external drive tested, it is still much faster than the previous USB 2.0 model. Given the physical trauma this drive can endure, the lack of stellar speed is forgivable. Not all is perfect with this external storage solution. I must take issue with ioSafe's marketing: the SoloPRO is not waterproof nor fireproof! The hard drive inside it is, but the enclosure is far from being all that durable. Using words like those is just a tad misleading to the average consumer. Again, this is a tank that your precious data can live in and be safe under just about any terrible circumstance. Everything else is just minor given the drive's central purpose. For this reason, I have no trouble recommending this drive to anyone who prizes durability over everything else in an external drive.
ioSafe SoloPRO on Amazon
---