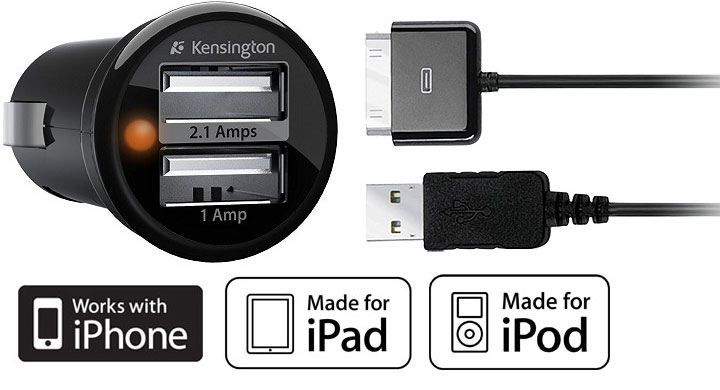 As the iPad gains in popularity, one of its biggest annoyances is readily addressed by Kensington. The aptly-named PowerBolt Duo car charger has two USB ports for charging 2 devices, one full power 2.1A port and one 1A port. The iPad is currently the only device we're aware of that requires the 2 amp power in order to charge. iPad users will certainly be delighted that they can charge both their iPad and iPod at the same time.
The iPad is certainly gaining popularity, and the second coming of the tablet is just around the corner. While the power consumption of the iPad was initially seen as excessive, the new larger multifunction devices will require more power or will not be able to charge with USB. Requiring more power from our sources is a actually a small sacrifice for the survival of all of the micro-USB charging cables and connection accessories.
Perhaps the slew of larger more power hungry devices will shepherd the adoption of the USB 3.0 standard as it generally has plenty of power to handle the more mature devices we see arriving. The Kensington PowerBolt Duo car charger fits snugly in your car cigarette lighter socket and the $29.99 asking price should fit snugly within anyone's budget. Get yours ordered now from their online store.