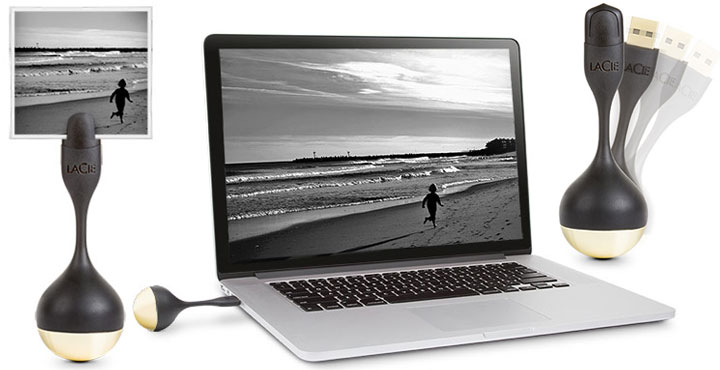 Like a high tech version of Japanese Daruma dolls, the new LaCie Culbuto combines both old world Zen appeal with new world technology. The Cullbuto wobbles from side to side when gently nudged as the base has been weighed to make the center of gravity very low.
In fact, such comparisons to roly-poly dolls are completely intentional as internationally-renowned designer Constance Guisset wanted to create a USB drive which was unlike anything else on the market. Even the name itself is a wink at French version of the roly-poly doll and the designer full expects you to poke it and play with this storage device when not in use.
The key to understanding this high tech toy is LaCie is once again trying to do something radically different and much like the recently announced Sphere, they want to think outside the box. In this instance, Culbuto consists of a spherical, solid metal black and yellow-colored base with a long rubber stem which hides a USB 3.0 flash drive. Even the end cap is unique as it has a slit which customers are meant to use as a business card or photograph holder.
Despite Culbuto's novelty status, its relatively low MSRP ($49 for 16GB & $79 for 32GB) isn't just going to appeal to nouveau riche but people like us. Having said that, the LaCie is certainly a conversation starter, not to mention a toy to help break the monotony of a long day.