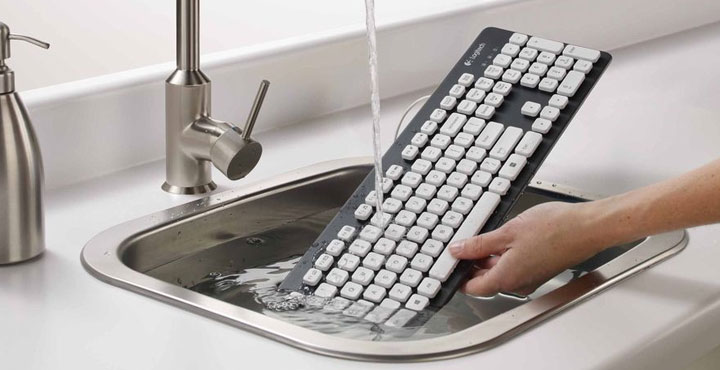 If you think about it, Logitech has designed a keyboard for nearly every kind of user, yet we don't see one that is made for clean fanatics. You see, a typical keyboard is like 5 times as filthy as a lavatory seat. So, even if you aren't the type who like everything bacteria free, you might still want to consider a keyboard that is at least as washable as the Logitech K310.
What makes the K310 special is that it's water resistant to the point where the keyboard can be submerged in up to 11 inches of water. If you happen to spill coffee or beer into the keyboard, you can simply wash the K310 under running water. There are drainage holes at the back so all the dust and debris inside will also get flushed out. Keep in mind not to let the USB plug get wet as that isn't washable by design. And most importantly, neither put the K310 in the dishwasher nor subject it to a water temperature over 50°C.
As for the keyboard itself, the Logitech K310 comes with keys that are good for 5 million keystrokes and that are laser printed and UV coated so the letters won't easily fade. Unlike its siblings with touchpad and LCD screen, the K310 offers no other bells and whistles. All we know is that the $40 keyboard should still look like new over time if you take time to give it a good bath every now and then.