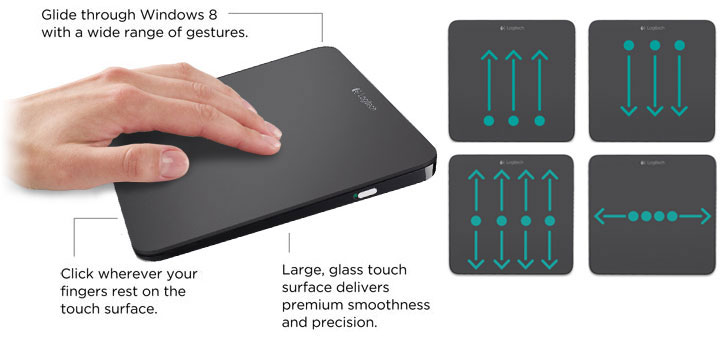 Popularity of touch-sensitive input devices soars as operating systems are being overhauled to become touch-centric. The latest platform to receive optimized touch controls is none other than Windows 8 and Logitech has rolled out its flagship touchpad just in time for all the desktops users eagerly waiting to try the tile-cluttered interface.
Logitech takes a major leap forward with new Touchpad T650. Whereas the surface of the original one is plastic, the T650 opts for smooth fingerprint-resistant glass that provides a much more precise feeling to moving the cursor. The T650 also brings all 13 Windows 8 gestures to the table while the original is handicapped by limited support for ready-to-use gestures; for example, pinch-to-zoom is notably missing. And there's also the obvious benefit that T650 apparently has a much larger touch-sensitive area. There's no mention of the dimensions but if you check out the video, the T650 touch area apparently has a sufficiently large touch surface for even four finger gestures.
The Touchpad T650 connects via 2.4Ghz Unifying receiver – just like its arsenal of wireless keyboards, mice and trackballs – and you can continue using pad even when waiting it to be recharged over USB cable. Logitech claims you get up to a month of battery life on a single charge. Expect the touchpad to hit retail shelves for a MSRP of $79.99 before Windows 8 official launch on October 26th 2012.