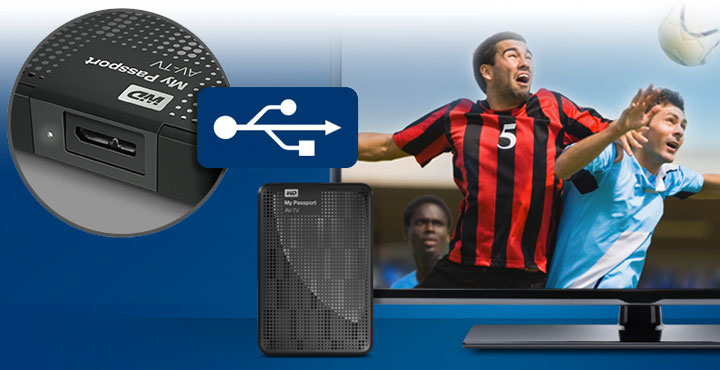 The all new Western Digital My Passport AV-TV could not have come at a more opportune time as smart TV's which have the ability to record video directly to USB storage are flooding the marketplace. Unfortunately, simple flash drives are not big enough to take advantage of such a feature and portable drives are not universally compatible with USB recording TVs. This problem is what the My Passport AV-TV solves.
At its heart, the My Passport AV-TV is a 2.5-inch based USB 3.0 drive – available in 500GB & 1TB. This is pretty much par for the course these days and so too is the highly ventilated case not all that noteworthy. What makes it noteworthy is the fact that the onboard controller's firmware has been tuned so as to be extremely aggressive at error corrections. This is crucial because while compared to normal televisions, Smart TV's are not exactly known for their error correction abilities. Even small errors in storage recording can make your favorite episode of Duck Dynasty or the last quarter of the Big Game unwatchable. This makes the drive more than capable of handing DVR functions such as time shifting and video playback while  recording a HD live show simultaneously.
The AV-TV is also said to stay cool with its relatively low power consumption; thus, prolonging its lifespan. Just keep in mind that the My Passport AV-TV is simply a highly-tuned USB 3.0 drive and does not include and recording capability so you will need a smart TV to begin with. After going through the non-exhaustive compatibility list, we say you will have a better chance of getting the this to work if you have a Sony BRAVIA, Panasonic VIERA, Sharp AQUOS or Toshiba REGZA smart TV. For what it's worth, a mounting kit is included for attaching the drive to the back of your TV.