August 2008 Eric Hanson
Headset Ergonomics
---
Every wireless device requires two things: a base station for transmitting and receiving signals from the wireless portion of the device and a power source. Creative solves the problem in a (pun intended) creative fashion by making the unit's base station serve double duty: the round disc that serves as the transmitter has two connected cables, each about three feet in length: a USB cable to plug into the host computer and a DC cable that plugs into the headset to charge the unit's battery (which takes about 2.5 hours). LEDs on the base station and one of the headset's ear cups glow solid blue when you have a connection, or blink blue when there are transmission issues. Although the inclusion of cables means that the HS-1200 isn't quite as wireless as it could be with, say, a USB dongle, the charging option makes the trade off more than worth the extra wiring.
The headset itself has a lightweight construction that's got some nice comfort features: a flexible headband with a padded covering, semi-detached ear cups mounted on horizontal hinges, quarter-inch plush ear protectors hugging the edge of each speaker. Besides its light mass, the HS-1200 headset adjusts on both horizontal and vertical planes to fit a good variety of head sizes.
On the side of the right ear cup are controls: contoured, individually defined buttons that power the unit on and off, answer a Skype or Windows Messenger call, and adjust the volume. The headset's status LED sits in the middle of the controls; in addition to its blue connection lights, it turns solid red when charging and blinks red when it has a low battery. In addition, the headset beeps into the ear cups when the batteries start to die, so you'll know when to plug in without disturbing anyone around you. Performance tests demonstrated that Creative's claim of an eight-hour battery life is an accurate assessment.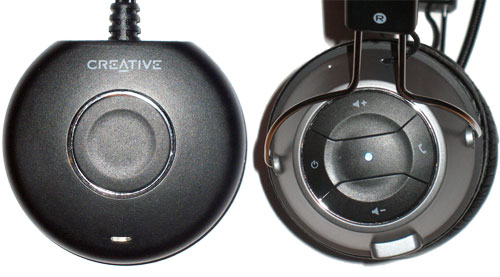 Attached to the left ear cup is the HS-1200's built in microphone. The microphone attaches to the headset by way of a gooseneck boom, letting you adjust the position of the microphone so it sits right in front of your mouth. On the headset end, the boom hooks into a swivel with a clever on/off switch: swing it about 50 degrees counterclockwise and the microphone activates; swing it back up clockwise and it shuts off.
I'm a fan of built-in chargers – who wants to change out a battery mid-session or have to worry about trucking down to the store to get more – but opting for the built-in battery does leave you in the lurch as the HS-1200 gets older. Eventually, that battery will fail and because the HS-1200 is an enclosed unit, you'll be out a headphone set or in for a hefty repair that'll probably cost you more than the headphones are worth. Creative uses a lithium-ion battery in the HS-1200; lithium-ion batteries can lose 20% of their capacity a year when stored at 77 degrees Fahrenheit. However, even a 20% loss per year means five years of battery life, well beyond the standard life of a piece of electronics, so the convenience is probably worth the permanent battery.
The Entertainment Mode Console
---
Creative provides the Entertainment Mode Console as control software, allowing you to fine tune settings on the HS-1200. Included on separate screens are bass boost controls, EAX effects selection, X-Fi CMSS-3D surround emulation selection, the X-Fi Crystalizer (an effect that boosts the highest frequencies in audio, which can sometimes improve sound), an EQ, and a simple mixer. A large volume wheel in the center of the console controls the master volume.
The Entertainment Mode Console appears to be a piece of software used across multiple X-Fi products, which probably saves Creative in writing and supporting costs. Unfortunately, that decision makes the Entertainment Mode Console a little harder to use: because the HS-1200 only includes a very simple installation manual that does not explain any of the software options and the online manual discusses options that appear across the whole spectrum of X-Fi products (including things, like Dolby surround software, that the HS-1200 does not support), it's a little difficult to tell what the version of the Entertainment Mode Console that comes with the HS-1200 can and can't do.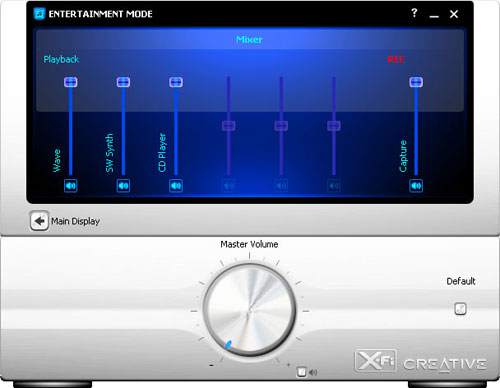 The volume knob is a little problematic, too. I suspect that Creative programs their software to boost audio levels the same amount across all products – both headsets and audio cards (which use speakers). If so, that would explain my findings: the HS-1200 is really loud. I kept the audio level somewhere between 2 and 4 percent because of concerns about hearing damage and I can't imagine what would happen if someone were to slip the level all the way to 100 percent.
Usability & Field Testing
---
Before we get into specifics of use (music versus gaming, XP versus Vista, etc.), some general notes.
Comfort level
Although the ear cups, which are about 2.5 inches in diameter, take some getting used when you first put them on, they're never uncomfortable, just snug. I wore the HS-1200 headset for six to eight hour stretches (with a few breaks) over several days while doing general office tasks and listening to music and I never felt any pain or compression of my ears.
The controls
Not only was adding an external audio control was a stroke of genius by itself, saving my ears from the vagaries of video game audio levels on several occasions, but I also love that Creative took the time to contour the buttons so they're easy to tell apart. Nothing's worse than a distraction when you're trying to frag; the HS-1200 ensures that the distraction of volume adjustment disappears as quickly as possible.
Wireless connection
LAN party denizens hate wireless devices: sure, they reduce clutter, but in a room full of radio signals, even a momentary connection loss can mean disaster. Besides, there's always the potential for lag. While I didn't have a room full of gamers to test these headphones, I did have the next best thing: a small room full of wireless devices. The results are good, too: the HS-1200 headset successfully maintained its 2.4 GHz connection while navigating around interference from a wireless G router, two WiFi cards, a running microwave, and a 2.4 GHz wireless phone. It might not be a torture test, but it does seem like the HS-1200 will stand up to most, if not all, conditions. As far as connection distance goes, Creative claims that you can stray as far as 72 feet from the base station and keep a connection; I found the real world distance was about 15 feet, or two rooms.
The microphone
There seems to be a problem with the microphone's recording level. Even with the recording volume at maximum in both the Entertainment Mode Console and in two of my test games (Battlefield 2142 and Call of Duty 4), I wasn't getting much of a level; barely a register in Battlefield and nothing at all in Call of Duty 4. While play testing the microphone another gamer told me he could hear me when I spoke, but this was in a fairly quiet (i.e., no gunfire) situation. Using Audacity, I recorded myself speaking in a normal voice and found that the microphone level peaks at -10 dB at about 86 Hz, which corresponds to the lower part of the speaking voice of the average male. In other words, there's a balance issue going on with the HS-1200's that may make it harder for your teammates to hear you in certain situations.
Music Performance
---
Most people enjoy an all-in-one solution if they can get one, so I put the HS-1200 through its paces playing music through iTunes. As far as sound quality goes, on a scale of 1 to 10, this headset is between a 7 and an 8: a serviceable workhorse with an acceptable level of sound clarity and energy. The HS-1200's 40mm Neodymium speaker drivers put a little too much emphasis on the high end of the audio spectrum for my taste, though this feature may be to work with the headset's primary function as a gaming device. The unit also doesn't do a particularly good job with low end frequencies. Creative tries to alleviate this problem with a bass management function that allows you to control the level (in dB) and frequency of the bass boost (up to 200Hz) and includes a separate multi-band EQ for additional adjustment, but the resulting adjustments aren't as convincing as they could be.
There's also the surround issue. The HS-1200 includes the option of using X-Fi CMSS-3D, Creative's surround sound emulation software, which we'll discuss more below when we get to how well the HS-1200 performs with games. When it comes to music, however, CMSS-3D isn't particularly useful, not only for stereo files (which are hit or miss in any surround emulation) but for true 5.1 mixes: positioning disappears as the music focuses (oddly enough) right over the center of your forehead, even after selecting the "ideal" surround position in the Entertainment Mode Console. The same problem exists when trying to play movies.
I suspect the problem is standards compatibility: other products (including my other sound device, the Razer Barracude AC-1 sound card and the ASUS Xonar U1 I tested earlier this year) use Dolby software for surround processing, which means that they're compatible with 5.1 mixes of movies and music. The HS-1200 does not include any Dolby processing, because it's a gaming device, and games don't use the Dolby standard. Moral of the story: don't expect the HS-1200 to replace other surround options when listening to music or watching movies.
Gaming Performance
---
Fortunately, the HS-1200's issues with surround don't extend to the gaming realm. I play tested the unit with three games: Battlefield 2142, which uses Creative's pet sound standard; OpenAL, Medieval II: Total War, which includes EAX X-Fi support; and Call of Duty 4, which has neither. I tested both games with X-Fi CMSS-3D enabled and disabled while running Windows XP. Tests focused on my ability to tell positioning of sounds (mainly gunfire) in the online environment both games provide, simulating the experience the average gamer would encounter using these headphones.
Not surprisingly, Battlefield 2142's OpenAL compatibility gives it an instant fit with the HS-1200 and eliminates the need to use the X-Fi CMSS-3D emulation to simulate surround programming. While playing the game, I had no problem picking out the relative position (with about as much accuracy as I'd probably have in real life) of enemies around me and found I was able to use the aural information the game gave me to make better decisions about the best times to look and the best times to duck.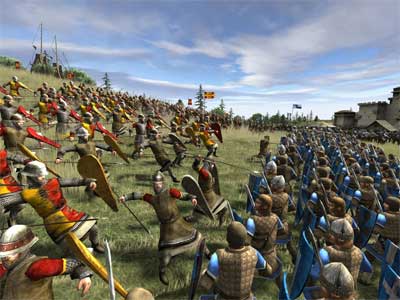 I found similar results in Medieval II: Total War. Enabling X-Fi in the control options introduced a surround environment, which became particularly immersive (a bit like a war movie, actually) when I used the camera to zoom into action while fighting battles.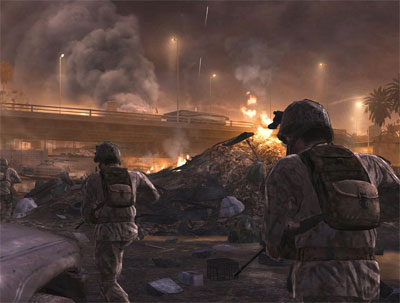 Call of Duty 4, on the other hand, required the tender mercies of X-Fi CMSS-3D to achieve surround mode. The results were more than acceptable – plenty of positioning data to give a good sense of when someone's sneaking up to kill you – but overall I wasn't quite as taken with Creative's surround emulation as I was with their open audio standard. Most gamers should find that X-Fi CMSS-3D serves as a good stand in when their games don't support OpenAL, but emulated surround sound is an area where Creative can improve.
Vista Issues
---
Microsoft's decision to remove Direct3D Hardware from Windows Vista changed how games process sound – and gave Creative an opening to push broader acceptance of OpenAL. As a part of that acceptance, all Audigy and X-Fi sound cards support a program called ALchemy, which acts as a translator between Direct3D games and Vista, allowing the programs to use EAX. To test how well ALchemy works with the HS-1200, I installed Call of Duty 2, a Direct3D game compatible with ALchemy.
The results are fairly similar to those I found with Battlefield 2142: automatic support for surround sound, with a superior surround experience to that provided by X-Fi CMSS-3D. Although ALchemy isn't a complete solution to the surround sound problem – Call of Duty 4, for example, doesn't use Direct3D, so it's not ALchemy compatible – the program does give Creative a possible leg up as more and more gamers make Vista their operating system of choice.
Recap
---
Overall, the Creative HS-1200 gaming headset comes out on top: it gets the job done and does it efficiently and effectively over long hours without making you wish for an ear massage. However, Creative's wireless gaming solution – and therefore any product based on X-Fi – still needs work in a few key areas: product-specific documentation and software programming and Creative's house brand of surround emulation all need work. This product gets my recommendation, but a user who spends most of their time gaming and has Windows Vista will probably find this product the most useful.
Creative Gaming Headsets on Amazon
---