1 March 2008, Comments: Comments Off on Logitech QuickCam Pro for Notebooks Review
March 2008 Eric Hanson
Some webcams try to stand out with their innovative design; others introduce secondary features intended to grab your attention. Logitech went for a different approach with their pro-series webcams: as sharp as possible, as often as possible. To achieve their goal, they contracted well-known optics maker Carl Zeiss to engineer the lenses and built a new autofocus system designed to sharpen out-of-focus images as quickly and smoothly as possible. Is the result worth choosing Logitech over competing products such as Creative Live! Cam Optia AF? Let's find out.
Webcam Design
---
As you might gather from the name, Logitech built the QuickCam Pro for Notebooks with laptop users in mind; something that's immediately obvious when you see the webcam's mounting clip (rubber-edged for less wear and tear on laptop screens) and the two-foot USB cord. The clip actually opens to a health 8/10ths of an inch thick, which makes it large enough to fit on top of some standard LCD monitors, but the short USB cord means that you're better off using it with a notebook.
Normally I'm not a fan of notebook-only webcams (I think they're limiting), but Logitech partially sidesteps the issue by including a foot-high camera stand that comes in three pieces for easy portability. Unfortunately, the camera's short cable length means that even with the stand, you're only likely to be able to use the QuickCam Pro for Notebooks with a desktop if you have an easily accessible hub with 500 mA of available power.
The QuickCam Pro for Notebooks includes a microphone that's built into the front of the camera, in a slot right above the lens. Further up along the camera's surface – right above the snazzy Logitech logo, picked out in a silver-gray – is an orange activity LED, which lights up when the camera is active. Finally, Logitech included a button at the top of the camera that triggers the camera – setting off a shutter noise through the camera software – to take a still picture at the current settings.
One issue that webcam designs have to address is maneuverability: how easy is it to get the camera to point at your face from the right angle? I've seen some interesting adaptations in the past – the Live! Cam Optia AF's ball and socket mounting joint comes to mind – but for notebook use, the QuickCam Notebook Pro takes the cake for ease of use: the rubber edges of the clip make it very easy to slide the camera along the upper surface of the screen until it's in position – it even slides over the latch that keeps the notebook closed – and the clip's hinge offers about 75 degrees of vertical movement. Both the clip and the hinge are easy to move, but are tight enough to hold the camera in place. However, I would like Logitech to improve the design of the clip itself; in its current arrangement, you need to pry the clip apart with your fingers (instead of squeezing a handle, as you'd expect with a spring-based system) and fit it over the surface of the screen.
Software
---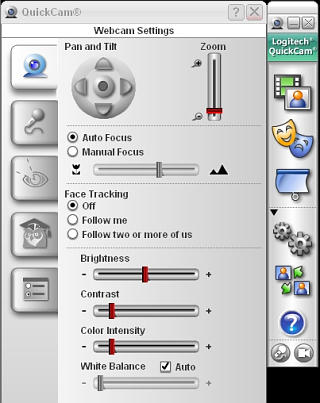 As with other webcams, Logitech QuickCam Software package handles all of the media you produce with the webcam. There are two components to the QuickCam Software: the QuickCapture window, which combines the feed from the camera with image quality options, still and moving video recording buttons, video options like video length, timestamping, and recording delay, and a gallery of your photos and videos.
A separate control bar pops out windows for advanced controls, including zoom, tilting/panning, color settings, focus settings, face tracking, and audio levels, along with options to enable the QuickCam Software's sets of video effects and privacy shades. There's also an applications section that gives you access to third-party tools like Windows Movie Maker or HP PhotoSmart Essential, Skype, YouTube, and VideoSnap, which hooks video into eBay listings. Logitech also included a link to their shop to get you to buy more QuickCams, presumably in an effort to gather in excited users as they're using the products. The link isn't obtrusive, but it's still a little obnoxious.
Besides that one flaw, however, I'm pretty impressed with QuickCam Software: it's intuitive, well-organized, and responds quick to commands. The inclusion of both the video and audio mute buttons and the video effects options on the control bar simultaneously declutters the main window and adds everyday usefulness to the control bar, which I've found makes me less likely to close it than I have with control bars in other webcam software packages.
Carl Zeiss Picture Quality
---
Logitech was no doubt thinking of darkened hovels like my living room when they designed what may be the webcam software's most important component: RightLight settings. (RightLight 2 was introduced in QuickCam Vision Ultra back in 2006.) Combining four manual settings (low light saturation, low light boost, video noise, and spot metering) into one algorithm, the RightLight settings automatically adjust the lighting in the image to an optimal amount. The results are pretty impressive by themselves, but look particularly nice when compared to images from the Live! Cam Optia AF; for the first time, the images on the screen are brighter than they are in real life, and even with almost no external lighting, my face is still entirely visible.
The QuickCam Pro for Notebooks includes eight image quality settings: 320 x 240, 640 x 480, 960 x 720, 1.3 megapixel, 2.0 megapixel, 3 megapixel, 4 megapixel, and 8 megapixel. Because the camera's sensor tops off at 2 megapixels, higher values are interpolated by the software. Within the software, I didn't notice any significant difference between the interpolated and the non-interpolated image resolutions, with two exceptions: first, there's more of a lag (of up to several seconds) when clicking the still image or video record buttons when recording higher quality, and second, the video feed has an odd tendency to flicker every few seconds at the interpolated video levels. I suspect this has to do with a combination of processing power and the wide spectrum of lighting in my living room, but it seems that, as with the other products we've tested, interpolated resolutions are more of a marketing point than a really useful feature. One final thing to note: quality levels above 2 megapixels are for still photos only, presumably because the camera is not fast enough to interpolate megapixels and record footage at the same time.
Face Tracking, Auto Focus, and Video Effects
---
Like many other webcam software packages, the QuickCam Software includes face tracking software that zooms and pans with your face as you move. Face tracking seems like a bit of a black art – I've never seen it done effectively – and while the QuickCam Pro for Notebooks doesn't suffer the same wild movement problems that I've seen in other face tracking packages, it isn't completely steady, either. That said, the face tracking does a great job of compensating for facial movement and zooming to the whole of the face, and as long as you don't move too quickly, the camera will keep up. As an added bonus, it has a multi-person option that works pretty well, too.
One reason why the Face Tracking works so well is the QuickCam Pro for Notebooks' excellent autofocus. Logitech makes a big deal of the autofocus mechanism on the product website, and it's not hard to see why: it works really, really well. Images kept a consistent level of sharpness throughout all uses, and though Logitech includes a manual focus option, I never felt the need to use it through any of my tests.
QuickCam Software also includes video effects that can spice up your recordings. Video effects only work at 640 x 480 or 320 x 240 resolutions, which no doubt has something to do with the amount of thai processing power needed to pull them off – and even then, my Core 2 Solo computer with 1.5 GB of RAM had rendering problems at the higher resolution. I've found Logitech's video effects to be the most interesting out there, and the effects included with QuickCam Software give a good demonstration of the fun things you can do with a video image. More effects are available for free download from Logitech.
Audio Quality
---
The QuickCam Pro for Notebooks includes a very sensitive built-in microphone with an omni-directional pickup, displaying equal levels on sensitivity on all axes. To compensate for the microphone's lack of directionality, which can lead to the inclusion of unwanted noise in your recordings and broadcasts, Logitech included a noise suppression option in the QuickCam Software package. In my tests, I found that the software-controlled amplifier in the microphone was sensitive enough to distort when set to half volume at a normal speaking voice, which suggests that the microphone is sensitive enough to record sounds from across a room, if you're so inclined. Noise suppression seems to work using a sampling filter, where the software samples all noise as it records and tries to remove anything that doesn't sound like a voice without cutting out too many frequencies. Those of you familiar with this type of technology will no doubt remember that it can create artifacts that are a bit like sound underwater, and that's the case here: the software removed the mid-frequency whine caused by a nearby computer's fans, but introduced artifacts in the process.
Recap
---
All in all, I was very impressed with the Logitech QuickCam Pro for Notebooks. Although the webcam has some flaws – particularly its short USB cable – those issues are more than covered by its strengths, making this webcam stand out far above its problem-plagued peers. This webcam gets my recommendation without reservation.
 Latest Webcam Deals
---
| Preview | Product | Rating | Price | |
| --- | --- | --- | --- | --- |
| | Dell UltraSharp HDR 4K Webcam with Privacy Cover, HD USB Computer Camera... | 62 Reviews | $199.99 | See it on Amazon |
| | Lumina AI Webcam – 4K HD Video Calling and Streaming, Dual Stereo Mics,... | 45 Reviews | $199.00 | See it on Amazon |
| | Razer Kiyo Pro Streaming Webcam: Full HD 1080p 60FPS - Adaptive Light... | 1,825 Reviews | $199.99 $99.99 | See it on Amazon |
| | AVerMedia Live Streamer Cam 513, 4K UHD Webcam with Microphone, 94° Wide... | 479 Reviews | $249.99 $169.99 | See it on Amazon |
| | Logitech StreamCam, Live Streaming Webcam, Full 1080p HD 60fps Vertical... | 208 Reviews | $101.00 | See it on Amazon |
| | Logitech Brio 4K Webcam, Ultra 4K HD Video Calling, Noise-Canceling mic, HD... | 10,896 Reviews | $199.99 $159.33 | See it on Amazon |
Pricing is last updated by Amazon on 2022-05-20 at 16:00.  When you buy through Amazon affiliate links on our site, we may earn an affiliate commission.

USB Duplicators By Nexcopy
Nexcopy manufactures a variety of PC-based and standalone
USB duplicator
solutions.
PC based systems support advanced USB functions such as write protection, CD-ROM partition and multi-partition creation, while standalone systems are ultra-fast, high speed USB copiers duplicating gigabytes of data quickly and accurately.