Choice is always an issue when it comes to new electronic devices.  So many on offer, covering so many intricacies, many of which we are not familiar with.  Fortunately, in terms of the gaming controller market, there are already a few established options which help narrow down our choices.  This is the case with the DualShock 4 controller, specifically designed as the primary control device of the PlayStation 4.  So why is this controller so well regarded, what does it offer, and is it the right choice for you? Let's take a look.
What's on Offer?
The primary button layout for the DS4 sticks is a similar scheme to the original DualShock, released all the way back in the PlayStation 1 days.  Since then, each iteration has seen further additions in terms of both features and ergonomics.  These include:
Refined analog sticks and triggers
Built-in speaker
Stereo headset jack
Motion sensors
USB battery charging
Touchpad
Far from the primitive design from which these originated, the modern DS4 is one of the most advanced controllers on the market and works perfectly with PCs.  While the device itself can operate directly through some games, especially those offered on Steam, it is best that users download one of the purposely-built support programs which effectively trick the device as being recognized as an Xbox controller.
While the major release of DS4Windows is confirmed safe, those who wish to try out a secondary program might want to ensure their computers are clean through the use of a top antivirus, like TotalAV. In effect, this is the biggest disadvantage of the device, in that it usually requires a separate program in order to reach its full potential, though DS4Windows is small, efficient, and easy to use, so this is minor.
Why Choose DualShock 4?
Sony has long been loath to change the design of their DualShock controllers, partly because of brand recognition and partly because the actual base design is just so good.  This latest one really comes down to better technology, a more solid design, and finally a more ergonomic grip.  It can also be configured to work wirelessly through an already existing Bluetooth connection, or one of the purposely built USB wireless adaptors offered by Sony themselves.
When it comes to choosing a modern gaming controller there is always going to be an emphasis placed on familiarity.  Simply put – if you play PlayStation, then this device is going to be intimately familiar from the get-go, meaning reduced mistakes and no learning curve.  On the other hand, if you are a console gamer used to an Xbox or Nintendo controller, then this might not be the right fit you on that basis alone.  This is especially the case with Xbox, as their controllers are both well supported by Windows automatically, and exist without the terrible d-pad which has plagued some of their previous controller releases.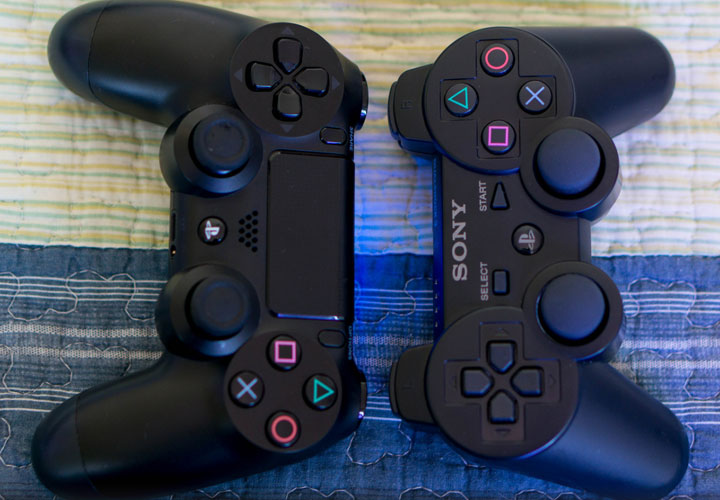 "DualShock 4 & 3" (CC BY 2.0) by renangreca
The DualShock 4 from Sony is a quality device, sturdy, and feature rich.  If you have played a PlayStation, you should know what you are in for.  If you don't and are wondering if this might be the right fit for you, then worry no further.  These are such well-respected controllers, in fact, that even professional video-game players can turn to DualShocks over the much more expensive alternatives.  If it's good enough for the pros, after all, its good enough for us.