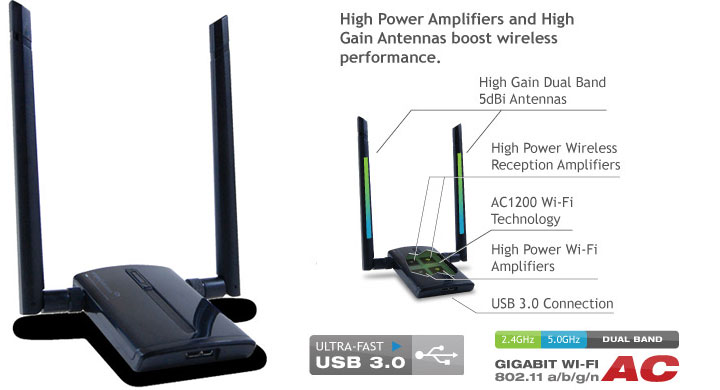 Amped Wireless has been a household name for Wi-Fi solutions, namely its long-range extenders and high-power routers. With the sheer number of 802.11ac devices flooding the market last year, the company has decided to jump onto the bandwagon with a trio of of gigabit Wi-Fi products. One of them that caught our attention is the ACA1 – the world's first USB 3.0 802.11ac adapter.
The Amped ACA1 can triple wireless range, thanks to its 2dBi dual external antennas and 4 amplifiers that boast power up to 600mW – many times more than the 50mW output from a Wi-Fi dongle with an internal antenna. The over-sized adapter is coupled with 802.11ac to push performance up to 867Mbps (two streams), and dual band (2.4 & 5Ghz) connectivity to maintain backward compatibility. Onboard USB 3.0 delivers extra juice for the powered antennas as well as supplying ample bandwidth to match 802.11ac speed.
When ACA1 ships, Amped will provide drivers for both Mac and Windows, but judging by the size of the adapter, it's more likely one will use it to upgrade existing Wi-Fi on his or her desktop PC or iMac. U.S. availability is expected in Q1 with pricing to be announced.