21 May 2018, Comments: Comments Off on Six USB-C Laptop Docks Help Maximize Connectivity
May 2018 Ian Chiu
What You Need to Know
---
USB-C docks – unless they are Thunderbolt 3 version – are universally compatible with legacy USB ports on existing PCs.  Battery charging as well as video output function, however, only works on USB-C ports that support both USB Power Delivery and VESA video alternate mode.  In comparison, true Thunderbolt 3 USB-C docks are able to support a host of advanced features.
It's technically possible for USB-C docks to output 4k resolutions at 60Hz except speed (for that particular downstream port) would be brought down to USB 2.0.  In most cases, developers limit output to 4k 30Hz mode in order to keep the USB 3.0 mode.  Enabling 60Hz at 4k resolutions may require the manufacturers to provide the special firmware and equally important, the necessary outputs (e.g. HDMI 2.0).
USB-C docks usually come with Power Delivery (PD) pass-through feature that can recharge compatible laptops.  Find out from the manufacturer how much power your laptop draws to see if it can be charged at full speed.  These docks usually highlight compatibility with MacBook Retina which requires 29W but majority of them are capped at 65W in charging capacity.
Found on some USB-C docks, DisplayLink is a proprietary video solution that shares bandwidth with connected USB devices.  The technology is praised for its scalability to adapt in different environment in addition to guaranteeing backward compatibility.  Its latest DL-6950 now boosts dual 4k output with 60Hz refresh rate, and can work alongside USB-C and USB Power Delivery so you have the best of both worlds.
Feature Comparison
---
Dell
D6000 Dock
IOGEAR
USB-C Slim Dock
OWC
USB-C Travel Dock
OWC
USB-C Dock
Plugable
Mini USB-C Dock
Satechi
USB-C Dual Adapter
Supported Platform(s):
Windows
Mac
Windows
Mac
Windows
Mac
Windows
Mac
Windows
Mac
MacBook Pro
(2018 & later)
MacBook Air (2018)
Mac Mini (2018)
USB PD Output:
65W
60W
100W
60W
85W
60W
Self- or bus-powered?
Self-powered
Self-powered
Bus-powered
Self-powered
Self-powered
Bus-powered
USB Type-C Port(s):
0
0
0
1 (rear)
0
0
USB Type-A Port(s):
2 (rear),
2 (front)
3 (rear)
2
3 (rear),
1 (front)
3 (rear),
1 (front)
2
Video Out(s):
HDMI 2.0 (2),
DP 1.2 (2)
HDMI 1.4b,
Mini DP 1.2,
VGA
HDMI 1.4b
HDMI 1.4b
(or Mini DP 1.2)
HDMI 1.4b
HDMI 1.4b
Multiple Display Support:
Yes
Yes
No
No
No
Yes
Max Video Res. at 60Hz:
5120 x 2880
3840 × 2160
2560 x 1440
1920 x 1080
2560 x 1440
1920 x 1080
2560 x 1440
1920 x 1080
2560 x 1440
1920 x 1080
2560 x 1440
1920 x 1080
3840 × 2160
2560 x 1440
1920 x 1080
Other ports(s):
3.5mm audio
Gigabit Ethernet
SD slot
Gigabit Ethernet
3.5mm audio
SD slot
SD slot
Gigabit Ethernet
3.5mm audio
Gigabit Ethernet
3.5mm audio
Micro SD slot
SD slot
Gigabit Ethernet
USB-C cable length:
No cable included
12" USB-C cable
6" tethered USB-C cable
18" USB-C cable
12" USB-C cable
6.25" tethered USB-C cable
Available Color(s):
Black
Silver
Space grey
Space grey
Gold
Silver
Rose gold
Black
Space grey
Silver
Dimensions:
6.6" x 3.1" x 1.2"
16.8 x 7.8 x 3cm
11" x 3" x 0.6"
28 x 7.6 x 1.5cm
3.2" x 3.2" x 0.7"
80 x 80 x 17mm
5" x 12.5" x 3.25"
3.8" x 3.5" x 1.25"
4.94" x 1.94" x 0.75"
Weight:
3.2oz.
9.1g
Warranty:
1 year
1 year
2 years
2 years
1 year
1 year
Dell's Triple 4K Display USB-C Dock (2017)
---
Designed for three-monitor setup as well as compatibility with legacy USB-A laptops
The $200 Dell D6000 is vastly different than rest of the other USB-C docks featured here in that it employs DisplayLink's highly scalable video technology to drive a total of three 4K displays simultaneously with two of them boosting 60Hz refresh rate.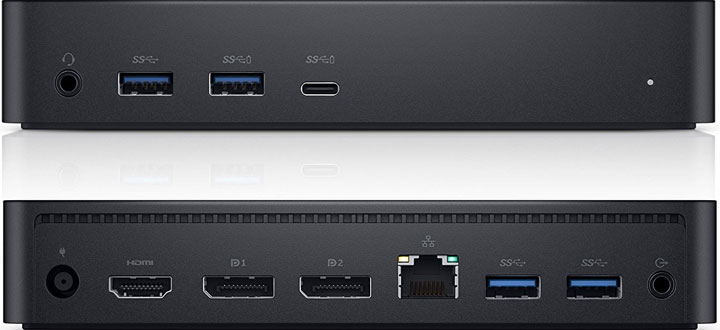 To achieve this, DisplayLink simply uses the lanes reserved for USB 3.0 traffic on a USB-C cable for video. Enabling the third 4K display, however, requires your PC to have a USB-C port with video alternate mode. The dock additionally supports a single 5K output; though, this needs dual DisplayPort connections.
The Dell dock – powered by a 130W AC adapter – also charges up to 65W laptop over a USB-C cable. You will also find Gigabit Ethernet jack; four USB 3.0 Type-A ports; an audio combo port; and a Kensington security slot. Unlike other native USB-C docks, you have to install DisplayLink driver first before plugging in the D6000 to get this up and running.

IOGEAR's Slim and Thin Ergonomic USB-C Dock (2016)
---
Full-featured USB-C dock that doubles as a laptop riser
The IOGEAR $115 USB-C dock is the type of docking station that elevates laptops slightly to near eye level for viewing ease. Ergonomics aside, the dock thoughtfully includes two concave areas where a 13 / 12" laptop's feet can fit into. It is also as space saving as it is functional with 10 ports in total in the rear for all your connectivity needs.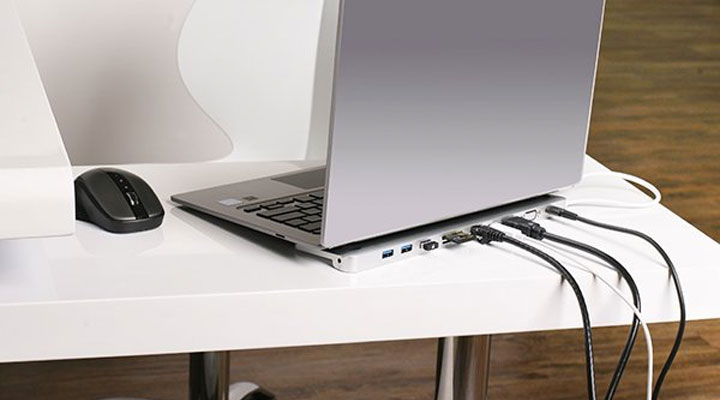 The upstream cable is tethered to the dock. To supply power to dock, IOGEAR expects you to use the laptop's USB-C adapter and cable. Other ports include a trio of USB 3.0 Type-A; Ethernet; 3.5mm combo audio jack; SD slots; and surprisingly, 3 PC video outputs (i.e. HDMI, mini DisplayPort, VGA). There's a USB Battery Charging 1.2 port for smartphones or tablets.

What distinguishes this dock from others is its dual monitor option (HDMI + mini DisplayPort, allowing up to full 1080p at 60Hz. If a second display is all your need, then you can up the resolution to 4K at 30Hz. However, one additional video output is only allowed on a Mac. USB Power Delivery pass-through is capped at 60W regardless what USB-C charger you provide.

Kingston's Solidly Built Mobile USB-C Dock (2018)
---
Mobile dock with just enough ports for USB-C ultrabooks, Macbooks and alike
The Nucleum from Kingston is a bus-powered USB-C dock with 7 different jacks and slots to get you everything covered when on the road. You will find onboard a pair of USB Type-A ports; a HDMI 1.4b jack; a USB-C power passthrough; another USB-C (5Gbps) for data; and two memory card slots. On top of that, there's a 6-inch USB-C cable tethered to the Nucleum so it's one less thing to worry about when you might also have to pack a zillion other things.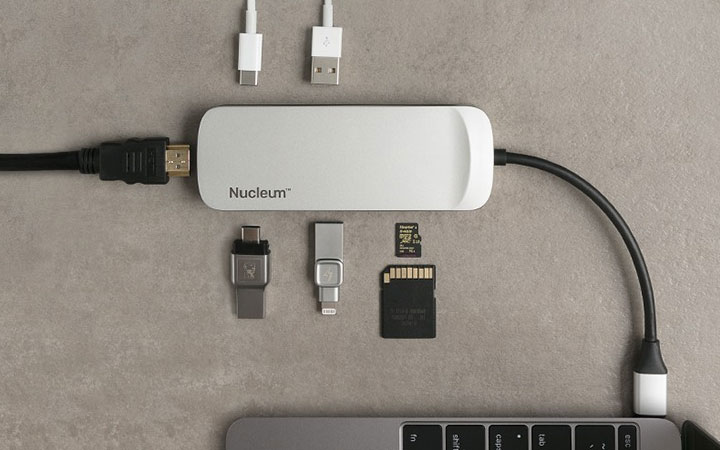 The inclusion of both microSD and SD slots is always welcomed. Its USB PD passthrough capability, however, only guarantees full power charging for MacBook and MacBook Pro 13″ as well as other laptops that draw 60W or less. Lastly, as for as durability is concerned, the Nucleum is built like a rock and it probably won't even bend without considerable amount of force. If anything else goes wrong, Kingston provides two years of warranty to give you peace of mind.

OWC's Classy USB-C Dock for MacBooks (2016)
---
Full-featured, color-matching USB-C dock for your MacBooks
OWC takes a more conventional approach with this $169 USB-C dock.  Despite of its pedestrian rectangular prism design, the dock is complete with a piano block glossy surface that gives it a classy look.  The aluminum chassis is also available in 4 different colors to match that of MacBook Retina.  Suffice to say, OWC is primarily targeting at this particular group of customers.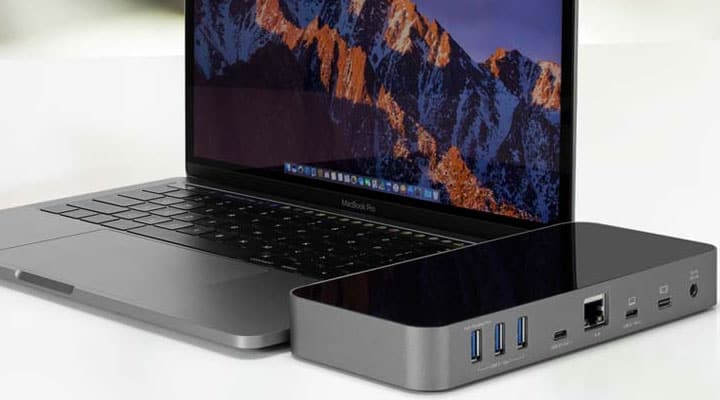 There are 10 ports in total on this dock.  Front facing ports include a full-sized SD slot (with UHS-I support) and a high-powered USB port as well as an audio combo jack.  The 4 other USB 3.1 ports, including a USB-C, Gigabit Ethernet and HDMI 1.4b (up to 4k 30Hz) are on the back.  The other model has a mini DisplayPort in lieu of HDMI.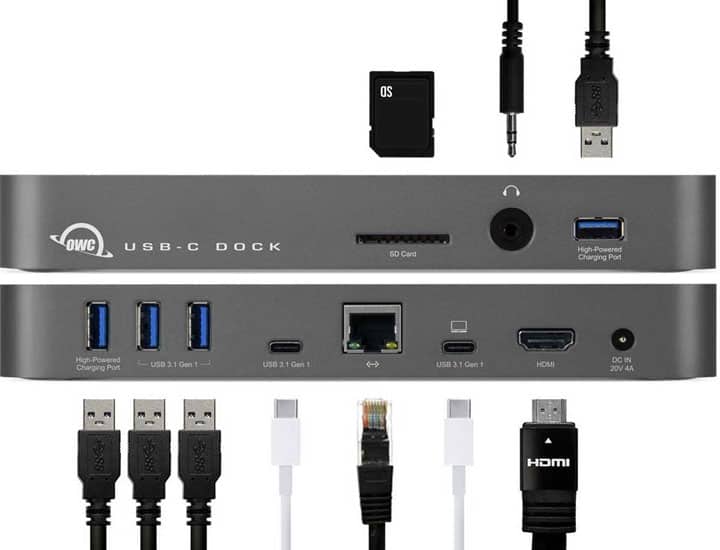 The dock's accompanying 80W power brick has allocated up to 60W for laptop charging while the rest is reserved for the aforementioned ports.  That means the dock cannot charge MacBook Pro 15″.  Judging from its size, the OWC isn't meant to lug around like the Marble DCS1 or the Samsung DeX.  BootCamp is supported out of the box, but Ethernet driver is required if you are still running OS X Yosemite and El Capitan.  Last but not least, OWC backs the USB-C dock with two years of warranty.
Plugable's Mini 85W USB-C Dock (2017)
---
Compact USB-C desktop dock packing a punch in functionality
Having a full-featured USB-C dock doesn't mean you have to sacrifice precious desktop space. The Plugable UD-CAM Mini Docking Station, measuring at 3.75" x 3.5" x 1.25", has nearly everything you need in a compact form factor. Despite of its pedestrian design and size, you will find ample of ports for your connectivity needs.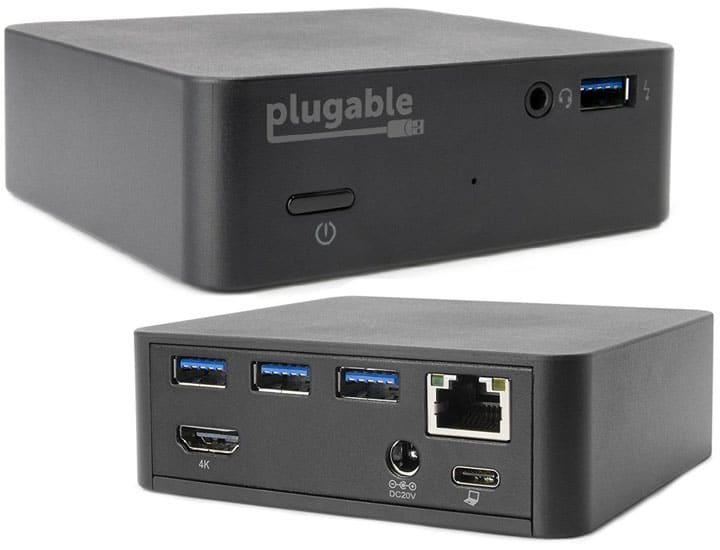 On the rear, you will find 3 USB 3.0 ports with Gigabit Ethernet powered by Realtek RTL8153 as well as HDMI 1.4 out. A USB-C jack on the same side has the capability of sending 85W of power to charge most USB-PD compatible laptops. Plugable has always been upfront with their docks' compatibility. You can check the test results on their official site. To top it off, the supplied AC adapter is rated at 100W so there's enough juice to power everything from a laptop to the most power hungry peripherals.
On the front, there's a fourth USB 3.0 port as well as a 3.5mm TRRS audio combo jack. Only missing is a built-in SD slot. Last but not least, the $129 Plugable Mini Docking Station also comes with a VESA mount which is immensely useful when paired with a compatible desk, stand and a monitor.

Satechi's Mac-exclusive USB-C Dock (2019)
---
Dual HDMI USB-C dock especially designed for MacBook Pro, MacBook Air and Mac Mini
This oversized adapter from Satechi is the company's second attempt at a mobile USB-C dock for Macs.  Available in both space grey and and silver, this year model takes a new direction with its dual USB-C plug design.  This allows the dongle to actually work with a protective case, unlike previous version that needs to fit flush against the side of a MacBook Pro.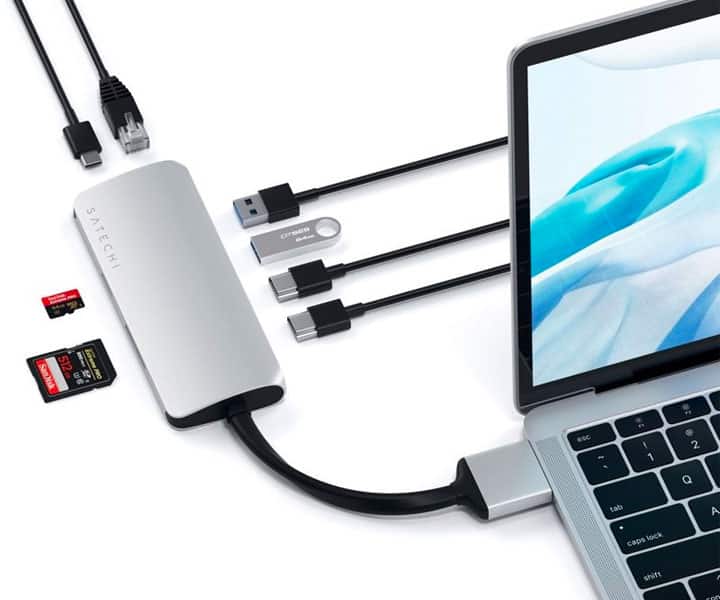 In the connectivity department, the Satechi can charge a MacBook Pro 13" or Air up to 60W through it USB PD passthrough port.  You can expect recharging at full speed even under heavy load for said laptops.  There are also a pair of HDMI ports, one of which can even send video output at 4k 60Hz.  You will also find two USB-A ports and MicroSD card reader (up to 104Mbps data transfer) as well as a Gigabit Ethernet jack.  Interestingly, the 2018 Mac Mini is compatible with the Satechi as the compact desktop's USB-C ports are spaced identically as that of its laptop siblings.

Did we leave off any USB-C docks we should have included?  Let us know in the comment section below.

USB Duplicators By Nexcopy
Nexcopy manufactures a
variety of USB Duplicators
which are PC based or Standalone Systems.
The PC based systems use our exclusive and feature rich Drive Manager software with advanced functions. Standalone systems are ultra-fast, high speed copiers duplicating gigabytes of data quickly and accurately.