June 2022         Ian Chiu
Laptop docks are a common sight in an office environment; they allow a single link from a laptop (or an Android smartphone) to a larger display as well as a full array of peripherals through just one cable.  Their potential is now further realized with the new USB-C connection, and here, we have five docks to show just that.
What You Need to Know?
---
USB-C laptop docks – unless they are Thunderbolt 3 version – are universally compatible with legacy USB ports on existing PCs.  Battery charging as well as video output function, however, only works on USB-C ports that support both USB Power Delivery and VESA video alternate mode.  In comparison, true Thunderbolt 3 USB-C docks are able to support a host of advanced features.
It's technically possible for USB-C docks to output 4k resolutions at 60Hz except speed (for that particular downstream port) would be brought down to USB 2.0.  In most cases, developers limit output to 4k 30Hz mode in order to keep the USB 3.0 mode.  Enabling 60Hz at 4k resolutions may require the manufacturers to provide the special firmware and equally important, the necessary outputs (e.g. HDMI 2.0).
USB-C laptop docks usually come with Power Delivery (PD) pass-through feature that can recharge compatible laptops.  Find out from the manufacturer how much power your laptop draws to see if it can be charged at full speed.  These docks usually highlight compatibility with MacBook Retina which requires 29W but the majority of them are capped at 65W in charging capacity.
Found on some USB-C laptop docks, DisplayLink is a proprietary video solution that shares bandwidth with connected USB devices.  The technology is praised for its scalability to adapt to different environment in addition to guaranteeing backward compatibility.  Its latest DL-6950 now boosts dual 4k output with 60Hz refresh rate and can work alongside USB-C and USB Power Delivery so you have the best of both worlds.
Feature Comparison
---
Kensington's USB-C Dock with F-Fob Lock
---
Full-featured USB-C laptop dock with smart lock protection
Kensington's anti-theft lock has long proven itself to be an indispensable tool in deterring laptop theft in office spaces. So, it wouldn't surprise us to see the lock becoming a staple feature in Kensington's own USB-C laptop dock, LD4650P.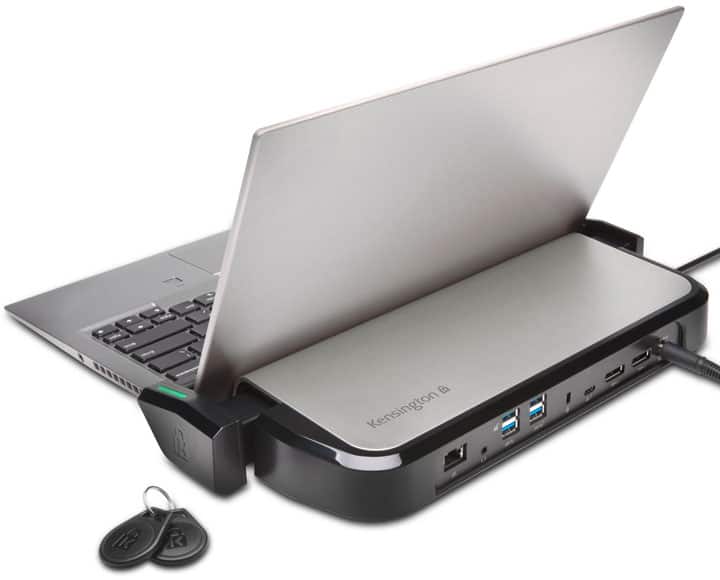 To secure your laptop, you simply adjust the dock's security arms, which serve as a pair of brackets, to hook around your notebook's screen above the hinge. The arms themselves can be extended to fit laptops from an 11- to 15-inch screen. Finally, simply tapping one of the two key fobs electronically locks the arms that hold the laptop in place. There are also scratch-resistant bumpers that act as a cushion along the base and back to protect your laptop. For additional security for the dock itself, you have an option to loop the accompanying lock cable to a table or to use Kensington's trusty K-slot behind the unit.
In terms of connectivity, the Kensington USB-C laptop dock provides dual DisplayPort outputs that can drive two 1080p or one 1440p monitors at 60Hz. You will also find an abundance of regular USB 3.1 Type-A ports including a pair of 10Gbps variant. Lastly, there'a a Gigabit Ethernet as well as an audio combo port. Everything from video to data and power goes through a single USB-C port. USB power delivery is rated at 60W. The Kensington LD4650P dock requires Windows 10 laptops with DisplayPort alternate mode over USB-C. As the dock features are pretty much OS agnostic, there should be support for MacBooks, if not Chromebooks.
OWC Minimalist USB-C Dock for Business Travelers
---
Mobile dock with enough passthrough power to recharge any high-powered USB-C laptops
When it comes to docks, functionality far outweighs looks.  At first sight, the OWC USB-C Travel Dock E isn't much to write home about its pedestrian design.  Yet, the bus-powered mobile dock delivers the industry's first 100W passthrough over USB-C.  Even though we expect most laptop docks will eventually match this, the OWC, for now, offers a no-compromise solution for those who need a power passthrough that can recharge their laptops at full speed even under heavy load.

In the connectivity department, you will find a pair of USB 3.1 Type-A ports and a full-sized SD slot as well as an HDMI 2.0 jack and a Gigabit Ethernet port.  Just don't expect 4k output at 60Hz refresh rate.  A 6-inch USB-C cable is tethered to the unit.  So OWC thoughtfully provides a hideaway compartment on the underside of the dock to securely stow the USB-C cable.  It's worth mentioning that the OWC ships with a dock ejector software which, well, ejects all connected drives (whether they be a USB or SD) in a single click, giving you peace of mind that all data is being saved before drives are unmounted prematurely.
Plugable Mini 85W USB-C Dock
---
Compact USB-C docking station packing a punch in functionality
Having a full-featured USB-C laptop dock doesn't mean you have to sacrifice precious desktop space. The Plugable UD-CAM Mini Docking Station, measuring at 3.75" x 3.5" x 1.25", has nearly everything you need in a compact form factor. Despite its pedestrian design and size, you will find ample ports for your connectivity needs.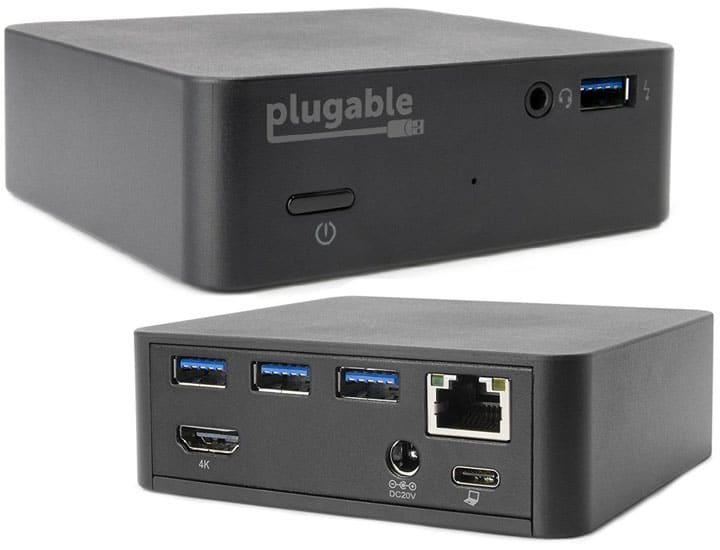 On the rear, you will find 3 USB 3.0 ports with Gigabit Ethernet powered by Realtek RTL8153 as well as HDMI 1.4 out. A USB-C jack on the same side has the capability of sending 85W of power to charge most USB-PD compatible laptops. Plugable has always been upfront with their docks' compatibility. You can check the test results on their official site. To top it off, the supplied AC adapter is rated at 100W so there's enough juice to power everything from a laptop to the most power-hungry peripherals.
On the front, there's a fourth USB 3.0 port as well as a 3.5mm TRRS audio combo jack. The only missing is a built-in SD slot. Last but not least, the $129 Plugable Mini Docking Station also comes with a VESA mount which is immensely useful when paired with a compatible desk, stand, and monitor.
Targus USB-C Dock Made for Samsung Galaxy
---
USB-C phone stand complements Samsung's DeX platform
DeX has been a staple of the Samsung Galaxy line-up for some time, giving you a PC-like productivity experience on a USB-C monitor through the convenience of a smartphone. Yet, software will only get you so far before you realize you can't get much done without your trustworthy mouse, keyboard, and other USB accessories. This is where the Targus Universal USB-C Phone Dock comes in.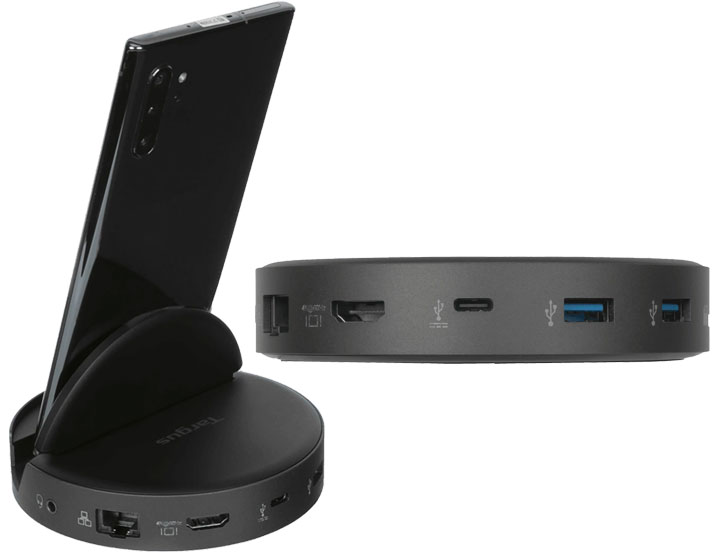 With the Targus, you get a nice phone stand with ample ports. That includes an HDMI jack that can send video at 4k 60Hz; a pair of 5Gbps USB-A ports for peripherals; an SD card reader; an Ethernet port; and last but not least, a 3.5mm audio jack. The base allows you to choose to tilt the phone at two different angles (i.e. 60- and 75-degrees) you like for making video calls and navigating the phone's menus.
When connected to a Galaxy smartphone via USB-C, you will be greeted with a heavily tweaked version of Samsung's Android desktop interface popping up on the USB-C display. Apps optimized for DeX will deliver desktop-like interfaces similar to their PC counterparts. Keep in mind if you connect anything other than a DeX-optimized Samsung Galaxy (S10 or later), you will only see a mirror image of your phone on the monitor.
Satechi USB-C Dock with SSD Socket
---
Mobile USB-C hub designed to bring your M.2 solid-state drives with you on the go
This oversized dongle from Satechi is the company's latest attempt at a mobile docking station for all USB-C laptops and tablets alike.  Available in both space grey and silver, the USB-C Hybrid Multiport Adapter takes a new direction with a built-in SSD compartment.  The socket will, however, only accept SATA M.2 (2230, 2242, 2260, 2280) so it won't work with the more popular NVMe variant.  That's a bummer considering the average speed of a SATA6 SSD is around 500MB/s whereas NVMe SSD in a USB enclosure can easily reach 800MB/s or faster.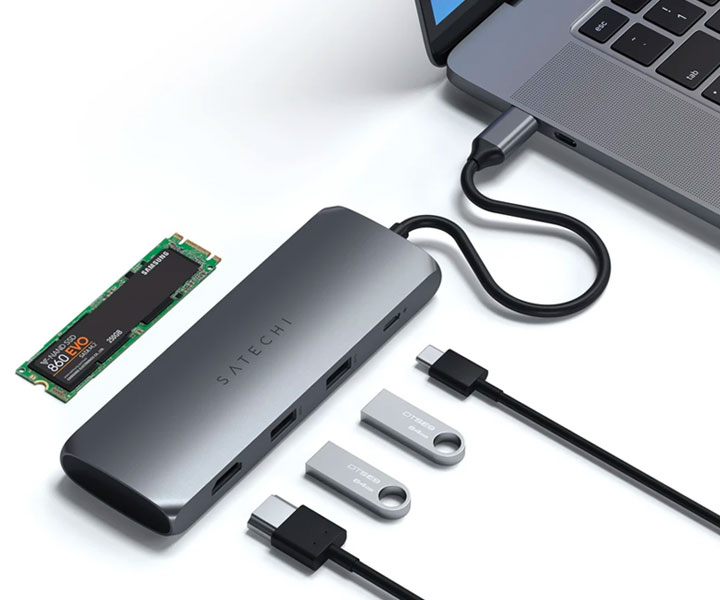 In the connectivity department, the Satechi is tethered to a 20cm USB-C cable and is packed with a pair of 10Gbps legacy USB-A ports as well as an HDMI 2.0 jack capable of sending video output at 4k 60Hz.  The adapter can recharge a laptop up to 100W through its USB-C Power Delivery passthrough. 15W is reserved for the hub's SSD and USB ports so you are left with 85W when the hub needs the power elsewhere. An Ethernet jack, a second HDMI port, and SD slot are absent.  If you need these, you can find these from another Satechi model – the Dual Multimedia Adapter.
Legacy USB Hub Reviews
---