October 2016 Ian Chiu
AOC's Mobile 15.6″ USB 3.0 IPS Monitor (2017)
---
AOC's I1659FWUX extends the company's long history of USB monitors.  The latest iteration now boasts 15.6″ IPS anti-glare panel with a native resolution of 1920 x 1080.  The switch to IPS from TN panels promises more vibrant colors, greater contrast ratio (700:1) and far better viewing angle (up to 160 degrees) than other AOC's USB 3.0 monitors with TN panels.  It comes at a cost, though; the monitor's response rate is rated at 25ms, more than double that of other TN models.
The I1659FWUX is powered by DisplayLink DL-4120 whose company is well-known for delivering propertiary USB graphics solution.  It can adapt video quality on-the-fly based on the USB bandwidth available, but given the AOC monitor requires USB 3.0, one shouldn't notice too much of a difference in real-world usage.  Additionally, there's an auto-rotation feature as well as a built-in stand.  The monitor itself is in glossy plack plastic with very minimal bezel on the sides.  Feeling tempted to carry a secondary monitor with you to boost extra productivity, you may want to know the I1659FWUX adds another 2.6 lb. to your travel weight.

Triple Screen Size with Slidenjoy (2017)
---
Slidenjoy has a multi-screen solution that workaholics around the world would rejoice.  As long as you have a USB 3.0 port, you can add two additional monitors – effectively tripling the desktop estate available to the user.  Slidenjoy engineers, however, take it one step further by repackaging the multi-monitor setup as an integrated system for your laptop.

They adopted a nifty, yet simple solution for making this possible.  The Slidenjoy has magnets that attach itself to the back of your laptop.  From the main unit, you can pull out either one or two flat panels and have them positioned in different angles (up to 180 degrees).  Based on one's needs, multi-tasking experts might already realize the flexibility of this setup.
To put this into perspective, you can have the following arrangements:
Having both screens facing towards you like any other triple-screen setup;
Rotate the screens by 90 degrees for persons sitting at different sides of the table;
Activate either one display and make it rear facing at the person sitting opposite of you.
Slidenjoy eventually wants to ship in three different sizes – 13-, 15- and 17-inch – and in a variety of different colors.  There will also be a premium version made in leather, aluminum or alcantara. As of this writing, there's still no definitive timeline for the delivery but it's likely just hiccups in early production process.
First E Ink USB Monitor (2016)
---
When people talk about E Ink, Amazon Kindle comes to mind.  The paper-like display technology has been the backbone of the popular Amazon's eBook reader line but its applications still haven't successfully expanded to other areas.  So it's always exciting to see something like the Dasung's Paperlike – the world's largest E Ink display powered by none other than USB.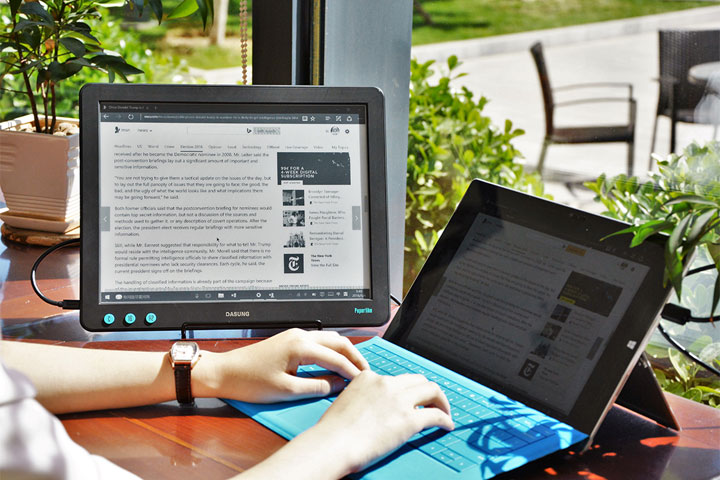 The 13.3" screen with a resolution of 1600 by 1200 offers the largest screen estate powered by E Ink to date.  It is primarily targeted at users who require a secondary display that they can work on a long period of time without getting eye strain.
Due to the inherent limitations of E Ink, you can rule out using the Paperlike for anything that requires quick refresh rate.  Dasung's engineers, however, have come up with new techniques to compensate for ghosting effect and to adjust contrast levels for optimal font display.
Asus' USB-C Mobile Monitor (2016)
---
The Asus MB169C+ is one of the first wave of USB Type-C monitors to hit the market.  What sets this apart from other USB monitors is that the Asus uses DisplayPort alternate mode to send video signal over USB-C.  The same connection is also used to power the monitor, making a true mobile display solution.
Unlike the MB169B+, the job of video processing on the Asus is now handled by laptop's GPU exclusively rather than DisplayLink that has been the de facto USB video solution for many years.  This helps improving performance without sacrificing CPU resources as well as extending compatibility to compatible USB-C tablets and smartphones.
The 15.6" monitor – sharing the same IPS 1080p panel as MB169B+ has a contrast ratio rated at 220 cd/m2 and response rate at 5ms.  It also comes with in-house Blue Light Filter with 4 different settings that promise to lower blue light emissions by as much as 70%.

Acer 27" USB-C Monitor (2016)
---
Gradually, USB-C will join the bewildering array of video ports on the back of our display.  The Acer H277HU is among the first monitors to feature the latest USB-C connector in addition to DisplayPort 1.2 and HDMI 2.0 inputs.  Having this onboard the monitor means compatible notebooks will be able to recharge from display's AC adapter and at the same time send video data via DisplayPort alternate mode over the same USB-C cable.
The H277HU sports a 27-inch 16:9 IPS panel surrounded by a thin gold bezel.  Its native resolution of 2560 by 1440 pixels (WQHD) isn sub-4K, but that should still be enough for micro-managing several different applications on the same screen.  There are also two USB Type-A jacks as well as a pair of 3W speakers.  Interestingly, we would have guess there should be at least one or two USB-C for all the future bus-powered peripherals.

DoubleSight USB Touch Monitor (2014)
---
With DoubleSight DS-10UT, laptop and desktop users alike without a touch-screen can get a taste of what it is like to navigate with fingers.  The 10-inch monitor with a resolution of 1024 by 600 is designed as a supplementary touch-sensitive display that can be used under landscape and portrait mode.  Best of all, it's bus-powered, and is able to work on nearly every major platform, including Linux.
The monitor itself is powered by an in-house solution rather than DisplayLink which is more commonly found in this category.  There are some caveats.  The DoubleSight is plagued by a slow response rate (16ms); a poor viewable angle range; and relatively low screen resolution.  Since it targets a rather niche market, you probably don't have a whole lot of choices.