The reversible USB-C is joining a bewildering array of ports on the back of modern monitors. Not only can it send video signals, data and power simultaneously over a single cable, consolidating connectivity also makes for a cleaner desk for all of us. Here's a non-exhaustive list of USB-C monitors, save for a wireless adapter and a DisplayLink solution that are equally compelling and future-proof.
March 2019 Ian Chiu
Asus ZenScreen Go MB16AP – Portable USB-C Monitor with Built-in Battery
---
Asus ZenScreen Go MB16AP 15.6" IPS display is the third iteration of the company's USB-C portable monitor line-up.  Though, the MB16AP is almost every bit the same as last year's MB16AC whose improvements include a narrow bezel and the introduction of USB-C to receive video signal as well as power from a laptop.  What distinguishes the MB16AP from its predecessor and all the other USB-C mobile monitors is its integrated 7,800mAh battery.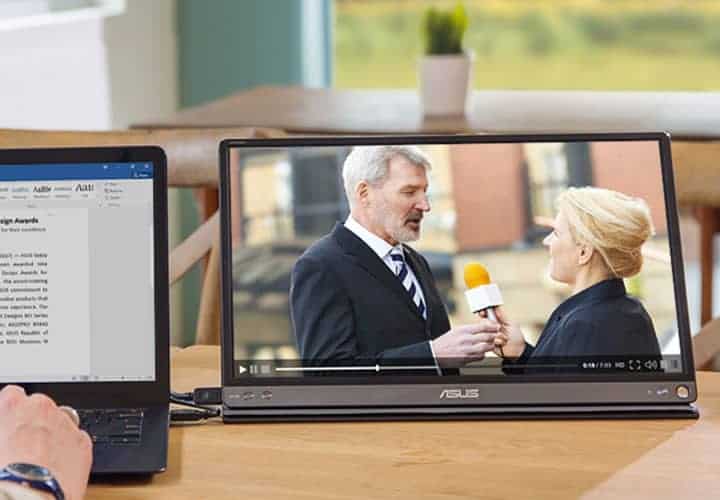 When fully charged, the USB-C monitor has enough juice to power itself for up to four hours before it has to draw precious laptop's battery.  Most importantly, running on its own power allows the MB16AP to finally work with smartphones whose USB-C port will never have sufficient output to run a 15.6" monitor.  Asus claims the MB16AP will work with Samsung Note 9 and S10 right out of the box through the phones' DeX full-screen desktop mode.  It would be a welcome change if Nintendo Switch – also with a full-featured USB-C – also works in the same setup as mobile gamers will rejoice over the news.
The monitor itself is a IPS panel with a brightness rating of 220 cd/m2 and a contrast ratio of 800:1.  It also comes with in-house Blue Light Filter with 4 different settings that promise to lower blue light emissions by as much as 70%.  The included software enables auto rotation, but only on Windows.  The MB16AP also brings back DisplayLink to allow compatibility with legacy PCs without the latest USB-C ports.  However, if you have a choice, DisplayPort over USB-C always yields better video quality than DisplayLink over USB-A as the latter involves lossy compression during video output.  Lastly, Asus protects the ZenScreen MB16AP with a three-year warranty, which is essential for a productivity tool to business travellers.
Philips Brilliance 499P9H – Largest USB-C Monitor Available
---
Philips' Brilliance 499P9H is a mammoth monitor that spans a diagonal length of a whopping 49 inches with an equally impressive resolution of 5120 by 1440 pixels to match.  This translates to same kind of screen real estate you get with a pair of 27-inch display but without the obstructive bezels and gaps getting in the way.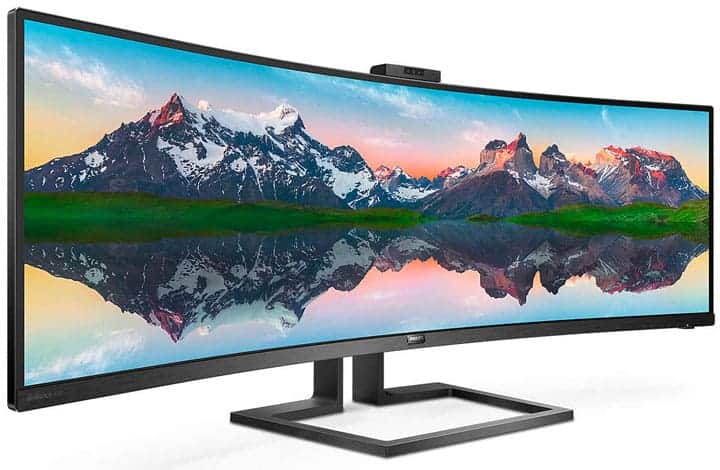 Its massive curved VA panel sports an ultra-wide 32:9 aspect ratio and with a 1800R curvature rating, the Philips' 499P9H has a relatively pronounced curve.  So you are recommended to sit within 1.8m of the monitor for optimal viewing experience.  Creative professionals may want to know the Philips offers 91% Adobe RGB color range.  Contrast ratio is rated at 3000:1 and max brightness of 450 nits.
The Brilliance 499P9H – as a business-oriented monitor – comes with a plethora of utilitarian features suitable for corporate environment.  Notably, you get a KVM switch allowing control of two PCs from a keyboard and mouse connected to the monitor.  The ultra-wide display serves as a split-screen setup in KVM mode.
The monitor also doubles as a USB 3.1 dock station complete with audio, a Gigabit Ethernet jack and a pair of downstream USB 3.0 ports.  The Brilliance 499P9H additionally has a retractable 2-megapixel webcam compatible with Windows 10 Hello facial recognition security.  As with any USB-C monitors, you get all the above features plus the ability to recharge a laptop at up to 65W over a single cable.

Lenovo ThinkVision M14 – USB-C Monitor with a Much Needed Power Pass-through
---
Multi-display is beginning to become an indispensable tool for business travelers to maximize their productivity when on the go.  It wouldn't be a surprise to see Lenovo has its own portable monitor.  The 1.3 lbs. matte black ThinkVision M14 sports a 14-inch IPS panel treated with a layer of anti-glare coating.  The full HD display also delivers 72 percent coverage of NTSC colour gamut and brightness of of 300 hits, both of which are pretty standard for monitors aimed at this niche market.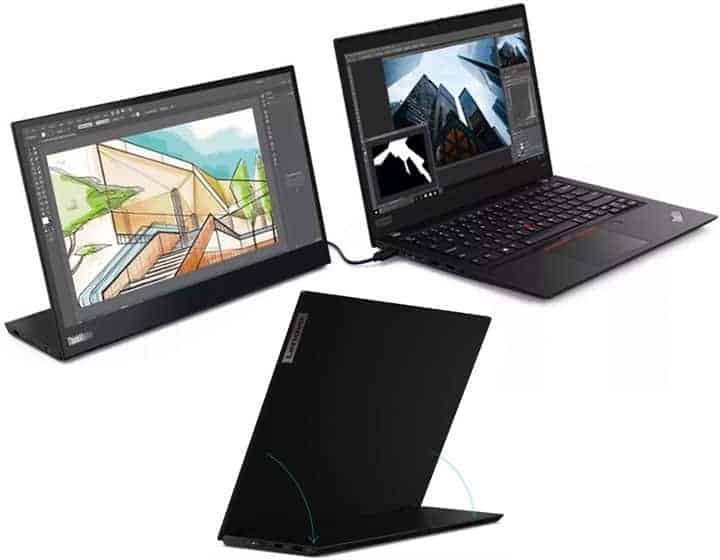 Lenovo has thoughtfully included a flip base and a USB-C power pass-through port so one can use a Power Delivery-compliant power brick to provide power to the monitor as well as to charge the laptop simultaneously.  It's also worth noting another advantage of having the USB-C pass-through is that the ThinkVision M14 can pair up with iPad Pro (2018 models) in case you need to give a presentation to small group of people.
Mobile Pixels DUEX – Portable Monitor that Piggybacks on Your Laptop
---
Portable monitors have popped left and right yet they are simply USB-powered display without much thought given to the device's ergonomics and mobility.  Mobile Pixels tries to change that with DUEX.  It comes with magnetic adhesives so the DEUX can piggyback on your laptop.  Upon installation, its slider mode allows you to pull out the 12.5" 1080p panel to either side of the laptop.  And from there, you can even flip the display by 270 degrees to the back of a laptop for what Mobile Pixels calls it a presentation mode.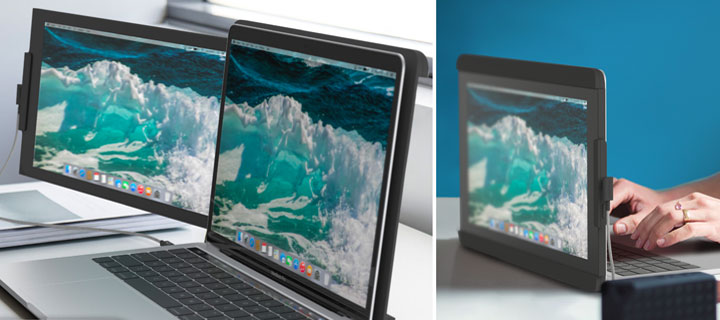 What sets the DUEX apart from rest of the pack is its unique ability to be deployed in the optimal settings at a moment's notice.  This makes on-the-go multi-monitor setup less of a hassle for business travelers.  Keep in mind the package does add an extra 1.5 lbs. to your laptop carrying weight, not to mention the stress it puts on the laptop display's hinge when the DUEX is deployed.  Note that Mobile Pixels is reportedly to be using DisplayLink chipsets so the DUEX is forward and backward compatible with USB-A and USB-C laptops.
As of this writing, the Mobile Pixels DUEX is on limited availability as the company is still ramping up production to ship to its original Kickstarter and Indiegogo backers.
AOC I1659FWUX – 15.6″ IPS Monitor Powered Exclusively by USB-A
---
AOC's I1659FWUX extends the company's long history of USB monitors.  The latest iteration now boasts 15.6″ IPS anti-glare panel with a native resolution of 1920 x 1080.  The switch to IPS from TN panels promises more vibrant colors, greater contrast ratio (700:1) and far better viewing angle (up to 160 degrees) than other AOC's USB 3.0 monitors with TN panels.  It comes at a cost, though; the monitor's response rate is rated at 25ms, more than double that of other TN models.
The I1659FWUX is powered by DisplayLink DL-4120 whose company is well-known for delivering propertiary USB graphics solution.  It can adapt video quality on-the-fly based on the USB bandwidth available, but given the AOC monitor requires USB 3.0, one shouldn't notice too much of a difference in real-world usage.  Additionally, there's an auto-rotation feature as well as a built-in stand.  The monitor itself is in glossy plack plastic with very minimal bezel on the sides.  Feeling tempted to carry a secondary monitor with you to boost extra productivity, you may want to know the I1659FWUX adds another 2.6 lb. to your travel weight.

Luna Display – Turning Your iPad into a Second Monitor (Supports Apple Pencil)
---
Well, it's not exactly a USB display… but if you own a Mac as well as a retina iPad, then you are in for a treat.  Astro HQ's Luna Display is a tiny USB-C dongle that lets you make use your tablet as a secondary screen over WiFi.  By taking advantage of iPad's screen, the Luna Display brings multi-touch capability to already familiar Mac interface.  There's also particularly a strong use case if your iPad supports Apple Pencil.  This certainly opens the door for creative professionals and power users alike to tap into the potentials of working with desktop apps on their iPad Pro.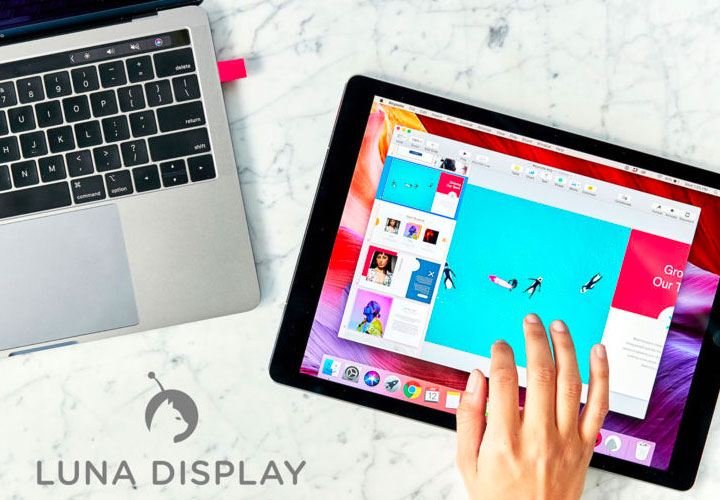 The accompanying software takes advantage of Metal hardware acceleration of Mac's GPU to boost performance so that Luna Display adapter has a better chance of delivering 60fps video to your iPad.  Having said that, decent refresh rate and optimal image quality are largely dependant on having a strong and consistent WiFi coverage throughout your place.  Luna Display's app also seems to work on a wired (USB-C or Lightning) connection but you would be confined to the length of the cable connecting from your tablet to Mac.  Given the popularity of iPad, the $80 USB-C dongle might be what you need to give your tablet a new life.
We will be adding more unique USB monitors that as soon as they become available.  Meanwhile, if you stumble upon anything cool you like us to put on this list, let us know in the comment section below.