26 November 2020, Comments: Comments Off on Five Mobile USB-C Monitors to Keep You Productive On the Go (or WFH)
November 2020 Ian Chiu
Portable monitors have popped up left and right in recent years.  They can easily double your Windows desktop area without cluttering up your "real" desktop.  The upgrade process is also as easy as plugging in a USB-C cable, which conveniently carries both video and power.
In general, their screen sizes range from 12 to 15 inches diagonally.  Anything smaller will tax your eyes and anything larger than a 15-inch would make the monitor heavy and bulky.  Another advantage of mobile monitors is their relatively small size as well as lower weight compared to their desktop counterparts.  This makes them ideal companions for anyone who needs the portability and productivity value of a second monitor around a cramped workspace.
Without further ado, here are five USB-C monitors that should meet the requirements of those who are working either from home, on the frontline in the office, or both.
Lenovo ThinkVision M14t
---
USB-C Monitor with touch-screen and USB PD pass-through
Secondary mobile monitors have become an indispensable tool for business travelers to maximize their productivity on the go.  It wouldn't be a surprise that these portable displays are also getting a touchscreen as it represents the next logical evolution.  Lenovo's ThinkVision M14t is among the first to jump onto the bandwagon.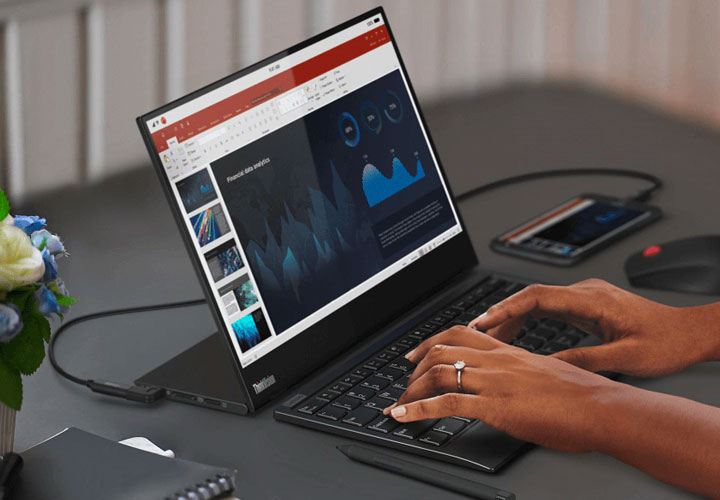 The 1.5 lbs. matte black ThinkVision M14t sports a 14-inch IPS capacitive touch panel with a top glass layer.  Together with 10-point touch capability, the M14t transforms into an oversized tablet when paired with a touch-friendly OS such as Windows 10 and Android.  For the latter mobile platform, having touch interactions makes a world of difference.  On top of that, a 4096-level pressure-sensitive stylus that comes with the package is handy for signing documents and taking notes.  Though, the monitor might struggle to keep up with the screen responsiveness required for precision drawing.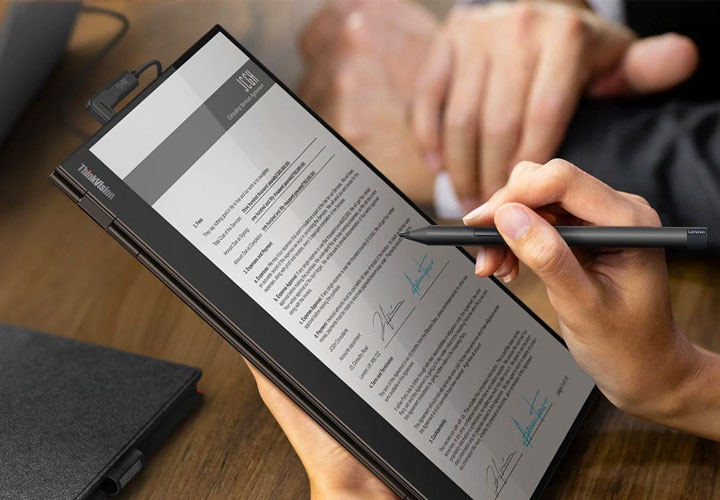 Lenovo has also thoughtfully included a flip base, which supports the screen to stand upright in portrait mode.  Additionally, there's a USB-C power pass-through port so one can use a USB Power Delivery-compliant power brick to provide power to the monitor as well as to charge the laptop (up to 65W) or Android smartphone simultaneously.
Mobile Pixels TRIO
---
Portable monitor that piggybacks on your laptop's display
Mobile monitors in general aren't exactly built for ergonomics and quick deployment in mind. Mobile Pixels tries to change that with TRIO.  What makes the TRIO stands out from the pack is its integration with a laptop.  It comes with a slider that sticks to the back of a laptop display with magnetic adhesives so the TRIO can be semi-permanently attached to your laptop.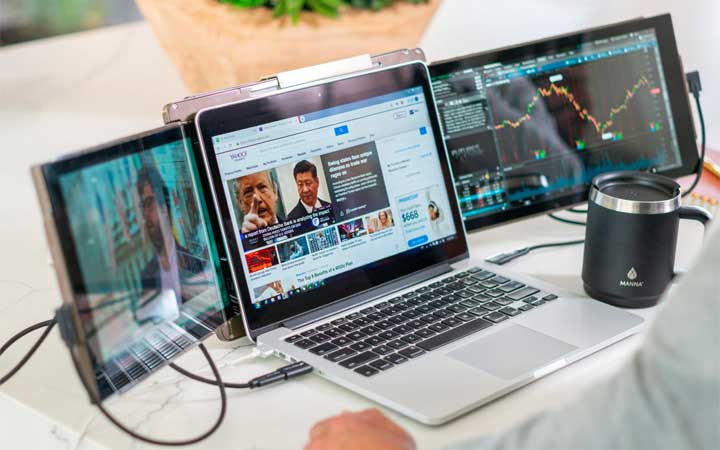 Upon installation, its slider mode allows you to extend the 1080p panel to either side of the laptop.  (You have a choice of 12.5- and 14-inch display.)  From there, you can even rotate the display by 270 degrees to the back of a laptop into what Mobile Pixels calls a presentation mode.  You also have an option to make the leap to a triple display setup with a second TRIO display clipped on the back of the first unit.
TRIO's ability to be adjusted to the optimal settings according to one's preference has always been a strength with Mobile Pixels line-up.  This makes on-the-go multi-monitor setup less of a hassle for business travelers.  Keep in mind that the package does add an extra 1.5 lbs. to your laptop carrying weight, not to mention the stress it puts on the laptop display's hinge when the TRIO is deployed.  Note that Mobile Pixels is reported to be using DisplayLink chipsets so the TRIO is forward and backward compatible with USB-C and USB-A laptops respectively.
Mobile Pixels Trio Max 14-inch Portable Monitor (One-monitor Only)
【Upgraded Portable Laptop Monitor】:Innovative mounting system for laptops-Attach, slide...
【Plug and Play】: Optimized from DUEX PRO portable monitor, NO DRIVER required when connect...
【One Trio Max Display on Multiple Device】:Other than laptops, Trio max works with your...
NexDock Touch
---
Lap-dock with built-in display for your Samsung DeX-compatible smartphones
If you are into Samsung's DeX, Android Q desktop mode and alike, you may want to know NexDock Touch can transform your smartphone into a fully functioning PC.  At first sight, the NexDock can be easily be mistaken for a Windows laptop.  You'll find a 14-inch narrow-bezel touchscreen, a full-sized backlit keyboard and a large trackpad as well as a comprehensive assortment of ports.  Heck, there's even a built-in quad-speaker setup.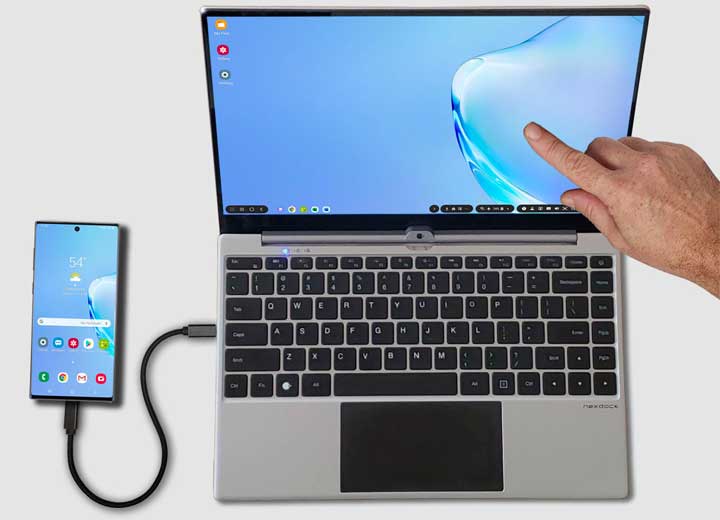 The similarities, however, end as there's neither a CPU nor storage inside the unit.  Hence, everything is done on a compatible smartphone that extends the interface to NexDock's touchscreen over USB-C.  A 60Wh battery underneath the keyboard supplies power to the NexDock itself as well as the connected smartphone.  In a technical sense, the NexDock Touch is a USB-C docking station with an impressive array of integrated features so you can get some work done in the absence of a "true" laptop.  Furthermore, its built-in monitor works just as well when you connect the USB-C from the NexDock to a Windows or Mac.  Touch-screen capability on desktop OSes still awaits confirmation.
The NexDock Touch isn't something for everyone.  You'll need a smartphone with a desktop mode that can fill NexDock's 14-inch screen with a Windows-like interface.  Games, as well as productivity apps including MS Office and Adobe Lightroom, will inherently see the most benefits on the dock's massive touchscreen.  As niche as NexDock Touch might sound, it redefines the product category for years to come.
Asus ZenScreen Go MB16AP
---
Portable USB-C monitor with massive built-in battery
Asus ZenScreen Go MB16AP 15.6" IPS display is the third iteration of the company's USB-C portable monitor line-up.  Though, the MB16AP is almost every bit the same as last year's MB16AC whose improvements include a narrow bezel and the introduction of USB-C to receive video signals as well as power from a laptop.  What distinguishes the MB16AP from its predecessor and all the other USB-C mobile monitors is its integrated 7,800mAh battery.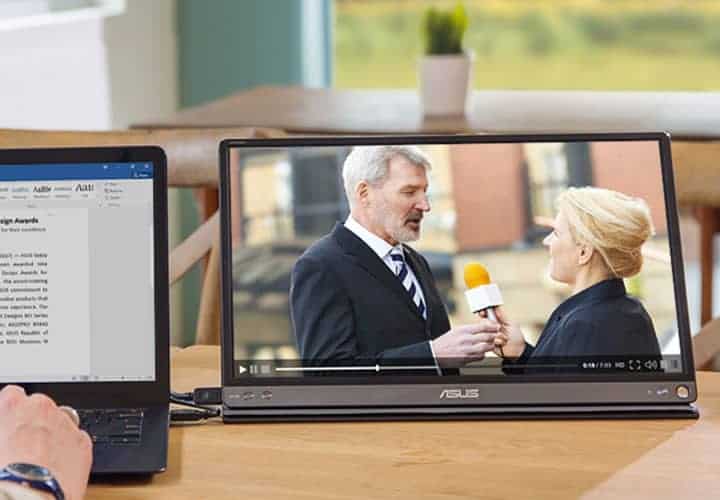 When fully charged, the USB-C monitor has enough juice to power itself for up to four hours before it has to draw the laptop's battery.  Most importantly, running on its own power allows the MB16AP to finally work with smartphones whose USB-C port will never have sufficient output to run a 15.6" monitor.  Asus claims the MB16AP will work with Samsung Note 9 and S10 right out of the box through the phones' DeX full-screen desktop mode.  It would be a welcome change if Nintendo Switch – also with a full-featured USB-C – also works in the same setup as mobile gamers will rejoice over the news.
The monitor itself is an IPS panel with a brightness rating of 220 cd/m2 and a contrast ratio of 800:1.  It also comes with an in-house Blue Light Filter with 4 different settings that promise to lower blue light emissions by as much as 70%.  The included software enables auto rotation, but only on Windows.  The MB16AP also brings back DisplayLink to allow compatibility with legacy PCs without the latest USB-C ports.  However, if you have a choice, DisplayPort over USB-C always yields better video quality than DisplayLink over USB-A as the latter involves lossy compression during video output. 
Asus ZenScreen Go MB16AP 15.6-inch Touch Monitor
15.6" Fhd IPS USB Type-C portable monitor with hybrid signal solution for compatibility with...
Ultra-portable award-winning design at 1.87 pounds and 0.3 inches slim to pair perfectly with...
Built to be on-the-go with 7800mAh battery for ultimate compatibility with both laptops and...
AOC I1601FWUX
---
Mobile 15.6″ IPS monitor comes with a nifty smart cover
AOC's I1601FWUX extends the company's long history of USB monitors.  The latest iteration boasts 15.6″ IPS anti-glare panel with a native resolution of 1920 x 1080.  The switch to IPS from TN panels delivers more vibrant colors, a greater contrast ratio (700:1), and far better viewing angle (up to 160 degrees) than other previous models. Response time at 5ms is on par with that of Lenovo and Asus offerings.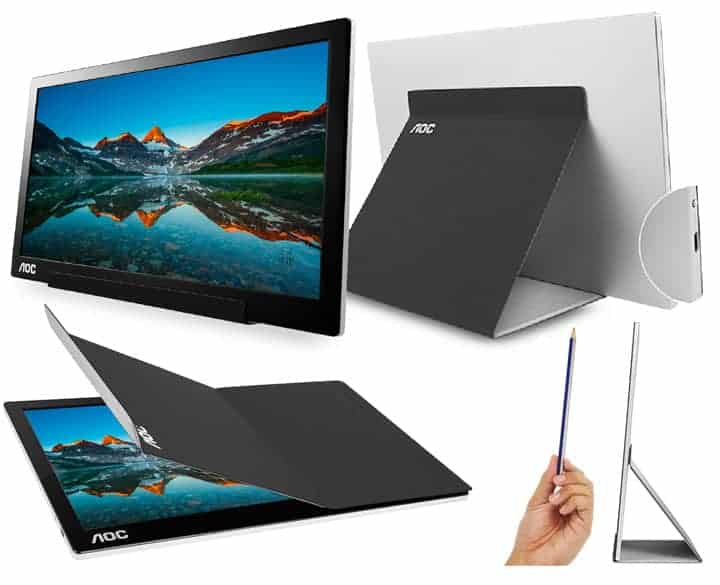 The 1.8 lbs. USB-C monitor can also align with screen content with the orientation of the monitor.  As it doesn't come with a built-in stand, a foldable smart cover takes its place to hold the screen in either portrait or landscape mode.  Keep in mind this version of the AOC portable monitor has opted for USB-C exclusively; hence, you will need to make sure your laptop's USB-C port is capable of DisplayPort 1.2.  The I1601FWUX is backed by a three-year warranty.
Sale
AOC I1601FWUX 15.6
USB-C DP Alt Mode on host device is REQUIRED, there is NO HDMI input on this monitor** Please...
AOC 16-inch class (15.6" viewable) USB-C portable monitor with IPS screen and full HD 1080P...
Simplify your connectivity with one single USB-C cable that powers and delivers video signal to...
We will be adding more USB mobile monitors as soon as they become available.  Meanwhile, if you stumble upon anything cool you like us to put on this list, let us know in the comment section below.

USB Duplicators By Nexcopy
Nexcopy manufactures a variety of PC-based and standalone
USB duplicator
solutions.
PC based systems support advanced USB functions such as write protection, CD-ROM partition and multi-partition creation, while standalone systems are ultra-fast, high speed USB copiers duplicating gigabytes of data quickly and accurately.