May 2022         Ian Chiu
D-link DWA-X1850 Wi-Fi 6 Adapter
---
Adapter brings Wi-Fi 6 speed & WPA3 wireless security to older laptops
Households and small offices are beginning to jump onto the Wi-Fi 6 bandwagon.  With a spare USB-A port, D-link's DWA-X1850 – the first dongle compliant with Wi-Fi 6 (802.11ax) – makes it easy for old-school laptops to meet the latest generation of wireless standards.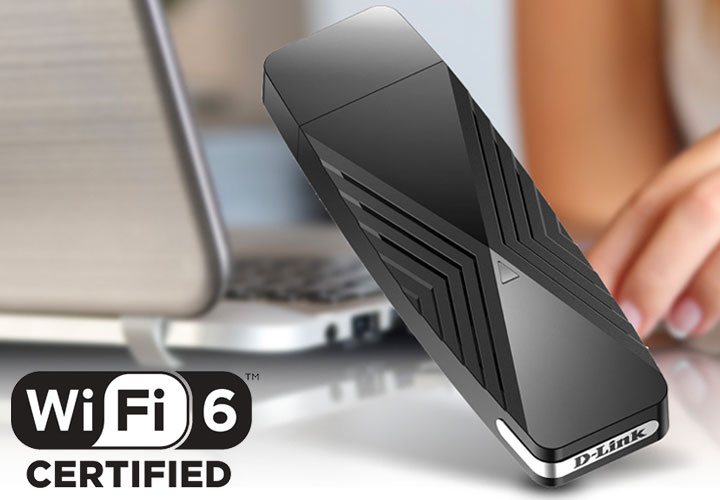 The D-link, however, only delivers max. performance at 1200Mbps when operating at 5GHz when other add-on cards are rated for 2400Mbps on the same frequency band.  On the 2.4Ghz waveband, expect speed up to 574Mbps. The DWA-X1850 also features WPA3 – the first major (and much-needed) upgrade for wireless data encryption in 14 years.  In this day and age, Wi-Fi Alliance stepping up the game in data security is welcome.
Acer Predator Connect D5 5G Dongle
---
USB-C dongle brings high-speed, low-latency 5G connectivity to laptops
The Acer Predator Connect D5 is one of the first 5G USB modems on the market. As a dongle, it doesn't take much space nor requires its own battery like a mobile 5G Wi-Fi hotspot would. Its peak speed is between 2.7Gbps (pure 5G) and 2.5Gbps (hybrid network), depending on the base station you're connected to. 5G can run hot, especially during the heat of battle. To keep things cool, the Predator Connect D5 is equipped with a centrifugal fan hidden beneath the grill cover.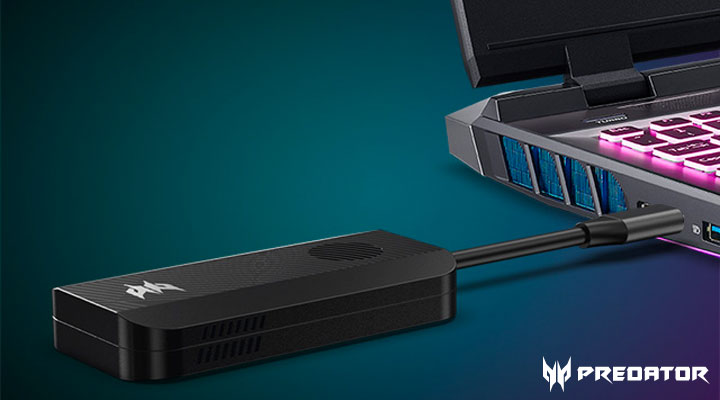 Touted as a gamer's 5G dongle, the Predator Connect D5 has various means to improve network performance during esports games. First and foremost, Acer partners with WTFast to allow the dongle's "gaming traffic" to be routed through a special VPN (or GPN as WTFast would call it) to minimize latency. When that time-limited trial ends, there's still ExtremeRoute utility that automatically gives priority to traffic associated with online games.
Plugable USB-C Gigabit Ethernet Adapter
---
Designed to bring wired Ethernet to USB-C only laptops and tablets
One thing you won't find on modern ultra-thin laptops is an Ethernet jack.  As very few manufacturers would throw in an external network adapter with their notebooks, USB-C Ethernet dongles will remain popular among road warriors for years to come.  This USBC-TE1000 USB-C Ethernet adapter from Plugable can reach 1Gbps with ubiquitous Cat 5 cabling.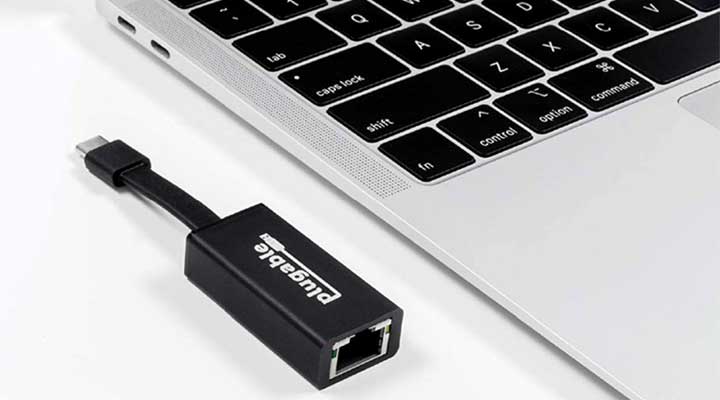 Powered by Realtek RTL8153, the compact USB-C adapter supports full-duplex Ethernet operations and auto-negotiation between grand old 10Mbps, 100Mbps, and 1Gbps modes.  There's out-of-box compatibility with Windows, macOS, and ChromeOS but iPadOS and Android are unfortunately not supported.  Last but not least, Plugable provides a two-year standard warranty with the network adapter.
Cable Matters USB Data Transfer Cable
---
When you are trying to move a bunch of files from one PC to another, a USB bridge cable is an alternative to consider. It's a logical choice for system-wide data migration when setting up a new PC without congesting your wireless or wired network.
Cable Matters makes such a cable. It has USB-C on one end and good old USB-A on the opposite end for your older computer. As the 2m transfer cable is designed for last-generation USB ports, the maximum speed is limited to 5Gbps for compatibility purposes.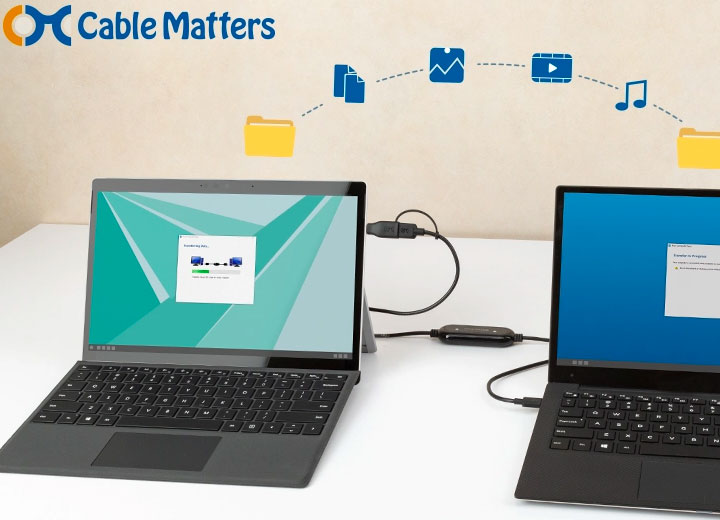 For cross-platform data exchange, the Cable Matters' bundled PClinq 5 comes into play. It supports drag-and-drop file transfers between any compatible OS – Mac and Windows. Also included is Bravura's Easy Computer Sync which further allows remote control of another PC connected via the bridge cable. Additionally, the Cable Matters is compatible with PCMover if you need a smooth transition of your user settings along with applications.
Other Network Adapter Reviews
---