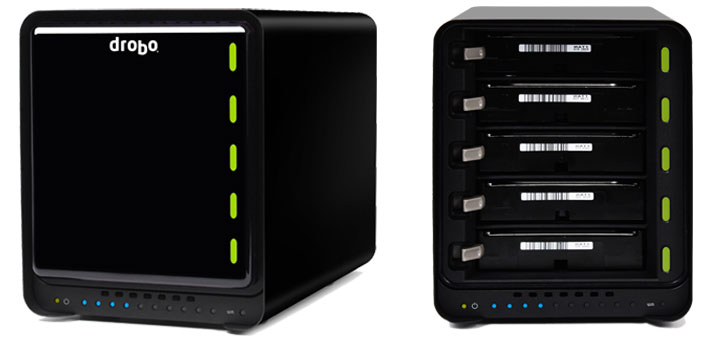 Drobo external RAID-like storage has been around since 2007, and it has received numerous upgrades, each one more expensive than last as the company ventures into more lucative NAS and SAN market. Its last round of updates focus primarily on introducing Thunderbolt to its DAS but even lower end model starts at $449, not to mention the fact that this one is made for SSDs and 2.5″ drives. For those who are on a budget, time has come for a new entry-level Drobo.
The 4-bay drive-less Drobo is now at its third generation, leaving Thunderbolt and FireWire 800 behind in favor of USB 3.0 to lower the cost. The most notable improvements are its ability to rebuild 4 times faster than its predecessor (in the event of a disk failure); and its enhanced Time Machine support. The latter allows Apple users to reserve a certain amount of space for MacOS' backup purpose instead of letting the whole drive being limited to just Time Machine storage. Keep in mind that this particular model has no dual disk redundancy; in other words, your data is vulnerable when 2 disks fail simultaneously.
Even though Drobo is back with a relatively affordable price tag of around $349, it isn't easy to convince someone to choose over, say, a sub-$200 USB 3.0 RAID box. It effortless installation, user-friendly drive monitoring software and battery backup feature may appeal to those are not tech-savvy. The unit comes with a standard 2-year warranty but company will gladly sell you an extra year of protection, which can be renewed as long as the product hasn't been discontinued.