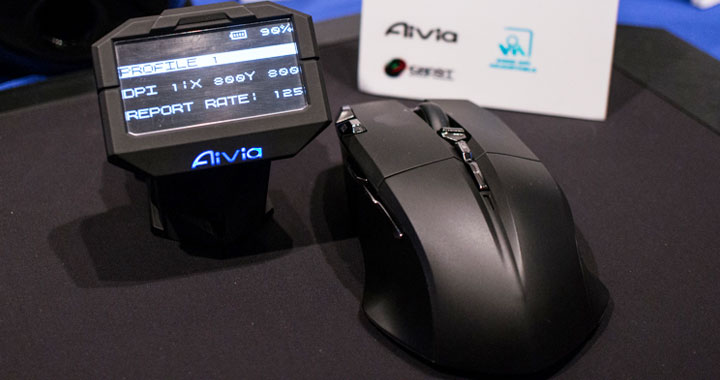 The soon to be released Gigabyte Aivia Uranium not only is an obvious improvement over the previous M8600, but also raises the bar for all wireless mice with its highly intelligent power management abilities. Instead of the already impressive 50 hours, the M8600 was able to do, the Aivia Uranium is rated for 70 hours and it does so using a pair of AA batteries rated at a rather anaemic 2100mAh. To recharge, you simply plug the mouse into the included Ghost Macro Station which doubles as the wireless receiver.
Unlike previous iterations, this Ghost Macro Station has an integrated OLED monochrome display to clearly show how far along in the recharging cycle a power pack is. It also shows the current DPI setting of the Uranium and its current wireless frequency. You can even customize the macros, as this is where the onboard memory for the Uranium is stored. By offloading as much as they could from the mouse to the station, Gigabyte's claim of 70 hours of wireless use does seem much more plausible.
As for the Aivia Uranium's capabilities, not much is known about this soon to be released mouse. What is certain is that Gigabyte has opted for a 5600 dpi laser sensor and 10 programmable buttons with 5 onboard profiles. As with all gaming mice, the Uranium's integrated LEDs change color – blue, green, red , bright blue and purple – to show what profile is active. However, what remains to be seen is if their boasts on "lag free" gaming are correct or not, as the previous model did suffer from time to time in this regards. In either case when this mouse is released in June it is surely worth a closer look. No word on pricing is available at this time.