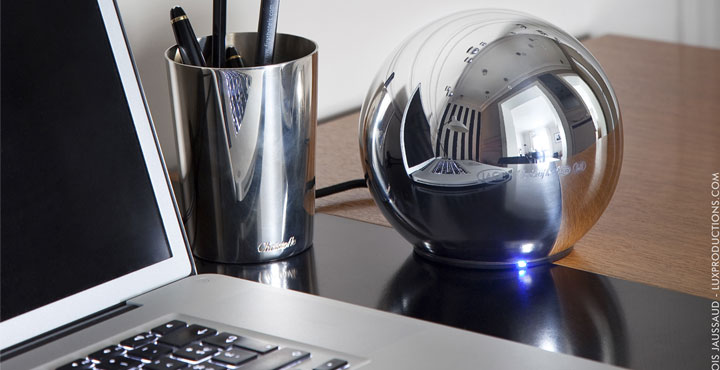 LaCie has made quite the reputation for themselves by creating unique and aesthetically pleasing devices. Whether this is from entirely in-house designs or via collaborations with Porsche or even designers like the world-renowned Philippe Starck, one thing has remained constant: LaCie's commitment to creating elegant yet fully functional pieces of technology which are almost pieces of artwork in their own right.
Their latest collaborative effort is with Christofle of France and this time there is very little debate on if it is art or not – as it obviously is. It doesn't matter if it is residing in a boardroom, a bedroom or even a dorm room, the LaCie Sphere will add a touch of old world elegance to any room; and that to us is the very definition of art.
At its core, the Sphere is a 1TB USB drive that comes disguised as a 1 lb. 5.3-inch silver plated sphere. While it is only silver plate covering a steel shell, the perfect curvature of this design requires handcrafting and manual silver plating that only masters of the craft can do. This is where Christofle's world renowned silversmiths enter the equation as they take what could have been boring and turned it into a true piece of art.
Because the Sphere makes use of a 2.5″ mobile drive no external power brick is needed and all power comes through the lone USB 3.0 port. To help ensure that you know when the Sphere is in paperweight 'art or 'technology mode', LaCie has included a blue led at the bottom which gives this silver globe a nice touch of sophistication. Unfortunately, handcrafted artwork always comes with a hefty price tag and the Sphere is no exception. Expect this external storage artwork device to set you back a whipping $490 plus shipping directly from LaCie. However if you need that special gift for your CTO or CEO, the LaCie would certainly score you a lot of brownie points with your boss.