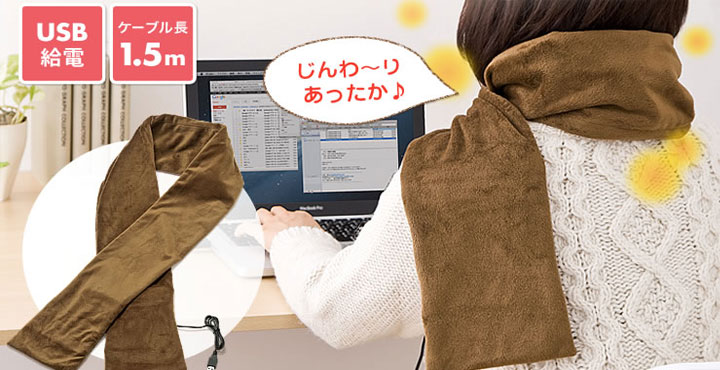 For those cold winter days while waiting at the bus stop or even those days you are stuck in the AC'ed server room, the USB muffler by Sanwa Direct may just be the best gift you ever received. Unlike your typical synthetic scarf, the USB muffler comes with a few handy additional features. Firstly, both ends have hand warmer pockets so as to help keep your hands as well as your neck warm. However, the main selling feature of this muffler is obviously its heater feature.
While it may not be as fashionable as a cashmere or silk scarf, the built-in heater will keep you much warmer. Though, Sanwa Direct guarantees it won't get too warm and burn you. To precise, the heating element is rated to warm to 37ºC before the thermostat cuts power, and it will not turn it back on till cooling down to 32ºC.
Of course, where it is USB powered, you will need to have either use a USB battery pack or free USB port to power it. With its 1.5m cord, you won't need to have the power source too close to your neck. If the USB Muffler sounds like the perfect gift for someone you know you may have to source out special shipping as this $14 scarf is only available in Japan at this time.