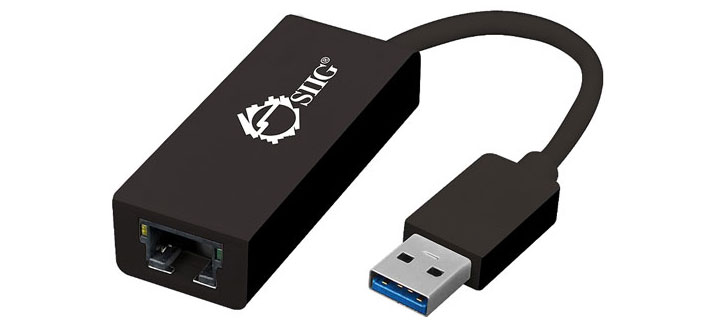 As many of you may know, all Windows 8 tablets and majority of Ultrabooks don't come with built-in Ethernet, let alone one supporting Gigabit. This may not annoy you at first since we are so used to WiFi but this annoying omission will come to haunt you when checking into a hotel room only to find out Internet connectivity is provided by Ethernet exclusively.
Now there are adapters although they are limited to USB 2.0, leaving Gigabit out of the question. It's a long time coming but SIIG finally ships a USB 3.0 Gigabit Adapter – for both Windows and Macs. The external Ethernet dongle – powered by ASIX AX88179 – needs 900mA from a USB 3.0 port; though it's not certain if it needs all that power to turn on the Gigabit mode. Additional features include Wake-on-LAN; power saving mode when cable is unplugged; and diagnostic LEDs.
Incidentally, SIIG claims the dongle comes with Mac support (10.6.x or later). If you own a recently released MacBook, then there's always the Thunderbolt to Gigabit Ethernet Adapter. The SIIG USB 3.0 to Gigabit Ethernet Adapter – backed by a 5-year warranty – is now available for around $33, significantly lower than it's $49.99 MSRP.