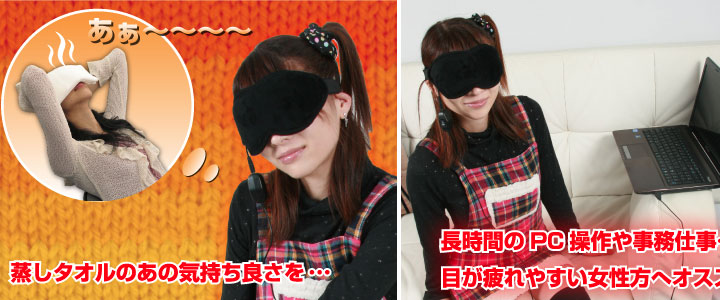 With this latest release Thanko may officially have a heater for everything. If you've got a body part that's cold, they've got a wacky heater for you (See: breast, feet and even lunch box). While they seem a little odd, keeping you wrists warm can help prevent RSIs and having toasty feet is just plain nice. Rounding out the reasonable set, this USB Eye Warmer from Thanko seems like it might actually be pleasant all year round.
Just about everyone knows how nice a warm towel over your face can be. It's relaxing and refreshing but who really gets the time except on long flights. This might be a great way to help you remember to take the occasional 'Me' break and rest. Plug the Thanko Eye Warmer into a USB port on your computer and wrap the elastic cord over you head and drift off to your cave. The soft plush eye covering cushions will begin to warm up. This should at least temporarily remove you from the stress of your day and increase the blood flow around your face and eyes. It has both high and low settings for your comfort controlled by a switch within easy reach.
It even has a nice long cable on it if you need to stretch out for a bit. Office users might want to enlist the help of a snoring buddy, a pal to keep you from getting caught if your break turns into a nap. MSRP puts this around $20 converted USD which is again very reasonable for a little slice of spa time in the middle of the day.