While not the absolute fastest dock on the market, the only time you will notice this reduced performance is when using extremely high speed SSDs. As long as you stick to hard drives, the BlacX 5G drive dock is a decent choice.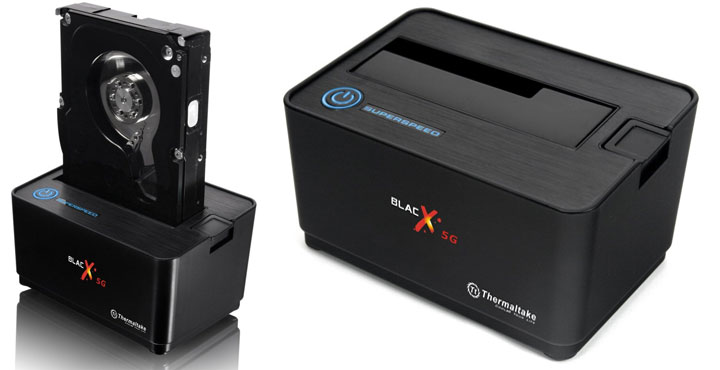 February 2011 Anthony Garland
Form Factor
---
If you have never picked up or used a USB 3.0 hard drive dock before the appearance of the BlacX 5G will be a little disconcerting to say the least. The funny thing is, for people who have used a USB hard drive dock, the heft and feel of the BlacX will also be confusing. The reason for this is one group of people will find the dimensions of 5.35″ x 2.87″ x 3.46″ to be wrong for an external storage solution as they are used to USB 3.0 enclosures which are a of lot taller, yet thinner.  When compared to the SIIG USB 3.0 drive dock reviewed not all that long ago, the .69 lb. of the Thermaltake is tiny and light.
To say that this is easily the smallest, most lightweight USB hard drive dock I have ever seen is not overstating things. The upside to this is it makes transporting the BlacX 5G easy. The downside to this lack of girth is that it does give rise to questions about its stability. After all, when you are sticking a 3.5″ hard drive that is not only taller but also can potentially weigh as much as the BlacX 5G you do have to wonder if the dock is going to tip over. Luckily, Thermaltake engineer's also had this thought and have used a large weight in the bottom of the chassis to give the BlacX 5G an extremely low center of gravity. Sadly, this also means that while this is lightweight, most of the weight comes from this ballast making the BlacX 5G's chassis flimsy.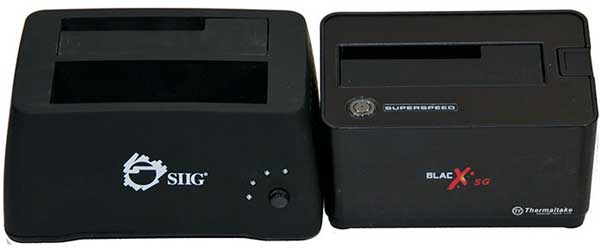 Please don't get me wrong the plastic shell of the BlacX 5G USB 3.0 hard drive dock is still more than thick enough that you are not going to poke a hole in it or anything, but you will have to be much more careful not to drop it than you would a thicker, rubberized dock such as the SIIG. The upside to not rubberizing the plastic exterior means the BlacX 5G is not a dust and lint magnet like my SIIG is, and in fact the glossy plastic does look very striking. Especially, when you have the power turned on and the power switch glows its nice blue glow.

The other nice feature I really do like about the BlacX 5G is the fact that it has a very nice eject mechanism. This makes taking hard drives out much easier; especially when you use the included silicon covering on the hard drive as then you can get a real good grip on it.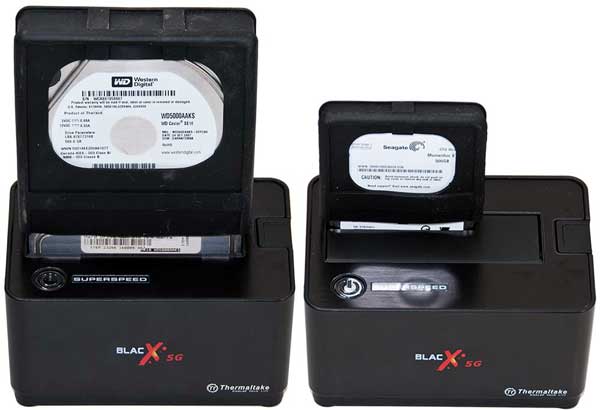 Where this model can accept both the smaller 2.5″ and larger 3.5″ drives an external power source is needed to provide the necessary power to the larger drives. As with many, this means an external power brick and exterior plug setup, instead of a more expensive and exotic built in power supply. With the exception of the power connector port is the USB 3.0 port which of course is backwards compatible to USB 2.0 via the use of either a USB 2.0 cable or simply using the included SuperSpeed USB cable on a USB 2.0 port.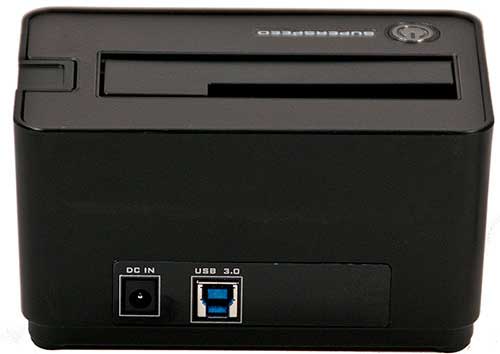 The only real issue I have with this USB 3.0 hard drive dock is the controller chip used. Unfortunately, unlike SIIG dock which opted for an ASMedia chipset, the Thermaltake BlacX 5G uses the less than optimal JMicron JMS539. This controller chip is most likely going to be the Achilles' heel of this device and if past experience is anything to go by, there is going to be a performance "wall". All that is left to see is where this wall is, and if it really is going to matter to most people. After all, if it is above what even a high speed hard drive can do (and is only reached with Solid State Drives) than the wall really is going to be nothing to worry about.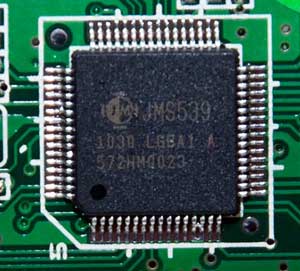 Crystal DiskMark Benchmarks
---
It seems that there is a bit of low end performance degradation as well as high end performance degradation. Though with that being said the difference in ultra small 4K read/write speed is not going to really matter. You will not be running an operating system via this dock and when it comes to transferring ultra small files… you will not notice a difference a couple 0.01MB/s make.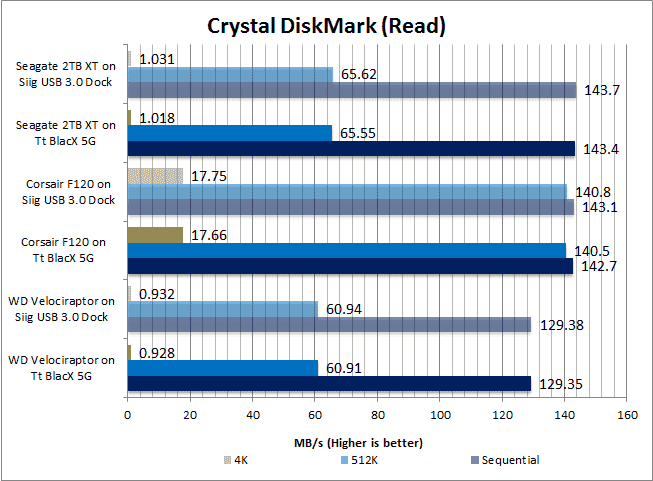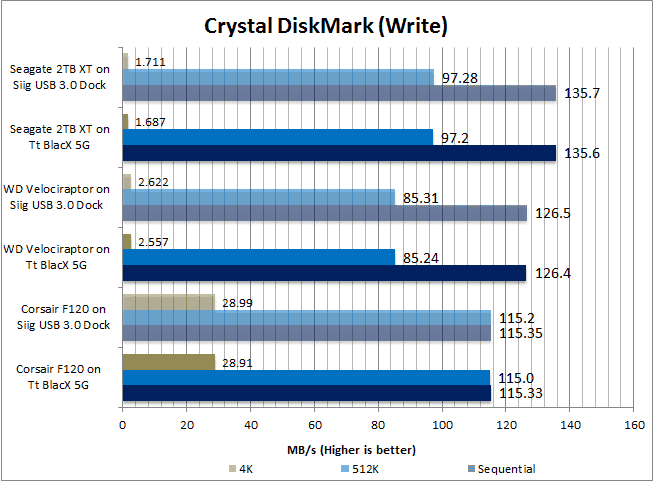 Real World Performance
---
Just as expected, there really is not much of a difference between what an ASMedia-based USB to SATA hard drive dock (such as the SIIG) can do and what the BlacX 5G can do when you use hard drives. Even fast hard drives are not going to hit the performance wall of this drive dock, and unless I had tested using an ultra-high performance solid state drive would I have even known this wall existed.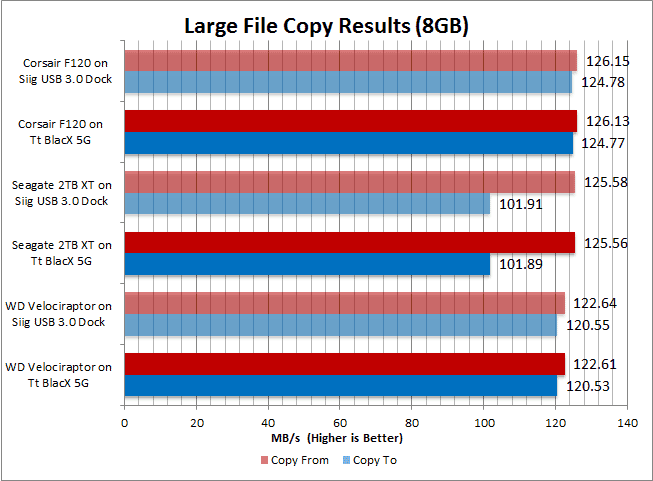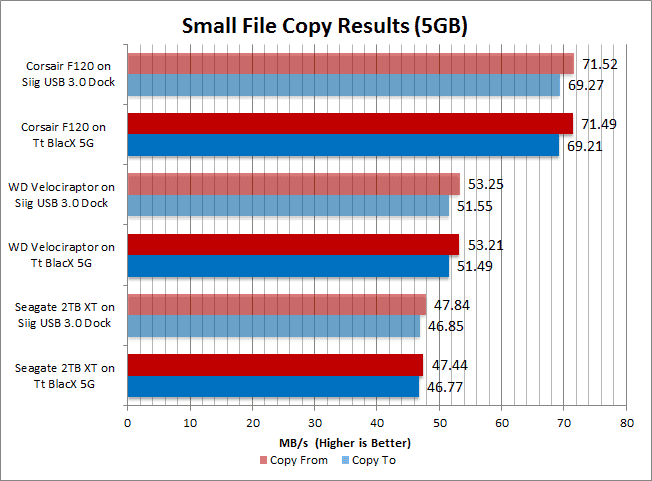 Recap
---
When all is said and done, there are a couple things I really do like about the BlacX 5G and the biggest two of these are its silicon coverings for the hard drives and its all around ease of use & portability. The silicon coverings are certainly not as good as true enclosures at protecting the hard drives, but they are a very good trade off in speed of use / installation / protection etc. After all, if you really want to protect your hard drives, you simply will install them inside a freakin' case as anything less is a downgrade. Those coverings also provide a sure grip when it comes time to plug and unplug. This little tweak really does make the BlacX 5G a good dock; and when you combine its lightweight frame with those silicon coverings, the result is an easy to use and transport USB 3.0 to SATA hard drive dock.
To be honest, the only thing I really don't like about the Thermaltake BlacX 5G hard drive dock is the chipset Tt opted to use. I am not a fan of JMicron-based USB 3.0 solutions as they do have a pretty serious performance wall. With that being said, I use mainly solid state drives for my external storage solutions so the performance wall of the JMS539 is pretty big and will directly impact my speeds. If you plan on only using hard drives (even 10,000-rpm hard drives) this is a moot point and you need not worry. You will basically get near all the same performance from your drives as if they were plugged into a free SATA port inside your computer; as this wall is well above what a single hard disk drive can do. In the end, only you can decide if this lightweight dock is right for you, but you certainly could make a worse choice.