With its dual 80mm fans and ASMedia controller, the Thermaltake Max 5G drive case is certainly a very capable performer. The only issue that you may not like about it is the fact that it made entirely from plastic.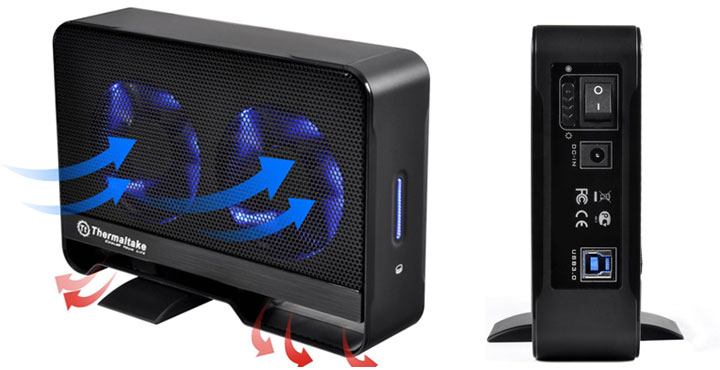 March 2011 Anthony Garland
Dual Fan Cooling
---
Compared to most USB 3.0 hard drive cases, the Thermaltake Max 5G – measuring at 8.14″ x 5.7″ x 1.85″ – does look different with the wire mesh on both sides of the case.  The case is also extremely lightweight as the entirety of the chassis of the unit is made from plastic  This is both a blessing and a curse as it will make transporting it from place to place a heck of a lot easier. Unfortunately, it does also mean that if you drop it, the case is most likely going to crack and / or catastrophically fail sending shards of plastic flying all over the place.
I can understand Thermaltake's idea behind the wire mesh and tall design, as it allows the fans to suck in and exhaust as much air as they can without increasing the static air pressure demands placed upon them. This in turn means they will stay nice and quiet. The wire mesh also does allow the integrated LEDs glow to shine out making for a very pretty, if showy, enclosure. I can even justify to a certain extent the over use of plastic as the Max 5G USB 3.0 drive chassis does not need to act as a heat sink. What I cannot forgive is that the thin plastic design they went with coupled to the less than sturdy locking mechanism used to keep the hard drive in place.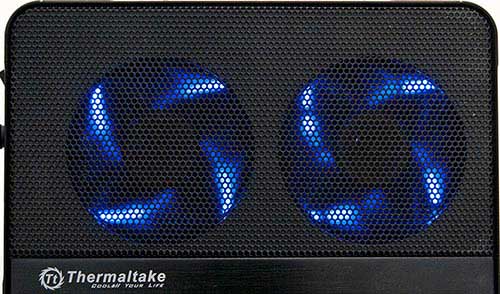 Please don't get me wrong the dual plastic sliders with retention pins does make for a very quick and painless installation of the hard drive; but it is not exactly robust. When you couple a less than optimal plastic case, with a less than robust plastic locking mechanism, the end result is my main fear of this enclosure not just failing from a drop but really sending your hard drive skittering across the floor. This is not a good thing.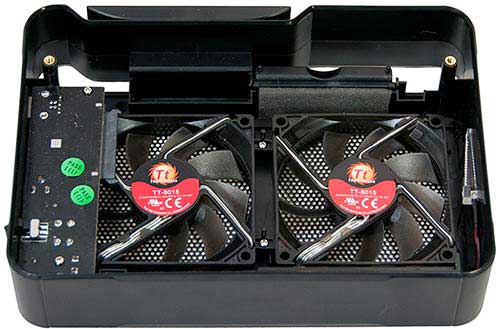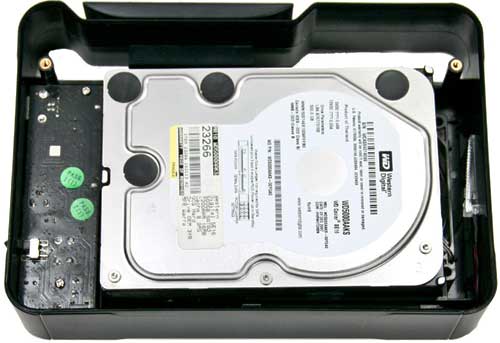 On the truly positive side, the Thermaltake Max 5G's dual 80 x 15mm thick fans only need to rotate at 800 rpm which makes them nearly silent. As an added bonus, removing these fans and replacing them is also extremely easy as you simply got to remove a couple screws and two looking odd plastic retention blocks. Also on the truly positive side, Thermaltake has opted for the ASMedia chipset. I like seeing this chipset as it is simply better than the JMicron. Thermaltake seemed to have learned their lesson on the JMicron chipsets as even later batches of the BlacX 5G now use it to.
Real World Performance
---
At this point, it came as absolutely no surprise that the Thermaltake Max 5G was just as fast as both its BlacX 5G cousin (the newer batches with ASMedia chipsets) and my fastest USB 3.0 drive dock. To say that I walked away impressed with Max 5G USB 3.0 drive case is understatement.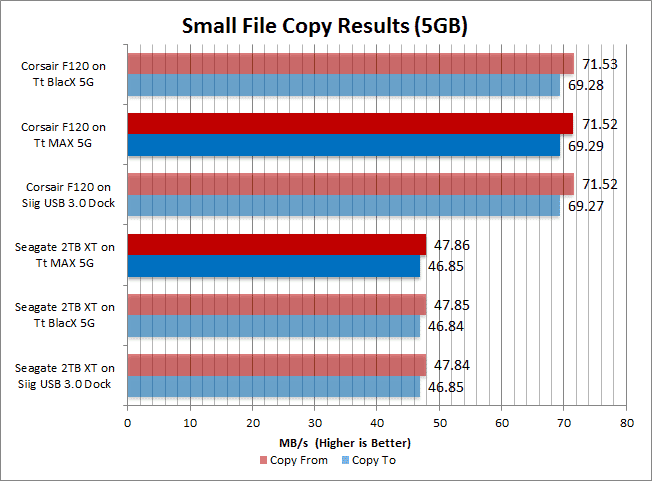 Crystal DiskMark Benchmarks
---
It seems that Crystal DiskMark agrees that the power of my hard drives is not being handicapped in the least by being used inside the Thermaltake Max 5G case.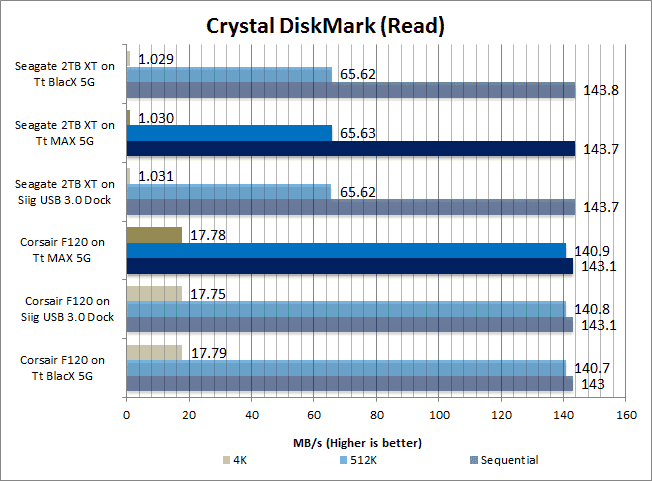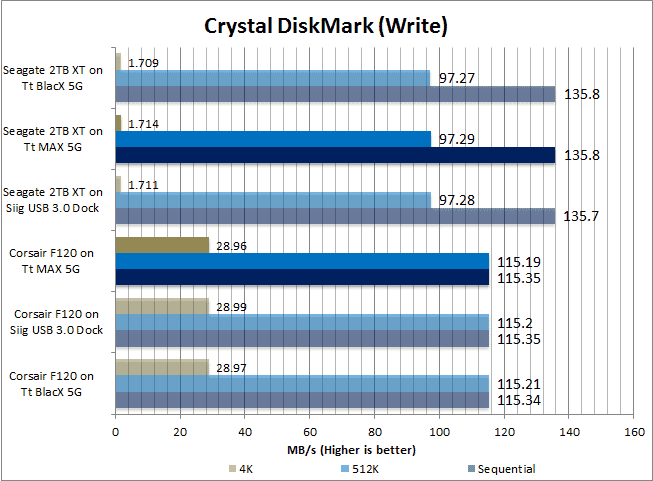 Recap
---
From a performance standpoint, there certainly is nothing wrong with the Thermaltake Max 5G drive case, in fact it is just as fast – and sometimes faster – than the fastest USB 3.0 drive dock I own. Even better, is that in testing it was not only a great performer from a bandwidth perspective but also from a cooling point of view. Each of the two 80mm fans might not exactly be moving a lot of air by themselves, but together they move more than enough air to keep even my hot running hard drives cool and happy. To be honest, I would have no hesitation in using even a hot running VelociRaptor in this enclosure as it certainly has both the cooling and performance chops to do it justice.
However, in terms of durability, the Max 5G fails to impress. Not only does an enclosure have to keep the hard drive from boiling and to allow it to perform to its fullest potential, italso has to safely and securely transport said hard drive from point A to point B. To be honest, I am sure the plastic housing is more than enough to take a bang or two, but I simply would not feel comfortable using it to transport my precious data and drives over any great distances. By the same token, if I wanted an enclosure, that would only be moved from one side of my house to the other, I wouldn't hesitate to grab the Max 5G. For this reason, you may or may not find this USB 3.0 drive case a good option as it really will depend on your comfort level and what you intended to use it for. If you are comfortable with an all plastic enclosure, then the Thermaltake Max 5G deserves to be on your short list. For everyone else, there are simply sturdier, more robust designs available which also use the ASMedia chipset.