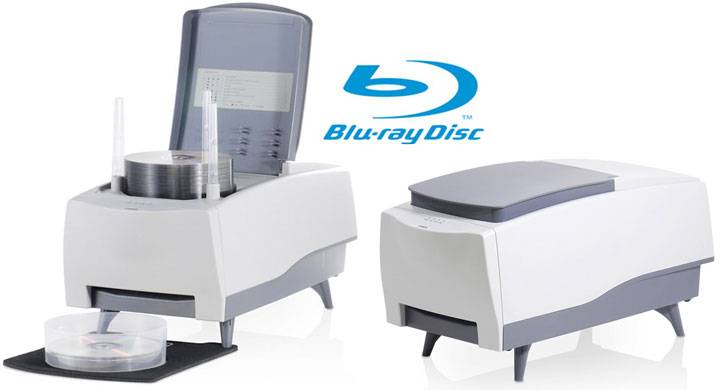 29 March 2012, Comments: Comments Off on Acronova 100-disc USB 3.0 Autoloader Burns Blu-ray While You Sleep
March 2012 Anthony Garland
For many small business, a good external disc copier and burner is an accessory that they simply cannot do without. Up until recently, Blu-ray external copiers which could handle large jobs were either expensive, slow or both.
The Nimbie USB Plus from Acronova hopes to change all that as it is not only capable of storing and then burning 100 discs consecutively, but it is also USB 3.0 equipped. The old saying goes that "Time is Money" and if so the Nimbie USB Plus autoloader can be considered an actual money saver as it can burn a full length Blu-Ray disc three times as fast (12x vs. 4x) when compared to USB 2.0 counterparts. To put it into perspective, the autoloader can burn 10 Blu-ray discs in two hours.
Further making it virtually worth its weight in gold is the built in disc testing and rejection system. After each disc is burned, the USB 3.0 autoloader will not only test them but separate them from the "good" pile allowing you to have full confidence in the finished product. When you add in value added software which allows you to transfer data from a disc to a hard drive, rip your music collection and convert it to MP3 as well as allow you to customize how many copies to make, the Nimbie USB Plus does sound very interesting.
The only thing which is not known about the Nimbie USB Plus is the asking price. At this time it is simply listed with a price of "contact us" which is never a good thing! However, if you need a heavy duty disc burner which can handle, CDs, DVDs and Blu-Ray discs this is definitely worth checking out.
Update: Acronova informed us that the Nimbie USB Plus retails for $1,095.

USB Duplicators By Nexcopy
Nexcopy manufactures a variety of PC-based and standalone
USB duplicator
solutions.
The PC based systems use our exclusive and feature rich Drive Manager software with advanced functions while standalone systems are ultra-fast, high speed copiers duplicating gigabytes of data quickly and accurately.