12 November 2007, Comments: Comments Off on ASUS Xonar U1 USB DAC Review
November 2007 Eric Hanson
Unless you're prepared to lay out a significant chunk of change for a higher-end laptop with a brand-name sound card, chances are your mobile computing solution has the hardware to play sounds and music, but offers nothing particularly interesting: no equalizations options, no digital signal processing, and no surround sound. To put it in another context: you'll have no problem playing the audio on your presentation, but won't be able to make the DVD you're watching truly immersive.
Solving the problem can be as simple as adding an external USB sound card, but the key is for that extra piece of equipment to be both feature-rich and lightweight so it's easy to carry. Enter the ASUS Xonar U1 Audio Station, a USB sound module that weighs about two pounds and supports a whole group of digital processing features. Could it be the external sound card you need? Let's find out.
Design, Inputs / Outputs
---
The palm-sized Xonar U1 may be the most smartly compact design for a peripheral I've ever seen: pretty much every feature of the unit is not only in the right place but easy to figure out without much additional instruction. The module, which comes in six colors, looks like a drone out of Star Wars: the bottoms of two cones, stacked on top of each other. The top cone acts as a combination volume control and mute button.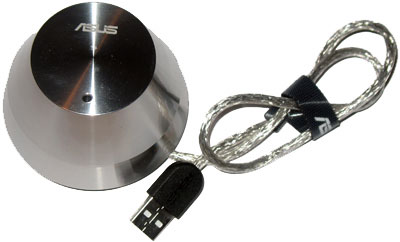 A short USB cord runs out of the back of the module to connect to the host computer, while the front features an analog/digital headphone output and a microphone/line-in input for connecting the included array microphone. If you have a digital speaker setup, the Xonar U1 includes a S/PDIF adapter cable that activates the digital capabilities of the headphone output, supporting 5.1 surround sound speaker arrangements.
The Xonar U1 also includes two LEDs: one on the top of the unit that changes color as you change functions (red for mute, blue for standard playback, and flashing blue when user features are active), and one inside the headphone jack that glows red when it senses there's nothing connected.
Inside the lower cone is the Xonar U1's signal processor: a UA100 audio processor with a Xear 3D audio engine that supports DirectSound 3D, EAX 2.0, Dolby Headphone, Dolby Virtual Speaker, Dolby Pro-Logic IIx, and Dolby Digital Live technologies, with 48 KHz analog audio playback and a signal-to-noise ratio of 100 dB. As you can see, the emphasis is on 3D positioning; as we'll see, ASUS intends the Xonar to mimic surround sound setups with two speakers or a pair of headphones.
Two things that ASUS should consider revising: first, setting a minimum and maximum limit on the volume wheel with some sort catch, so the user doesn't accidentally damage his or her ears. Right now, the volume knob has an unlimited spin; the minimum and maximum settings correspond roughly to the position of the top-mounted LED around the outer circumference between the headphone and microphone ports.
Second, users with analog surround speakers may find themselves slightly out of luck, because while digital surround speaker systems use one connection to get data for all 6 or 8 speakers, analog systems have – at minimum – three inputs for a 5.1 setup, and the Xonar U1 only has one output. Rather than forcing users to convert their 5.1 systems to 2.1, ASUS should include 3 to 1 summing adapter to handle all of the connections.
Audio Center Software
---
While the Xonar U1 module is a plug and play device that requires no additional drivers to operate, the unit also comes with a mixer utility called the Xonar U1 Audio Center that installs into the Windows program bar whenever you plug in the module. The Audio Center, which requires a separate installation, controls all the digital signal processing (DSP) capabilities of the Xonar in one colorful, button-filled set of windows. Figuring out what each button does take some time and experimentation, in part because documentation is sketchy; ASUS relies on tool tips to explain what most of the features do, and those tool tips don't always tell the full story. Fortunately, the majority of the settings not only have to do with audio quality, but change the sound coming through the unit in obvious ways, so you'll at least get a sense of whether or not you like the feature, even if you can't tell specifically what it's doing.
Three things about the Audio Center could use some revision: first, while ASUS built a nice big volume knob into the Audio Center that updates instantaneously as you move the volume knob on the Xonar unit, I'd like to see a feature that displays the volume level in an on-screen overlay that updates as you make adjustments, and disappears again when you're done. I've seen similar features on laptops with audio function keys and keyboards with volume buttons, and I find them to be more convenient than opening the volume control to make adjustments.
Second, the Audio Center features four default DSP Modes (Music, Hi-Fi, Game, and Movie), which activate certain audio settings that presumably enhance the types of audio they're named after and only work when you've selected Headphone as your output type. However, you can't edit these DSP modes in the Effects section, which seems a little counterintuitive – why not give the user that level of customization if they so desire? Future versions of the software should make editing and saving new versions of the DSP modes possible.
Third, ASUS should add a feature that allows the user to associate settings with certain programs, so that he or she doesn't have to open up the Audio Center and check off a few settings every time they want to watch a movie, listen to music, or play a game.
Music Experience
---
I have to admit that before I first used the Xonar U1, I was not a particularly big fan of using any sort of DSP on the music I listen to; mixed experiences with other sound cards had led to me to conclude that adding any sort of effects was just a fun but ultimately useless way of showing off the audio processor's abilities. However, it changed my way of thinking entirely the first time I played around with the Audio Center's EQ presets, which the designer labeled to match types of music – dance, opera, rock, jazz, metal, etc.
Listening to a few different rock selections (Nuclear Assault – Handle with Care, Megadeth – Warchest, Minor Threat – Complete Discography, Soundgarden – Down on the Upside) I found that using either Hi-Fi DSP Mode or one of the EQ presets greatly enhanced the music by adding new sonic dimensions that I hadn't previously noticed. Even better, the change was consistent across two types of headphones (a pair JLab JBuds earphones, and a set of Sony MDR CD350 headphones) and a set of speakers (the left, right and subwoofer speakers of a Logitech X-540 5.1 system), which speaks to the effectiveness of the sound card's processing capabilities. Surround sound capabilities aside, the Xonar U1's sound-shaping EQ makes it a great music sound card.

A comment on the Dolby Headphone feature and music: you can add some surround emulation to your music files by enabling the Dolby Headphone option; indeed, the Music DSP Mode distinguishes itself from the Hi-Fi DSP Mode by using this feature automatically. More and more artists are releasing surround sound mixes of classic albums or concert recordings in an effort to capture a portion of the wealthier nostalgia, so the Dolby Headphone feature has its place, but it doesn't work particularly well on traditional stereo recordings: the sound loses a lot of its immediacy and feels like it's coming from somewhere above your ears. It's not a flaw of the programming – stereo isn't surround sound – but it's not a feature you'd want to use on most of your music.
Movie Experience
---
Surround sound is particularly important in movies, where filmmakers use surround mixes to make the viewer feel like a part of the action. A good surround experience is particularly important in action movies, so I opened up the Saving Private Ryan DVD in VLC Media Player (with 5.1 audio output enabled) and watched the Omaha Beach chapter wearing the Sony MDR CD350 headphones while playing with the Dolby surround options. Clearly, your experience will vary from movie to movie, but after I settled on my favorite combination (Dolby Headphone, Dolby Pro Logic IIx, and Movie DSP Mode all enabled), I found the experience to be as immersive as I could have hoped: zipping bullets, explosions, shouted orders, the rush of the sea – everything came at my ears from what felt like the right locations. Dolby's surround emulation technology is so effective that I can't imagine the effect being any better with true surround sound headphones.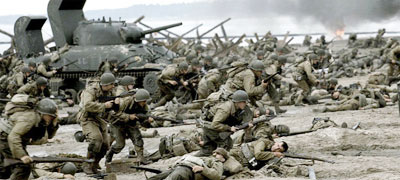 Gaming Experience
---
ASUS mentions that the Xonar U1 is EAX 2.0 compatible, which suggests that the sound station might be a good option for laptop-totting gamers, too. For an additional surround sound test, and to see how the Xonar did in a gaming environment, I launched a single player game of Battlefield 2142 and played around with the surround settings a bit more as I battled against computer-controlled soldiers. Battlefield 2142 support of EAX Advanced HD is a good test of Xonar's support for OpenAL, which is the audio standard used by EAX to determine audio positioning. With the changes made by Microsoft in DirectX 10, support for OpenAL is crucial for any surround sound device that wants to work properly with Windows Vista and future of PC gaming.
Overall, I'm happy to report that the Xonar U1 did just as well accurately producing sound for games as it did for movies. The definition was particularly striking for those sounds coming from the rear – an important area of coverage when relying on your ears in a kill or be killed environment – and demonstrates that, unlike other products we've tested, the Xonar U1 completely supports OpenAL. As a result, I am confident that the the sound card could easily earn its keep feeding important sonic information to a hardcore gamer.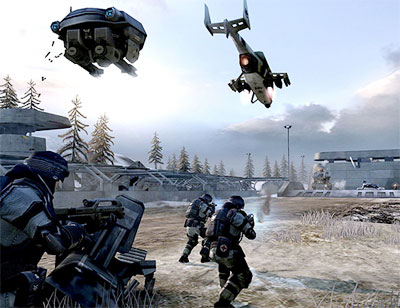 Array Mic and Karaoke Mode
---
With so many people choosing to use their computers to make telephone calls, it's no surprise that ASUS included both a stereo microphone input and what they call an array microphone with the Xonar U1. The microphone is an interesting piece of technology by itself: it has a module attached to the end of its goose neck that contains not only a front-facing pickup, but two pickups mounted on the side. When you enable the Array Microphone option in the Audio Center, the software takes ambient noise recorded in a 120-degree arc by the side pickups and uses it to reduce any background noise by 15 dB, and white noise by 20 dB. This reduction makes it possible to use the microphone between two speakers and not have to worry as much about feedback or echo.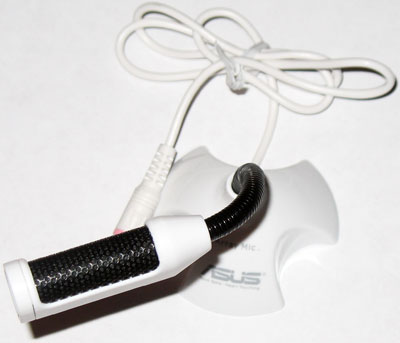 Feeling like relaxing a bit after a long day? The Array Mic has a secondary function: you can use it for karaoke! That's right: ASUS included a few simple processing technologies, grouped under the KARAOKE tab in the Audio Center, that allow you to – depending on how the music's producers mixed the song – remove the vocals from any music and sing along, karaoke style. In addition, you can add an echo to your voice, use voice disguisers, or shift the key of the music to raise or lower it to your voice's range. Because all of these options (with the exception of the key shift) work in conjunction with the input from the microphone, you can use them when talking via VoIP or when gaming online, too.
Recap
---
ASUS lived up to their promise of creating "the best portable PC audio upgrade solution for laptops and desktops" with the Xonar U1, a product whose intuitive design, lightweight portability, excellent sound and effective surround capabilities all make it an excellent option for anyone looking to purchase a USB sound card. Though it has a couple of minor flaws and has room – especially on the software side – for improvement, it's a superior piece of hardware that I can't recommend highly enough.
USB DACs on Amazon
---

USB Duplicators By Nexcopy
Nexcopy manufactures a variety of PC-based and standalone
USB duplicator
solutions.
PC based systems support advanced USB functions such as write protection, CD-ROM partition and multi-partition creation, while standalone systems are ultra-fast, high speed USB copiers duplicating gigabytes of data quickly and accurately.