12 May 2021, Comments: Comments Off on The Current Trends in Custom USB Drives
May 2021 David Chu
For years, custom USB flash drives have played an important role in corporate America.  Used for a wide array of applications from promotional campaigns to dispensing digital documents to clients and employees.
Initially, branded flash drives were created primarily in a few standard shapes and styles.  However, over the years they've continued to evolve. The latest trends in USB styles are quite impressive!
100% Custom Shaped USB Drives
---
Instead of simply printing an advertising message on a standard-shaped USB drive, anyone can get a custom-molded, multi-color, multi-dimensional drive in any shape they'd want.  Whether they have a logo, flagship product, or mascot, a USB drive molded into a colorful replica will wow recipients.
Someone who receives a USB in the shape of their favorite team's mascot will certainly use it and show it off to friends and colleagues.  They may even display it on their desk and get the distributor some additional advertising exposure.
While completely custom-shaped USB drives are impressive, you'd be surprised how unique some of the styles that modern custom USB drive manufacturers offer as "standard" are. These include business cards, pens, wristbands, wooden or leather USB drives, and much more.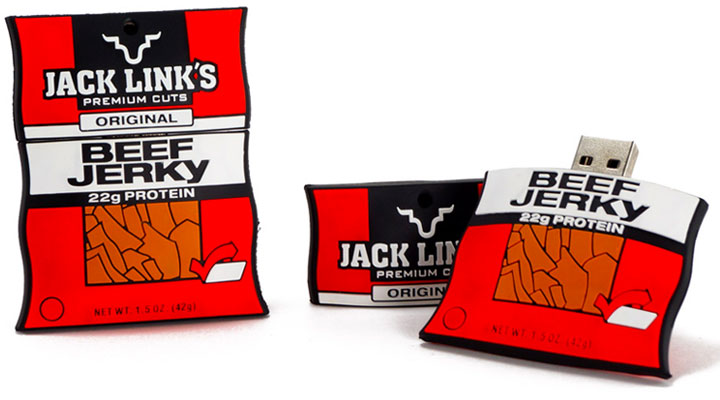 USB Business Cards
---
These promotional flash drives are among the coolest in custom USB innovations.  One can improve brand perception among clients by replacing old paper cards with imprinted, business card-shaped USB drives.
Some of these slim but sturdy USB cards have removable drives that fit back into the card for storage, while other styles opt for a permanently attached USB chip to simply fold out from the card's body.  Regardless of the chosen style, USB business cards can usually accept imprint on both sides and fit anywhere a credit card fits.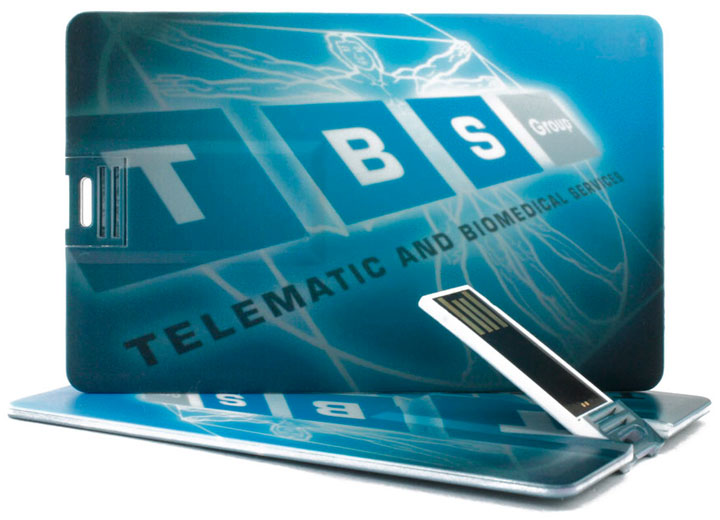 USB Type-C Drives
---
The latest innovation in custom USB drives, and USB drives in general, is, of course of USB-C.
With USB-C coming into prominence it makes sense that custom USB suppliers would seek to offer more USB-C options to their clients, and that's exactly what we're seeing.
We won't go too far into the benefits of USB-C since that's not what this article is about, but some include; reversible connectors, smaller ports, faster transfer speeds, and more changing power.
Additionally, because we are still in somewhat of a transitional period between USB-A and USB-C many manufacturers are offering dual-headed custom flash drives.  These dual-headed drives perform double duty wielding a standard USB connector on one side and a USB-C connector on the other.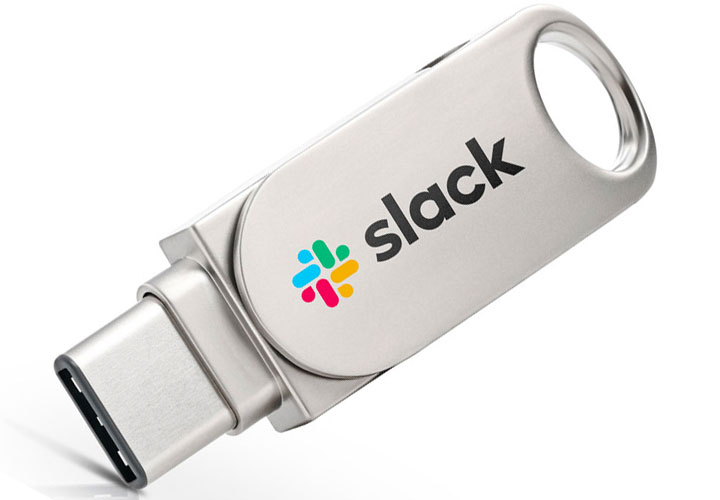 It's obvious that USB-C is the future so purchasing USB-C or dual-headed drives offers more convenience to users and recipients, not to mention if one is using the drives as a promotional handout utilizing this newer tech will give the drives a higher perceived value.
USB Wristbands
---
Like the widespread colorful "cause" wristbands, USB wristbands have grown in popularity because of their ease to keep track of (being that they are attached to your body and all).  These wrist USB drives come in a wide variety of colors so that companies can match up to their logo colors.
College kids especially like them, but they are also great at trade shows to hand them out at a booth loaded with company info.  Having attendees walking around with your logo on their wrist can be a great way to grab attention.
USB Pens
---
USB pens are a novelty that will get noticed and carry any message back to the office.  Anything with more than one purpose stands a better chance of being kept for the long run. Whether the recipient uses the pen, the drive, or both, they have the distributors advertising at their fingertips.
Wooden and Leather USB Drives
---
For those seeking a custom flash drive that matches their artsy or rustic brand aesthetic wooden or leather flash drives are often a great fit.  Similar to many of the other modern personalized flash drive styles we've mentioned, distributing USBs with leather or wooden encasements also helps the drives stand out and gives them a higher perceived value.
For wooden drives, laser engraving is a popular option when imprinting a logo as it's more permanent and adds to the rustic look and feel of the USBs.  Leather flash drives, on the other hand, are commonly branded via heat stamping a company's logo directly into the leather shell.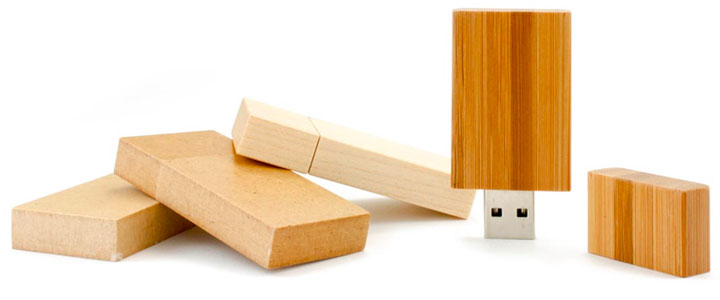 Custom USB Data Preloading
---
No matter their chosen style, many consumers and businesses are opting to personalize their custom USBs from the inside out by asking manufacturers to preload their drives with their digital materials during the production process.
This isn't surprising seeing as the majority of custom flash drive orders are bulk purchases and if one plans to add identical or similar data to all of their drives (which may number in the hundreds or thousands) it makes sense to ask the supplier to add the data for you.
Nowadays, the majority of custom flash drive suppliers offer data preloading services at little or no cost.  Because USB drives are at their core a data storage device there are virtually no limits to the types of files purchasers can have preloaded onto their drives.  Some common examples are PowerPoint presentations, product catalogs, or links to a company website.
The Future of Custom USB Drives
---
All in all, the shapes, styles, and functionalities of custom USB drives are likely to keep evolving into ever more clever and eye-catching forms.  Additionally, as staples for distributing company data both internally and for promotional purposes, along with their various other use cases, we can confidently say that they aren't going away anytime soon.

USB Duplicators By Nexcopy
Nexcopy manufactures a variety of PC-based and standalone
USB duplicator
solutions.
PC based systems support advanced USB functions such as write protection, CD-ROM partition and multi-partition creation, while standalone systems are ultra-fast, high speed USB copiers duplicating gigabytes of data quickly and accurately.