The keyboard really does try to find that fine line between being small enough for compact storage while not being too small. More importantly, it has all the features you will need in a HTPC peripheral. The only issue is its price.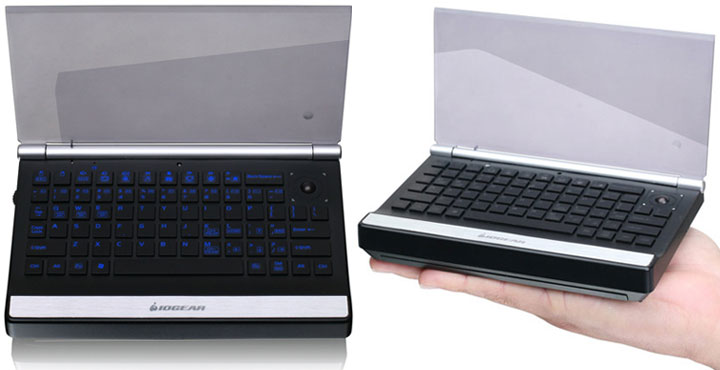 20 March 2011, Comments: Comments Off on IOGEAR Mini Wireless Keyboard Review
March 2011 Anthony Garland
"The IOGEAR Mini Wireless HTPC Keyboard (GKM571R) is a wireless keyboard designed with Home Theatre PC's in mind. It is meant to be used in an extremely chaotic environment (relative to a desktop) and do so while being as unobtrusive and feature-rich. This certainly is a tall order, but the keyboard with its ultra-small size coupled with a protective flip lid, backlit keys, scroll wheel and trackball may be able to pull it off. Will all these work together? Read on for the full review.
Keyboard Design & Features
---
With its small size and square edges, the Mini Wireless Multimedia Keyboard can be mistaken for a paperback novel. At this size, it will easily work in just about any living room. The downside to having dimensions of only 6.25″ x 4″ x 1″ is that there is not enough room to fit every function an HTPC user usually needs. Not that IOGEAR failed, but in order to get a keyboard with 17 multimedia hotkeys and a trackball with a scroll wheel, they had to make the keys very small.
Luckily, while the keys are tiny, they are actually spaced far enough apart that you will rarely hit the wrong one. You won't be wanting to type long messages or emails on this nor should you. This keyboard should primarily be doing searches on IMDB or entering and executing commands for remote control activities. The keys themselves feel much like a laptop's keyboard. While they are fairly tactile and responsive, you will not mistake it for a mechanical switch-based keyboard.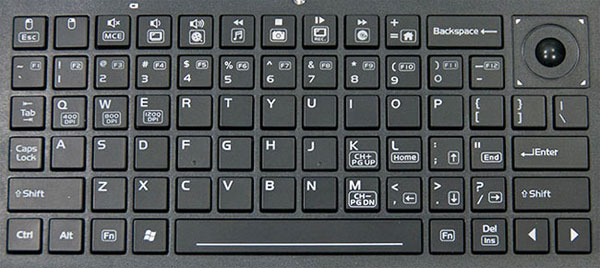 The keys, including the mouse button keys, are smartly distributed and quite comfortable. In most HTPC devices, these two crucial keys are located next to the pointing device. Instead of going with the typical layout, IOGEAR instead opted to place these in the upper left-hand corner. This means while holding the Mini Wireless HTPC Keyboard in both hands, you manipulate the trackball with your right thumb and click with your left index finger. This really a very natural feeling, but only if you are a right-handed person. Lefties may find this setup uncomfortable. There's also a scroll wheel on the left side of the keyboard, but I found it to be not as well laid out as the rest of the hardware features.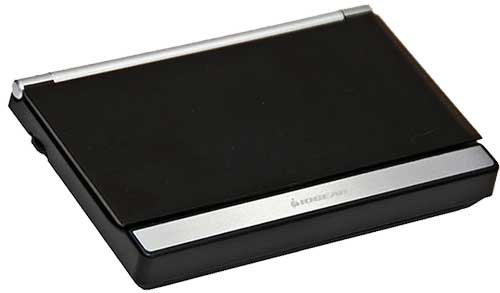 Power is controlled by simply closing the integrated lid. No longer does the lid makes it easy to turn it on or off, but also provides protection for the keyboard when not in use. In addition, you won't have a problem with sitting on the keys and sending improper commands to the HTPC provided you always remember to close the lid. Having the lid control power also inherently saves battery life.
The IOGEAR keyboard also incorporates quite a few dedicated function keys. Along the top row are 7 keys that have two multimedia commands a piece. To fast forward, rewind, volume up, volume down, mute, stop or pause you simply hit the proper key. To execute operations more suited to opening up programs, you hold the "Fn" or function key and then press the proper button. The +/= key is the only key in the top row that has only one hotkey built in (which opens up your default web browser). IOGEAR also includes 3 DPI sensitivity options under the QWE buttons to choose the trackball's sensitivity level, from 400 to 1200 DPI.
The battery compartment thoughtfully has space for its tiny USB receiver, which will make it easier to keep track of while traveling. The entire bottom side of the remote, including the battery compartment, is covered with a protective rubber coating.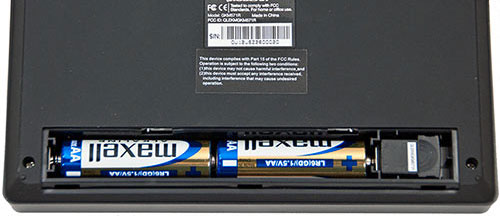 The last feature IOGEAR managed to cram into their Mini Wireless HTPC Keyboard was backlighting. Sadly, the only options you have for the blue glow is auto-on and off. The auto-on feature is controlled by a light sensor just above the top center of the keys. This allows the device to be seen in all lighting conditions without wasting battery life. When the batteries are low, there is even a small LED which glows to remind you its time to change them.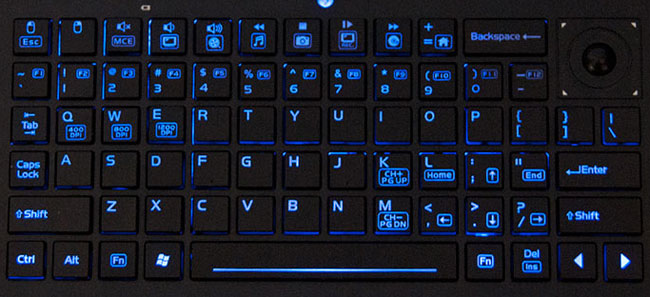 It is amazing that such a small device can actually have more features than most full-sized keyboards. The only obviously missing feature was a sleep/hibernate/off button for the HTPC itself.
Real World Usage
---
The IOGEAR Mini Wireless Keyboard worked perfectly at our available ranges, about 25 feet. The built-in light sensor for the backlighting also worked fairly well. The gentle blue glow was bright enough to see the keys clearly but soft enough to not be a distraction.
The unusual layout of the keys will take some time to learn. The keys are well spaced but still very small. Most people will find themselves thumb-typing as they would on a qwerty mobile phone. Those with smaller hands may want to experiment with different holding styles to find one that works best. The rubber base really makes it easy to hold on to.
When not in use it can be easily stored in any drawer. Being able to hide this keyboard from playful pets or curious hands should add greatly to its longevity. Even if left out in the open, the mini keyboard has a solid feel to it. I didn't go as far to disassemble it, but all of the buttons and keys were tight. There were no loose-fitting movements that might give way to wear over time.
The IOGEAR keyboard uses the regular USB HID keyboard USB driver profile in Windows. This is the same driver profile that almost all keyboards use. That means you can make use of many programs for keyboard macros and customization. Autohotkey, a freeware macro scripting language program worked perfectly with it. I was able to script together commands for starting playlists with our favorite MP3 player with one button press. I set another macro to eject the Blu-ray tray and shut the power down.
For some reason, IOGEAR included the vestigial CAPS LOCK key on this tiny keyboard. Many power users remap this key to have another function, immediately upon installation of the OS. For Windows, I prefer KeyTweak (also freeware) and usually adjust the Caps-Lock key to be either an additional Shift key or Tab key, depending on the layout. For the mini HTPC keyboard, it seems appropriate to make other use of it. While the IOGEAR already has a mute function key requiring 2 keypresses, KeyTweak let us retask the Caps-Lock key to be a single keystroke Mute button.
Recap
---
All-in-one input devices for Home Theatre PCs are actually pretty common these days. What is not all that common are the ones that get it right. It is rarer still for a controller to not only get the commands and features right but also the size. It has to be small since a full-sized keyboard in a living room environment rarely works. The IOGEAR Mini Wireless HTPC Keyboard is powerful enough to easily replace both a keyboard and mouse or trackball but only for short sessions. Everything from smart backlighting to smart built-in commands and an integrated lid to keep it pristine, it's all there.
You have to be willing to pay for all this power and convenience; the MSRP for the keyboard is $100. While slightly higher than most mini keyboards are priced, the feature set warrants the asking price. It really comes down to what your priorities are. Despite the high price, the IOGEAR Mini Wireless Keyboard deserves to be taken seriously if you are in the market for a great HTPC keyboard and mouse hybrid.
HTPC Keyboards on Amazon
---

USB Duplicators By Nexcopy
Nexcopy manufactures a variety of PC-based and standalone
USB duplicator
solutions.
PC based systems support advanced USB functions such as write protection, CD-ROM partition and multi-partition creation, while standalone systems are ultra-fast, high speed USB copiers duplicating gigabytes of data quickly and accurately.