October 2017 Ian Chiu
USB Cork Light
---
Repurposing old vintage bottles has never been this fun with the cork-shaped USB light from Suck UK. You can finally make good use of your empty (or even half full) bottles by turning them into lighting pieces to liven up the atomsphere in any room.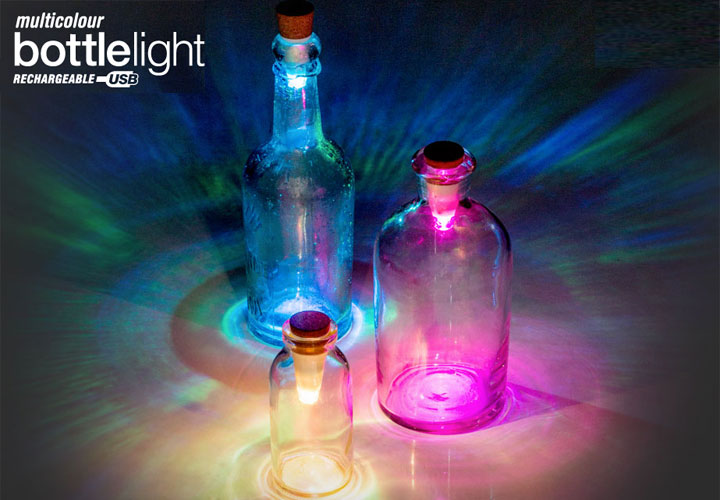 The bottlelight recharges via USB thru its intergrated connector and has a runtime of 3 hours on a full recharge. This means no more messy wire, not to mention you can place your new lighting pieces where power outlets are unavailable. And with a simple twist, you can choose from seven different colors to illuminiate your bottles to your preferences. You get even better results if you try it with patterned bottles.
USB Fairystring
---
Fairystring is a strand of micro LED lights powered by none other than USB. It's mainly targeted at gals who dig mood lighting in their rooms. Of course, applications are only limited by imaginations. It can also used as declorations in a vehicle, coffee shop or even a tree house to improve ambiance.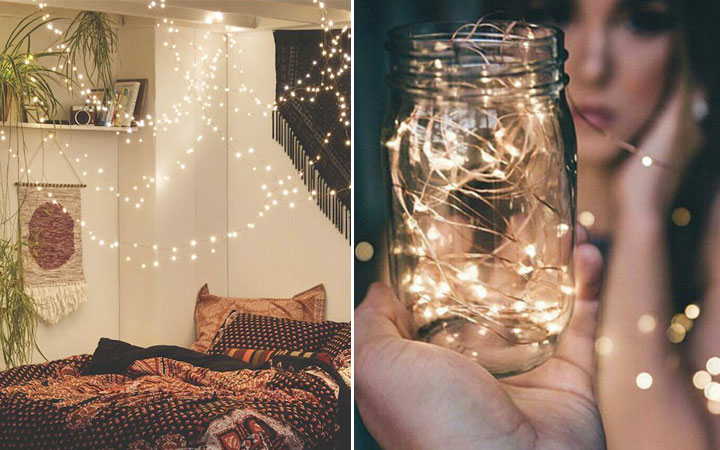 Shipping in four different lengths (2, 4, 8, 16m), Fairstring has spaced the custom LEDs evenly over its waterproof wire with 3 bulbs per foot. You can also toggle Fairstring between two lighting modes – twinkling and steady glow – to adjust to different environment.
USB Disco Ball
---
It's been never easier to throw a party with ION Audio USB Party Ball.  The sphere flashes in vivid red, green and blue lights to form a wide array of different colors on the ceilings and walls, creating a non-stop light show in your living room or bedroom.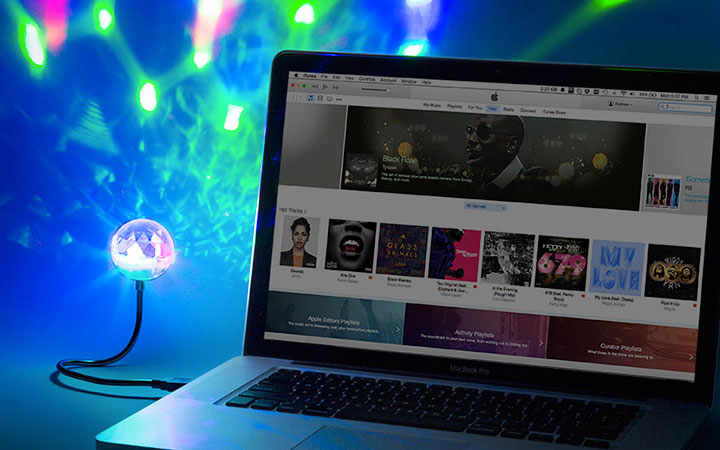 While the Party Ball gets its power from a USB port on a PC, you can also plug it to the back of a TV or to a power bank.  The package doesn't come with a base but there's also a gooseneck arm for flexible positioning of the Party Ball.  Perhaps the best feature is the built-in microphone that syncrhoizes the lights to the tunes playing in the room.

USB Book Lamp
---
The Lumio USB book lamp is truly one of a kind. When closed, it could easily pass for an elegant hardcover book. When flipped open to 180 degrees, the Lumio instantly transformers into an illuminating light fixture which can even be mounted onto any magnetic surface. The Lumio – when fully expanded to 360 degrees – even turns into what looks like a classy Chinese lantern, allowing you to suspend the light with the included leather hand strap.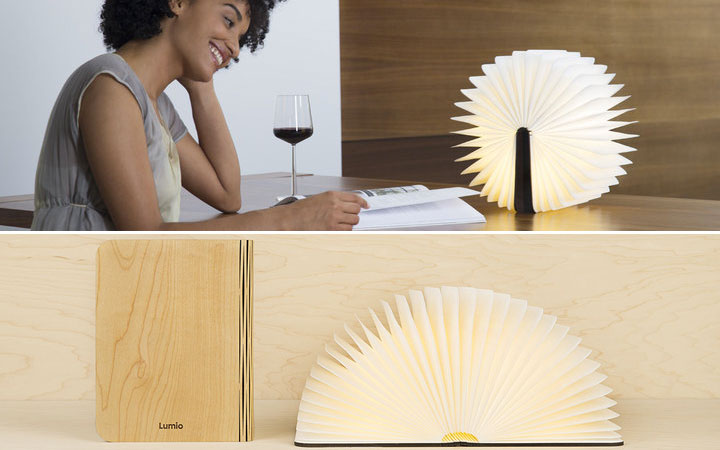 Inside the Lumio is a USB rechargeable Li-ion battery that provides 8 hours of non-stop illumination with a brightness rated at 500 lumen and light temperature of 2700K (warm white). It's recommended that the Lumio's water-resistant Tyvek pages to be wiped clean with a damp cloth. Lumio definitely gets credit for its nifty folding design that makes it uniquely stylish as it is practical to carry around. Though, we aren't exactly impressed by its pricing.
Touch-sensitive USB LED Lamp
---
Combining LED lighting with USB for power is not exactly a new idea. Yet Satechi has created something entirely unique with its Touch USB LED Lamp as it has the possibility of creating something unique every time it is used.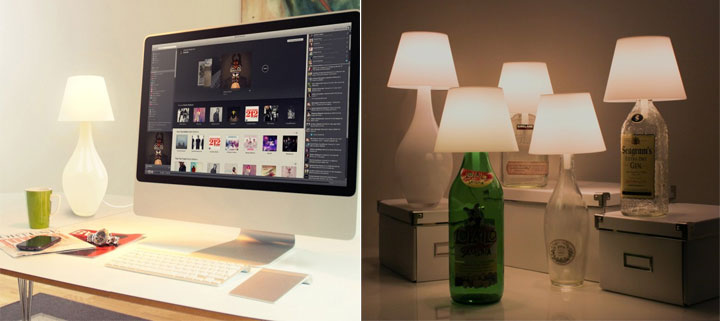 The lamp actually only consists of a small lamp shade; 1.2 watts worth of soft white LEDs; a tethered USB 2.0 cable; a small touch-sensitive power switch; and a plastic tube to hold it all together. If you think this sounds like the beginnings of a 'do it yourself' kit rather than a fully finished product, you would be entirely correct and therein lies the ingeniousness of this model.
Instead of including a bottle or similarly translucent lamp holder, for what is for all intents and purposes a LED light and lampshade, consumers can literally change the entire look and even light output on a whim. Best of all, everything from a coke bottle to wine bottle will work with the Satechi USB lamp.
If you stumble upon any fascinating USB lights you would like tell us, let us know in the comment section below.