4 January 2012, Comments: Comments Off on Mimo Magic Touch Monitor Review
January 2012 R. Scott Clark
Multiple monitors are nothing new, nor are touchscreens, or even displays powered and driven by a single USB cable. But when these three properties are combined and then capacitive multi-touch is thrown into the mix, well yes, that's new. Niche news-worthy news, even. So I snapped up the very first one I could get our hands-on, a lightweight 10.1″ unit from Mimo called the Magic Touch. Press on for my review to find out what niche applications this USB touchscreen monitor is good for and whether or not it's worth the price.
Monitor Design
---
When it comes to USB-driven monitors, there are typically two varieties of the sort. Some are designed for travel and feature a tablet-like cover that doubles as a stand, while others are more comfortable being placed on a desk and just left there. Despite the highly-portable 10″ form factor, the Mimo USB touch monitor falls into the latter category, lacking a carrying case of any sort apart from the original box and plastic wrap.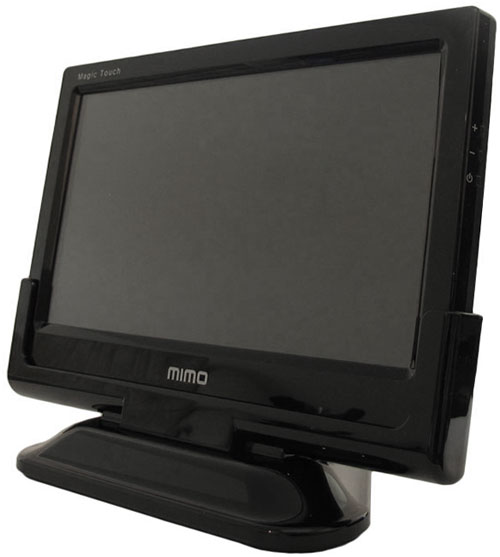 For a permanent fixture, however, the Mimo Magic Touch does rather nicely. The included USB docking stand is perfectly weighted and allows the landscape-oriented display to tilt roughly 10 degrees forward and 45 degrees backward. As an alternative to the stand, the back of the monitor features standard VESA 75 mounting holes for specialized mounts and portrait orientation.
Along the right edge of the monitor are three buttons that allow for adjusting the brightness, and powering on/off the entire monitor. The power button is a bit tricky though in that every time the USB monitor is power cycled, Windows will revert the touch interface to the primary display. This could pose a problem if the Magic Touch is primarily going to be used as a secondary monitor.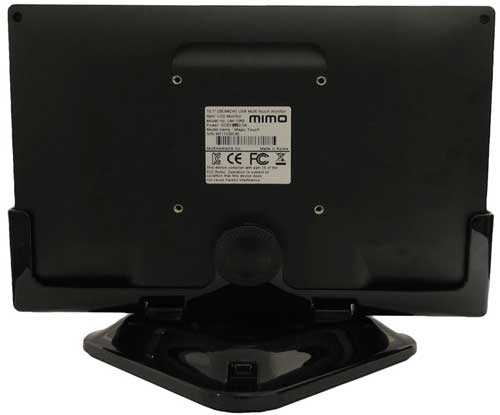 A single USB mini-B receptacle provides both power and video to the monitor, positioned just underneath the Mimo logo next to the docking connector. The supplied 5-ft USB cable is rather unique in that the mini-B end features a metal latching system that behaves much like an iPod charging cable or newer SATA cables in order to prevent accidental disconnects. The supplied cable also sports two A plugs as is typical with portable USB hard drives, but most laptops and desktops should be able to provide sufficient power to the display using only a single USB plug.

The glossy black of the bezel and stand share a wonderfully minimal presence that directs attention to the vibrant glossy screen. I rather like this design philosophy–elegant and business-like with none of the glam. Alas like all things glossy, the screen, bezel and stand also act as master lint and fingerprint magnets. You'll definitely want to keep a small microfiber cloth handy, especially if the Magic Touch is going to be used in any workplace dealing in customer interactions.
Mostly Plug and Play
---
Remember back in the early days of computing when every product you ever bought came with a ring binder instruction manual, some drivers and other random niceties? Mimo sure doesn't. The Magic Touch display was quite a surprise in that nothing was included in the packaging other than the monitor essentials and a small leaflet that walks through how to set up the Tablet PC Settings in Windows 7, but nary a word on how to install the required USB display drivers.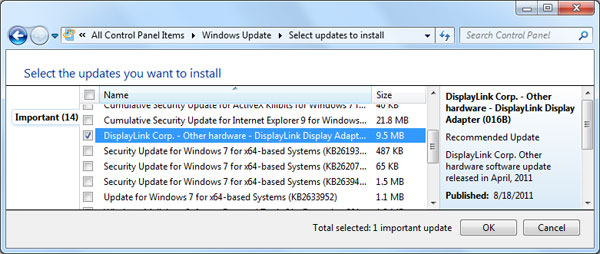 While a printed statement on where to download the DisplayLink drivers would have been nice to eliminate customer confusion, to be fair, the Magic Touch would have eventually installed itself through Windows Update. That said I'd still recommend going to DisplayLink.com for the latest release since there have been several updates between now and last April. As far as the multi-touch drivers go, it's all native Windows 7 plug-and-play. Only flash drives and keyboards get any easier than this.
Display Quality
---
At the heart of Mimo's Magic Touch is a vibrant 1024×600 LCD panel that does wonders for making images pop out with vivid color. The backlighting on the 10.1″ display is also fairly evenly distributed and helps to achieve an overall more cheerful effect than what I'm accustomed to with my everyday Hanns-G monitor. It could be that this is just an illusion generated by somewhat over-saturated colors from the poor 300:1 contrast ratio, but it's an illusion I can most certainly live with.
The low contrast ratio also leads to some unfortunate color banding as visible in this gradient test, but to be honest it was hardly noticeable in everyday use including watching movies with dark scenery. Mimo doesn't specify what LCD type the Magic Touch is using, but based on the average viewing angles I'm going to assume it's a typical TN panel. Horizontal angles fare much better than vertical angles, but that's why the stand allows for tilting. Between the viewing angles and glossy screen I'd strongly advise against using the Magic Touch in a Car PC environment, but for desktop use, it works just fine.
2D performance on the Magic Touch is excellent, supporting all the nuances of Windows 7's Aero transparency effects and even the nagging dialog boxes from Windows UAC. Text is uniformly sharp, but there are a few noticeable compression artifacts I noticed when mousing over buttons in Firefox, iTunes, and Winamp. Thankfully these artifacts were all minor and lasted for only a split second, and it's possible they might someday disappear entirely as DisplayLink continues to refine its drivers.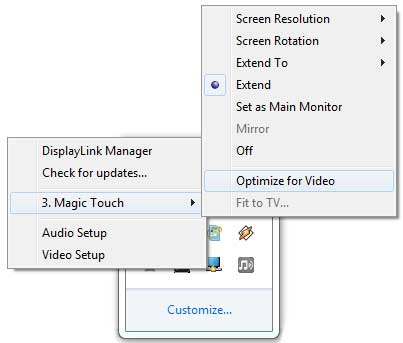 Because DisplayLink uses adaptive compression that hooks into your existing graphics card for the heavy lifting, video on the Magic Touch looks sharp and very fluid. With the default picture-perfect settings, the DisplayLinkManager.exe process consumed about 15% CPU time on average when tested on a Core 2 Duo E8400 clocked at 3.0GHz. There was the occasional stutter or tear when watching movies whilst surfing the web on another monitor, but nothing serious or immersion-breaking. An "Optimize for Video" setting is also present in DisplayLink drivers that sacrifice video quality (blockiness) in exchange for smoother framerates and lower CPU usage, but I never found myself needing to use this outside of 3D gaming.
Speaking of gaming, I was pleasantly surprised to see just how well the DisplayLink drivers and compression could handle a small number of titles I threw at it. With "Optimize for Video" turned on I was able to successfully play Unreal Tournament '99, Team Fortress 2, Dead Space 2, and Serious Sam HD in fullscreen mode at a surprisingly playable framerate, albeit with less than readable small text. Project64 v1.6 with Super Mario 64 behaved exceptionally well even without DisplayLink's video optimization setting but required AA/AF to be turned off. Other titles such as Quake Live, UT2004, and Morrowind could only be played in windowed mode, while still, other titles like Skyrim or Psychonauts refused to run in either mode on the display. The bottom line is that the Magic Touch can't be counted on for gaming, but it makes for a good bonus feature when it works.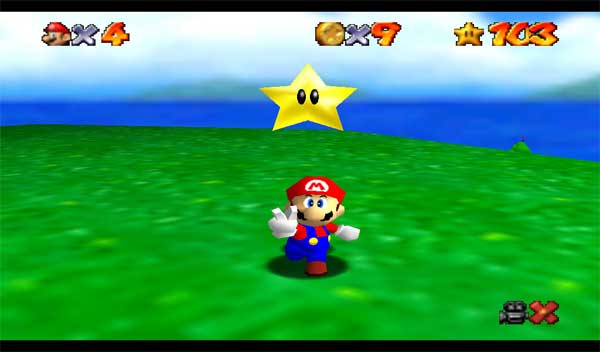 Multi-Touch Applications
---
When it comes down to it the most compelling and, let's be honest, *only* reason you should be looking at the Magic Touch is its capacitive multi-touch interface. There are plenty of other USB-driven portable monitors out there from the likes of Mimo, Elo, and Lilliput that offer single-touch input for considerably less coin if multi-touch isn't a hard requirement.
Roughly two years back when Microsoft first released Windows 7 to the world, it unleashed with it a set of APIs and drivers so developers could make multi-touch as ubiquitous on a desktop as it is on a smartphone. Now that it's January 2012, are we there yet? Sadly, no. Though just about any application with a scroll bar including Windows Media Center supports the standard panning gesture, there are very few big-name applications that make use of multiple fingers.
Off the top of my head the few applications that do support multi-touch gestures are Internet Explorer, Firefox (as a hidden feature), Chrome, Opera, MS Paint, Windows Photo Viewer, PowerPoint, Windows Phone 7 Emulator, and the small handful of free apps and games available in the Microsoft Touch Pack. Firefox also supports websites that make use of the Touch Events API currently being formalized by the W3C standards body, and other browsers are likely to follow as soon as Apple gets over itself. So while multi-touch may not be all too compelling for anyone who does more than just surf the internet, it's a gigantic playground clamoring for developers.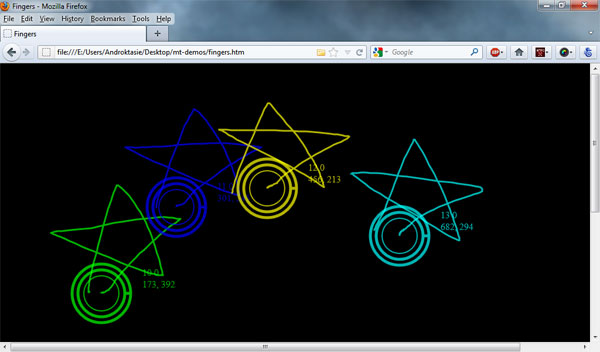 The quality of the touch interface itself was superb on the Magic Touch, offering smooth tracking for up to four fingers that were surprisingly accurate for a capacitive screen. Only the outermost edges of the display posed any problems registering touches, but these dead zones were limited to only a few millimeters in-depth and didn't stand in the way of normal use. Typing on the Magic Touch is possible with the classic On-Screen Keyboard (OSK.exe) that's built into Windows, but an outstanding Microsoft bug prevents the newer Tablet PC Input Panel from being dragged to the secondary monitor.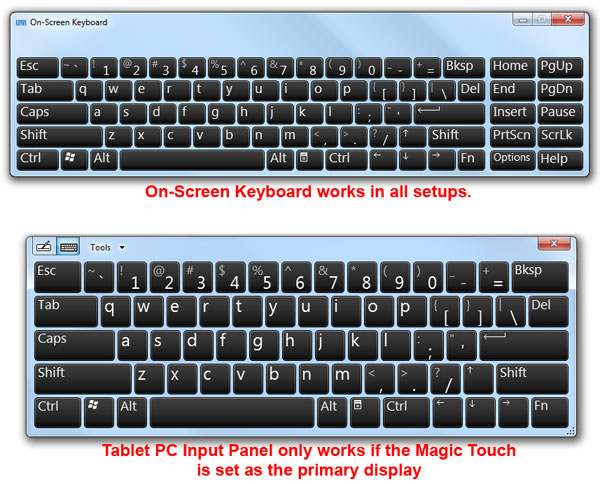 What really piques my curiosity is how Windows 8 will behave with the Mimo display, due out later this year. One of Windows 8's main selling points is the new Metro interface (video) that's practically designed for touch interfaces, seen previously in Microsoft's Windows Phone 7 and Zune products. Considering that the entire operating system can be mastered from this interface, this could finally be the tipping point where multi-touch desktop computing becomes mainstream with more touch-enabled applications. Considering that the Magic Touch uses Microsoft's own drivers for multi-touch input, plus the fact that DisplayLink is essentially the market leader for USB display technology, it's rather unlikely that the Magic Touch won't be supported in Windows 8. Personally, I look forward to seeing what the future holds in store.
Recap
---
Overall I think the Magic Touch makes for an incredibly useful tool for multi-touch application developers, as well as being perfectly suited for point-of-sale and customer-facing interactions if used with multi-touch software. Text is sharp, colors are vivid, video playback is smooth, finger tracking is accurate and the stand is weighty, so there's little I can think of that's not to like about this little guy. About the only changes I'd care to see Mimo implement as optional features are a dual-orientation stand, IPS panel, and matte screen. Home users should probably hold off until either the price drops or there's a greater number of multi-touch applications released to the wild.
USB Monitors on Amazon
---

USB Duplicators By Nexcopy
Nexcopy manufactures a variety of PC-based and standalone
USB duplicator
solutions.
PC based systems support advanced USB functions such as write protection, CD-ROM partition and multi-partition creation, while standalone systems are ultra-fast, high speed USB copiers duplicating gigabytes of data quickly and accurately.