27 May 2021, Comments: Comments Off on Nexcopy Makes Data Loading a Simple Process
May 2021 Ian Chiu
This is a showcase of Nexcopy's flagship lineup, which comprises a hardware-protected read-only drive solution, a portable USB copier, an industrial-grade USB duplicator, a unique flash drive printer, and a unique USB copy protection solution.
Read-Only Flash Drive Solution
---
Flash drives inherently grant users both unrestricted read and write privilege but such access rights may not be ideal for vertical market applications.  For such cases, companies would want their personalized solution tailor-made for their specific needs.  This is where Nexcopy Lock License comes in.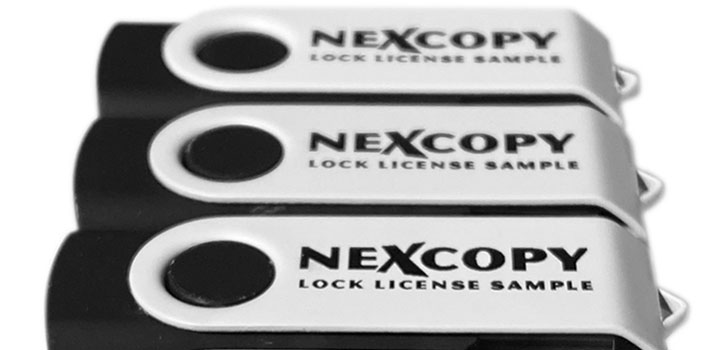 In a nutshell, Nexcopy's Lock License is similar to a write-once-read-many (WORM) solution.  It provides file integrity protection by locking the drives in read-only (a.k.a. write protected) state.  In-house utility software from Nexcopy can temporarily remove the write-protected restriction with the correct password.
When one is done with updating the content, simply unplugging the drive will revert it back to default read-only mode.  Thereafter, the authenticity of the files is preserved at the hardware controller level.  This ensures files aren't tampered with during drive distribution.
This is of paramount importance for industries whose equipment is mostly off-line to eliminate the risk of remote hacking.  Updating firmware and software for these critical infrastructures relies on the use of direct-attached storage (e.g. flash drives).  Hence, issuing read-only flash drives removes the threat of someone planting Trojan horses that could have major ramifications if data security is overlooked.
Data Duplication On The Go
---
Nexcopy's USB104SA is a little handy device that handles light-duty data duplication on the go.  It's powered by none other than USB and it also works independently of a PC.  Those who see the immediate need for industrial equipment like this will appreciate the convenience of a relatively lightweight flash drive copier.  There are 5 USB sockets altogether atop the unit with one reserved for the data source drive and the other four ports for target drives.  Even as a mobile version of Nexcopy's heavy-duty duplicator, the USB104SA is packed with all the primary features you will find on its larger sibling.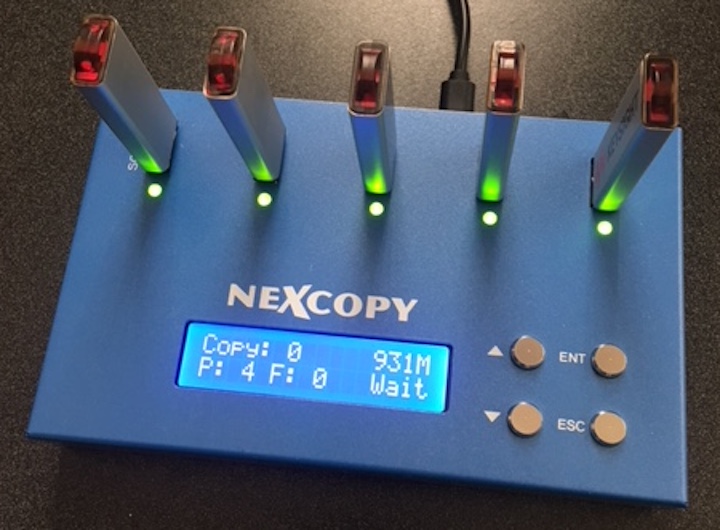 For starters, there's an asynchronous copy mode as the default duplication method.  So, as soon as duplication is complete for one of the target drives, you can swap in the next drive to continue the copy process.  Support for SuperSpeed USB is included to speed up transfer.  There's also data verification as well as support for bootable devices.  Last not but least is real-time performance feedback via LCD as well as a built-in benchmark tool that verifies read and write speeds to determine target drives' quality.
Heavy-duty USB Duplicator
---
Nexcopy's USB160PC Duplicator is in a class of its own.  Primarily targeting a niche market, it is an industrial tool that can churn out 16 unique flash drive images at USB 3.1 speed.  So we are talking about a gigabyte of data to all drives in about a minute.  Supporting USB 3.1 is also essential for hard drive duplication as well.  This may not sound like a big deal for the average user, but if you have ever spent time doing this one by one, then you know how much time you can save in the long run.
As far as USB duplicators go, the Nexcopy is actually pretty stylish to look in a German-engineered car sort of way.  Its form also flows from its function; for example, having the top slope downwards from back to front makes it easy to check all the status lights for the 16 ports.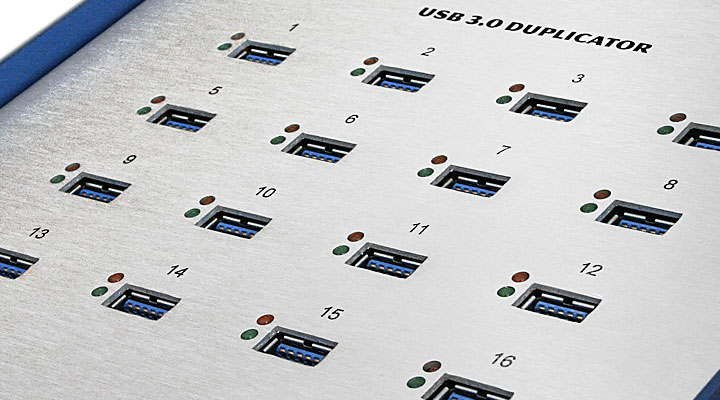 After getting the software up and running, the steps to completing a drive duplication involve setting up a batch job; pointing the software to the files or ISO images you want to copy; and lastly, plugging in all the drives where you need the content duplicated.  Our tests, which included preparation of Windows 7 64-bit ISO on 16 drives, showed the Nexcopy allowed us to finish a task about 13 times faster than doing it manually.  Performance could be further improved if you opt for faster flash drives in lieu of generic ones.
The Nexcopy's accompanying production software can be upgraded to PRO version.  This beefed-up version can write protect flash drives, 16 of them at a time for this duplicator.  This is done at the controller level so the read-only mode understandably cannot be overridden.  There's also an option to partition flash drives; to make a USB functioning like an optional disc; and to edit the descriptor fields of the drives at the controller level.
The Nexcopy's USB160PC really is a force multiplier.  The more you use it for the same task the faster the process will get.  After all, a good portion of the time it took in testing was the setup phase.  You could say the Nexcopy is a veritable money printing machine if you can find use to save thousands of man hours with this $1,300 duplicator.  But at the end of the day, you might have to do your own cost-benefit analysis to determine the merits of this investment.
One-of-a-kind Flash Drive Printer
---
Custom printed drives are costly per unit if you don't purchase in bulk, not to mention there's turnaround time.  So, if you only plan on preparing these in small quantities at moment's notice, Nexcopy has an affordable yet simple solution.  The 6-color (CcMmYK) LOGO-EZ custom inkjet printer allows you to print on anywhere from 6 to 28 flash drives with identical or different full-color images at a time.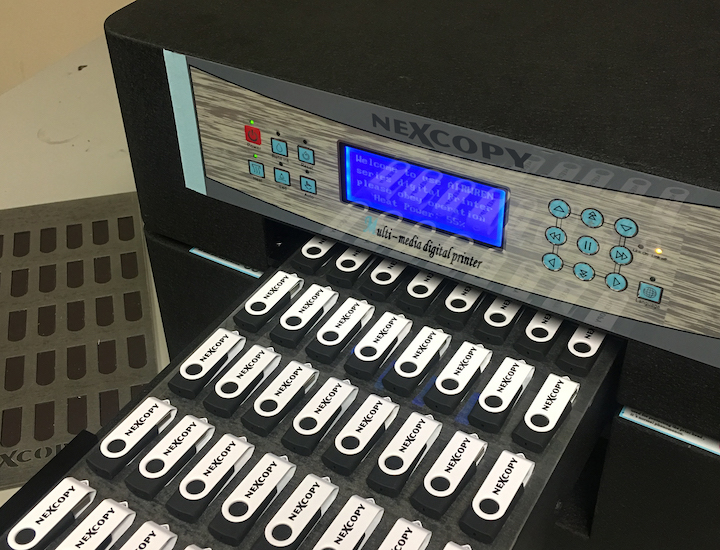 Simply use the included software to upload your BMP, PNG, TFF or JPEG (at up to 4800-by-1200 resolution) and you will have custom full-color coverings to go with your drives in less than a minute.  The LOGO-EZ comes with trays to accommodate 7 different drive form factors, including the popular swivel and credit card.  Additionally, it works on a variety of materials (i.e. matte, glossy plastic finish, and aluminum body) but some of them need to be pre-coated to yield the best results.
Also worth mentioning is that the printer allows full control of the percentage used for each of those 6 colors so users can dial in the exact color they are trying to obtain.  The printer's built-in heater also warms up before the job begins so when the ink is applied on the custom drives, it would dry more quickly.
The Nexcopy LOGO-EZ is ideal during situations when you need to brand the freebies (i.e. custom flash drives, luggage tags, T-shirts) with different images from time to time and couldn't afford the standard turnaround time for a custom order.  At $2,400, it's not something for everyone but small PR firms may appreciate the simplicity and relatively low fixed cost of the printer.
Robust DRM Solution for USB Drives
---
Data security is of paramount importance in today's digital era.  While encryption is one method of protecting sensitive information and confidential data from prying eyes, it is, however, limited to an all-or-nothing access model.  Nexcopy has a solution called USB Copy Protection (detailed overview) that is more flexible and that can be customized to specific needs.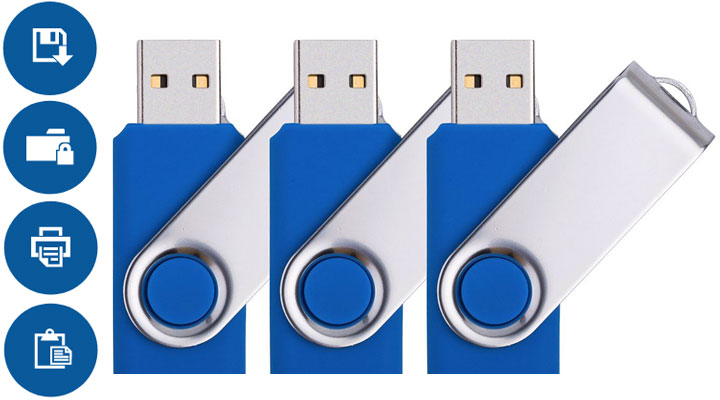 The said solution is essentially a USB copy protection system that allows complete control over the usage of files.  The software works in tandem with Nexcopy's CopySecure drives to create an environment that allows users to view the content exclusively but everything else is off limit.  Document saving and printing as well as copying via text selection are restricted.  As a matter of fact, there's protection against common screen grabbers.  Publishers can also expire files after a certain period as needed.
USB Copy Protection is platform independent as well as requiring no admin rights on Windows to open the files.  Supported file types include all the popular open standards, including PDF, HTML, JPEG, PNG, MP3, and MP4.  The drives can also be assigned a password for an extra layer of security.  Last not but least, the DRM can work alongside Nexcopy's USB duplicators to reduce preparation time for batch jobs.

USB Duplicators By Nexcopy
Nexcopy manufactures a variety of PC-based and standalone
USB duplicator
solutions.
PC based systems support advanced USB functions such as write protection, CD-ROM partition and multi-partition creation, while standalone systems are ultra-fast, high speed USB copiers duplicating gigabytes of data quickly and accurately.