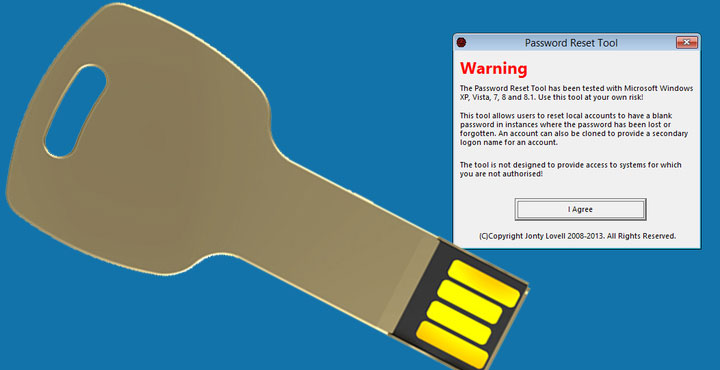 February 2014 Anthony Garland
One of the most classic and – yet still perversely prevalent – issues IT staff face is resetting Windows passwords for users who have forgotten them (again). While remote administration has reduced the need to physically reactivate and reset passwords in most scenarios, a copy of L0phtcrack still remains in every experienced admins 'toolbox'. Of course, having to reboot the system and use a copy of Bart PE or other portable OS' to run L0phtcrack has a PITA factor all its own.
Well, it seems that entrepreneur Jonty Lovell has done something about it as the all new – and fully funded – Password Reset Key has been designed to take the hassle out of this common issue. In fact, as long as you have physical access to the system even home owners can now reset their forgotten password within mere moments.
The secret to the Password Reset Key is the fact that it combines a key shaped 1GB flash drive – available in black, stainless steel, or 'gold' – with a simple OS that auto-loads his custom software upon startup. Just as with L0phtcrack, with a simple click or three, you can scan, reset and even test how secure a given systems login passwords are. Because of its 'key' form factor, it will be hard to lose as you can simply stick on your keychain and always have it close at hand.
However, be warned that this $15 – $50 device (depending on which option to choose) may get you in trouble with your IT staff as resetting the 'administrator' password will greatly 'annoy' them if they find out.  Even with that caveat in mind, the Password Reset Key is a great way to take the hassle out of resetting passwords and do so with a touch of style.
While fully funded, we recommend heading over to the Kickstarter as you can still pick up the cheap $15 model or for only $12 get the software-only installer which will turn your own USB device into a 'Reset Key'. Either way, it's a pretty good deal and may save you from creating (another) embarrassing help ticket with your IT staff.

USB Duplicators By Nexcopy
Nexcopy manufactures a variety of PC-based and standalone
USB duplicator
solutions.
The PC based systems use our exclusive and feature rich Drive Manager software with advanced functions while standalone systems are ultra-fast, high speed copiers duplicating gigabytes of data quickly and accurately.