10 June 2016, Comments: Comments Off on Nifty USB Gadgets Tailored to Women
June 2016 Ian Chiu
Water-misting Hairbrush
---
Thanko is always coming up with new products to plug into the ubiquitous USB port. Fortunately, the gadgeteers from Far East still hasn't run out of ideas. Here's what appears to be a hairbrush from a local dollar store in fact has a built-in ultrasonic humidifier. It is quite convenient when you can actually comb and moisturize your hair at the same time.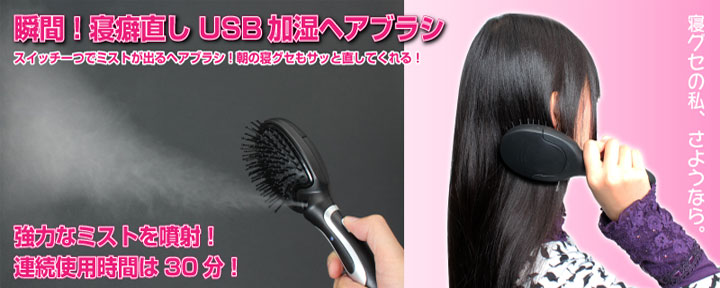 The humidifier itself has a water capacity of 15ml which is enough for about 30 minutes of continuous spraying while the battery – rechargeable via micro USB – lasts for approximately 2.5 hours. The hairbrush is also said to be ideal for pet grooming. Thanko wants 2980 Yen or $36 USD for those who are interested.
Neck Cooler
---
The USB Neck Cooler is Thanko's on-going commitment to keeping you cool and comfortable in the summertime heat. The front and left and right 'arms' are lined with heat conducting metal which, with the help of the two internal fans, sucks heat off your body and exhausts it out the back of the device.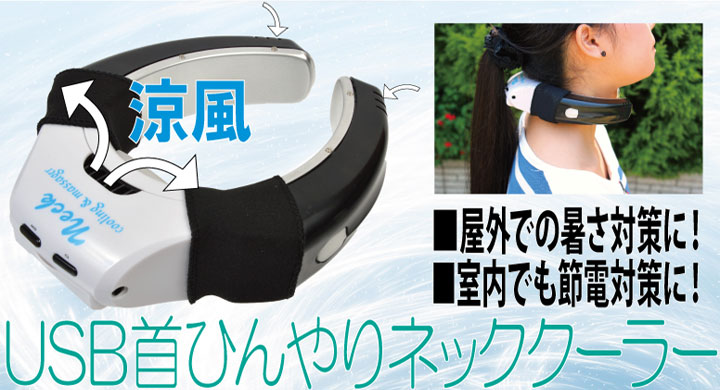 Besides exhaust ports, the rear also houses the two rechargeable AAA batteries and individual fan speed adjustment controls for the left & right fans and even a standard USB port to recharge the batteries that last up to 12 hours on a single charge. Thanko states that as long as the ambient air temperature is below your body's temperature, the USB Neck Cooler will help keep you feeling cooler and more refreshed.
EMS Massager
---
While best known for their chairs with built-in massaging features, OSIM has branched out into new territory with the release of uPixie USB Massager. As the name suggests, the uPixie provides custom programmed messages; however, how it goes about giving you a massage is rather ingenious. Instead of the typical large servo mechanical massages you usually see, the uPixie relies on EMS or Electronic Muscle Stimulation.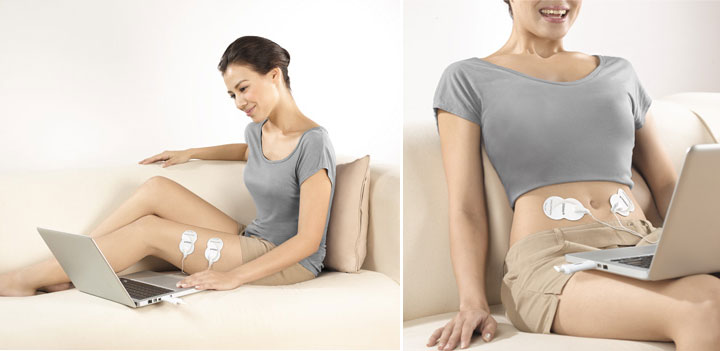 In a nutshell, EMS is the science of applied electric current to your muscles. While certainly not the most affordable option, the fact that the USB Massager comes with software to customize the device is very nifty. Not only can you customize the intensity of the four prebuilt massage routines, but also create your own with Tapping, Kneading, Squeezing abilities. At $99, the uPixie certainly is a tad pricey, but if you can not bring a masseuse to work, this might be a good alternative.
[adinserter block="3″]
Ion Generator with Humidifier
---
The "Sharp IG-DK1A Humidified Plasmacluster Ion Generator" is quite a mouthful. This simple handy USB gadget does a pretty job at humidifying the air while creating copious amounts of ions. While it may not clean the air in the traditional way like a UV air purifier, the creation of negatively charged ions will actually purify the air.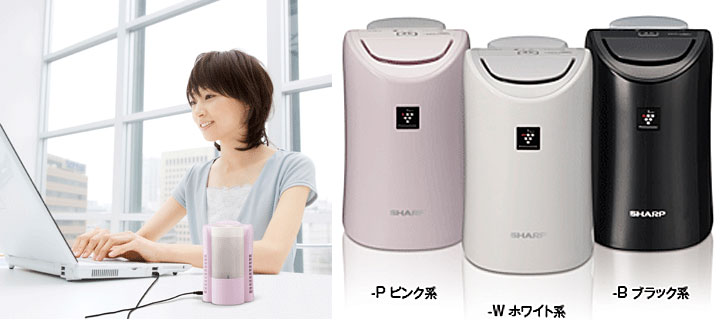 In a nutshell, negatively-charged ions are attract dirt particles that are floating in the air. Once these micro clusters of dirt, pollen and etc. are clumped together, they become heavier than air and fall harmlessly to the ground. As an added benefit, ions have been shown to kill germs, making the air cleaner. As with all things, the more ions a device can create the faster it help purify the air. In the case of the Sharp, it is able to create a maximum of 25,000 ions/cm3.
The Sharp ion generator can also humidify the surrounding air via its removable 300ml reservoir at a maximum rate of 30ml an hour. Rounding out the list of features is a two speed fan which can be controlled via USB. Overall, the Sharp IG-DK1A certainly sounds like an interesting device; however we do have to wonder about creating all that water and static electricity laden air anywhere near a PC.
Eye Warmer
---
Just about everyone knows how nice a warm towel over your face can be. It's relaxing and refreshing but who really gets the time except on long flights. This might be a great way to help you remember to take the occasional 'Me' break and rest.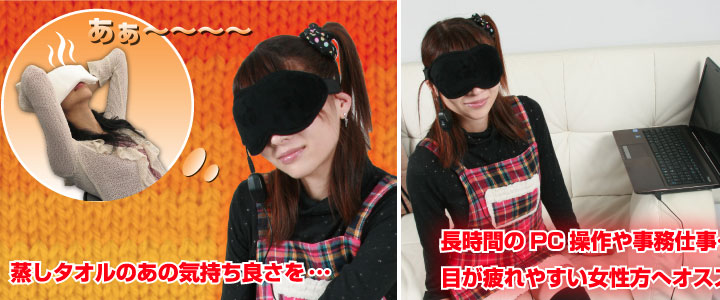 Plug the Thanko Eye Warmer into a USB port on your computer; wrap the elastic cord over you head; and drift off to your cave. The soft plush eye covering cushions will begin to warm up. This should at least temporarily remove you from the stress of your day and increase the blood flow around your face and eyes. It has both high and low settings for your comfort controlled by a switch within easy reach.
Heating Muffler
---
For those cold winter days while waiting at the bus stop or even those days you are stuck in the AC'ed server room, the USB muffler by Sanwa Direct may just be the best gift you ever received. Both ends of the muffler have hand warmer pockets so as to help keep your hands as well as your neck warm. The main selling feature of this muffler is obviously its heater feature.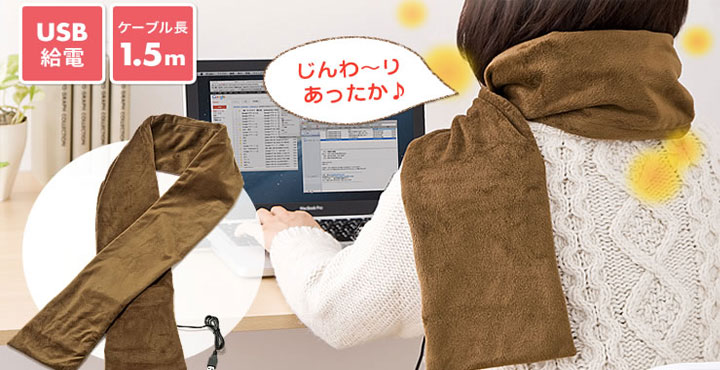 The heating element is rated to warm to 37ºC before the thermostat cuts power, and it will not turn it back on till cooling down to 32ºC. With its 1.5m cord, you won't need to have the power source too close to your neck. Interested? You may have to source out special shipping as this $14 scarf is only available in Japan at this time.
Breast Warmer
---
Hoping that the thermodynamic verity that heat makes things expand would apply, Thanko has shamelessly placed this USB breast warmer up for sale on its Japanese site. Like the eye warms and heating slippers before them, the breast warmers harness the immense power of the USB port to bring a comforting glow to mammaries within a 3 foot range.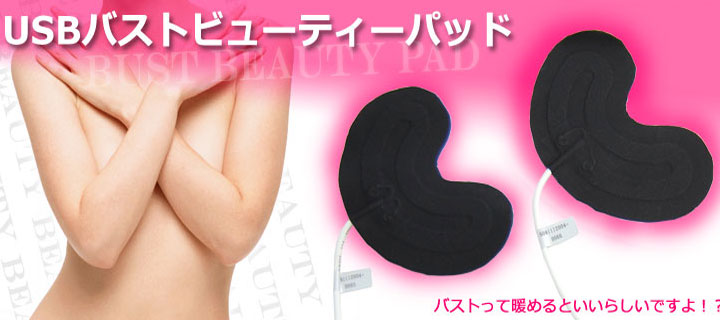 To further confound you, the C-shaped design and unsettling mannequin suggest that the underside of the breast needs the warming. Huh? Even the writers of "Lost" would shrug at this thing in dismay. This soon to be gag gift will cost you $22 and your dignity. And please remember, it's definitely USB powered, no questions about whether it takes AA batteries or double D's.
Heating Slippers
---
These new little piggy warmers one-up the previous generations in 2 key ways: first, the slippers are actually individual slippers were one single foot holder, one unit that held both feet together. Secondly, they include a pair of lithium batteries that allow your 2 disconnected fuzzy feet to be heated while disconnected from your computer. They can still run off of USB power, but they are still charging while they are connected.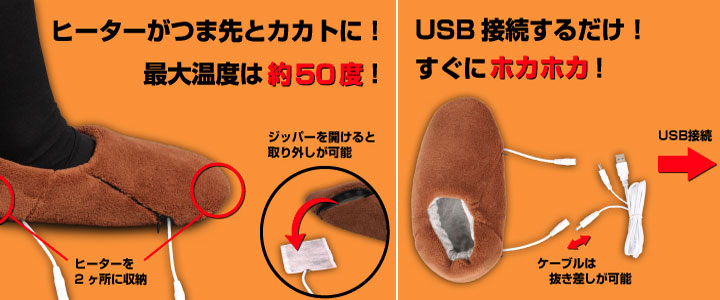 It takes about 16 hours of charge time to get 2 hours of heat from the included batteries, but they've at least included an LED system to tell you where you are at in the charging process. Now these aren't exactly fitted so don't expect to be able to run around the house or office with them but they should allow you more range of motion than other comparable products.
That's it for now. If you find anything else that belongs to this list, please let us know by leaving your suggestion or comment below.

USB Duplicators By Nexcopy
Nexcopy manufactures a variety of PC-based and standalone
USB duplicator
solutions.
PC based systems support advanced USB functions such as write protection, CD-ROM partition and multi-partition creation, while standalone systems are ultra-fast, high speed USB copiers duplicating gigabytes of data quickly and accurately.