15 June 2023, Comments: Comments Off on USB Personal Coolers Help You Survive Summer
June 2023 Ian Chiu
When heat wave hits, keeping cool becomes a priority for everyone. Air conditioning is easily a no-brainer option – that is, if you have it. Even so, there are eco-friendly ways to cool off in the heat while avoiding a shocking electric bill. We've some of them listed below.
Torras Coolify Neck Cooler
---
USB neck fans aren't new and there are already more choices than we can possibly ask for. The latest generation of wearable fans has evolved into a jack-of-all-trades thermoelectric personal cooler. Torras Coolify 2S is one such model, featuring two cooling plates that give you the instant sensation of relief from the heat during summer. It is complete with a pair of 5000-rpm fans that provide ventilation around your neck. The Coolify 2S is actually a step-up model that brings all-around improvements over its predecessor.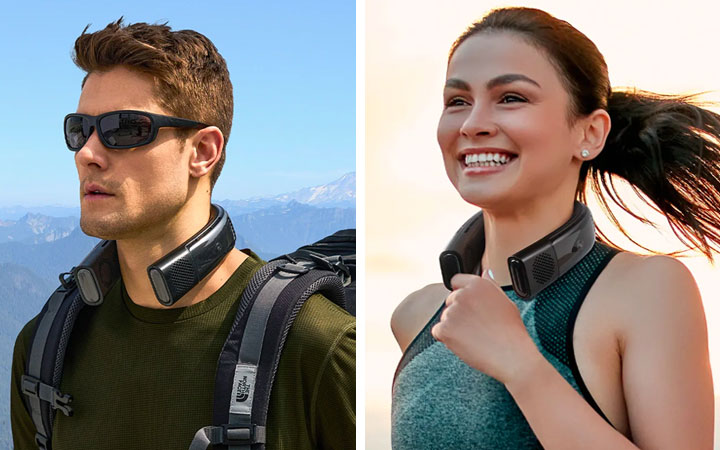 Based on the same thermoelectric technology used in many beverage chillers and fridges, Coolify 2S can cool down 30°F in less than a second on the part of the neck where the plates come in contact. In comparison, the previous model can do 27°F. The same technology can also be used to generate heat, and as such, Coolify 2 also has the same capability. There's also app support for those who would rather adjust heat, cooling, and fan controls from their smartphones.
In terms of battery life, the latest model can last for over three and a half hours in maximum power while the last generation can only manage one and a half hour. It's also worth noting that the bladeless fans are always on in cooling mode. This might explain the fast battery drain but 18W USB-C fast charge on Coolify 2S should reduce the charging time significantly for its 5000mAh battery. Finally, the ability to charge the battery while in use greatly expands the range of applications for the Coolify 2S neck cooler, making it indispensable for hikers, cyclists, and other outdoor enthusiasts.
Sale
TORRAS COOLIFY 2S Neck Air Conditioner, Cool Down 30°F in 1S, Strong Wind...
[Cool Down by 30°F in 1 Second] COOLIFY 2S neck air conditioner uses the powerful KU 2.0 Pro...
[Cool That Surrounds You] COOLIFY 2S neck fan provides a broader air flow coverage that can...
[Keep Cool All Day] The upgraded 5000mAh battery with an 80% better conversion rate allows...
Torras Coolify Zone Waist Cooler
---
Much like neck fans, wearable waist fans aren't a novel concept as they are essentially USB fans worn around the waist or clipped onto a belt. Everyone has their own trick to differentiate their product from the competitors. Coolify Zone from Torras in particular brings phase changing material (PCM) to the game. Presumably, the PCM acts as a heatsink to absorb heat (to a certain extent) from your body. Together with a pair of centrifugal fans that blow air upward at a maximum wind speed of 5.5m/s, Coolify Zone waist fan can reportedly maintain a body temperature of 77F or 25C.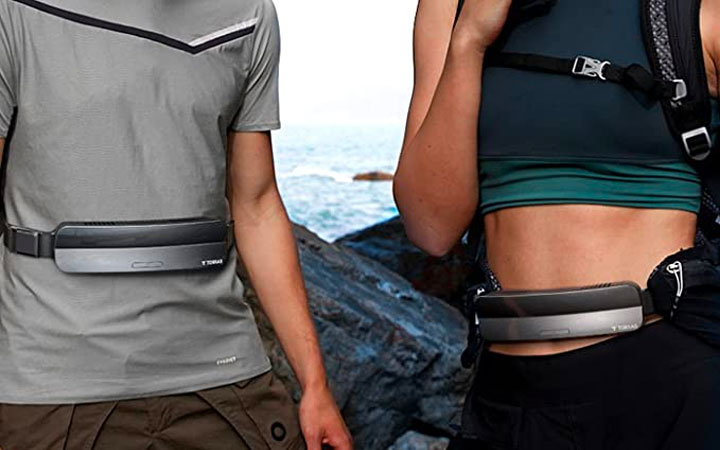 The Coolify Zone has built-in 4000mAh battery that ensures the fans will last for 5 to 15 hours, depending on which of the three wind speed is selected. According to Torras, $120 Coolify Zone is made to complement the company's highly-praised neck air conditioner. The two work in tandem to improve the air circulation around your body and provide you with some relief during the heat of summer. However, both cost over $300 together, which might not be a price tag everyone can stomach.
Evapolar evaCHILL EV-500 Air Cooler
---
Evapolar evaCHILL EV-500 is an evaporative cooler, a USB-powered one at that. In a nutshell, it uses moisture to reduce temperature. This type of cooler works best where the temperature is above 30°C and humidity is below 50%. Conversely, a high humidity level (i.e. above 60%) would render evaporative cooling ineffective.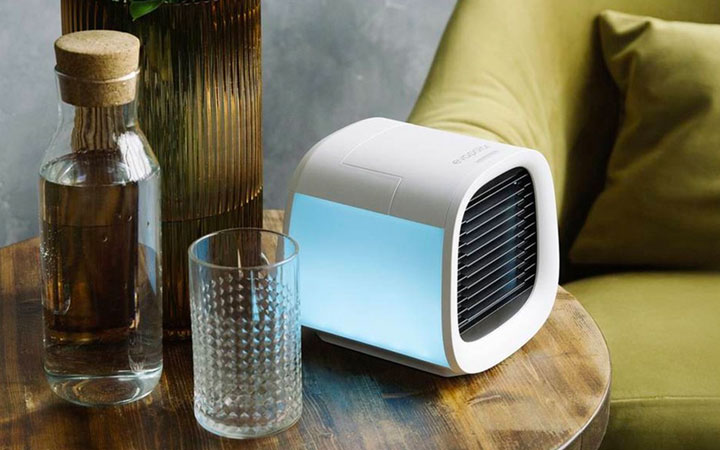 For the evaCHILL EV-500, a USB fan pushes air through the unit's filter cartridge that you will need to soak with water first. As hot air comes through water-saturated pads, the water evaporation process begins and gradually lowers the temperature of the outgoing air. The result from our experience was promising with the cooler managing to lower ambient temperature from 29°C to 25°C. You will get even better results if you add in ice water. Though your mileage may vary depending on the humidity. One caveat was that the EV-500 at maximum power did get loud – especially for a USB fan of its size.
Lastly, the basalt-based cartridge does a pretty impressive job at quickly absorbing water and keeping the pads moist. So, you will likely need to refill the evaCHILL's 800mL tank every 3 to 4 hours depending on the humidity in your room. Also, keep in mind the $20 biodegradable cartridge needs to be replaced every 6 months or so.
Sale
Evapolar evaCHILL Portable Air Conditioners/Mini AC Unit/Small Personal...
3-IN-1 COOLING – Evapolar evaCHILL cools & humidifies the air using evaporative technology,...
NATURAL PERSONAL COOLING – Efficiently cools your personal space using evaporative...
ENERGY-EFFICIENT & COST-SAVING – consumes only 10W (up to 100x less than an AC unit) and...
Torras USB Fan Bar
---
Keeping cool is important all year round for those of us who spend most of our time with computers. Torras' USB fan bar mounts on top of a monitor and is ready to give you a little breeze even if you have limited desktop space. This cross-flow fan provides a 10-inch air outlet with 3-speed settings and vertically-adjustable wind direction.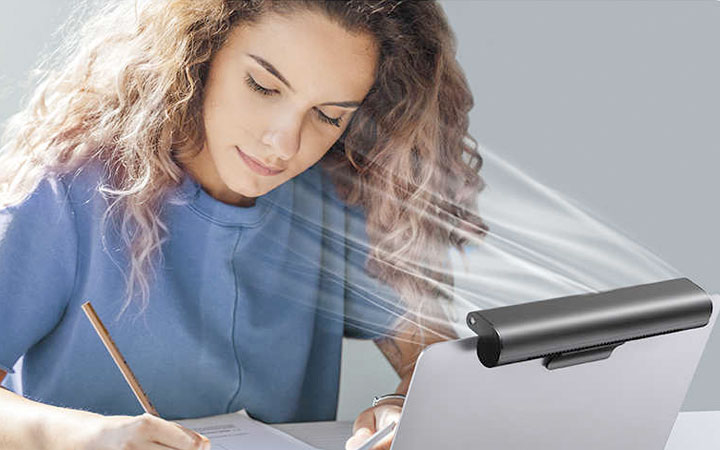 The Torras also comes with a silicone clip that secures itself to a desktop or a laptop screen, provided the flat panel's thickness is between 5 and 20mm. However, there seems to be an inherent flaw in the monitor-mounted design in that hot air from some panels' heat exhaust might get pulled in by the USB fan. If that is the case, then you are simply redirecting the heat towards yourself.
Sale
TORRAS Monitor Fan for Space Saving, Small Desk Fan Touch Control,...
🍃【5 in 1 Leaves You Free Space】The world's 1st original monitor fan, with insightful...
🍃【Upgraded turbo motor & Strong but Healthy】The upgraded turbo motor produces stronger ....
🍃【Adjustable 3 Speeds & 0-70° Wind Direction】The office fan features 3 speeds and up...
Thanko Dual-head USB Fan
---
Many of us at work still very much rely on old-fashioned fans to keep ourselves cool. Let's face it. We can never reach a consensus when it comes to office temperature. It is for this reason USB fans continue to sell like hotcakes every summer. Here's the latest generation, which in many ways is superior to anything out there to date.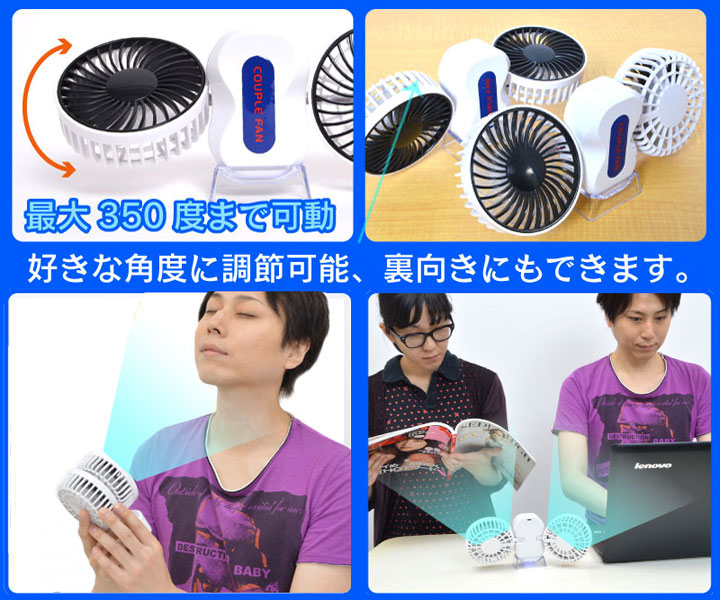 First and foremost, you will find two fans, which can be rotated independently. Your colleague sitting next to you can adjust the direction of the fan closet to him to his or her liking. You can also have one fan pointing in front and the other facing back so the person sitting on the other side can also enjoy the light breeze. Better still, you can fold both fans together so you can get a stronger breeze. The 240g dual-head fan can be powered via USB, which at the same time recharges the 1200mAh Li-ion battery. A full charge can last for 2, 3.5, and 5.5 hours at high, medium, and low fan speed respectively.
Thanko USB Necktie Clip Cooler
---
Leave it to the Japanese to figure out a way to turn an archaic – yet required – fashion attire accessory like the necktie clip, and make it into a positive. Or at the very least, we think the Thanko's USB Necktie Clip Cooler has the potential for being something besides a waste of $35. We say this as we can actually see many a Salaryman thinking this is a great way to beat the muggy Tokyo heat while sweating away waiting for the next train to come into Shibuya Station.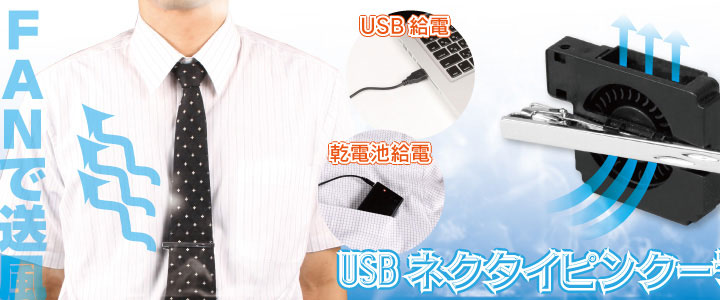 Weighing just 28 grams (sans battery pack which is included), the clip may be a great way to help keep you cool while not ruining your professional appearance like some necktie coolers could. If you are stuck in an office that is "tightening its belt" by keeping the A/C low, a handy free USB port can also be used to power this interesting little invention.
Thanko USB Butt Cooler
---
Thanko's USB butt cooler sounds like a pretty odd device, but if you are stuck in an office cube farm where the AC is either nonexistent or set to sweltering hot due to "cost-cutting procedures", having a fan keeps your butt from sweating may sound downright perfect.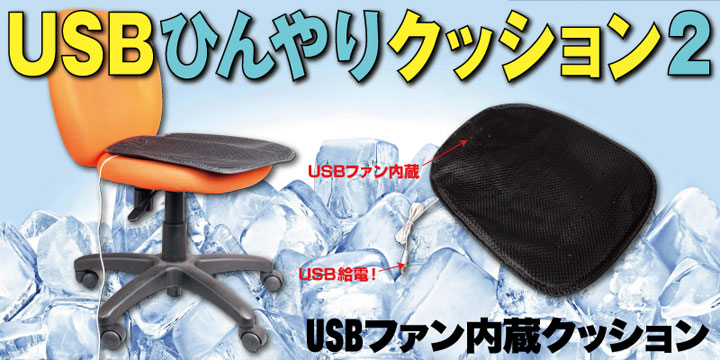 While it relies solely upon air movement to make you feel cooler, it can do just that by circulating fresh air over the one part of your body that usually sweats first when sitting in a chair: your butt. Where the fan is obviously a small 5V fan, don't expect it to work miracles. However, during hot days, even a little bit of air movement can help things a lot more bearable.
---
This is perhaps the first USB foot cooler that is meant to keep your sweaty feet dry and cool. Thanko has put together something that pumps air through a 33mm long tube using a 2-speed tubular fan. The tube would go into your shoe or sock.

One of the pictures on Thanko's site reveals the same tube can go under your arm to stop armpit sweating. We have a strong feeling the $26 USB foot cooler is going to be a big hit when exhausting cubicle workers in Japan have already tried everything from necktie and butt coolers in the humid and hot season.

USB Duplicators By Nexcopy
Nexcopy manufactures a variety of PC-based and standalone
USB duplicator
solutions.
PC based systems support advanced USB functions such as write protection, CD-ROM partition and multi-partition creation, while standalone systems are ultra-fast, high speed USB copiers duplicating gigabytes of data quickly and accurately.