30 March 2023, Comments: Comments Off on Latest Portable USB-C Monitors to Boost Productivity On the Go
March 2023 Ian Chiu
Portable monitors have popped up left and right in recent years.  They can easily double your Windows desktop area without cluttering up your "real" desktop.  The upgrade process is also as easy as plugging in a USB-C cable, which conveniently carries both video and power.
In general, their screen sizes range from 12 to 16 inches diagonally.  Anything smaller will tax your eyes and anything larger than a 16-inch would make the monitor heavy and bulky.  Another advantage of mobile monitors is their relatively small size as well as lower weight compared to their desktop counterparts.  This makes them ideal companions for anyone who needs the portability and productivity value of a second monitor around a cramped workspace.
Without further ado, here are five portable USB-C monitors that should meet the requirements of those who are working either from home, on the frontline in the office, or both.
Feature Comparisons
---
Pricing is last updated by Amazon on 2023-09-25 at 07:50.  When you buy through Amazon affiliate links on our site, we may earn an affiliate commission.
Dell C1422H
---
Dell's first USB-C powered monitor delivers a clean setup
Dell extends its long history of creative, gaming and business monitors with C1422H – its first portable USB-C powered display. The technical aspects are also pretty much what you would expect from a mobile monitor at this price range.
C1422H boasts a 14-inch IPS 8-bit HD panel with a refresh rate of 60Hz and a viewing angle of 178 degrees. It covers almost full sRGB color space, which is approximately 70% of Adobe RGB. The display opts for a matte surface to reduce screen glare. Max brightness is rated at 300 nits but realistically, it falls into a range of 250 nits.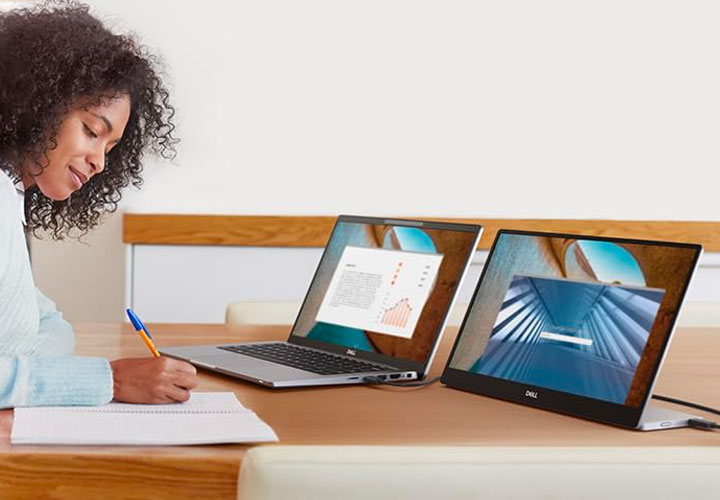 While Dell C1422H isn't purpose-built for any particular market, it's mostly aimed at business travelers and those who add another screen without sacrificing too much valuable desktop real estate. Its hinged stand – fully adjustable between 10 and 90 degrees – is always preferred to a folio cover that pulls double-duty as a stand.
Like other monitors of this category, C1422H has two USB-C ports – one on each side for video (i.e. DisplayPort Alt) input and power passthrough (up to 65W to a laptop) respectively. However, for the price, most would have expected the monitor to come with built-in speakers.
Sale
Dell C1422H 14" Full HD LCD Monitor - 16:9 - Silver
16:9 widescreen resolution perfect for watching movies, playing video games and getting on with...
14" screen size with 1920x1080 resolution provides a native display of a Full HD video sources...
300 Nit brightness gives an exceptional visible display for clear and consistent on-screen...
LG gram +view 16MQ70
---
First USB-powered 16-inch monitor with 16:10 2560 x 1600 screen
In a sea of portable USB-C monitors that commonly offer only full HD resolution, LG Gram +view 16MQ70 with a 16-inch WQXGA IPS panel deserves a good look. As the company's first entry into the productivity-centric mobile display market, the 16MQ70 matches the screen size and 16:10 aspect ratio of a growing number of 16-inch laptops.
These desktop-replacement notebooks boast 2560 x 1600 screen resolution with extra vertical space for documents and spreadsheets. Hence, having a secondary screen like the 16MQ70 further complements the heavy lifting most power users do on daily basis.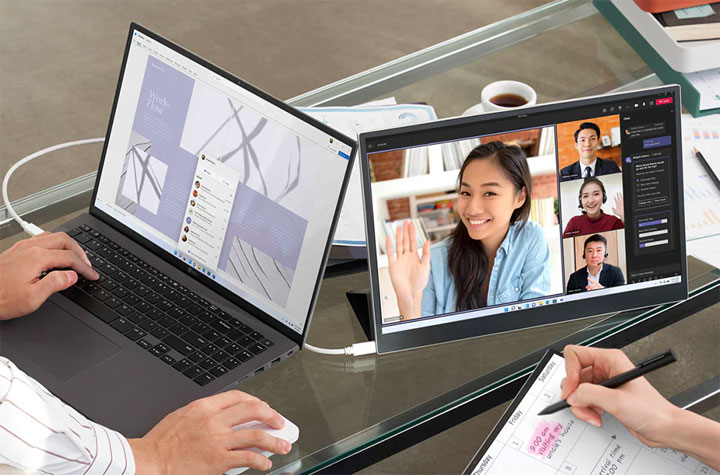 With a total weight of 2.18 lbs, the LG Gram +view 16MQ70 comes with a folio cover that doubles as a stand. You will also find a pair of USB-C ports, presumably one of which is designed for USB Power Delivery passthrough. There's no built-in battery but we are only looking at an 8W power draw. Its anti-glare screen with a 170-degree viewing angle and 60Hz refresh rate is rated for 350 cdm/2 rather than the more typical 250 cd/m2. The brightness falls short of most LCDs in order to save a laptop's battery life.
LG Gram +View 16 Inch Portable WQXGA (2560 x 1600) IPS Monitor, 16:10...
16" inch WQXGA (2560 x 1600) portable anti-glare IPS display with an ultra lightweight and thin...
Brilliant display featuring DCI-P3 Color Gamut
Includes folio cover that protects screen and serves as stand
Lenovo ThinkVision M14d
---
USB-C Monitor with 16:10 aspect ratio and 2240 by 1400 resolution
Seeing the latest laptops are predominantly 16:10, a mobile monitor like the Lenovo ThinkVision M14d would be perfect for doubling the desktop real estate while maintaining the same aspect ratio as the primary screen. ThinkVision M14d is also unique on its own in that it boasts a resolution of 2240 by 1400 pixels on the 14-inch IPS panel. This translates to 189 ppi, which is fairly high as far as pixel density goes on a sub-4k screen.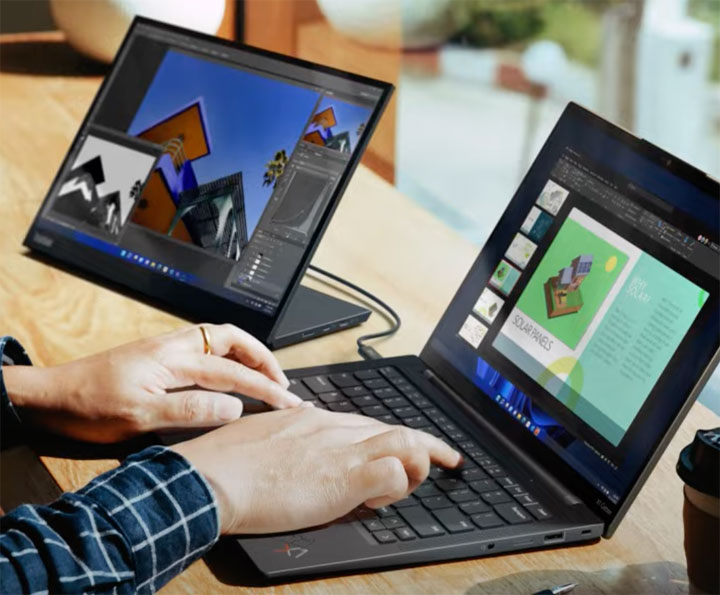 Thanks to its matte screen surface, Lenovo M14d can handle glare far better than its sibling with a glossy touchscreen. Combine that with a peak brightness of 375 nits and you have a bright display good for almost anywhere except under direct sunlight.
As a USB-C only monitor, the monitor draws power and receives video (via DisplayPort Alt mode) from PCs, Macs, or iPad Pros. The USB-C port on the opposite side is used to plug in a Power Delivery adapter in case the host (e.g. Samsung DeX-compatible smartphone) doesn't deliver enough power to the monitor. The power passthrough supplies up to 65W which is enough for everything up to 14-inch laptops to stay charged during max workload.
Lastly, Lenovo ThinkVision M14d is integrated with a durable hinged stand that has a tilt range of 5 degrees in the forward direction and 95 degrees backward. The stand appears to be built with longevity in mind compared to an origami-style fold-up stand bundled with most other portable monitors.
Sale
Lenovo ThinkVision M14d 14 WLED LCD Monitor - 16:10 - Raven Black
Number of Screens: 1
Screen Size Class: 14''
Viewable Screen Size: 14''
Lenovo ThinkVision M14t
---
USB-C Monitor with touch-screen and USB PD pass-through
Secondary mobile monitors have become an indispensable tool for business travelers to maximize their productivity on the go.  It wouldn't be a surprise that these portable displays are also getting a touchscreen as it represents the next logical evolution.  Lenovo's ThinkVision M14t is among the first to jump onto the bandwagon.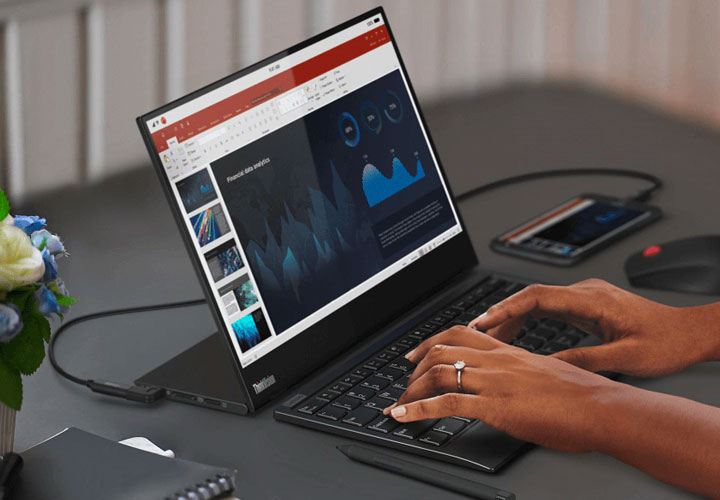 The 1.5 lbs. matte black ThinkVision M14t sports a 14-inch IPS capacitive touch panel with a top glass layer.  Together with 10-point touch capability, the M14t transforms into an oversized tablet when paired with a touch-friendly OS such as Windows 10 and Android.  For the latter mobile platform, having touch interactions makes a world of difference.  On top of that, a 4096-level pressure-sensitive stylus that comes with the package is handy for signing documents and taking notes.  Though, the monitor might struggle to keep up with the screen responsiveness required for precision drawing.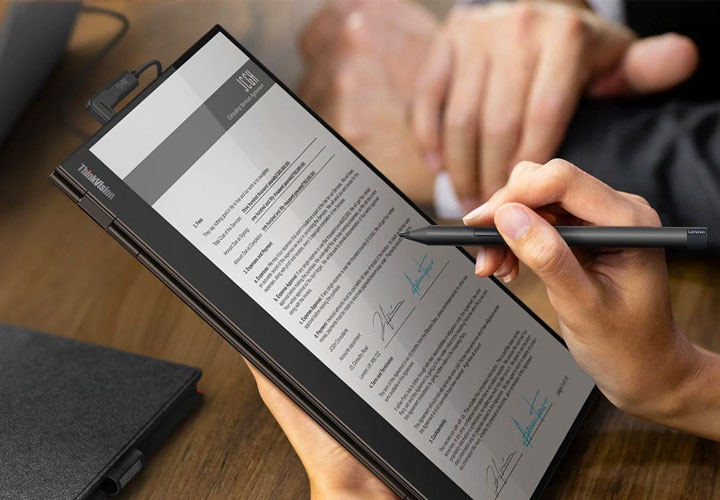 Lenovo has also thoughtfully included a flip base, which supports the screen to stand upright in portrait mode.  Additionally, there's a USB-C power pass-through port so one can use a USB Power Delivery-compliant power brick to provide power to the monitor as well as to charge the laptop (up to 65W) or Android smartphone simultaneously.
ThinkVision M14t USB-C Mobile Monitor with Touch Screen - Black
Display: 14-inch FHD IPS (1920x1080) 300 nits Touchscreen, Viewing Angle: 178°/178°
Ports : 2 x USB 3.2 Type-C | Pen: Active Pen with battery
Design: Side Bezel width 5.43 mm |Tilt: -5°/90°, Lift (maxrange): 150mm
Mobile Pixels Duex Max
---
Portable monitor that piggybacks on your laptop's display
Mobile monitors in general aren't exactly built with ergonomics and quick deployment in mind. Mobile Pixels tries to change that with Duex Max. What makes Duex Max stands out from the pack is its integration with a laptop. It comes with a mount that sticks to the back of a laptop display with oval-shaped adhesive magnets. From there, you can slide out the 14-inch 1080p matte panel to either side of a laptop although you need to reposition the mount.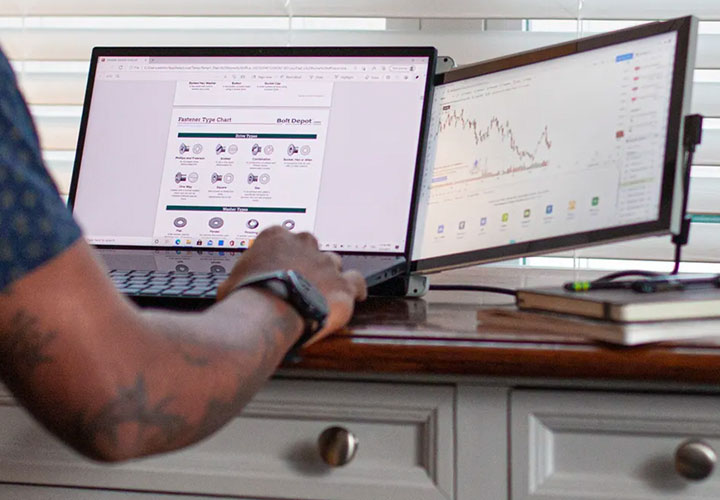 Additionally, you can even rotate the display by 270 degrees to the back of a laptop. This mode will come in handy when you want to make a presentation to a person sitting on the other side of the table. Keep in mind there's the stress Duex Max puts on the laptop display's hinge when it is fully extended. For a conventional monitor setup, there's also a kickstand at your disposal.
In addition to the 14.1-inch (Max) Mobile Pixels also carries 12.5- (Lite) and 13.3-inch (Plus) models. This line-up makes quick deployment of a secondary display less of a hassle especially when you are limited by the desktop space available or when you simply want to work on a lap. Last but not least, the monitor does work over either USB-C (via DisplayPort Alt mode) or USB-A. The latter connection will need driver installations.
Sale
Mobile Pixels Duex Max 14.1-inch Portable Monitor)
【New Duex Max Ultra Slim Laptop Monitor】- Duex Max portable monitor provides you with four...
【Auto Rotation & Widely Compatibility 】- The monitor extender has a 270° maximum extending...
【Plug and Play】This monitor for laptop is equipped with 2 complete Type-C ports, which is...
We will be adding more USB mobile monitors as soon as they become available.  Meanwhile, if you stumble upon anything cool you like us to put on this list, let us know in the comment section below.

USB Duplicators By Nexcopy
Nexcopy manufactures a variety of PC-based and standalone
USB duplicator
solutions.
PC based systems support advanced USB functions such as write protection, CD-ROM partition and multi-partition creation, while standalone systems are ultra-fast, high speed USB copiers duplicating gigabytes of data quickly and accurately.