5 April 2011, Comments: Comments Off on Thermaltake Shock One Gaming Headset Review
April 2011 Jackie Liu
When you mention the name Thermaltake, usually people would relate that name to their computer chassis, coolers and power supplies. As they foray into the already crowded market of gaming accessories with their eSports line of peripherals, many – especially their competitors – look forward to see what they can offer. Focusing on their flagship product, the Thermaltake's Shock One, now let's see if its DTS 5.1-channel certification (for virtual surround sound) will separate it from the rest of the herd. Read on to find out in the full review below.
Headset Design & Ergonomics
---
After unboxing the headset, it immediately struck me as being very similar to the designs of the G35 from Logitech for having large square driver housings. But these definite cans don't feel cheap by any standards, and even feel more premium than the much-heralded Corsair HS1. Dressed in mostly glossy black plastic with red trims, the headset certainly aims to please the eyes. That premium coat of gloss is also a fingerprint magnet, thus oily fingers beware. In terms of weight, these feel just right for a headset of this price and size.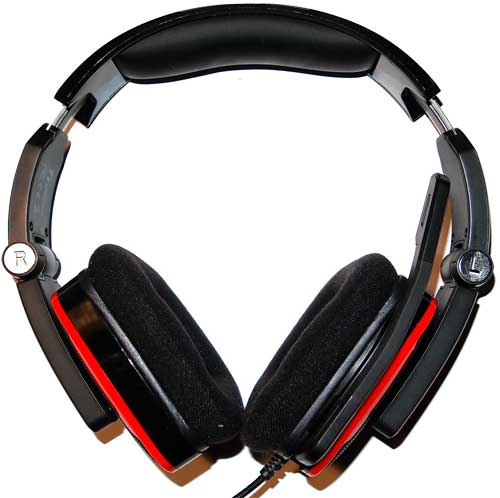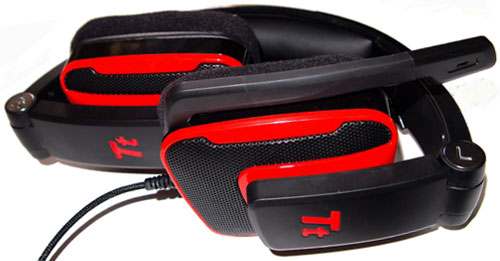 Each of the ear cups features a Thermaltake Logo "Tt" that can be LED-backlit depending on the user's choosing, which is a great feature considering not everyone wants headsets that glow 24/7. Since these are meant for professional gaming use, Thermaltake suspected that the Shock One will probably be on the road a lot. Therefore, they introduced a nice folding mechanism that compacts the gaming headset to a size a little longer than your standard 6″ subway sandwich. As mentioned before, the hinges on this headset are built solid and provide assurance in its lasting ability.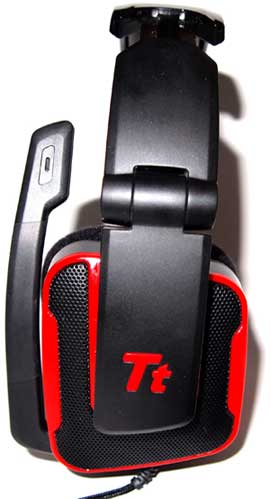 Now moving onto comfort, the Shock One will take some time to get used to initially as it is a very unforgiving set being very stiff. To Thermaltake's credit, the padding is supremely comfortable, made out of materials similar to their "protein leather cushion" which helps with moisture dissipation and keeps the leather from becoming sticky. The clamping pressure out of the box, however, may be a little too much for most people. It could be somewhat difficult to find a comfortable fit, and it could take a fair bit of time in order to manually "break in" the frame before it became comfortable.
Now after 50 hours of use, the headset has been tamed even after a Mass Effect 2 marathon. That aside, it's nice of Thermaltake to include a pair of velour pads if anyone finds their leatherette pads to be uncomfortable. This was one of the saving graces of this headset. The leatherette pads are very soft and velvety and are definitely one of the best in terms of comfort. Changing to the velour pads is a snap (literally snap-on installation), and requires 10 seconds at best. The velour pads are where this headset falls short of the Corsair HS1, as they do not offer the same memory-foam found on the Corsairs, nor their ultra-smooth fabric. While they are not bad at all, they just feel a little generic when compared to other headsets.
According to Thermaltake's specifications, the Shock One features 40mm drivers to pump out the sound similar to that of the Logitech G930. While this may not look as impressive as the 50mm drivers found on many other headsets such as the Corsair HS1, pure specifications often can be deceiving. Thermaltake has gone out of its way to obtain the DTS Surround Sensation certification, featuring:
Voice Clarification Technology
Enhances the voice frequency bands to improve the audio quality of dialog and vocals.
Bass Enhancement Technology
Restores the perception of fundamental low-frequency tones by dynamically augmenting harmonics, yielding improved bass performance.
Soundstage Expansion Technology
Broadens the soundstage and creates a phantom center channel for improved clarity and audio timbre. Obtaining this certification is no easy feat, and this review also explores the impact on audio performance later on.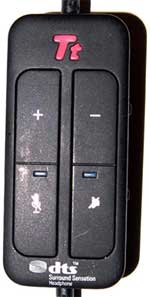 As a common feature on current gaming headsets, the Shock One features an in-line headset controller for volume, microphone, and the fore-mentioned LED lighting. The remote contains volume +/- buttons, mute mic, and mute sound buttons, as well as a pair of switches governing lighting and LOCK. It's also worth pointing out that having the lock switch is a nice touch to avoid inadvertent button presses, especially on the volume controls. The buttons themselves are very easy to use in the light, but lack backlighting for efficient use in the dark. You could always hold it up to the LCD screen to see what's what, but this will be a small inconvenience. As a consolation though, the mute mic and volume buttons both feature lights for when they are engaged.
Software
---
All the headset's features could be found squeezed into one page. It was a little intimidating and confusing at first, but it definitely wasn't too bad after becoming familiar with the interface. The usual features include the useful Sound Environment, EQ Presets, and a 10-band customizable EQ, complete with main volume adjustment for the speakers and mic. Funny enough, there is a typo on the "Presets" tab spelling "Present", hopefully, Thermaltake will get that fixed in the next revision.
Now since the Thermaltake does not advertise a "surround adjustment" feature like that of the Corsair HS1, you will not find any extensive positioning adjustments. Instead in its place, there's a giant and tempting button that says "DTS Surround Sensation." Once enabled, you will gain access to the DTS Surround Sensation NeoPC options. These include presets for Music and Movies, with independent settings on DTS effects such as Voice Clarification and Bass Enhancement, and the option to enable Low-Frequency Effects (LFE) mixing.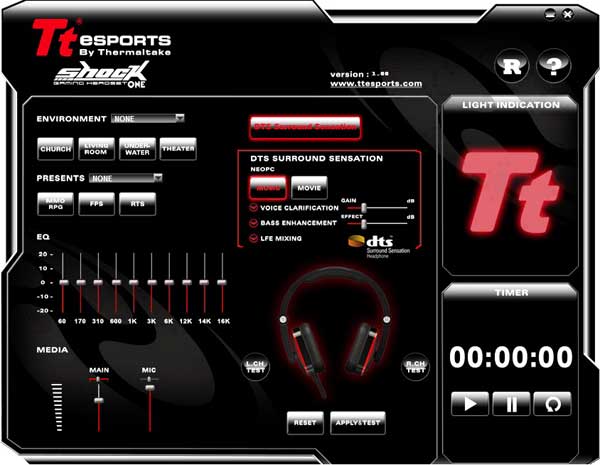 Now on the far right are two unique features that are not found anywhere else. The top square indicates the status of the LED lighting on the headset, which is useful but nothing to write home about. However, the bottom right is where the software distinguishes itself from the rest, with a timer. Now this may not seem like much, but this is immensely useful to a variety of reasons. One function that is useful in a game is to use it as a respawn timer in Left 4 Dead 2, where one could easily know when the enemy will be alive again. A neat little feature from Thermaltake, kudos.
Sound Quality
---
Initially, there are some doubts about Thermaltake's ability to make a pair of good-sounding headphones, and the first impression isn't that great after trying the Shock One. The sound that came through was muddy, muffled, and generally very distorted. The culprit here was the leatherette pads, since the "protein leather" material could have absorbed too much energy from the sound, and ended up distorting the sound in terrible ways. The problem was immediately fixed with a switch to the included velour pads. Despite being a little rougher on the skin, these new pads really showed me how great the headset could sound.
The treble sounded good, and with plenty of detail and sparkle. However, that detail and sparkle seem to roll off quickly as you move up after 14kHz . This isn't a big problem in gaming though, since of all the games tested on the headset, they sounded brilliant with crackling gunfire, sharp sound of metal clashing, and shattering glass.
The mids were a bit recessed, but that is perfectly normal on headphones in this price range, let alone gaming headsets. Despite not being as prominent as the bass or highs, speech in gaming and movies is still reproduced nicely, and sound great to the ears.
As mentioned earlier, the Shock One uses a pair of 40mm drivers. Initially one might think the 40mm drivers, compared to the 50mm drivers found on other headsets, will fail to produce the punch. But in this case, it's exactly the opposite as the headset hits hard when it needs to compared to the Corsair HS1, which sounded quite anaemic. The bass quantity is great, and the speed is just right for it not to sound muddy or congested. If there is one downside, it is that the bass does not extend very well. This means while you can hear the cracking of the earth underneath, you won't be able to "feel" the rumbling of the earth. Most notably when watching Tron: Legacy on Blu-ray, some of the more cinematic sequences lost their power and drama as a result of the headset not being able to reach that low frequency. On the bright side though, it was great to hear that the bass did not bleed into the mids, and the overall sound feels very clean.
So overall, the sound can be described as warm, moderately detailed, and great fun. However, it does make a faint background buzz which is very noticeable especially when you plan to listening to something quiet. But when the guns start blazing, and the bomb start exploding, the buzz is never heard again.
Microphone
---
The headset is equipped with a bidirectional noise cancellation microphone that is attached via a 90-degree hinge on the left ear-cup and could be folded vertically easily out of use. The quality of this microphone is debatable, however. On one hand, the recording definition is superb, and the noise cancellation was brilliant being able to pick my voice cleanly despite having Tron: Legacy going in the background. However, the actual tone of the voice was a bit, off. Few of my friends have said, being familiar with headsets such as the Razer Carcharias and the Corsair HS1, that my voice on the headset sounds rather electronic and artificial, while generally having a higher pitch. Personally for gaming purposes of this headset, this issue could be easily overlooked.
DTS Surround Sound & Compatibility
---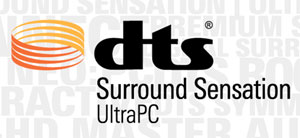 Any audiophiles would be skeptical of any "certifications" or anything that's related to "surround" in a stereo headphone. In this case however, it's pleasantly surprising to find that the headset was not all flash and no substance. DTS did play safe by labelling their certification as "Sensation" and did not dictate it as a full on 5.1 set.
Let's start off with some Blu-Ray movies. Tron:Legacy, The Expendables, and The Dark Knight worked quite well with the headset. Through and through, it reproduced a great sense of space and directionality. Not only that, the ambiance in the Dark Knight was reproduced brilliantly. Enabling the DTS surround feature only accentuated the above. The effect wasn't particularly significant though, but it's worth having.
Moving onto gaming tests, and since the Thermaltake headset uses the DTS certified software to process the audio-stream, most of the games worked flawlessly. However since this post processing only gives you the "sensation", you shouldn't expect full 5.1 effects found on full fledged home theatre systems. This system did show its flaws especially in Battlefield: Bad Company 2, where it's difficult to pinpoint the location of the attack-helicopter wrecking havoc above, and was forced to look around. Perhaps this has to with the fact that the sound of the helicopter was too intense for the engine to properly split into its 5.1 channel matrix. In contrast, lesser sounds like footsteps and voices could be pinpointed easily with this feature. The Shock One seems like a headset that one has to use for a considerable amount of time to get used to its directionality, but it definitely isn't bad to start off with.
Now there seemed to be a problem with the audio sampling rate and bit depth in all of the games tested. The windows default of 16-bit, 48000Hz output did not play well with most of the games (which seems to be at random). The net result was that literally no sound coming through except for very digitized highs and crackles of deeper sounds. This may have been a problem with the DTS emulation matrix, but hopefully it will be fixed in the coming driver updates.
SHOCK ONE Compatibility (Windows 7 x64)
All these tests done on the Shock ONE were carried out on a Windows 7 x64 PC.
| Game | Result | Remark |
| --- | --- | --- |
| Battlefield: Bad Company 2 | Pass | Worked very well in directionality, but falls short when sound intensity picks up. |
| Mass Effect 2 | Pass | Work well out of the box. |
| Call of Duty: Black Ops | Pass | Works well in terms of gunfire direction, but footsteps are still lacking. Game's audio engine leaves much to be desired since the sound feels closed in |
| Counter-Strike: Source | Pass | Worked fine no real tweaking required. |
| Crysis 2 | Pass | Sounded very crisp with great ambiance in NYC's sewers and buildings. |
| StarCraft 2 | Pass | Worked fine no real tweaking required. |
| Left 4 Dead 2 | Pass | Works well with identifying the direction of enemies, but sounds quickly become indistinguishable after the horde appears. |
| Alien Swarm | Pass | Must enable 5.1 mode in audio settings. Once done, directionality is very nice. |
| Game | Result | Remark |
Recap
---
Overall, Thermaltake really hit the nail on the head here for a proper gaming headset. While it may not have the most flashy LED lighting, nor the best audio quality, it definitely does its job well in all fields. The build quality was superb, and comfort was quite good after the initial "break-in" period. As well, the sound quality in music, movies, and gaming were much better than other headphones in the price range such as the Corsair HS1 and Razer Carcharias by offering a great balance of sound across the spectrum. The only real complaint is really the audio bit-rate issues with the tested games, and hopefully it will be fixed in upcoming patches.
To be honest, this is a great step for Thermaltake to take into the already saturated USB gaming geadset market. While this does not have the same soundstage and directionality as the Corsair HS1, nor the same comfort level, the Shock One, in essence, is the jack of all trades. It generally just feels to have a fuller sound than that of the HS1 with its great mid-bass impacts, and good mids. Through these, the headset demonstrates a greater presence. In general, it feels like you are punching a boxing bag, while the Corsair HS1 feels like you're tapping a hollow can. This won't replace any 5.1 speaker surround system, nor can it replace any higher end headphones (with or without real 5.1 speaker layout), but it should definitely be considered for a good set of gaming headset for around $100.
 Latest Gaming Headset Deals
---
Pricing is last updated by Amazon on 2023-09-26 at 00:37.  When you buy through Amazon affiliate links on our site, we may earn an affiliate commission.
Thermaltake Gaming Headsets on Amazon
---

USB Duplicators By Nexcopy
Nexcopy manufactures a variety of PC-based and standalone
USB duplicator
solutions.
PC based systems support advanced USB functions such as write protection, CD-ROM partition and multi-partition creation, while standalone systems are ultra-fast, high speed USB copiers duplicating gigabytes of data quickly and accurately.