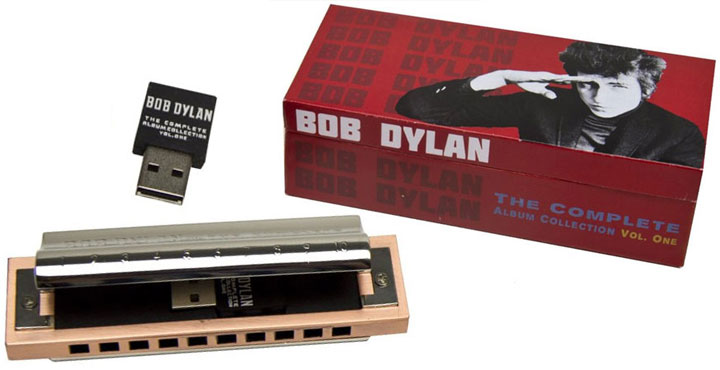 For Bob Dylan fans, the times they are a-changin. Like the man himself, many believe that CDs are an inferior medium and now for the first time ever you can own what is easily the definitive Bob Dylan collection in true lossless digital format.
On November 15th, the "Bob Dylan Complete Album Collection Vol. One" will not only be released in CD format but also in a limited edition harmonica clad USB version. Columbia Records basically has included the "entire official discography" which spans from '62 Meet Bob Dylan on up to 2102s Tempest and includes never before heard digitally re-mastered versions of some of his greatest works.
In grand total, this itty bitty USB drive will come preloaded with 35 studio albums, 6 live albums, and countless singles all in an easy to search format made for custom playlists and old school mix tapes. Better still, all this Americana music is included in both MP3 and lossless FLAC format – making it much higher quality (and more appealing) than the CD version.
In addition, the USB album will come loaded with a digital version of the hardcover booklet; and to top it off, the harmonica shaped box is numbered to prove its authenticity. Unfortunately, all this pleasure comes with a painful price tag of $364, but as the 'The Voice of a Generation' once said in his song Silvio "Every pleasures got an edge of pain, pay for your ticket and don't complain" so we recommend getting your copy quickly as they are sure to go fast.