We put five mini USB 3.0 drives from Lexar, PNY, Samsung, Sandisk and Transcend to test. These compact drives by design can always stay plugged as a semi-permanent storage, yet fast enough for everyday tasks.
April 2017 Ian Chiu
 The Best Mini Drives
---
PNY Elite-X Fit and Sandisk Ultra Fit come out on top in comparison to other mini USB 3.0 drives in our tests. While PNY is the more expensive option, it is close to 50 percent faster than the Sandisk in read performance.  Sandisk in contrast has the advantage of being smaller and it also comes with a generous 5-year warranty. All in all, both are capable mini USB drives designed for semi-permanent storage on tablets and laptops alike.
Feature Comparison
---
Lexar
JumpDrive S45

PNY
Elite-X FIT

Samsung
FIT 3.0

Sandisk
Ultra Fit

Transcend
JetFlash 710

Strength:
Speed, size, price
Speed
Size, price
Speed, size, price
Durability
Read Speed:
144.67MB/s
199.64MB/s
118.92MB/s
136.27MB/s
90.67MB/s
Write Speed:
39.04MB/s
37.58MB/s
38.78MB/s
31.65MB/s
28.79MB/s
Storage:
16 - 128GB
32 - 128GB
32 - 128GB
16 - 128GB
16 - 64GB
Interface:
USB 3.1 Gen 1
USB 3.1 Gen 1
USB 3.1 Gen 1
USB 3.1 Gen 1
USB 3.1 Gen 1
Dimensions:
18 x 16 x 8mm
20.8 x 15.2 x 6.4mm
19.7 x 15.4 x 8.7mm
19 x 17 x 8.8mm
22.4 × 12 × 6mm
Build Material:
Plastic grip, aluminum body
Plastic grip, aluminum body
Plastic grip, aluminum body
Plastic grip, aluminum body
Aluminum unibody
Activity Light:
Yes
No
No
Yes
No
Color(s):
Orange (16GB)
Blue (32GB)
Teal (64GB)
Black (128GB)
Black
White
Black
Gold, silver
Release Date:
Feb 2016
Aug 2016
Feb 2016
August 2014
Dec 2014
Warranty:
3 years
1 year
5 years
5 years
Lifetime
Mini USB 3.0 Drives on Amazon
---
 Benchmark Analysis
---
During our large file (a 10GB MKV) transfer tests, PNY's Elite-X Fit was the speed champion during our read speed benchmark. It bested the second fastest drive – JumpDrive S45 – by 37%. When taken write performance into account, the PNY was neck and neck with the Lexar and Samsung in the same 10GB write tests. It's worth noting that PNY was the only drive that was able to reach their advertised speeds (200MB/s write and 30MB/s write). Transcend never revealed its drive's performance, so your mileage may vary.
In another test which involved copying back and forth 4.7GB JPEGs (most being between 4 and 8MB), PNY remained as the leader in this round of benchmark. Samsung and Sandisk were not far behind. Neither write nor read speed was even close to its their larger siblings, but surely you know you are trading speed for size.
Note these two tests focused primiarly on sequential performance, because we felt most people would rely on a mini drive primarily as intermediary or secondary storage for media data.  These mini drives, without a decent flash controller, are inherently incapable of handling applications that require fast random access. For this reason, we didn't bother with further testing.
 Design & Build
---
The tested low-profile USB 3.0 drives are all similarly small. As soon as they are put next to each other, Lexar JumpDrive S45's diminutive size compares favorably to others. Sandisk and Samsung in comparison are wider and longer only by a fraction. In the case of Transcend and PNY, the increase in the drives' length can be attributed to a large keyring loop hole.
When plugged, the smallest drives – Lexar and Sandisk – only protrude just 5mm and 7mm respectively from the edge of a laptop. Yet their minimalist designs are still able to accommodate a drive activity light. There's one caveat: Lexar's LED is overly bright. This might be a problem during media playback when you (and even the person sitting next to you) could be potentially distracted by the blue strobe light.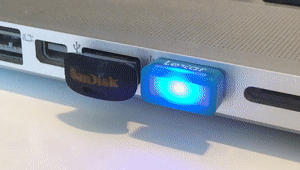 In terms of durability, Transcend has a rigid aluminium unibody, which is likely to survive if it's being stepped on. The rest of them are just made by plastic with aluminium chassis housing the flash memory components.
Overheating doesn't seem to be much of an issue on our MacBook Pro Retina as far as we can tell. The Transcend did get a little bit warm after our endurance tests but that's simply because the drive's aluminium conducts heat faster than most other materials commonly used on flash drives.
 Who Would Need Such a Small Drive?
---
Buyers who want a drive that only protrudes as little as possible from a USB port should consider one. Thumb drives in general stick out quite conspicuously so they could easily get bent when being bumped repeatedly. This could easily result in data loss and maybe even worse, a broken USB port.
For smartphone users, if you are using an OTG adapter that already sticks out of the handset's USB port quite a bit, you want a mini USB drive that gets in the way as little as possible. For PC users, compact drives by design can always stay inserted to a USB-enabled car stereo or to a notebook as a semi-permanent storage for media. They can free up precious space on the laptop's speedy SSD for mission critical tasks. For this reason, a mini USB drive can actually prove to be quite practical to some of us who might need an effortless storage expansion option.
Mini USB 3.0 Drives on Amazon
---