We put five mini USB 3.0 drives from Lexar, Mushkin, PNY, Samsung and Sandisk to test. These compact drives by design can always stay plugged as a semi-permanent storage, yet fast enough for everyday tasks.
March 2018 Ian Chiu
 Our Picks
---
If performance is above all else, PNY Elite-X Fit is the way to go as it comes out on top in comparison to other mini USB 3.0 drives in our tests.  Some, however, might put off by its price and stingy 1-year warranty.  Lexar's JumpDrive S45 is next logical choice albeit slower than the PNY.  Unfortunately, its overly bright activity light is annoying enough that we had to cover it with some duct tapes.  Mushkin Enhanced Atom is another great all around product except cost per gigabyte is on the same level as the PNY.
The other – two Samsung FIT and Sandisk Ultra Fit – are in the middle of the pack in terms of performance.  Comparatively, the Samsung did perform more consistently in our real-world benchmark and it is also evidently more durable than the Sandisk.   The Ultra Fit is the only one offering a whopping capacity of 256GB in case you are looking for the largest low-profile USB drive available.  For the budget conscious consumers, both of these drives can be found for a very reasonable street price.
Feature Comparison
---
Lexar
JumpDrive S45

Mushkin
Enhanced Atom

PNY
Elite-X FIT

Samsung
FIT 3.0

Sandisk
Ultra Fit

Read Speed:
(10GB video)
144.67MB/s
150.23MB/s
199.64MB/s
118.92MB/s
137.21MB/s
Write Speed:
(10GB video)
39.04MB/s
34.76MB/s
37.58MB/s
38.78MB/s
23.11MB/s
Read Speed:
(5GB photos)
123.35MB/s
122.43MB/s
167.19MB/s
106.34MB/s
100.59MB/s
Write Speed:
(5GB photos)
29.04MB/s
27.75MB/s
30.21MB/s
28.68MB/s
11.96MB/s
Storage:
16 - 128GB
16 - 128GB
32 - 128GB
32 - 128GB
16 - 256GB
Interface:
USB 3.1 Gen 1
USB 3.1 Gen 1
USB 3.1 Gen 1
USB 3.1 Gen 1
USB 3.1 Gen 1
Dimensions:
18 x 16 x 8mm
19.8 x 16.5 x 7.5mm
20.8 x 15.2 x 6.4mm
19.7 x 15.4 x 8.7mm
19.1 x 15.9 x 8.8mm
Build Material:
Plastic grip, aluminum body
Plastic grip, aluminum body
Plastic grip, aluminum body
Plastic grip, aluminum body
Plastic body
Activity Light?
Yes
No
No
No
No
End Cap?
Yes
Yes
Yes
No
No
Color(s):
Orange (16GB)
Blue (32GB)
Teal (64GB)
Black (128GB)
White
Black
White
Black
Release Date:
Feb 2016
Jan 2016
Aug 2016
Feb 2016
Jan 2018
Warranty:
3 years
2 years
1 year
5 years
5 years
Mini USB 3.0 Drives on Amazon
---
 Benchmark Analysis
---
During our large file (a 10GB MKV) transfer tests, PNY's Elite-X Fit was the speed champion during our read speed benchmark.  It bested the second fastest drive – Mushkin Enhanced Atom – by 33%.  When taken write performance into account, the PNY was neck and neck with the Lexar and Samsung in the write tests.  PNY was also the only drive that was able to reach their advertised speeds (200MB/s write and 30MB/s write).
It's worth noting that Mushkin's performance ratings vary between different capacities.  For example, the 64GB model can reach up to 120MB/s and 20MB/s for read and write respectively whereas the 128GB version can hit 180MB/s and 40MB/s during the same tests.  Lastly, we noticed the Sandisk and the Mushkin both exhibited performance inconsistencies during write operations.  The former would actually drop to below 10MB/s before slowly returning to above 30MB/s.
In another test which involved copying back and forth 4.7GB JPEGs (most being between 4 and 8MB), PNY remained as the leader in this round of benchmark.  Samsung and Mushkin were not far behind.  Neither write nor read speed was even close to its their larger siblings, but surely you know you are trading speed for size.  Also, keep in mind only Mushkin and PNY advertise their drives' write performance, so your mileage may vary with other products – especially in real-world applications.
Note these two tests focused primarily on sequential performance, because we felt most people would rely on a mini drive primarily as intermediary or secondary storage for media data.  These mini drives, without a decent flash controller, are inherently incapable of handling applications that require fast random access.  For this reason, we didn't bother with additional testing.
 Design & Build
---
The tested low-profile USB 3.0 drives are all similarly small, but as soon as they are put next to each other, Lexar JumpDrive S45's diminutive size compares favorably to others – even if only by a fraction.  Mushkin, PNY and Samsung are slightly larger in comparison.  In the case of Sandisk and PNY, the increase in the drives' length can be attributed to a large keyring loop hole.
When plugged, the smallest drives – Lexar and Sandisk – only protrude just 5mm and 7mm respectively from the edge of a laptop. Yet, Lexar's minimalist design is still able to accommodate a drive activity light.  There's one caveat: the LED is overly bright.  This might be a problem during media playback when you (and even the person sitting next to you) could be potentially distracted by the blue strobe light.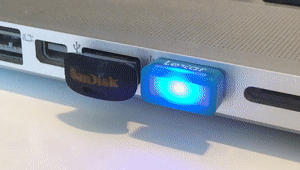 In terms of durability, Sandisk took a step backward with its squishy plastic connector with 2018 version of Ultra Fit.  This is a concern that is already echoed by a number of user reviews on Amazon.  Having said that, if you intend to leave the drive plugged at all times, this shouldn't be that big of a problem.  We would have to say the other drives with their metal USB connectors protecting the flash components could likely survive if being stepped on.
 Who Would Need Such a Small Drive?
---
Buyers who want a drive that only protrudes as little as possible from a USB port should consider one.  Thumb drives in general stick out quite conspicuously so they could easily get bent when being bumped repeatedly.  This could easily result in data loss and maybe even worse, a broken USB port.
For smartphone users, if you are using an OTG adapter that already sticks out of the handset's USB port quite a bit, you want a mini USB drive that gets in the way as little as possible.  For PC users, compact drives by design can always stay inserted to a USB-enabled car stereo or to a notebook as a semi-permanent storage for media.  They can free up precious space on the laptop's speedy SSD for mission critical tasks.  For this reason, a mini USB drive can actually prove to be quite practical to some of us who might need an effortless storage expansion option.
Mini USB 3.0 Drives on Amazon
---