July 2022 Ian Chiu
We put five 128GB mini USB drives from Kingston, Lexar, PNY, Samsung, and Sandisk to test. Unlike thumb drives and portable SSDs, these compact drives by design can always stay plugged as a semi-permanent storage, yet fast enough for everyday tasks. In our July 2022 update, we added benchmarks for Kingston DataTraveler Micro which has received a major performance upgrade from the company.
Our Picks
---
If performance is above all else, Lexar JumpDrive S47 and Samsung FIT Plus are the ones to go for as they come out on top in comparison to other mini USB drives in our tests. The S47, however, has an edge over the FIT Plus when it comes to write performance whereas the FIT Plus is faster in sequential read. But if you're looking for a massive 512GB, then only the Samsung and PNY offer it. For the budget-conscious, either drive's cost per gigabyte is also reasonably low considering its zippy performance. Perhaps our only complaint is the FIT Plus's size being noticeably larger than the JumpDrive S47. The Lexar is backed by a 3-year warranty whereas the Samsung is protected by a 5-year warranty.
Who Would Need Such a Small Drive?
---
Buyers who want a drive that only protrudes as little as possible from a USB port should consider one. Thumb drives in general stick out quite conspicuously so they could easily get bent when being bumped repeatedly. This could easily result in data loss and maybe even worse, a broken USB port.
By design, compact drives can always stay inserted into a USB-enabled car stereo or into a notebook as semi-permanent storage for media. They can also free up precious space on the laptop's speedy SSD for mission-critical tasks. For this reason, a mini USB drive can actually prove to be quite practical for some of us who might need an effortless storage expansion option.
Feature Comparison
---
Pricing is last updated by Amazon on 2023-09-25 at 07:29.  When you buy through Amazon affiliate links on our site, we may earn an affiliate commission.
Benchmark Analysis
---
Through Nodesoft's DiskBench, our large file (10GB MP4) transfer tests have proved that Samsung's FIT Plus was an undisputed leader in sequential read and that the Lexar's second-generation mini drive – JumpDrive S47 – was the best in write performance. Our other test, which involved copying back and forth 5GB JPEGs (most of them being between 4 and 8MB), revealed similar results showing Lexar and Samsung outperforming others. It's worth noting that Kingston updated their DataTraveler Micro in mid 2022. The silent upgrade doubles the speed of the aging mini drive and puts it in the same league as the PNY Elite-X FIT.
Samsung's performance ratings vary between different capacities. The 32GB and 64GB models can reach up to 200MB/s whereas the 128GB and 256GB versions can do 300MB/s. Lexar claimed its drive can hit 250MB/s which is pretty close to what our S47 achieved in this benchmark. Lastly, we noticed that Sandisk exhibited performance inconsistencies during write operations. Our Ultra Fit would actually drop to below 10MB/s before slowly returning to above 30MB/s. The same thing didn't happen with the other drives we've tested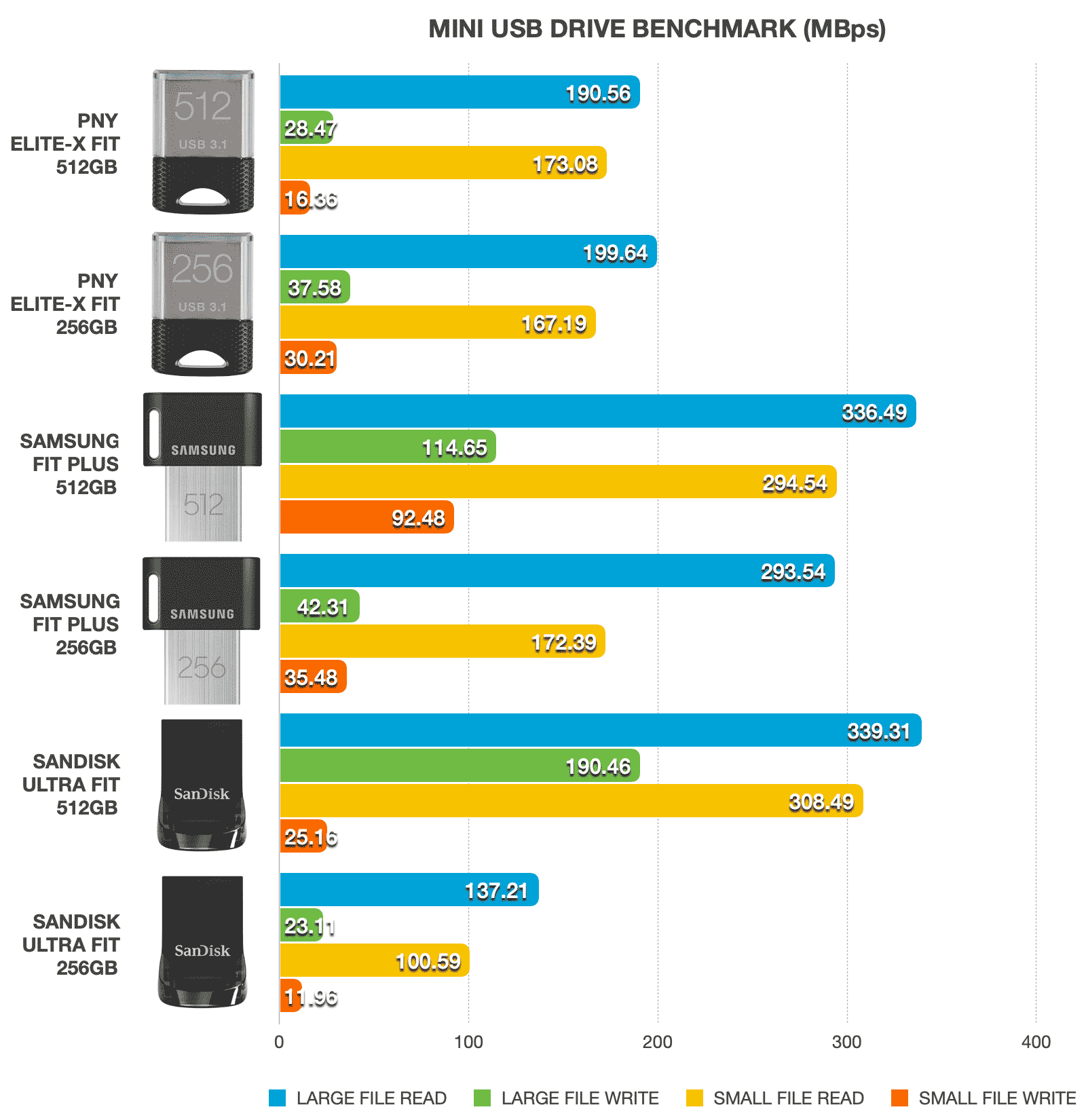 Note these two tests focused primarily on sequential performance, because we felt most people would rely on a mini drive primarily as intermediary or secondary storage for media data. These mini drives, without a decent flash controller, are inherently incapable of handling applications that require fast random access. For this reason, we didn't bother with additional testing.
Design & Build
---
The featured low-profile USB drives are all similarly small, but as soon as they are put next to each other, the Lexar JumpDrive S47's diminutive size compares favorably to others – even if only by a fraction. When inserted, the Lexar only protrudes just 5mm from the edge of a laptop as shown in the picture below. This makes the drive easily a no-brainer choice for an add-on drive for semi-permanent storage on your laptop. The second-best performer – Samsung FIT Plus – in comparison is noticeably larger, probably in favor of heat dissipation. All but Lexar have a keyring loophole if you need one.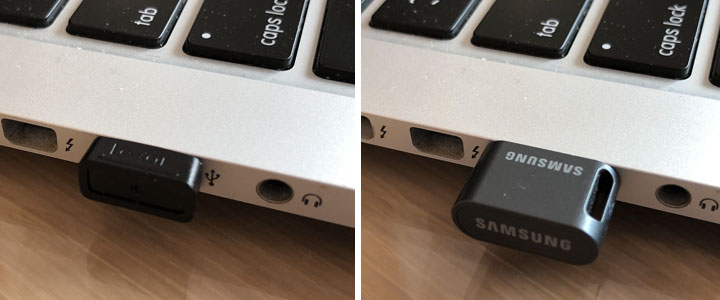 In terms of durability, Sandisk took a step backward with its squishy plastic connector with the latest version of Ultra Fit 3.1. This is a concern that is already echoed by a number of user reviews on Amazon. Having said that, if you intend to leave the drive plugged at all times, this shouldn't be that big of a problem. We would have to say the other drives with their metal USB connectors protecting the flash components could likely survive if being stepped on.
Best Deals Online
---
Pricing is last updated by Amazon on 2023-09-25 at 07:29.  When you buy through Amazon affiliate links on our site, we may earn an affiliate commission.

USB Duplicators By Nexcopy
Nexcopy manufactures a variety of PC-based and standalone
USB duplicator
solutions.
PC based systems support advanced USB functions such as write protection, CD-ROM partition and multi-partition creation, while standalone systems are ultra-fast, high speed USB copiers duplicating gigabytes of data quickly and accurately.