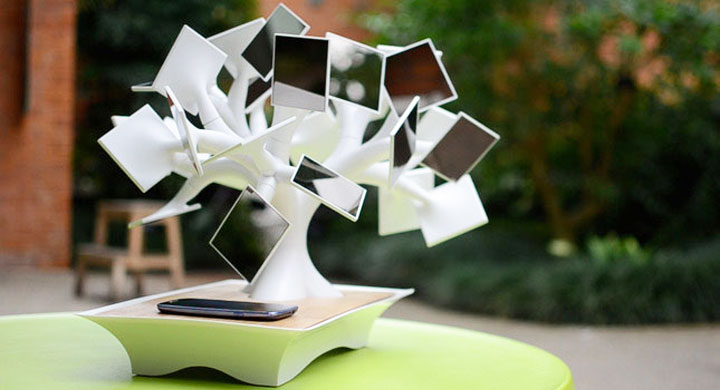 We spied this green work of art a few years back and became instant fans. This tiny device, which looks like the Fantastic Planet version of a Bonsai tree, has 27 solar panels for leaves. The panels can be rotated and rearranged for personalization or solar collection optimization. They soak up sunlight and store electricity in the base.
A healthy 13.5Ah battery sits in the base of the Electree with a USB connector for charging almost any device. That's about 10x more capacity than a smart-phone battery and the Electree can fully charge it in about 36 hours of sun. Depending on your weather and distance from the equator that works out to about 6 days at the outset. This should mean that with proper placement in a window, it could charge your cell phone fully every day, even a battery-guzzling smartphone.
The Electree is the brain-child of french designer Vivien Muller. His intention was to find an aesthetically pleasing way to bring solar energy into daily life. His new mass-production ready model of his smaller original design is waiting on 400 green-thinking gadget lovers before he can start production. This would make a great gift for anyone with a phone and a window. If the 400 pre-purchase commitment is hit, they will ship before the new year. At the time of this writing 84 had already signed on.
Via Crazy Engineers