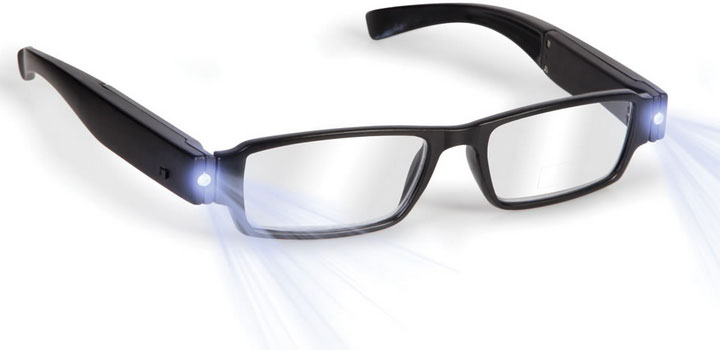 Every family has at least one Luddite who claims that reading a dead tree book nets a better reading experience than on a backlit Nook or Kindle Glow. These people, however, do face one serious problem that has plagued humanity since the creation of books: how to read them in the dark.
Without their own light source, paper books rely upon external lights to get the job done. In the days of yore, this meant a reading lamp or flashlight – both of which are sure to annoy those around you. This is where the all new Hammacher Rechargeable LED Reading Glasses enters the equation.
At its core, the Hammacher is pair of plastic-framed, plastic-lensed reading glasses – magnification options of 1x to 2.5X available – with integrated LED lights in each corner. These LEDs may not provide much in the way of lighting but will be more than enough to illuminate a paperback novel held a few inches away from them. Not only is this a good way to read paper books in the dark, but it is also a good 'gateway' device. To recharge the batteries, you need to plug the glasses in via their integrated USB port into a computer.
With a run time of only 2.5 hours, this is something even the most stubborn of person will soon tire of and maybe decide that a backlit device is indeed better. Other than such niche uses, the E-Ink eBook readers have rendered such devices obsolete, but if you have to have one, the 'sale' price of $30 is fairly reasonable.