31 August 2022, Comments: Comments Off on Quick Guide to Buying USB-C Cables
August 2022 Ian Chiu
The choice of a USB-C cable is a deciding factor in the connection's data performance and charging rate. As USB-C cables aren't exactly a one-size-fits-all affair, most users will find it difficult to find exactly what they need. Things get even more complicated when we have four standards that share USB-C cabling to a varying degree.
Here's the latest development:
USB4 can hit 40Gbps over 1m cables certified by USB-IF. Speed however will drop to 20Gbps with 2m passive USB4 cables.
USB 3.2 can maintain 10Gbps and 20Gbps (depending on the modes) over 1m certified USB-C cables. Go beyond that distance and you will need active extension cables. For sake of simplicity, you want electronically marked USB-C cables that deliver both 100W (20V / 5A) charging rate and 10Gbps connectivity.
Thunderbolt 3 can transmit at 40Gbps when connected with passive USB-C cables under 0.8m. Active cables will be required to ensure signal integrity for long distances but they also limit data connectivity to Thunderbolt 3 and USB 2.0.
Thunderbolt 4 can achieve 40Gbps regardless of distance as long as the USB-C cables are Intel-certified for use with said standard.
The upcoming USB Type-C 2.1 cables supporting USB Power Delivery 3.1 with Extended Power Range (EPR) will be able to deliver 240W (48V at 5A). So, looking ahead, power-hungry gaming laptops and even large 4k displays that can be powered exclusively by USB-C will likely make their debut as early as CES 2023.
Without further ado, here's a list of USB-C cables we believe are as future-proof as it gets in the foreseeable future. Everyone who is heavily invested in USB-C devices should give these a hard look.
1m Thunderbolt 4 / USB4 Cable
---
When you start to have a dozen or more USB-C cables lying around, trying to figure out which cable is which is a daunting task. After all, not every cable is created equal. If you need to pack one or two on your trip, we recommend Plugable Thunderbolt 4-certified cable.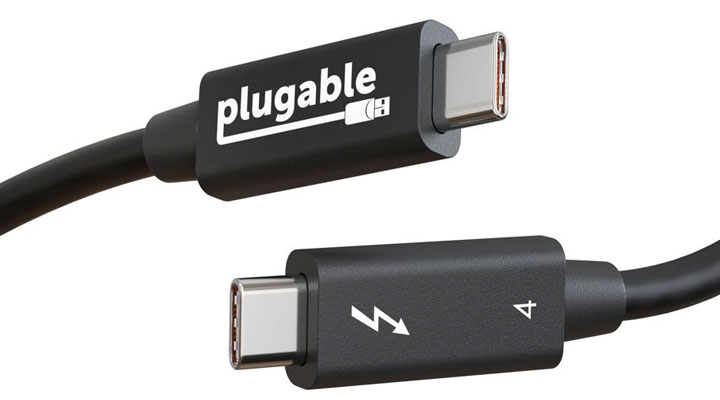 The 1m USB-C cable supports Thunderbolt 4 at 40Gbps while providing full compatibility with Thunderbolt 3, and USB4 as well as USB 3.2 / 2.0.  This is considered a no-compromise USB-C cabling solution for all scenarios. And as a certified Thunderbolt cable, this also means it is rated for 100W 20V / 5A power delivery. There's also a 2m version but the price is double that of the 1m.

5m Distance Extension Cable
---
For connections longer than 1m, active USB-C cables like the IOGear 5m Active USB-C Cable come into play.  Active cables are generally more expensive than passive ones as the former incorporates a signal boosting mechanism through repeater modules so data, video, and power can travel over a longer distance.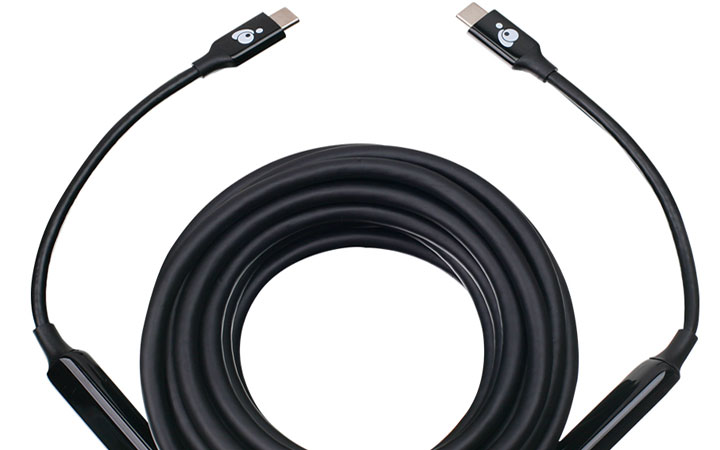 Copper-based active USB-C cables begin at 2m with some extending up to 5m.  The IOGear in particular manages to carry 60W of power (20V / 3A) as well as supports USB 3.2 Gen 2×1 (10Gbps) despite of extended range.  When paired with the right setup, the cable can also run one 8K screen at 30Hz. It is ideal for extending the distance of your USB-C monitors, docks, or even Oculus Quest 2.
IOGEAR USB-C Bidirectional Extension Cable - Video bidirectional...
Type-C Bidirectional extension cable with built-in re-timer
Supports video bidirectional transmission
Supports USB max 10 Gbps
2m Braided USB-C Charge Cable
---
If you carry around with you a bunch of USB-C devices (e.g. smartphones, iPad, headphones, power banks, neck coolers) that need to be recharged regularly, you want one or two sufficiently long yet durable USB-C cables. This Satechi USB-C cable is a 2m "charge" cable. While you can expect this cable to charge most MacBooks and alike at the maximum rate, your external USB SSD will be brought down to USB 2.0 level of performance.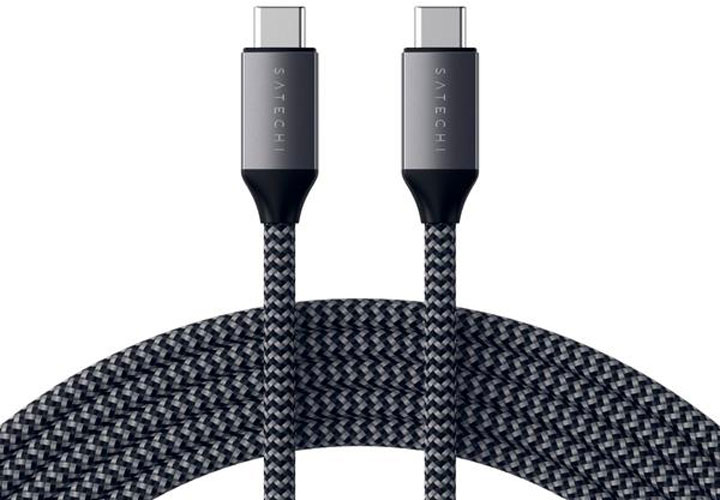 There's actually nothing wrong with Satechi as this has to do with an inherent limitation of the USB 3.2 specs. Optimal performance can only be guaranteed over cables within 1m in length without an active cable extension. Having said that, it doesn't hurt to carry around a second charge-only cable like the Satechi when all your gear charges over USB PD. The cable also features a durable, braided nylon construction that may prove to be a viable alternative to Apple's USB-C counterpart whose easily-deformed design raises durability concerns.
Power Meter USB-C Cable
---
If you are always curious about how fast your USB-C laptop, smartphone, or tablet is being recharged, here's a nifty cable from j5Create that tells you the wattage that your device takes on its in-line OLED display. Additionally, you can toggle between amperage, voltage, amount of power received (mAh), and even the direction in which the power is flowing. There's also an auto-timer if you ever need to check on the time passed since a charging session begins.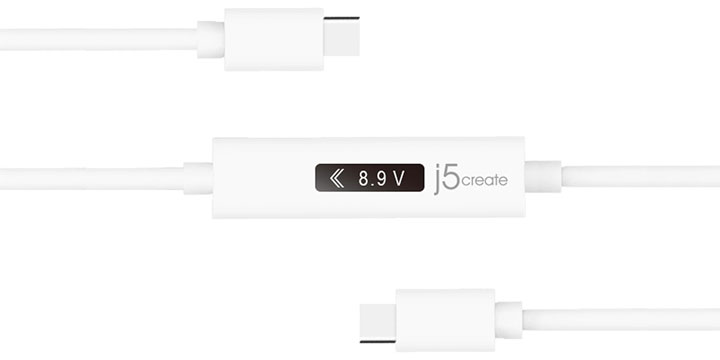 J5create's E-marker USB-C cable is rated for 100W charging at 5A. It might not be immensely useful for troubleshooting the cause of a power issue but the display gives you an idea of which USB-C charger is a better match for your devices. As it's a passive cable with a length of 1.2m, data speeds are capped at USB 2.0 (480Mbps). Plugable has a power meter except it's in a dongle form factor, and its solution also allows DisplayPort Alt Mode.
USB-C to USB-A Adapter
---
Those seeking an alternative solution to replacing their USB-A cables with USB-C counterparts can check out this adapter from Belkin.  It's basically a short USB-C cable tethered to a female USB-A that supports 5Gbps connectivity and delivers a 3A current. This allows more flexibility than what you get with a dongle.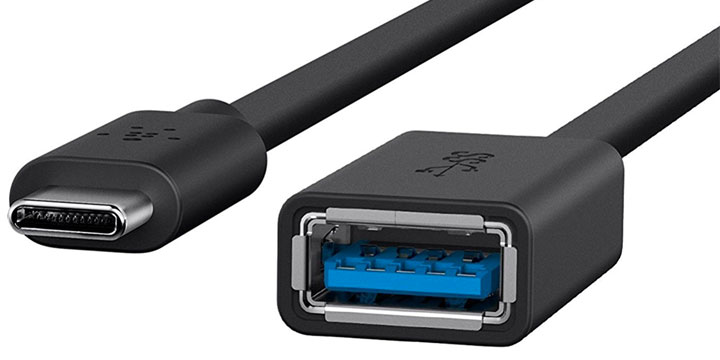 Additionally, it is particularly useful for anything that isn't likely replaceable with a USB-C version (unless you go with another product).  These include wireless transmitters that ship with gaming peripherals and of course, legacy thumb drives.  The USB-IF certified dongle will also work flawlessly with the latest Android smartphones and tablets if you need quick access to your existing USB peripherals.

USB Duplicators By Nexcopy
Nexcopy manufactures a variety of PC-based and standalone
USB duplicator
solutions.
PC based systems support advanced USB functions such as write protection, CD-ROM partition and multi-partition creation, while standalone systems are ultra-fast, high speed USB copiers duplicating gigabytes of data quickly and accurately.