February 2023         Ian Chiu
The choice of a USB-C cable is a deciding factor in the connection's data performance and charging rate. As USB-C cables aren't exactly a one-size-fits-all affair, most users will find it difficult to find exactly what they need. Things get even more complicated when we have four standards that share USB-C cabling to a varying degree.
Here's the latest development:
USB4 can hit 40Gbps over 1m cables certified by USB-IF. Speed however will drop to 20Gbps with 2m passive USB4 cables.
USB 3.2 can maintain 10Gbps and 20Gbps (depending on the modes) over 1m certified USB-C cables. Go beyond that distance and you will need active extension cables. For sake of simplicity, you want electronically marked USB-C cables that deliver both 100W (20V / 5A) charging rate and 10Gbps connectivity.
Thunderbolt 3 can transmit at 40Gbps when connected with passive USB-C cables under 0.8m. Active cables will be required to ensure signal integrity for long distances but they also limit data connectivity to Thunderbolt 3 and USB 2.0.
Thunderbolt 4 can achieve 40Gbps regardless of distance as long as the USB-C cables are Intel-certified for use with said standard.
The upcoming USB Type-C 2.1 cables supporting USB Power Delivery 3.1 with Extended Power Range (EPR) will be able to deliver 240W (48V at 5A). So, looking ahead, power-hungry gaming laptops and even large 4k displays that can be powered exclusively by USB-C will likely make their debut as early as CES 2023.
Without further ado, here's a list of USB-C cables that we believe are fairly future-proof in the foreseeable future. Everyone who is heavily invested in USB-C devices should give these a look.
1m USB4 Cable with 240W Power Delivery
---
When you start to have a dozen or more USB-C cables lying around, trying to figure out which cable is which is a daunting task. After all, not every cable is created equal. This 1m USB Type-C 2.1 cable from Plugable however delivers a nearly no-compromise solution that can serve for years to come.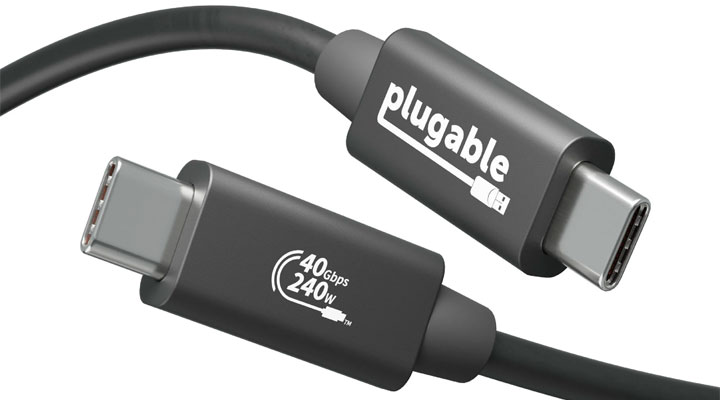 This is what Plugable calls a "complete" USB4 cable. Not only does it support USB4 speed up to 40Gbps but also carries up to 240W (48V / 5A) of power through the support of USB Power Delivery 3.1. The same cable can handle anything from dual 4k screens to a 5k panel at 60fps and a single 8k display at 30fps. On top of all that, the cable has received USB-IF certification to ensure it maintains the highest level of interoperability as well as backward compatibility with other USB devices.
Perhaps equally important is the new branding for USB-C cables. It brings peace of mind to consumers by helping to identify the capability of a cable. As a full-featured USB4 cable, Plugable's offering works with Thunderbolt 3/4 out of the box. The company also offers a two-year warranty in case something goes wrong and you need a replacement cable.
5m Distance Extension Cable with 60W Power Delivery
---
For connections longer than 1m, active USB-C cables like the IOGear 5m Active USB-C Cable come into play.  Active cables are generally more expensive than passive ones as the former incorporates a signal boosting mechanism through repeater modules so data, video, and power can travel over a longer distance.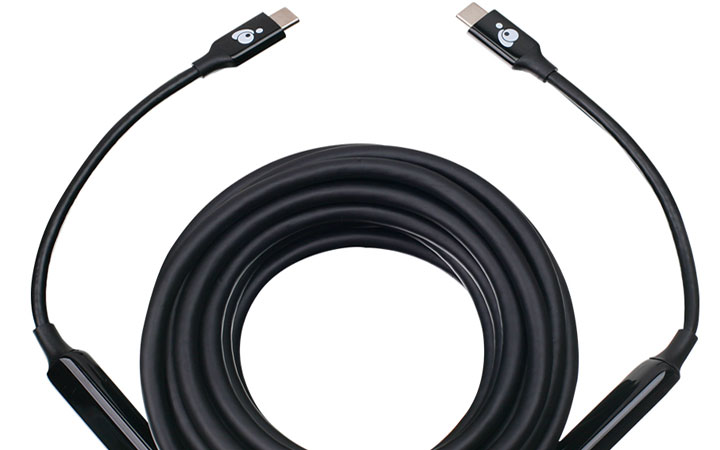 Copper-based active USB-C cables begin at 2m with some extending up to 5m.  The IOGear in particular manages to carry 60W of power (20V / 3A) as well as supports USB 3.2 Gen 2×1 (10Gbps) despite of extended range.  When paired with the right setup, the cable can also run one 8K screen at 30Hz. It is ideal for extending the distance of your USB-C monitors, docks, or even Oculus Quest 2.
2m Braided USB-C Charge Cable with 100W Power Delivery
---
If you regularly carry around a bunch of USB-C mobile devices that need to be recharged, you should have one or two sufficiently long and durable USB-C cables. This Belkin BoostCharge USB-C cable supports 100W charging but data speeds will will be reduced to that of USB 2.0.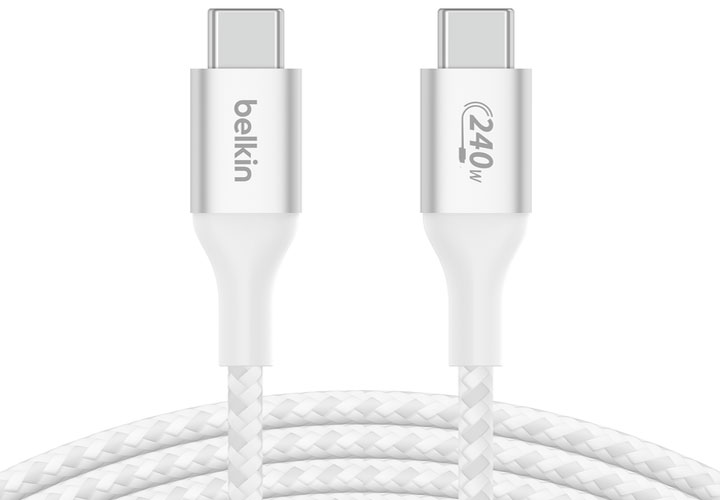 There is actually nothing wrong with Belkin BoostCharge. This has to do with an inherent limitation of the USB 3.2 specs. Optimal performance can only be guaranteed for cables within 1m in length without an active cable extension. Having said that, it doesn't hurt to carry around a second charge-only cable like Belkin BoostCharge, especially if all your gear charges over USB PD. The cable also features a durable double-braided nylon construction which may prove to be a viable alternative to Apple's USB-C counterpart. whose easily-deformed design raises durability concerns.
USB PD Power Meter
---
A compact multimeter monitors USB-C charging up to 240W
With the advent of USB Power Delivery 3.1, even power-hungry gaming laptops will soon be powered entirely over USB-C 2.1 cables. The new 140W, 180W, and 240W power levels introduced by the new PD protocol's 28V, 36V, and 48V voltage support respectively will demand even more powerful, eh, power meters to monitor USB-C charging performance. To that end, Plugable has updated its USB-C Voltage & Amperage Meter to meet the new standards.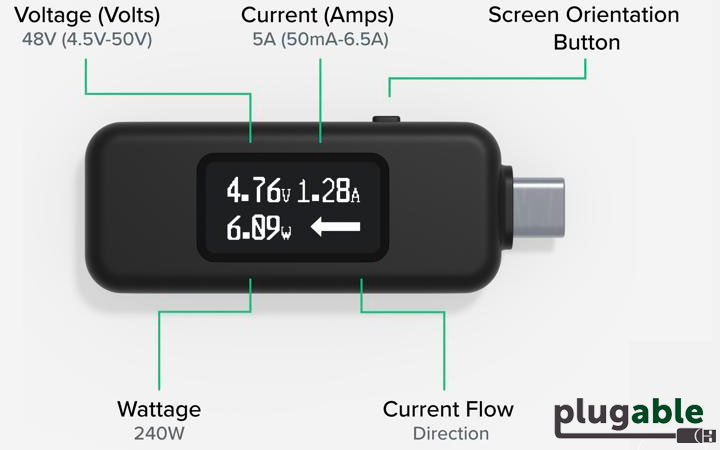 This nifty USB dongle is a handy little tool to diagnose charging issues or simply to check the power draw from a USB-C device. The third generation USB multimeter from Plugable now reports back amperage, voltage, and wattage up to 6.5A, 48V, and 240W respectively. Real-time data, as well as directional flow status, is displayed on the Plugable meter's now improved OLED display with an even brighter than the previous version.
Equally important is the dongle's ability to allow data passthrough (up to USB 3.1 Gen 2) and USB-C alternate video. Having these makes it possible to diagnose issues for USB-C docks, often equipped with video outputs. The Plugable USB-C Power Meter is by no means a replacement for professional test equipment, not by a long shot. It does give you a start on pinpointing the source of the problem.
USB-C to USB-A Adapter
---
Those seeking an alternative solution to replacing their USB-A cables with USB-C counterparts can check out this adapter from
Belkin
.  It's basically a short USB-C cable tethered to a female USB-A that supports 5Gbps connectivity and delivers a 3A current. This allows more flexibility than what you get with a dongle.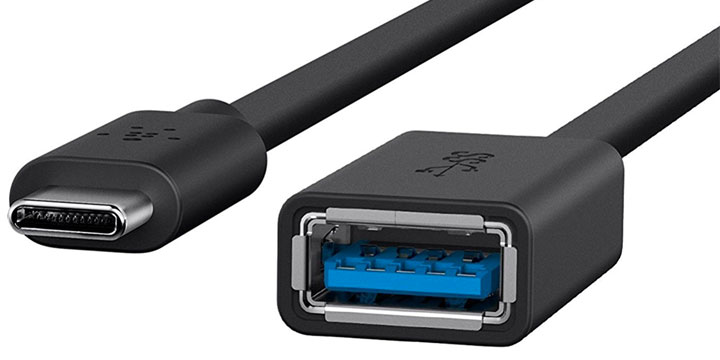 Additionally, it is particularly useful for anything that isn't likely replaceable with a USB-C version (unless you go with another product).  These include wireless transmitters that ship with gaming peripherals and of course, legacy thumb drives.  The USB-IF certified dongle will also work flawlessly with the latest Android smartphones and tablets if you need quick access to your existing USB peripherals.
Legacy USB Adapter Reviews
---