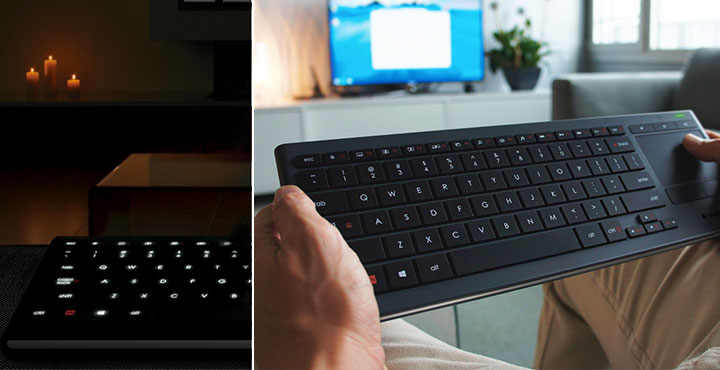 For as long as there has been HTPC, Logitech has been one of the few manufacturers that tirelessly roll out niche peripherals for media center PCs that stay in the living room. Ranging from a freestyle mouse to a 2-in-1 keyboard, Logitech continues to experiment with different configurations to perfect the next HTPC keyboard. The K830 is the result, and it combines the advantages of both the HTPC-friendly K400 and the more conventional TK820 keyboard.
If anyone recalls the K400 and K820, the former suffers from mediocre mushroom dome switches to a less than stellar touchpad whereas the latter is more polished yet it lacks key illuminations, and is a tad too large to be used comfortably in most living rooms. The K830 seems to have solved most of the aforementioned problems. First, there's backlighting – a must for any HTPC accessories. Then, Logitech cuts down the unit's size to a mere 14.4″ in length and 4.9″ in width. This compares favorably to TK820's 16.1″ by 5.7″ in dimensions.
Also like the TK820, the K830 has an elegant all metal chassis, an optimized 'island' key layout and numerous dedicated multimedia shortcut keys. Touchpad, however, is smaller to make space for dedicated left/right mouse buttons. As a wireless keyboard, the K830 relies on the tried and true Unifying to connect to a nearby PC up to 10m apart via 2.4Ghz nano USB dongle. The K830 additionally is equipped with a 20-hour battery that only takes 3 hours to recharge over USB. At $99, you can grab it for a much lower price during holidays but Logitech K830 comes with a shorter than usual one-year warranty. Thought you should know.