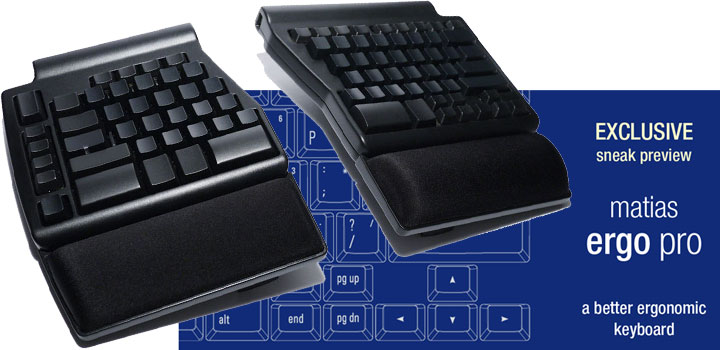 At this year's CES, Matias announced the all new Ergo Pro Keyboard and it certainly has peaked our interest. Simply put, the new $200 Ergo Pro promises to be both ergonomic and be a keyboard you would actually want to use even if you don't have Carpal Tunnel Syndrome. This makes the Ergo Pro rather unique as most ergonomic keyboards are the hardware equivalent of health food: they are good for you but they are about as fun to use as eating bran flakes for breakfast.
Instead of another bowl full of boring, Matias promises that the Ergo Pro will not only be highly ergonomic in its form factor also use mechanical switches instead of the common mushroom dome switches. Specifically they have opted for their own near silent 'Quiet Click' mechanical key switches which deliver a comfortable typing experience that won't slow you down nor annoy those around you. Because they are mechanical based they are also have a service life that eons better than any mushroom dome key switch.
Backstopping these mechanical keys is a wrist friendly ergonomic design that promises to be light years ahead of most. In contrast to MS' recent Sculpt line, the Ergo Pro is not a 'one size fits most' affair; instead of a solid chunk of plastic this keyboard has been split down the middle so that you can adjust the spacing between each hands' set of keys. More impressive still, each comes equipped with leg stands which allow for 9 degrees of tenting and 4.5 degrees of negative tilt to further aid in long term typing comfort. If that was not enough, they also have moved the common navigation keys to the bottom making it much less stressful on the wrists and faster to use. Last not least, the Ergo Pro comes with 3 USB 2.0 ports for expandability.