March 2017 Ian Chiu
Contour Roller Mouse (2016)
---
While you might think this is some kind of high-tech wrist rest, the Contour RollerMouse is in fact a mouse with a twist.  It sits at the bottom of your keyboard.  The not-so-obvious textured rollerbar at the top actually replaces your traditional mouse.  It allows you to have accurate cursor control by rolling the bar up, down and sideways, thanks to seven twin-eye laser sensors housed inside the roller.  The bar itself is also clickable.  The whole purpose of this is to eliminate the constant reaching and griping of a mouse, which might lead to repetitive injuries in the long run.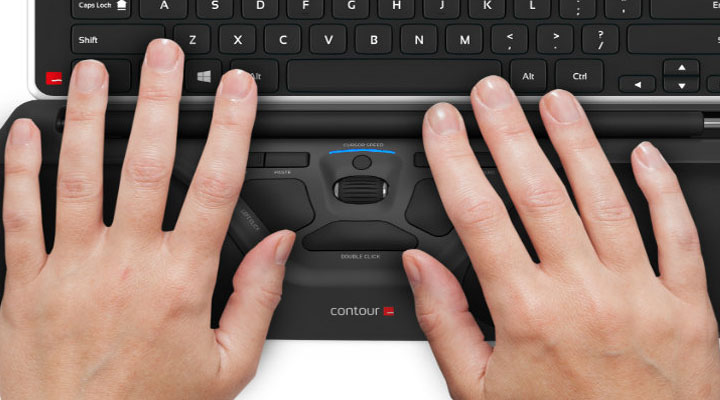 In addition to the left and right click buttons below the roller, there are dedicated buttons for double click, copy and paste as well as cursor speed selection.  A clickable scroll wheel is conveniently placed in the middle, just like what you find on a regular mouse.  The RollerMouse can also accomodate multiple screens with some simple adjustments to the roller.  All these might take sometime to get used to.  Over time, Contour hopes you will come to appreciate it as the RollerMouse is intended to significantly reduce the risk of Carpal Tunnel Syndrome and Tendonitis.  At $270, the ingenuity of Contour's ergonomic design does come with a hefty price tag, however.

Kinesis Contour-shaped Keyboard (2016)
---
This is certainly no ordinary keyboard.  The Kinesis Advantage2 follows the same approach of the likes of most ergonomic keyboards by splitting the keys into two halves.  Each section has a concave shape with keys carefully positioned and angled that match different fingers' length.  It also makes you type with your wrists in a more natural "handshake" posture.   Additionally, the distance between the two wells forces you to keep a natural straight line from your elbows to the sides of the keyboard. Kinesis' design should ideally minimize forearm and finger extension in order to reduce fatigue.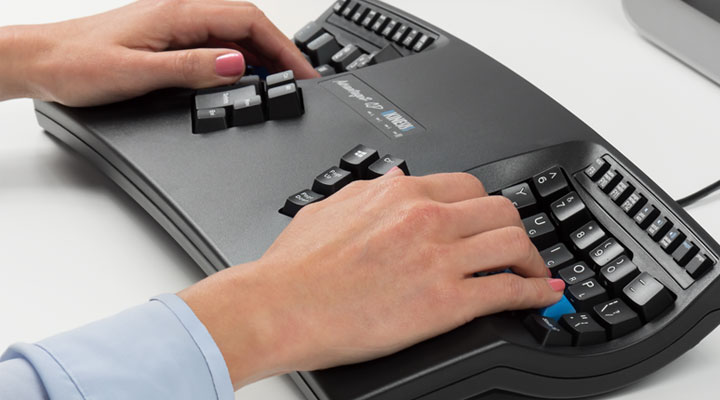 Interestingly, you will find the Backspace and Delete near the left keywell, and the Enter and Space bar next the right keywell.  We're certain the placement is for good reasons, but most of us will initially struggle with such keyboard layout and typing posture.  Internally, there's also 2MB on-board memory to support up to 100 macro.  Kinesis opts for Cherry MX low-force tactile switch (peak force: 55g, activation force 45g, travel distance 4mm) for this mechanical keyboard – one of the many reasons why the Advantage2 costs upwards of $300.

Evoluent Vertical Mouse (2016)
---
Keeping the wrist in a neutral, vertical position is one of the most beneficial things that could happen to your mousing hand. So what exactly is neutral? Try this: stand up, with your arms relaxed at your sides. Now, using only your shoulders, raise your hands in front of you. Odds are that your hands will be somewhere between a 45° angle and perpendicular to the floor. This is more or less the position your hand will be in when grasping Evoluent's VerticalMouse C.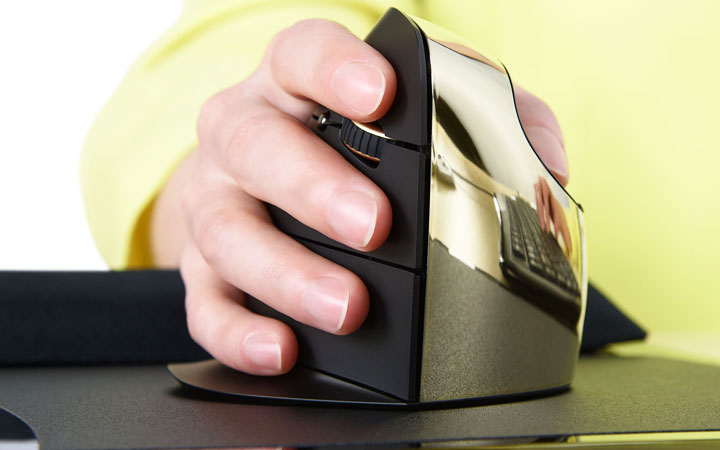 There are two advantages to keeping a vertical positioning of the hand. For one, it eliminates pressure on the median nerve – the culprit behind the dastardly carpal tunnel syndrome. Two, it encourages movement of the mouse using your arm and shoulders, instead of movements with the fingers, thus lightening the load on the muscles in your forearm.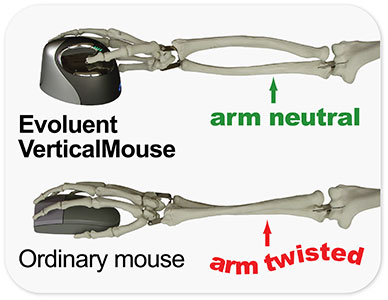 The grip of the VerticalMouse is extraordinarily high compared to a traditional horizontal mouse, so using it requires a good seating posture.  While the picture shows the mouse is exclusively made right-handed users, there's a version for lefties too – for those in need to relieve their wrist pain.

Matias's Ergo Pro Keyboard (2015)
---
The $200 Matias's Ergo Pro promises an ergonomic keyboard you would actually want to use even if you don't have Carpal Tunnel Syndrome.  Inspired by on a commonly seen split design, Matias actually takes it to another level by seperating the Ergo Pro into two pieces (5/6, T/Y, G/H, B/N) so you can place them in virtually infinite different positions. More impressive still, each section comes equipped with leg stands which allow for 9 degrees of tenting and 4.5 degrees of negative tilt to further aid in long term typing comfort.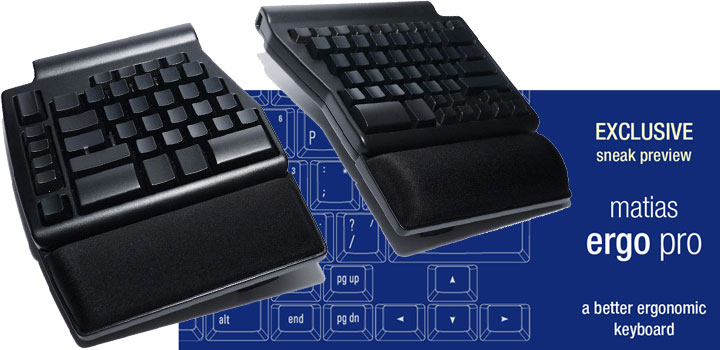 Ergonomic design aside, Matias also picks mechanical switches instead of the common mushroom dome switches. It has specifically opted for their own near silent 'Quiet Click' mechanical key switches which deliver a comfortable typing experience that won't slow you down nor annoy those around you. Because they are mechanical based, they also have a service life better than that of any mushroom dome key switch models. Last but not least is a vertical row of keys on the left side of the keyboard dedicated to Undo, Cut, Copy, and Paste.

Microsoft "Mana Ray" Desktop Set (2013)
---
The keyboard of the Sculpt Ergonomic set from Microsoft is internally nicknamed as the manta ray because of its eye-catching design, albeit there's a large gap in the center.  And just as with previous Natural keyboards, this one has also been split down the center and curved in and upwards in a reverse tilt to be more ergonomic.  The reason all comes down to keeping wirsts and forearms in a more relaxed position.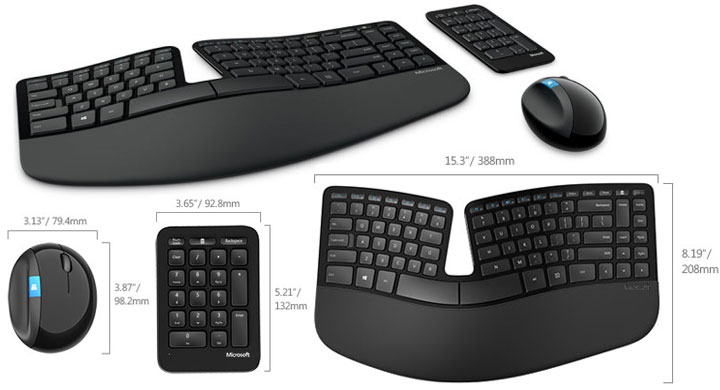 This wireless 2.4Ghz keyboard (with data encryption) comes with all the usual features including multimedia keys, padded palm rest and quick access hotkey for Windows 10 charms. Also, what makes it unique compared to previous models is Microsoft has separated the number pad from the main unit. This way both can be positioned perfectly when needed and then moved out of the way when not needed.
Last but not least is an egg-shaped mouse with a large integrated thumb rest.  Its ergonomic design reminds us too much of the decade-old Natural Wireless Mouse 6000.  In a nut shell, its angle and height are carefully thought-out so your wirst would be in a position that reduces the pressure on the carpal tunnel area.  The Sculpt mouse also comes with 4-way scrolling and a built-in Windows home button.  This combination package has a MSRP of $130.

Logitech Flagship Trackball (2010)
---
It's a shame trackballs get neither the attention nor the credit it deserves, but many has preferred this type of pointing device for ergonomic reasons ever since the birth of personal PC.  The demise of this product category can be attributed to the inherent steep learning curve – especially for first time users – and the technological advancements in mice, and of course, touchpads.  Logitech's M570, unfortunately, is likely the last of its kind as the only other company that still produces them is Kensington.  In spite of that, the company has made every effort to perfect its flagship trackball.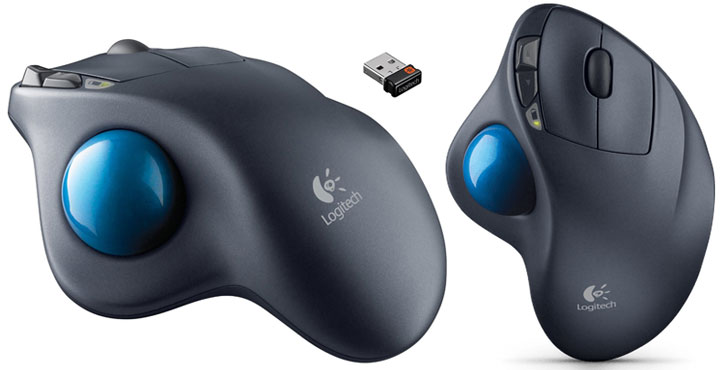 With the ball out of the way, the rest of the M570 looks quite comfortable with four conveniently placed buttons and a scroll wheel.  The buttons are located in the same location that most modern mice have them. Except for the thumb motion, when held in your hand, the M570 works exactly like a normal mouse. All the function buttons rest under the normal mouse-oriented fingers. Only the thumb is retasked for different duties.  Ergonomics aside, the trackball is obviously made for right handed users, and the ball itself needs cleaning as it collects dust and grime over time.  One AA battery can power the trackball for 540 days, and lastly, the M570 can share the same wireless connection with other Unifying-compatible mice and keyboards.

Our list covers ergonomic mice and keyboards that are all intended to alleviate and prevent wrist pain and shoulder fatigue. If you like to share your experience with ergonomic input devices, you are more than welcome to do so in the comments below.