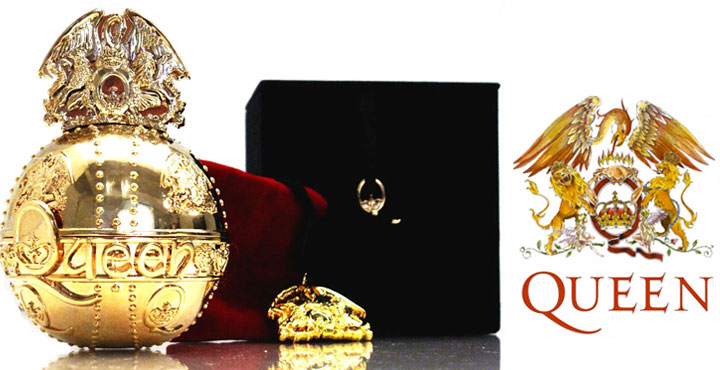 It is hard to imagine but the fact still remains that the iconic rock band which is called "Queen" is forty years old. In order to properly celebrate this amazing milestone and in keeping with Queen's groundbreaking tradition comes new of an all new box set. What makes the Queen Orb Gift Box special is the fact that it does not contain CD's nor even DVD's, rather this box set is a true electronic age marvel.
By first removing the golden orb from its velvet black case and then simply opening the top crest, you will find not only a gold-plated Queen crest pendant necklace nestled inside, but also a USB drive (similar to that of Beatles apple-shaped USB box set) which contains a veritable cornucopia of delights for hard core Queen fans. All 15 (re-mastered) studio albums are included in not only 320kbps MP3 but also 24-bit 44.1kHz WAV format. While this is a touch low compared to DVD-Audio, it still is considered audiophile grade (no word on whether it is stereo or surround sound but we assume stereo). There is also a massive photo gallery to make any collector green with envy.
Unfortunately, you will indeed have to be a hardcore collector to want one of these 5,000 limited edition gift box's as it will set you back about $350 (US) and £190 (UK). If you are a super fan who doesn't blink at such a steep asking price, you can purchase one of these individually numbered Golden Orb's on April 2nd.