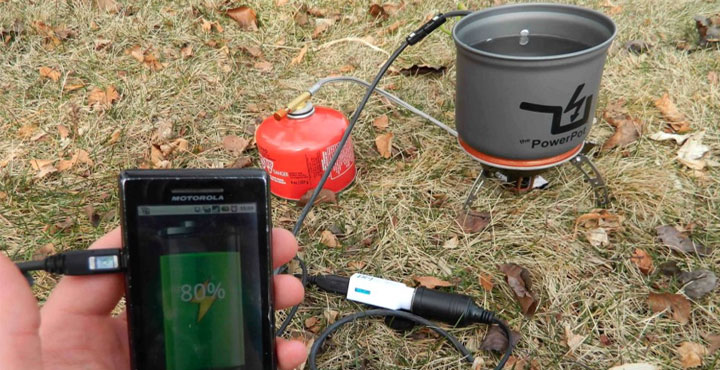 As anyone who has ever lived through a major disaster knows, the first thing – besides civilized behavior – to go is electricity. We all take electricity for granted, but when the "crying times" come around, things like fully charged batteries in a radio can mean the difference between life and death. While it may be designed for less extreme scenarios – i.e. weekend hikers and campers – the PowerPot is in fact the perfect tool which should be in anyone's "bug out bag" / disaster preparedness bag.
Unlike solar based chargers which only work when the sun shines, the PowerPot relies on heat to make electricity. This is because inside the PowerPot is a thermoelectric generator which can easily transform any wood or any large source of heat into a 5w (for the PowerPot V), 10 watt (PowerPot X) or even 15 watt (PowerPot XV) power generator.
With its built in USB 2.0 cord, this means nearly most devices from smartphones to iPads can be recharged from simply building a fire; something which should be pretty high up on your priority list anyway. Of course, the PowerPot is still only in the planning stages so while it remains to be seen if you will ever be able to actually buy one. If the day ever comes, expect to spend $125 to $500 for one of these handy little devices.