July 2010 Anthony Garland
It's a fact of life that no two hands are exactly the same. For this reason, peripheral manufacturers of the ubiquitous mouse have to design for the mythical average person. This is great if you have an average hand, but it's no fun if you don't. This might change with Mad Catz Cyborg RAT 7 as this marvel of engineering is adjustable, allowing in theory the perfect custom fit. Is that what the Mad Catz delivers? Check out my full review to find out.
Jaw-dropping Design
---
At first glance, the RAT 7 looks only slightly different from your typical gaming mouse. My first impression was that it was crafted by a Steam Punk aficionado. My second thought was that it was more like a Borg-inspired mouse. Just as you shouldn't judge a book by its cover, both of these impressions were completely and totally wrong. This mouse isn't a form over function design, rather its function takes precedence over its aesthetics.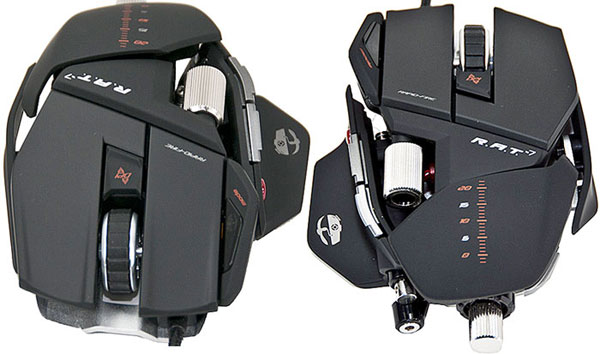 To say that the mouse is highly customizable and configurable is an understatement of epic proportions. In the past, other manufacturers have tried various techniques to broaden the comfort level as much as possible. While the Logitech G9x does succeed to a certain extent, its interchangeable "skin" pales in its abilities to this mouse. Not only does Mad Catz include three different palm rests, three different pinkie rests, a weight system but also manages to cram in X and Y adjustments for the thumb and the palm area. The RAT 7 literally can be used comfortably by "palm" and "claw" users alike with equal comfort.
The pinkie rests consist of the stock "smooth" rubberized grip that should fit most, but not be perfect for everyone. It has a nice tacky rubberized feel to it, which does provide a very good grip. If this "standard" size fits your hand nicely and you want an even more secure grip, the second pinkie rest is for you. It is the same standard size but has a more aggressive tread-like pattern to it.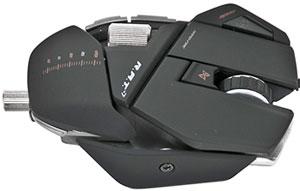 If you prefer a palm grip, either of these pinkie rests will be good choice and it will come down to which feels better. If you are more a claw grip kind of guy, the third is the one you most likely want as it affords the RAT 7 much more support. It has the same rubberized feel as the standard grip but dwarfs the other two in terms of size. The only thing missing was a fourth option that combined the size of the large pinkie rest with the ultra grip of the diamond tread-patterned second option.
Where the thumb area is more important than the pinkie area (as it has forward and back buttons and the precision aim button), this side of the mouse gets the royal treatment. You may not be able to swap out the standard side panel like the pinkie rest, but you can adjust how far back or forward the buttons are. This panel literally is on a screw that can reposition it in nearly infinitely small increments. Taking the thumb side panel to the next level is the fact that it not only can move forwards and backwards, but also with a simple loosening of one screw it can swing in and out. See the rotating images on the right for demo.
Quite honestly, if you can't get the mouse's thumb area "perfect" with some trial and error, then you are not trying hard enough. It is not only unbelievable the amount of movement they have built in, but it's truly fascinating how easy it is to adjust. Simply unscrew the screwdriver from its holding place under the palm swell and use it to independently adjust the swing or even forward / backward motion. That is all there is to it. There's no need to swap out finicky, rubber skins; just adjust a screw or two and your are done.
While the ability to make the mouse thicker or thinner depending on your hand is nice, the palm swell that wraps this mouse up in a bow makes it into a veritable God's gift to users. Three palm swells (as shown in the image on the right) are included. With a simple push of a locking lever, you not only can swap it out but also adjust how long the mouse is and where your fingers and palm will rest on the mouse.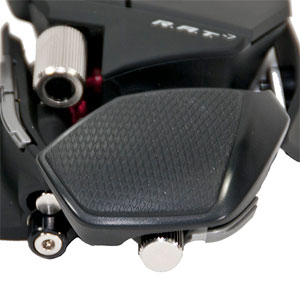 The customization abilities of the RAT 7 are simply unmatched, but Mad Catz didn't forget about the "standard" features either. You get what is becoming the new standard in ways of buttons with dual thumb, left / right buttons, scroll wheel and a DPI on-the-fly changer. You also get an awesome precision aim button that can be set to slow the DPI settings down for making headshots almost too easy. Heck, they even threw in the ability to have different presets for all the buttons and the ability to change them via the "mode" button.
Helping you to become a better "twitch" gamer is the RAT 7's adjustable dual laser 5600 DPI sensor. This mouse literally has one laser for tracking X movement and a second for Y movement. I doubt many will be able to harness the full 5600 DPI abilities of this wee beastie, but its combination with the customizable features offered, I have a feeling that many will come closer than they ever did before.
Installation & Software
---
To truly get all you can from the RAT 7, you will need to install the software. In fact, you may even need to install the drivers before you can even use it. I know on Windows XP this is what I had to do, yet on Windows 7 64-bit Ultimate, Windows was smart enough to find a driver all on its own.
Once the drivers and software are installed, you are presented with a seemingly simple little program. It is so simple that there are basically only four "pages", but really only two of them are the real meat and potatoes of this software. The other two "Product" and "Support" are as their names suggest, less than important. The Product page shows you what mouse is plugged in (in our case the RAT 7) and gives you a brief overview of it. The Support page includes a manual, driver and software update page as well as a host of other support related features. To my way of thinking, they are more there to help round out the software than anything else, and while nice additions the other two pages are the key to this software.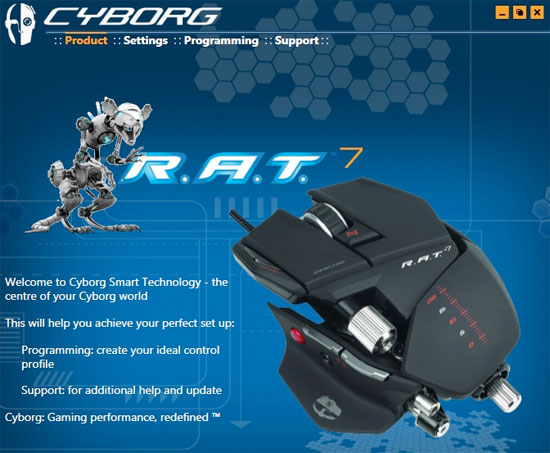 The first of the two important pages is called "Settings" and its only job is to set the four DPI levels. In their default configuration, these are 800, 1600, 3200 and full power 5600 DPI. As you get more used to your new mouse, you will most likely tweak these to be more comfortable to your particular needs. As expected, you can set X and Y DPI values independently of each other.
What's amazing is the Precision Aim button. This little thumb side button allows you to half the DPI sensitivity for only as long as you hold it down. It literally makes precision aiming in fast-twitch games almost simple. Even nicer was the fact that while its default is 50% of whatever the current DPI setting is (both X and Y are halved) is you can easily adjust this to any percentage. For extremely high DPI scenarios, the ability to go to 20 or 30% of its current setting was bloody amazing.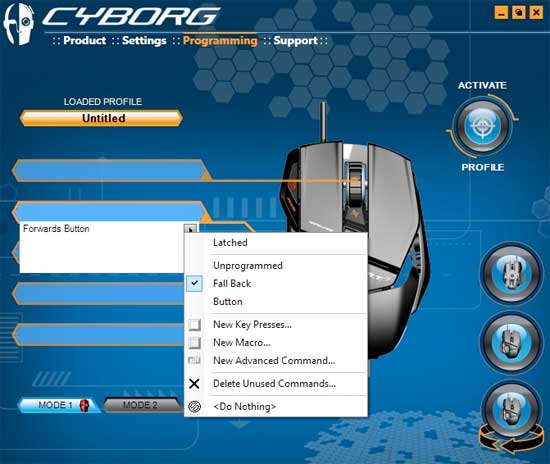 The other crucial page is the Programming page. As the name implies, this page deals with setting up each of the mouse's buttons and the three modes. Basically, you can setup your mouse buttons to do not only complex macros but you can do it so that each of the three modes causes the buttons to act differently. Where the mode button on the mouse glows a different colour for each of the three modes, this is not confusing. This may not sound like much as there are other gaming mice with 4 or more custom modes. However, in practice, three is about all a person can really use without getting confused or accidentally choosing the wrong setup.
Gaming Performance
---
For both Modern Warfare 2 (MW2) and Left 4 Dead 2 (L4D2), the RAT 7 allowed me to react faster, smarter and more precise than I have ever done before. For example, in MW2 Singe Player mode on Veteran difficulty, I was able to start and finish the game in a little over 6 hours. This is a full 20 minutes faster than when I used my Gigabyte "Ghost" M-8000 Xtreme. In L4D2, my headshot average went up from 32% to 43%. The precision aim button (set to 33%) to slow things down really was amazing and is not gimmicky in the least. The only minor grip I had after playing both of these games is the fact that the weighting system is not granular enough. Six gram increments is just too much for such a precision piece of engineering.

For both games, two six gram weights were almost too much. Yet with only one weight in the mouse, it felt a little whippy and I had to dial down the DPI a notch from 4000 DPI range to about 3500. If there had been a two or three gram weight option, it would have been perfect and I probably would have been able to boost the DPI settings even higher than 4000. In any event, my hand was not fatigued in the least by the end of either gaming marathon sessions. This is something which happens all too often for me. With some other mice, I literally have to take a break or risk hand cramps.
In StarCraft, the same situation reoccurred, great, fast paced fun that allowed me to achieve total domination via macros and keyboard shortcuts. The mouse really is enjoyable to use across a wide spectrum of games and genres. However, once again, I did wish for a second size weight as two six gram weights installed was too slow, yet one reduced my precision to the point where I did have to rely on the precision aim button even more than expected.
Productivity Apps Performance
---
In Photoshop, I found four of the six gram weights in combination with a fairly mild 2400 DPI setting to be a perfect setup for the RAT 7. When I needed even more precision, I simply held down the precision aim button and then released it when the finessing was over. For Excel, the ability to setup multiple macros and switch between them with a simple touch of the mode button did come in handy.
As with Excel, I found one six gram weight and same DPI setting to be nearly perfect for Internet web surfing. Both forward and back buttons were easy to reach and use. Interestingly, the precision aim button was not all that useful, but then again, neither was the multiple modes. One mode is all that is needed for surfing the Internet, but it was nice to have one set of defaults just for Internet surfing, another for excel and a third for Photoshop. I really do wish they had included a couple smaller weight options with the mouse, but I did manage to get it fairly close to my personal "ideal" settings with some trial and error.
The only other minor nit worth picking has to do with how you add or remove weights. The screw locking mechanism is a bit of hassle and is a lot slower than some other manufactures way of doing things, but then again, it is also a heck of a lot more secure. Unless you are tweaking things to the Nth degree, I doubt once you find a comfortable weight, this will be an issue as the RAT 7 really is that good and that adjustable.
Recap
---
When I think about the RAT 7, an old phrase from an old commercial for computers from the 90's comes to mind: "look at this, that ain't a mouse… That's a RAT!" It is not fair to call this piece of equipment a mouse or even put it into the same class as most "gaming mice". This has to be no holds barred best, most customizable, most easy to use piece of input control hardware I have ever had to honor of using. In just a few short days, it has replaced both my Gigabyte "Ghost Xtreme" gaming mouse and my MX1000 "general purpose" mouse on my main system. This to me is the highest accolade I can give a product as I am highly particular on what goes on my main rig.
The only issue with this mouse is not whether or not you are going to like it. It's how much you are going to dislike your other mice afterwards. It really has shown me how inferior the feel and overall handling of what I considered some impressive gear really is. The RAT 7 isn't exactly Plug and Play also. You are going to have spend some time tweaking and playing with the various options until you get the fit perfect. For me, it took about 30 minutes for the major tweaks and another couple hours of fine tuning. This time is worth the effort as the result was a device that is simply "made" just for my hand.
With that being said, not all is perfect as I really did wish they had included a fourth pair of pinkie and palm swells. A large pinkie and large palm swell with extra grip and texturing really would have taken this mouse to the next level. However, with such a perfect fit for me, this is nit picking and I doubt I will ever "miss" not having them. The other issue is if your system is used by more than one person you and the other users are going to have to negotiate a compromise setup. Seriously, until you use this mouse, you really haven't experienced what a professional grade mouse is and what it can offer you. If you can afford the asking price, the Mad Catz RAT 7 mouse is highly, highly recommended.
Mad Catz Gaming Mice on Amazon
---

USB Duplicators By Nexcopy
Nexcopy manufactures a variety of PC-based and standalone
USB duplicator
solutions.
PC based systems support advanced USB functions such as write protection, CD-ROM partition and multi-partition creation, while standalone systems are ultra-fast, high speed USB copiers duplicating gigabytes of data quickly and accurately.