12 November 2008, Comments: Comments Off on Microsoft Explorer Mini Review
November 2008 Kerry Chin
Showcasing Microsoft's new-for-2008 BlueTrack technology, the Microsoft Explorer Mini Mouse boasts a unique laser tracking system that claims to make the mouse usable on practically any surface. Designed to be both portable and fully featured, the Explorer Mini employs a 2.4GHz wireless connection and ergonomically styled body in an attempt to be the ultimate mouse for desktop users who have the occasional need to work on the road, and who appreciate the latest technology. For the full review, read on.
Mouse Design
---
The Explorer Mini Mouse possesses a fairly conventional ergonomic body that is comfortable for daily use. A variety of textures and colors combine to give the Explorer Mini a sleek, modern look that fits in well with the latest electronic desk gadgetry. Rubberized paint is used to allow a good grip, and both side buttons are also rubberized and within easy reach. The scroll wheel operates very smoothly with no detents and appears to be real aluminum.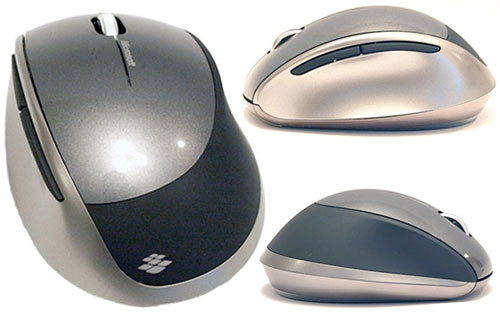 The USB wireless dongle, however, is quite large – unnecessarily so compared with Microsoft's own Arc Mouse. One aspect that may give some users pause is the fact that the design is for right-handers only. Microsoft gives no indication on their website that there is a left-handed version, so for some, this will be an obvious and insurmountable fault.
User Experience
---
I spent significant seat time using the Explorer Mini in a desk environment under normal office use. My desk is thick glass and frosted on the underside. In my experience, BlueTrack definitely makes the mouse useable on a glass surface, but tracking is not as good as when using a mouse pad. Changing directions quickly would result in a slight delay in the pointer response, and this becomes very annoying when doing more precision work, like graphic editing, or filling out lots of web forms in a browser. So if you are a graphic editor, check out such features carefully. Furthermore, if the glass desk has any sort of fingerprints or greasy smudges, BlueTrack is really thrown off, and the mouse becomes a very frustrating pointing device.  You've been warned – this might not be a negative for users who don't have glass desks, but then such operation on clear glass is not a claim of BlueTrack.
Mouse tracking on a variety of other surfaces was fine, including carpet (who uses their mouse on carpet anyway?), woodgrain desks, polished granite countertops, the top of a glossy ebony black piano, and typical IKEA veneer surfaces. No complaints here. I also tried the mouse on a mirror and a brushed stainless steel surface just to test the limits of BlueTrack – on these surfaces, the pointer would move somewhat, but this arrangement was far from useable.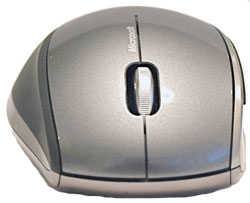 Explorer Mini's rubberized side buttons. Moving away from the tracking mechanism, the scroll wheel is a very nice element of the Explorer Mini – smooth, cold, and metallic. It does not click or have any fixed detents, but is velocity-sensitive and works very well. Side-scrolling is supported, but pushing a scroll wheel sideways is not a very natural motion. I found myself just using the horizontal scroll bars when I wanted to pan the contents of my window.
One cool but totally useless feature is the under-mouse lighting which illuminates an arc shape at the base of the mouse in a cool blue halo for about 10 seconds. The little BlueTrack logo also illuminates. The problem with this feature is that it seemed only to activate when the wireless dongle is removed from its holder on the base of the mouse. I don't know if this is related to calibration, or surface detection, but I'm sure some users would like the option to enable the mouse lighting at will.
Lastly, the shape of the mouse is rather sophisticated, with all curves serving some functional purpose in making your right hand comfortable and potentially well supported. I have small hands for a male and would prefer a bit more palm support which could only be achieved with a longer mouse body. This is where I expect the full-sized Explorer mouse would be more to my satisfaction. Guys with large hands may have even more of a problem with this mouse. Females may find the Explorer Mini to fit their hand perfectly – my wife did – and once she got comfortable, I had to stealthily sneak into her office and borrow back the Explorer Mini to finish this review.
Mac Software
---
Once you've installed the included mouse drivers, bring up the System Preferences and click on Microsoft Mouse to access the various settings. The Intellipoint software really provides nothing revolutionary – just control over button mappings, pointer tracking speed, and horizontal and vertical scrolling speed, with the option to enable accelerated scrolling in the vertical direction. Very easy to understand.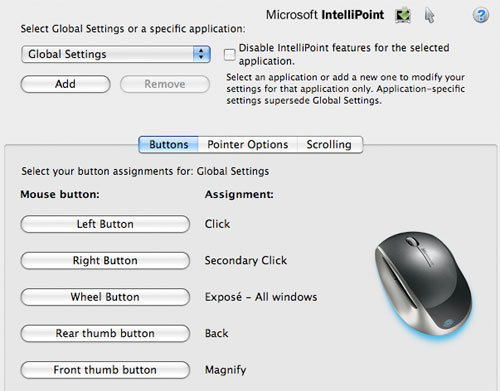 You do get the ability to create sets of settings that are application-specific. This is a nice touch if, for example, you like a slower tracking speed and remapped buttons for your detailed graphics work. The Intellipoint driver is smart enough to detect exactly which Microsoft-supported mouse is connected to the system, and adjusts its controls accordingly.
Windows Software
---
Installation of Intellipoint for Windows is simple. The mouse control software is easy to use and builds upon the standard mouse Control Panel that ships with Windows. Intellipoint for Windows includes a number more features as compared to the Mac version. However, it did not seem able to auto-detect which Microsoft mouse was plugged into the system. This must be manually selected from a pop-up list.
Assignments for all five buttons can be selected, as well as having your selections apply only to specific applications. The five other tabs deal with the expected adjustments such as pointer acceleration, scrolling, double-click speed, and special features, such as ClickLock, which lets you drag or highlight without holding the button down. Unlike the Mac version, you can customize the speed of accelerated vertical scrolling independently from the rate of vertical scrolling.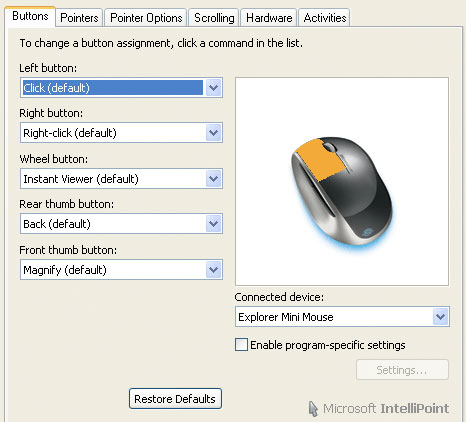 The scroll wheel click accesses an Exposé (view all windows) function on Mac and Windows – great because you don't have to lift your hand from the mouse to navigate to other open windows. All in all, Intellipoint does what you'd expect. Nothing more, nothing less.
The Little Details
---
In the little crevice dividing the left and right mouse buttons hides a bi-color LED battery indicator. Once again, taking the USB wireless dongle out of its holding spot turns the mouse on, and the battery LED turns on to indicate the charge remaining. Green for satisfactory, red for a low charge. The light stays on only for about 10 seconds.
The underside of the mouse houses the battery compartment, which in this case needs just a single AA battery. Microsoft, likely to save cost and make the Explorer Mini smaller, opted not to include recharging circuitry in the mouse. Thus, users must use NiMH batteries and a standalone recharger if they value rechargeability. If they do not, they will find that the laser engine in the Explorer Mini has a moderate thirst for juice – I got about 3 weeks of use out of a fresh alkaline AA before the battery indicator turned red. At the 4 week mark, the battery was exhausted. The carry case, rather large and crafted from thin neoprene, has a weakly magnetic catch on the lip to secure its contents without straps or snaps, or zippers.
Counterpoint
---
This Fall, Microsoft released two portable wireless mice into the wild: the Arc Mouse reviewed elsewhere on this site, and the Explorer Mini Mouse with BlueTrack technology reviewed here.
Both are 2.4 GHz wireless portable mice but the Explorer Mini Mouse differs from the Arc mouse in the following significant ways:
A more conventional, non-folding design
Inclusion of BlueTrack laser tracking technology for smooth tracking on a wider variety of surfaces, including carpet, hardwood floors, granite, and textured surfaces
One more button
Use of a single AA battery, rather than two AAA batteries
A larger USB wireless dongle (there seems to be no reason why the dongle is so much larger)
Fancy under-mouse blue lighting for a cool visual effect
In my review time with both mice, I found the Arc Mouse to be the far better travel mouse because of the folding design with a magnetic dongle holder, smaller dongle, and smaller carry case. However, the Explorer Mini is the better travel mouse for desktop use, with better tracking, a more solid feel, and a smooth, expensive-feeling scroll wheel. It is a clunky option for travel because the large dongle, when stored in the snap-in location, is easy to lose and protrudes awkwardly from the bottom of the bulky mouse. I did enjoy using both travel mice; your choice should depend on what importance you place on portability.
Recap
---
Overall, Microsoft's attempt to size-reduce the Explorer mouse results in a compromised design that lacks key features of its bigger brother in the interests of a smaller form factor. If the four-fifths scale, right-hand biased mouse body is not a problem for you, and you have small hands, then you will likely find Explorer Mini comfortable and satisfying in everyday use.
The inclusion of BlueTrack technology makes a compelling case for coaxing the gadget freak out of his home and into the store for a closer look, but in practice, BlueTrack really doesn't work that well on frosted glass surfaces – a potential sore point for purchasers who may not be able to test drive before buying. Given that this mouse is also not so well suited to those with larger hands, lacks Bluetooth support, omits the tiny wireless dongle of the Arc Mouse, and is bulky to carry around, I strongly suggest that prospective buyers take a strong look at the full-size Explorer mouse, or get a second, travel-friendly companion like the Arc Mouse for road trips.

USB Duplicators By Nexcopy
Nexcopy manufactures a variety of PC-based and standalone
USB duplicator
solutions.
PC based systems support advanced USB functions such as write protection, CD-ROM partition and multi-partition creation, while standalone systems are ultra-fast, high speed USB copiers duplicating gigabytes of data quickly and accurately.