April 2017 Ian Chiu
Feature Comparison
---
Corsair
Flash Survivor
ioSafe
Rugged Portable
ioSafe
SoloPRO
LaCie
XtremKey 3.0
LaCie
Rugged Mini
Storage Type:
Flash drive
Portable hard drive, SSD
Desktop hard drive
Flash drive
Portable hard drive
Protection Level:
Drop, pressure and immersion protection
Chemical, drop and immersion protection
Heat, chemical and immersion protection
Drop, pressure and immersion protection
Pressure and immersion protection
Drop
Resistance:
3 m
10 ft
Not applicable
10 m
32 ft
1.2 m
4 ft
Water
Resistance:
200 m
650 ft
3 m
10 ft (up to 3 days)
3 m
10 ft (up to 3 days)
200 m
650 ft
Not applicable
Pressure
Resistance:
2500 lb (aluminum)
5000 lb (titanium)
Not applicable
10 T
1 T
Temp
Resistance
Not applicable
Not applicable
1550 F
840 C (up to 30 mins)
-30 to 200 C
-22 to 392 F
Not applicable
Build Material:
CNC-milled, aircraft-grade aluminum chassis
Billet-machined aluminum chassis
ZAMAC metal alloy
Rubber grip, aluminum body
Available Capacities:
16 to 256GB
250GB to 1TB
2 to 6TB
32 to 128GB
1 to 4TB
Data Recovery Service:
No
Yes
Yes
No
No
Interface:
USB 3.1 Gen 1
USB 3.1 Gen 1
USB 3.1 Gen 1
USB 3.1 Gen 1
USB 3.1 Gen 1 (Type-C)
Weight:
1.28 oz
1 lb
15 lb
2.08 oz
0.5 lb
Release Date:
2014
2011
2010
2012
2011
Warranty:
5 years
3 to 5 years
3 to 5 years
3 years
2 years
Corsair Flash Survivor (2014)
---
Not completely content with rubber's above-average durability, Corsair sometime ago decided to go all out with their Flash Survivor rugged series. Forged from aircraft grade aluminum in the CNC mills of Mount Doom, California, this drive is designed to take a beating while providing transfer speeds unfathomable by mere I/O controllers.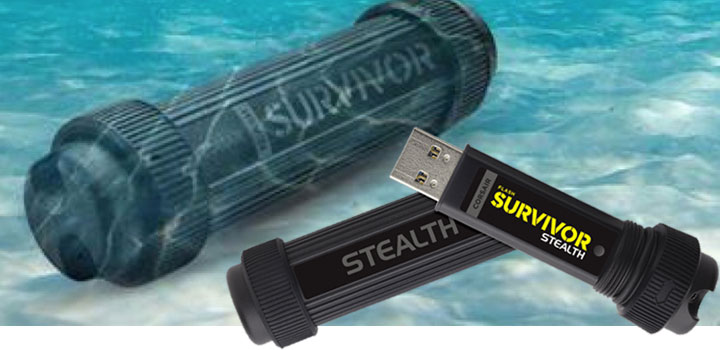 The Corsair Flash Survivor – previously reviewed here – lived up to its name, after being submerged in 12′ of chlorine water, chucked from a roof and backed over by my SUV multiple times.  And while the tube housing may not have met our expectations with its flying endcap, it did protect our data, and Corsair's generous 5-year warranty will grant it a new lease on life.   The Survivor is definitely for those with active lifestyles.

ioSafe Rugged Portable (2011)
---
This ioSafe really is a triple threat. It offers stellar performance; exceptional protection; and great aesthetics. The chassis is designed to take all the beatings so the hard drive inside can survive. This means that no matter how extreme a situation you encounter your precious data is going to be as safe as it could possibly be.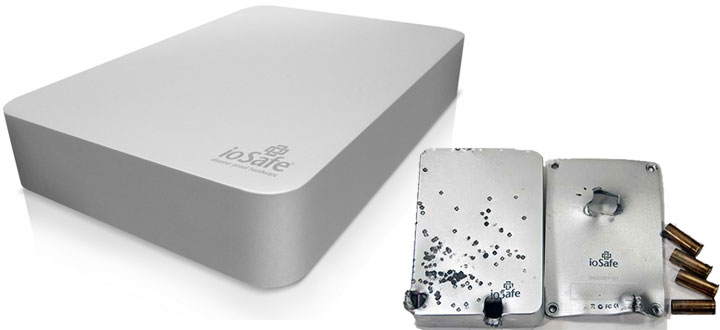 Even in a worst case scenario, your data will be safe and sound; or at the very least, the ioSafe has a much better chance of surviving the disaster than you will. As long as you are willing to pay more per gigabyte than you would for an unprotected portable drive; and as long as you don't mind it being slightly less portable than an unprotected drive, the ioSafe Rugged Portable would be a great choice.
ioSafe's Fireproof USB Drive (2010)
---
The SoloPRO from ioSafe is a giant disaster-proof external storage. Suffice to say, you can literally burn as well as drowning this drive, and the drive (inside) is guaranteed to keep on ticking. With an actual dimensions of 7.1″ x 11″ x 5″, shoebox-sized DAS also weighs in at 15 lbs. The reason the drive is so large is due to the fact that the chassis is made from thick steel with no plastic anywhere in sight.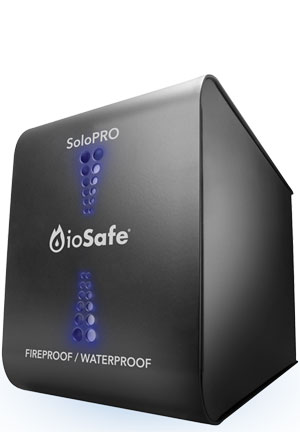 ioSafe advertises the SoloPRO as waterproof. While hard drive inside the enclosure is technically, but the USB SATA controller chip, the fan and basically everything else are not. This makes sense as only the hard drive is sealed against the elements. As for ioSafe's fireproof claim, no doubt one shouldn't expect anything to survive after being engulfed in fire for 30 minutes. Thanks to extracting the hard drive inside and plugging it into free SATA port on any motherboard shows that your data is safe and sound. This is certainly a tank that your precious data can live in and be safe under just about any terrible circumstance but you have to pay a premium for this ultimate data protection.

LaCie XtremKey USB 3.0 (2012)
---
The LaCie XtremKey has already made a name for itself as one of the handful of flash drives being able to survive pressure, water, heat and cold. LaCie claims it can resist temperature as high as 200ºC; 10-ton pressure; 10m drop; and submersion in water up to 200m. The latest addition of USB 3.0 to the already formidable-looking drive should only make the XtremKey more desirable.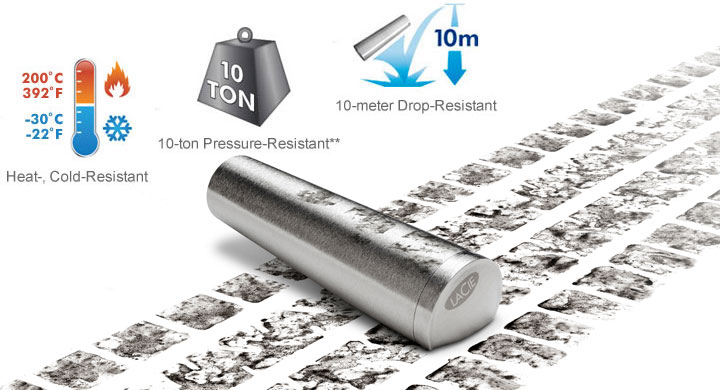 LaCie advertises the rugged drive performance with an impressive 230MB/s read speed. If manufacturers don't make the write speed public, you can usually expect it to be only half of read. Regardless, the new XtremKey should still leave the original version with its 30 to 40MB/s average speed in the dust. Little else has changed in the fundamental design, retaining its heavy-duty screw-tight enclosure made with 2mm-thick ZAMAC metal alloy. LaCie offers 32GB as minimum capacity with a starting street price of $45 up to 128GB for $110.
LaCie Rugged Mini (2011)
---
The Rugged Mini from LaCie features the same iconoclastic orange wrap around bumper with aluminum chassis as its siblings, but this version has lost a lot of weight. It is upwards of 40 percent more compact than the original. The capacity maxes out at 4TB, whose drive supplier is none other than Seagate, being the parent company of LaCie.
Where the Mini is a Rugged Mini, it also is rain, shock and even pressure resistant. With its advertised 1 ton of pressure resistance, the USB-powered drive should survive after being run over by a vehicle – albeit small family car – without fear of losing your data. There's a USB Type-C model so you can connect to your MacBook Retina without an adapter.
These are 5 most rugged USB personal storage solutions we've found so far. We hope you find them useful. If you are using some other products that aren't lised here, let us know if the comments below.