October 2012 R. Scott Clark
It's been almost a decade since SanDisk launched its Extreme line of flash memory products in 2003. Back then, the "Extreme" title was associated with a killer 2.5MB/s sustained write speed, Jolt Cola, and a pre-Forever Duke Nukem. Though time has justifiably smitten all of these in our hearts and minds, the Extreme brand lives on as SanDisk continues to push the speed limits of flash storage past 200MB/s. Read on for an in-depth look at their 32GB and 64GB Extreme USB 3.0 Flash Drives, then check back in a few years to feel old and nostalgic.
Design
---
The Extreme USB 3.0 bears a rather conservative design, following SanDisk's traditional modus operandi of taking a lightweight shell and stuffing it full of flash memory and a retractable USB plug that locks into place. The slim plastic housing feels as cheap as any other SanDisk drive except for the long-discontinued Titanium series, while still giving the sense that it's unlikely to break unless you happen to lose it on a busy freeway.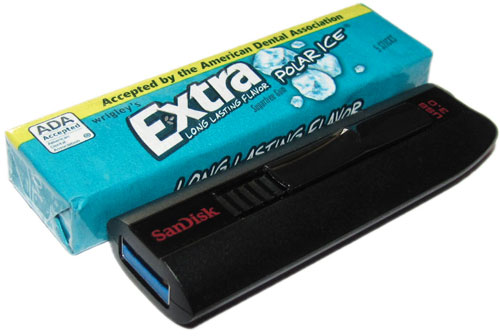 Yet even with these decidedly conservative traits, the body manages to convey a sense of style with its subtle angles, gloss accents, and red-on-black lettering. It's as conservative and traditional as the original KITT was to sports cars, ironic as that may sound.  The Extreme's retractable USB plug does have one new feature in that it's curiously spring-loaded to give it a sense of pop, but unfortunately, it then suffers from the slide action's slight squeaking noises. Even so, I still prefer this setup to almost every other drive, if only because I know that I'll never lose the cap.
Encrypted Storage, Cloud Backups
---
Pre-installed on the Extreme flash drive is SanDisk SecureAccess, portable file encryption, and cloud storage utility from YuuWaa. The encryption portion of the program is rather simple to setup and use thanks to the drag-and-drop interface, and has the added benefit of not requiring Administrator rights so you can use it at work or at a friend's house. The flipside to this is that the encrypted vaults are unable to be mounted as drive letters, meaning you will need to individually extract files before editing them, and then re-drag them back to their encrypted safe-haven when finished.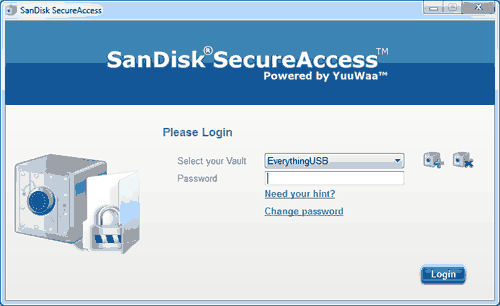 Merely opening files as read-only, however, can be done without manually decrypting the files first. Files opened this way are automatically extracted to the logged-on user's %temp% directory, and deleted when the program has exited. I personally wouldn't use SecureAccess to manage my sensitive files on a public computer since data makes its way to the local hard drive, but I imagine SecureAccess would do fine for securing data in motion between two trusted computers if the drive gets lost or stolen along the way.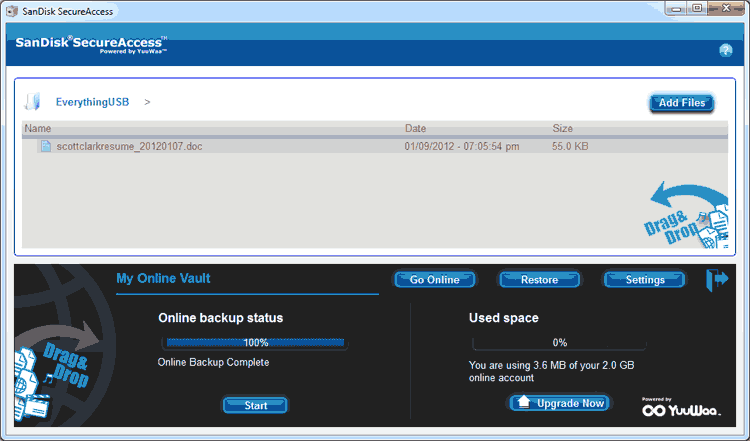 The cloud storage component of SecureAccess offers a traditional backup interface to select which folders on the local computer should be backed up to YuuWaa's servers, with a convenient option to only grab certain file types. 2GB of storage is provided for free and can be accessed remotely through any modern web browser, which compares well against many services competing in this area. YuuWaa's business model, of course, is to nag you with an onslaught of extremely annoying pop-ups asking that you purchase more space the moment your backup selection exceeds 2GB. Seeing as how the entire user profile is selected by default, this happens almost immediately, and it takes multiple clicks to deselect each folder and click through yet another space warning. Ugh. YuuWaa, if you intend on being as intrusive as a pop-up ad, at least have the courtesy to give me a boxing glove and a few animated monkeys.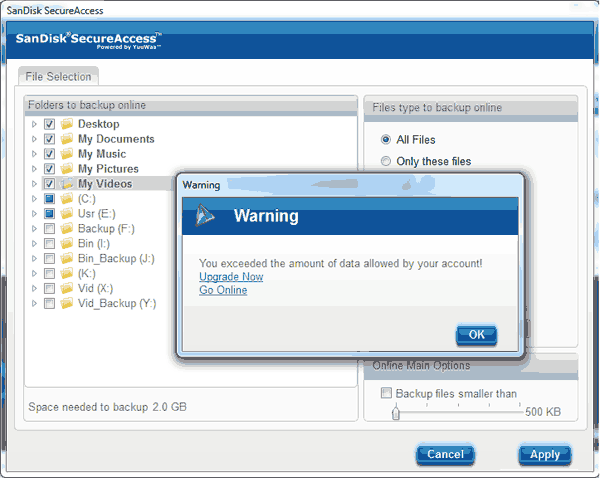 Extreme Performance
---
All currently shipping Extreme USB 3.0 flash drives are rated by SanDisk as having 190MB/s read speeds. To put that number in perspective, that's about 600% faster than the speediest USB 2.0 flash drives we've set hands-on in the past, which speaks volumes for why you should upgrade to USB 3.0 if you haven't already. If you're lucky enough to have a USB host controller that allows for supersized BOT transfers (aka Turbo Mode or XFast USB), you can boost the read speeds even higher as my benchmarks will show.
Write speeds on the Extreme flash drives varies by model. For the 64GB and 32GB versions, this is 170MB/s and 110MB/s respectively, while the smallest 16GB model is only rated for 55MB/s. Staggering write speeds across different capacities is nothing new; we've previously reviewed a couple Corsair drives late last year that did the very same thing. Though the practice, unfortunately, pushes you to purchase the largest flash drive you probably don't need, at least the street price doesn't double between models like the Corsairs did last year. Moreover, even if you were to purchase the cheapest 16GB Extreme drive, the 55MB/s write speed is still going to be about double what you could expect from a traditional USB 2.0 drive. On the other extreme, paying less than $70 for a top-end 64GB drive isn't bad, either.
To get onto the benchmarking, my test platform this year consists of a brand new Asus P8Z77-V Deluxe motherboard, loaded up with a 3.9GHz Core i7 Ivy Bridge processor and 16GB of RAM. I performed my tests using the USB 3.0 controller that's native to the Intel 7-series chipset, something you can expect to see included on just about every new Intel laptop and desktop released over the next year or so. The flash drives were also reformatted as exFAT, which optimizes transfers for removable media while still allowing files greater than 4GB in size. Now that the platform's out of the way, let's get down to the numbers…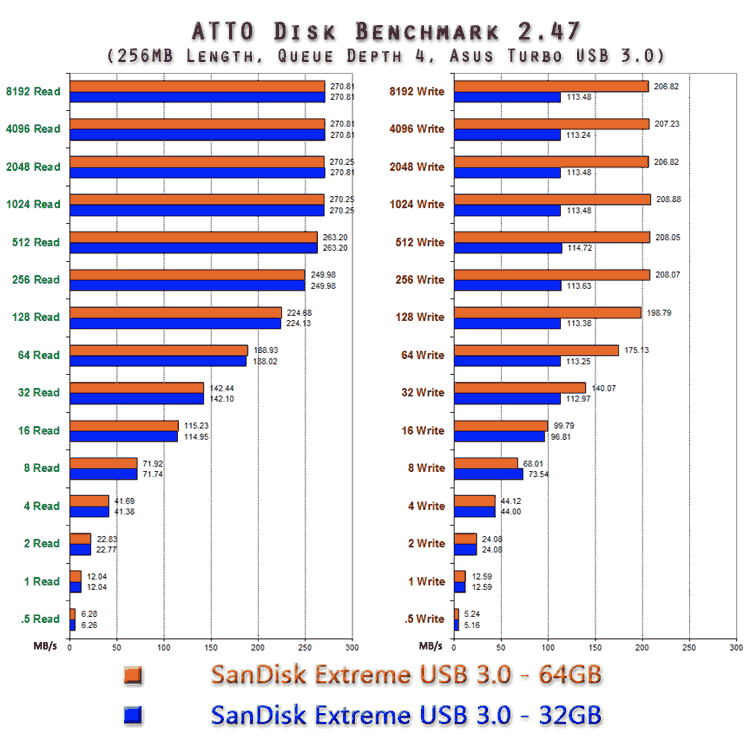 Already this is looking mighty impressive. Without doing any tweaking of the stock Atto 2.47 benchmark settings, I was not only able to hit SanDisk's posted read and write speeds for each drive but actually exceed them. Read performance was almost identical between the 32 and 64GB drives, peaking at a solid 199MB/s. Just think, that's a solid 50% improvement over premium drives released only a year ago.
Write speed was the obvious differentiator here, with the larger drive beating out the 32GB model by almost 63% with a top speed of 184MB/s against the 32GB drive's 113MB/s. That said, the 32GB model manages to keep up when moving files 16MB or smaller, so if you're primarily concerned with transporting compressed photos, MP3s, or office documents, there's less of an incentive to splurge for the 64GB model.
Unfortunately, neither drive is equipped to support the USB Attached SCSI Protocol (UASP), a supercharged way to move files that are going to be natively supported by Windows 8 and can already be found on Windows 7 when using some ASMedia-based controllers with the right drivers. As such, the best we can do to push the Extreme drives to their true limits is to use the Turbo USB mode presented by some motherboard drivers, which is essentially oversized chunks of data for the legacy BOT protocol.  Tom's Hardware has a great write-up of the technology and also explains how you can apply it to your own hardware through a simple registry tweak if you're interested in that kind of thing. Let's take a look at what Turbo brings to the table.
Well, that's a hearty boost if I've ever seen one. Though the write speeds for the 32GB model show zero improvements with Turbo mode enabled, the peak read speeds on both drives shot up 71MB/s to a staggering 270MB/s, and the write speed for the 64GB model managed to top out at a peak 209MB/s, roughly a 22MB/s increase in performance. Forget about merely surpassing SanDisk's already-impressive specifications, because Turbo mode allows you to absolutely shatter them.
64GB Defects
---
I should point out that the first 64GB drive I received for this review was dead on arrival, such that I could not write to the drive or even reformat it. Any attempts to access the drive after attempting to write would cause my computer to lock up until the drive was removed. A concerning number of user reviews with similar experiences have also cropped up on Amazon and Newegg, leading me to believe that there may be a defective batch that made it to store shelves. If you're intent on purchasing a 64GB Extreme drive, be sure to keep the receipt and avoid resellers that charge for return shipping.
Recap
---
It's amazing to see how far flash drives have come since USB 3.0 hit the scene. SanDisk's entry into the 3rd generation of USB 3.0 flash drives can only be described as a knockout punch, more than doubling the best of last year's write speeds while boosting read speeds by 50%, and yet lowering the cost of the premium to something much more reasonable. There is still plenty of room for SanDisk to improve on the Extreme's squeaky plastic housing, but the drive at least feels durable enough to withstand the moderate abuses of daily life. Throw in turbocharged read and write speeds of up to 270MB/s and 208MB/s when combined with a "Turbo mode"-capable USB controller, and it's easy to see why I have no reservations about giving the Extreme lineup of flash drives my highest recommendations.
Sandisk USB 3.0 Flash Drives on Amazon
---

USB Duplicators By Nexcopy
Nexcopy manufactures a variety of PC-based and standalone
USB duplicator
solutions.
PC based systems support advanced USB functions such as write protection, CD-ROM partition and multi-partition creation, while standalone systems are ultra-fast, high speed USB copiers duplicating gigabytes of data quickly and accurately.