26 April 2018, Comments: Comments Off on Check out These Awesome USB Speakers for Gaming & Entertainment
April 2018 Ian Chiu
Logitech G560 LightSync Gaming Speakers (2018)
---
Logitech returns to the gaming speaker arena with its G560 after a long hiatus.  Like its competitors, the Switzerland-based PC peripheral manufacturer is already heavily invested in RGB lighting.  It seeks to raise its game further with LightSync that aims to transform the ambience in your room by throwing different lighting against the wall from the LEDs behind the speakers.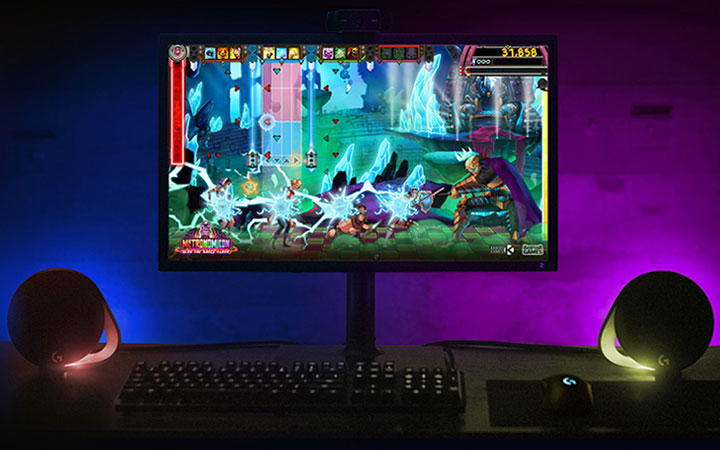 The G560's gaming software does all heavy work of coordinating with the speakers' RGB lights to create custom lighting effects that reflect on different gameplay scenarios.  If you are being chased by highway cops in GTA5, lights behind the two satellite speakers will start flashing red and blue.  Likewise, if you are getting low on health, the game developer could make the red ambient light giving a rapid breathing effect to alert you of the current threat.
The same mechanism apparently works as well with movies as it does with games.  However, there's a slight lag for the reactive lights to respond since the software needs to process the screen refreshes before changing the colors to match.  Lastly, in the audio department, the $200 Logitech's 2.1 USB speaker set packs a downward firing subwoofer and it is capable of delivering 120W RMS as well as simulating surround sound, courtesy of DTS.

Razer Nommo Chroma Gaming Speakers (2018)
---
It's been ages since Razer has released gaming speakers as the company has kept busy with everything from its first smartphone to powerhouse laptops to a variety of peripherals.  The $149 Nommo Chroma marks Razer's return to the desktop PC speaker market.  Made for gamers in mind, its RGB LED strip around its base can put on a light show and the bundled Synapse software can also synchronize lighting effects between compatible devices.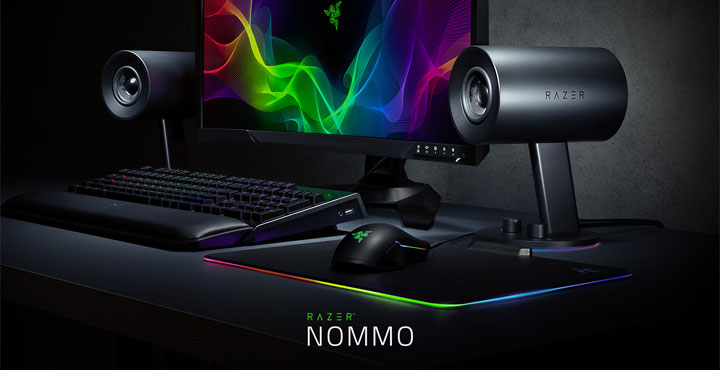 The core of the Nommo is powered by a 3-inch custom woven glass fiber driver in addition to rear-facing bass port in each of the two cannon-shaped speakers.  Interestingly, the streamlined design shares its aesthetic with Dyson's iconic Supersonic hair dryer.  Inside the Razer is a USB DAC but it's not rated for high resolution audio playback.  But you will need to connect to USB as Synapse controls the lighting and allows you to toggle between sound modes (i.e. games, music, movies) to adjust EQ accordingly.
One of the circular base plates for the speakers have two knobs – one for volume and the other for bass adjustment.  Razer's Nommo Chroma lacks surround sound simulation which would otherwise add entertainment value to gameplay.  For that, you have to opt for Nommo's $499 Dolby-certified brethren which also comes with THX certification; a downward-firing subwoofer; silk dome tweeters; a discrete control pod; Bluetooth connection; and a hefty price tag.

Creative Sound BlasterX Kratos S5 (2016)
---
Creative's well-known Sound Blaster brand still carries significant weight with many old-school gamers.  With its return to the gaming speaker market, Creative makes sure that its latest Sound BlasterX Kratos 5 adopts up-to-date technologies.  The 2.1 speaker set with on-board 24-bit / 96kHz USB DAC is the first from the company to equip with Aurora Reactive that is essentially Creative's solution to delivering ambient lighting that enhances immersion during gameplay.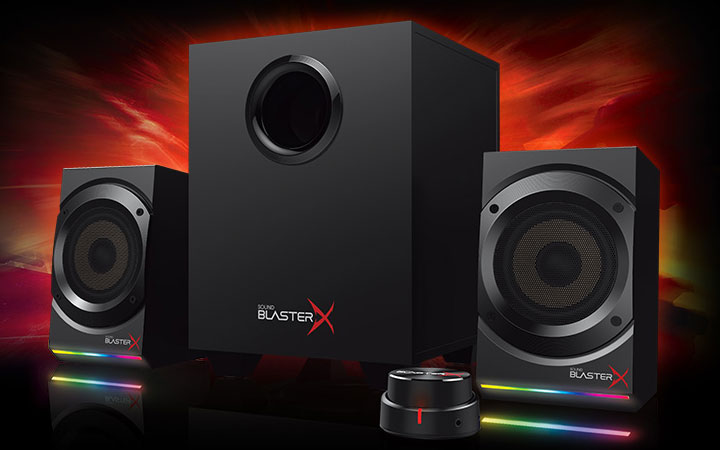 The LED lighting system is customizable with 16 million colors but you can also choose from 6 color presets.  Accompanied by Windows-only BlasterX Acoustic Engine Pro software, other Creative's RGB-enabled peripherals will work alongside the Kratos S5.  The same software also handles 7.1 virtual surround sound.  As a 2.1 unit, the Karatos S5 comes with 4″ satellite drivers and 6.5″ down-firing subwoofer driver in enclosures made entirely out of wood for better resonance damping as well as optimized delivery of a warm and natural sound.  Last but not least is an audio control pod that provides convenient access to your choice of microphone and headset.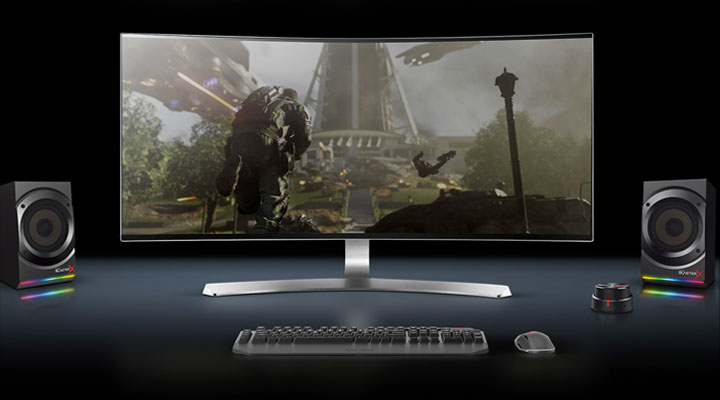 JBL Pebbles (2013)
---
JBL definitely thinks outside the box with the Pebbles – a pair of snail-lookalike USB speakers.  They are more just than conversation pieces as the unique design does serve a purpose.  You can either use them in a vertical or horizontal orientation.  More importantly, the tall but narrow profile allows for the large 50mm drivers to be located in the front while allowing a fairly large bass reflex zone in the rear.  This combination allows for a very large soundstage without losing fidelity but unfortunately, the Pebbles only support up to 16-bit 48kHz audio.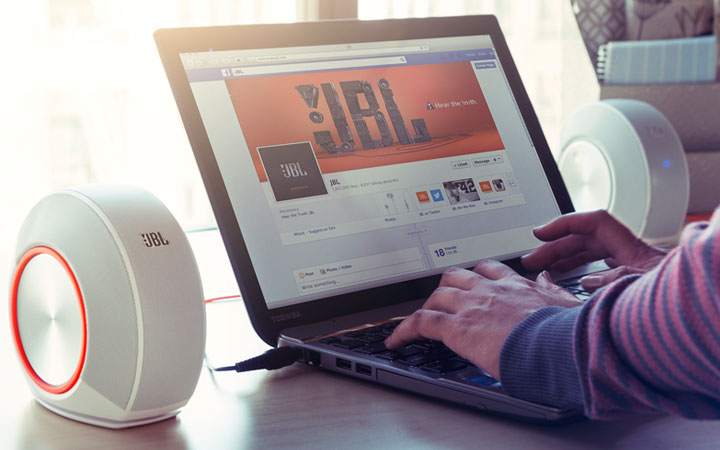 Like many USB-powered speakers, all the electronics – USB DAC cable, as well as the volume knob – are located in the right speaker and the left plugs into it via a simple 3.5mm audio jack.  This means you can use either in monaural mode via either USB or analog connections and you will not need any special software to use them in either mode. As an added bonus, JBL includes a winding grove along the flat bottom of the right speaker for easy storage and transportation.

Cubik HD (2013)
---
For mobile devices, you usually have to buy a set of Bluetooth speakers.  If you are looking for HD audio solution and wireless option isn't a must, then the Cubik HD USB speakers by Palo Alto have you covered regardless of what platform you have.  A single standard Type-A USB port on the back lets you connect to either a regular PC or a mobile device, whether it be a smartphone or tablet, for bit-by-bit lossless USB audio streaming.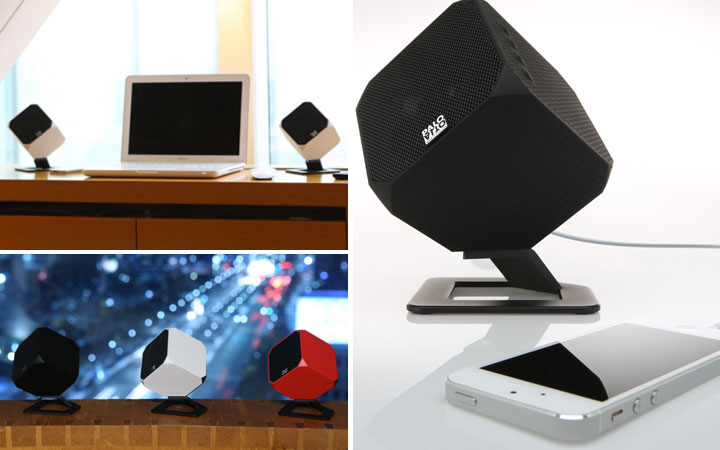 Everything works out of the box since mobile or desktop OS platform allows for universal compatibility.  The Cubik HD also sports a DAP which takes in a raw (up to) 24-bit 96kHz PCM stream and then does the necessary conversion on-board via a PULSUS PS8535-based controller.  Add in 2 high quality Denmark-designed Peerless speakers tilted so as to deliver room filling sound, and the Cubik HD might turn out to be a very promising speaker set in a downright small package.
XtremeMac Soundbar (2013)
---
10 watts may sound pretty small if you are shopping for a home stereo in the hundreds of Watts range. XtremeMac manages to pack a whopping four speakers in its Tango Bar mini sound system for some really well rounded sound (up to 10W power output). Perfectly sized to sit under an iMac display, XtremeMac is known for making Apple accessories. Fortunately, the Tango Bar is PC and Mac compatible for a change. Although, since Apple has been upping the power on their USB ports for awhile, you may get more oomph from them.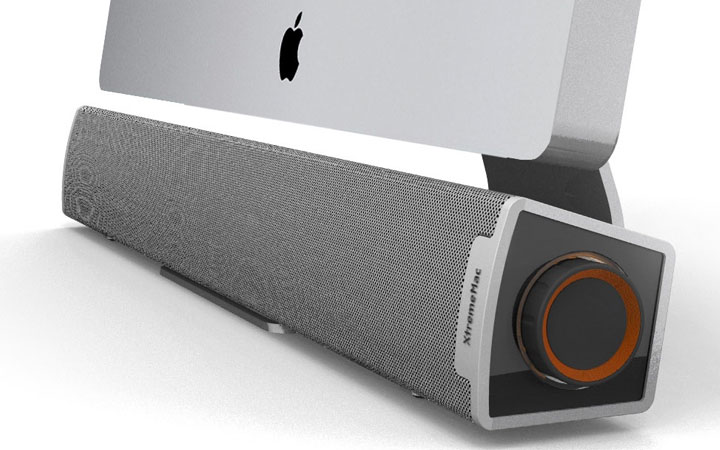 XtremeMac claims there is a total of 6 speakers on the Tango Bar but 2 of those are passive radiators, which do help add a little bass but using active woofer back-pressure to do so. Besides the power, the slick look also makes the USB soundbar a conversation piece. A single component with a single USB connection adds clean style to your setup. The sound mounted volume control glows when powered on for easy control with the lights off. It's also uniquely equipped with a subwoofer output line for connecting to some real bass power. This might take away from the portability but would enable some truly intense sound if done correctly.
Olasonic TW-S7 (2012)
---
Olasonic's TW-S7 (reviewed in 2012) is a pair of bus-powered speakers that are purported to deliver 10W+10W stereo sound over a single USB cable. Achieving 10 watts per speaker seems impossible as the USB 2.0 can only deliver up to 2.5W total, or 12% of what Olasonic claims to be able to deliver.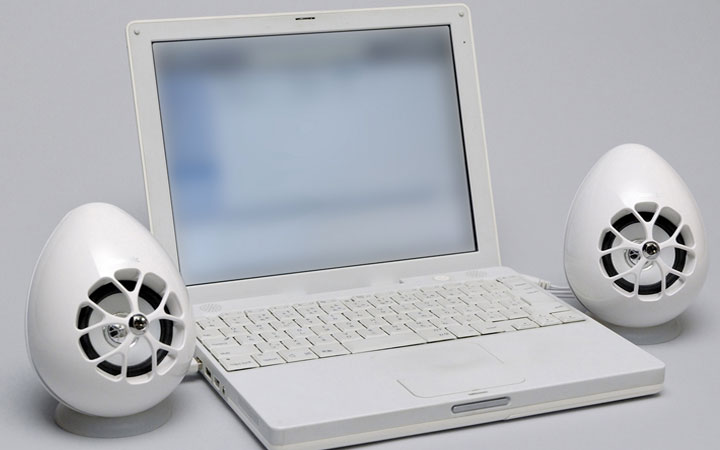 The secret to this high output lies in the fact that the TW-S7 stores unused USB power in on-board capacitors. Since maximum output is rarely ever achieved as there is a varying of sound intensity at any given sound level, there's unused power that can be repurposed.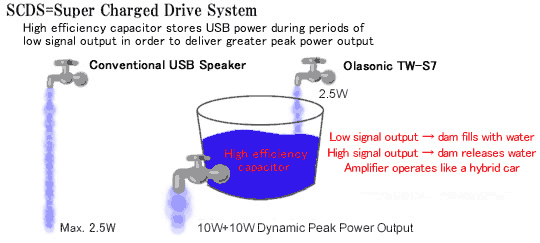 Having said that, the downside is you will not always get that 20W of power as once the capacitors are drained you will be back 2.5W. This setup is not all that unique we've seen something very similar before. What's interesting is the fact that Olasonic has opted for massive 60mm drivers. These certainly will help with not only the low end, but also allow for crystal clear sound at higher sound levels. You can still grab glossy white or black TW-S7s for around $80.

BassJump 2 Subwoofer (2012)
---
TwelveSouth has an odd accessory for folks that live off of their MacBooks, the BassJump 2.  While the beloved MacBooks in general are great for most things and those sleek aluminium slabs are jammed with great hardware, there just isn't room for powerful speakers. The sound is decent but if you really want rich sound with some oomph, you go elsewhere. TwelveSouth has engineered their USB audio solution not to replace the internal speakers but accompany them by focusing on the frequencies missing from standard speakers.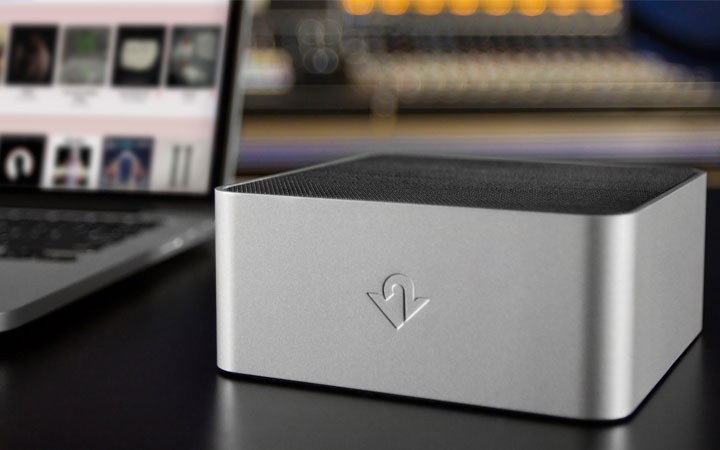 TwelveSouth's software needs be installed to conduct the 2 system symphony but otherwise it's plug and play. The software adds some nice visuals to go along with the thump with VU meters and fine tuning. When trying to guess at the amount of power possible in the shoebox-sized speaker, remember that Apple has upped the voltage on its USB ports for some time now. So, you may get quite the shock with something tuned to that specific platform.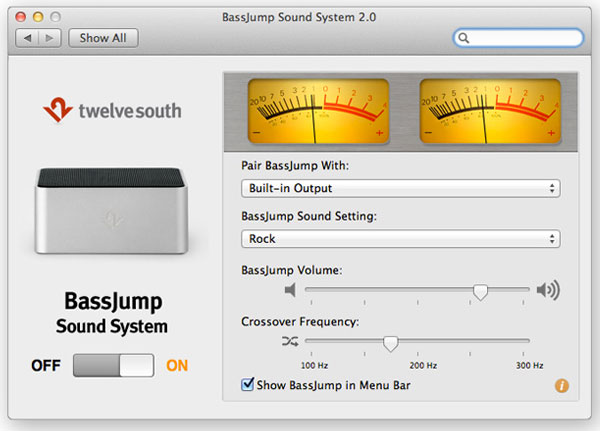 The BassJump 2 is unfortunately only made for the Macbooks (and iMac).  This is for you if you are Mac-ready and a fan of Bassnectar, dub-step or other similarly bass-heavy music.

JLab B-Flex X-Bass (2011)
---
When it comes to selecting USB speakers to replace the ones built into your laptop, there's typically a few varieties to choose from. Some are meant to be stood on a desk, some may latch onto the sides of the laptop screen, and still others will grasp the top of the screen in a one-piece soundbar configuration. No matter the design there's usually an excess of USB cable slack to contend with along with excess connecting wire if the speakers are split. JLab shuns these traditional designs with their B-Flex X-Bass (reviewed in 2011) and instead takes a more asymmetrical, cable-free approach that's sure to turn heads.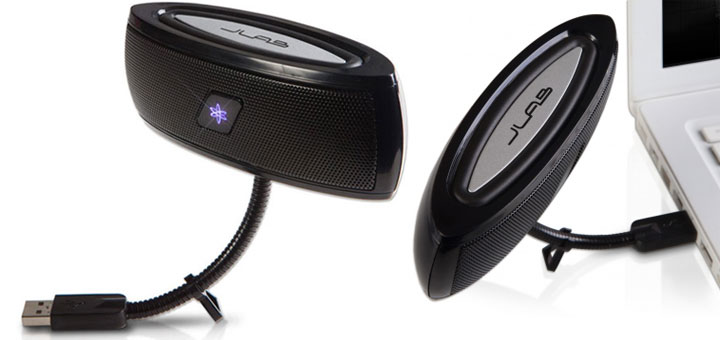 In essence, the B-Flex X-Bass takes a pair of stereo speakers rests them atop of a flexible metal USB stalk that behaves like a reading lamp. The appearance is so off-kilter that it honestly becomes a slight distraction when plugged in. For its size, the B-Flex manages to pump out a surprising amount of sound. The crisp highs and kicking lows certainly live up to the hype, though you'll want to tweak the EQ to make up for the neglected midtones. The unique design inherently works well for laptop users at the desk or on the couch. Overall, this one-piece USB speaker delivers amazingly loud and vibrant sound for its diminutive size, but suffers from a lack of mids and highly directional sound.

Altec Lansing Orbit (2011)
---
The Altec Lansing Orbit (reviewed in 2011) is designed with portability in mind while satisfying users who need stereo seperations for their audio output. Out of the box, it is much more than meets the eye, as a simple twist separates the two speakers and reveal the cabling needed for connectivity.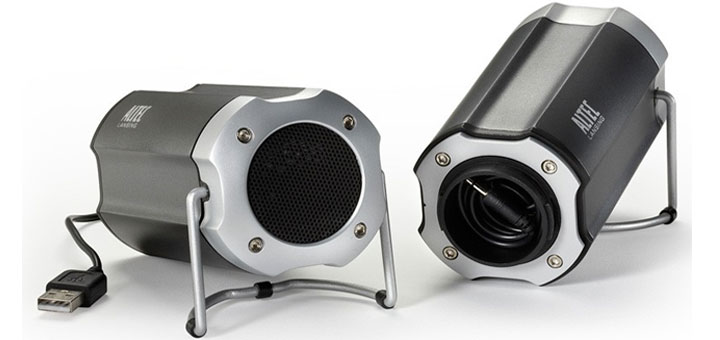 When together, it is about the size of two stacked 355 ml. pop cans stacked together. Thankfully, Altec Lansing includes metal foldable stands on each of the speaker, and have small rubber grommets to ensure stability. These speakers are by no means shy on volume either. They can easily fill a room with great sound without distorting sound, although the quality may vary as you move from the audio sweetspot.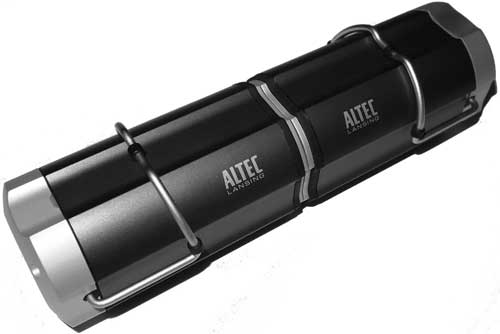 The Orbit audio output also scales volume very well, and each percentage is noticeable to allow fine tuning of the volume to suit each environment. However, when the speakers are fully deployed, it results in a messy pile of cables and packing up these speakers without retractable cables is no easy task. Altec Lansing still has a great deal to offer in terms of sound quality over the competition.
Philips Travel Speakers (2010)
---
Philips has always been a bastion of quality and durability, in spite of the fact that the Dutch technology innovator somewhat falls behind in the area of style. Every Philips product we've ever owned is still running, boring but running. These USB PC speakers are form and function that you might only expect from Apple. The speakers have a very modern look and are solely powered by USB.
They provide their own digital audio through the same cable, driverless of course, for both PC and Mac, and they are indeed a pair of really nice, modern looking speakers perfect for the dorm room or Pompidou.
Once you are done with them, they can be pressed together in an oblong egg shape about the size of a soda can. The USB cord tucks away for a perfectly portable pair of picturesque players. No cord mess, well protected and able to dole out decent volume on the go.
Bowers & Wilkins MM-1 (2009)
---
Bowers & Wilkins has managed to compresses their enormous high fidelity Zeppelin speakers for iPhone into a size that is just right to accompany a laptop. The B&W MM-1 is fueled by USB exclusively.  These speakers have B&W's signature sound processing system handling all of the audio creation from digital source. This removes the problem of low quality PC on-board sound systems tainting the music in the first place.  The MM-1's built-in amplifier takes care of everything else with up to 36W per driver.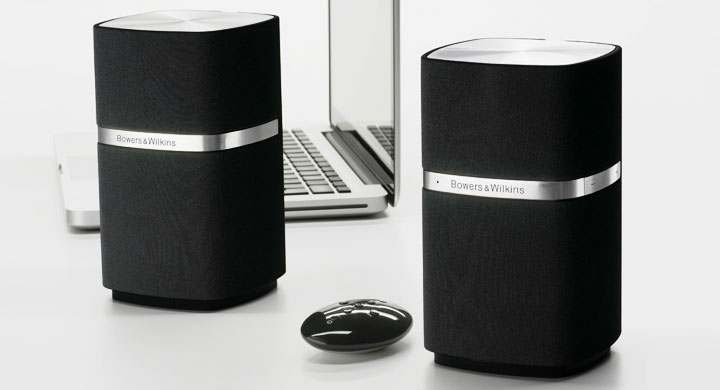 The MM-1 also sports a line-in jack for connecting directly to MP3 players and a very handy headphone jack for private listening. There's also a wireless remote which will probably only control the volume.  Due to the speakers actually being a USB audio device, the remote is capable of much more than just volume but no details have surfaced at this time.  You can still expect to empty your piggy bank to get these on their way to you but at least the shipping costs won't be as much as for the Zeppelin.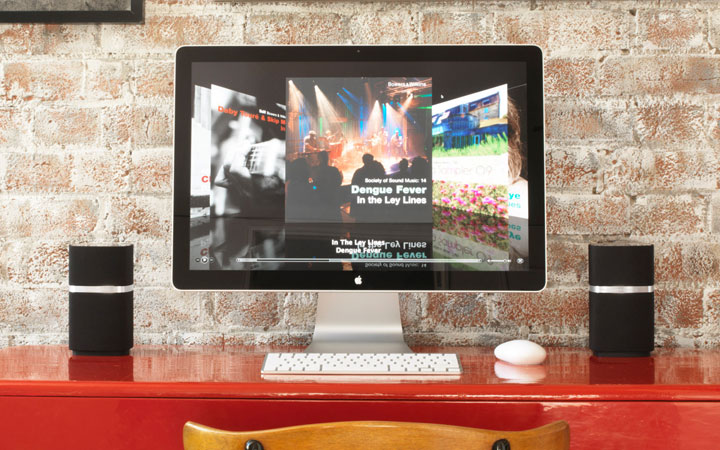 That's all for now.  Hope you enjoy finding these USB speakers suited for your needs.  If you find anything else that belongs to this list, please let us know by leaving your suggestion or comment below.

USB Duplicators By Nexcopy
Nexcopy manufactures a
variety of USB Duplicators
which are PC based or Standalone Systems.
The PC based systems use our exclusive and feature rich Drive Manager software with advanced functions. Standalone systems are ultra-fast, high speed copiers duplicating gigabytes of data quickly and accurately.