22 April 2022, Comments: Comments Off on USB Speakers Worthy of Our Choice
April 2022 Ian Chiu
The vast majority of laptops, save for rare breeds like the MacBook Pro, come with mediocre built-in speakers at best.  If you need an upgrade that blasts out room-filling audio and that produces a fuller, richer range of sound, here's a list of PC USB speakers that deliver just that and more.
In our April 2022 update, we have added Panasonic USB Neckband Speaker and the second generation of Razer Leviathan soundbar to the list.
Creative Pebble V3 USB-C Speakers
---
The Creative Pebble, now in its third iteration, has evolved into a true USB-C speaker set.  Not only are the speakers powered entirely by USB, but they also receive digital audio from the same port.  The latest Pebble benefits from having a pair of 2.25-inch drivers, delivering a peak output of 16W. The addition of Bluetooth 5 in this version makes the Pebble more versatile.  Granted, single-piece Bluetooth speakers are like a dime a dozen these days but the Pebble's traditional two-channel setup allows for better stereo separation.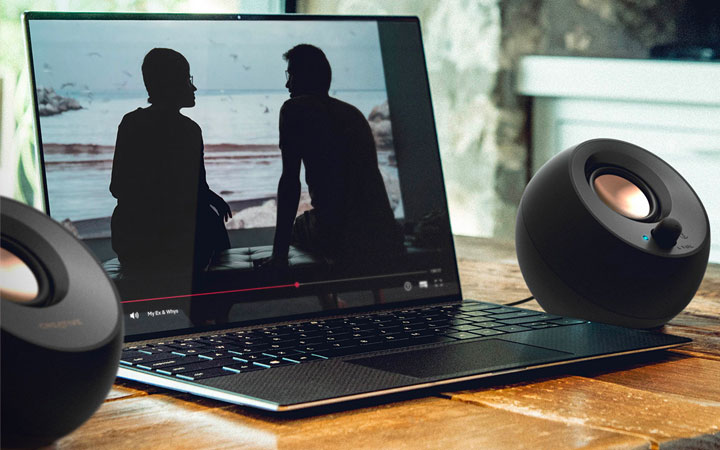 In terms of design, the Pebble retains its minimalist eggshell-like finish with drivers pointing at a 45-degree angle so audio is directed more towards the listeners' ears.  Each speaker is measured at 4.8 by 4.7 by 4.6 inches.  You will find the volume knob and Bluetooth pairing button as well as a gain switch (to activate amplified audio) on the right speaker.  The high gain mode only works when you pair the Pebble with a 10W USB port.  If you are in the market for a sub-$50 speaker set, be sure to check this one out.
Sale
Creative Pebble V3 USB-C / Bluetooth Speakers
POWERFUL AND AMPLIFIED USB AUDIO | With a larger custom-tuned 2.25" full-range drivers, the...
HEAR EVERY WORD WITH CLEAR DIALOG AUDIO PROCESSING | Engineered with our Clear Dialog audio...
SIMPLE, PLUG-AND-PLAY USB-C 2.0 SPEAKER | Creative Pebble V3 supports fuss-free connectivity...
Razer Leviathan V2 Soundbar
---
Razer Leviathan surround soundbar is finally getting a much-needed upgrade since its introduction in 2014.  A lot of technological advances have been made during the period.  New are the 18-zone Chroma light strip and THX's Spatial Audio, both of which are enabled through Razer's Synapse PC app.  The previous version didn't have RGB lighting to begin with and the virtual surround was powered by Dolby Virtual Speakers.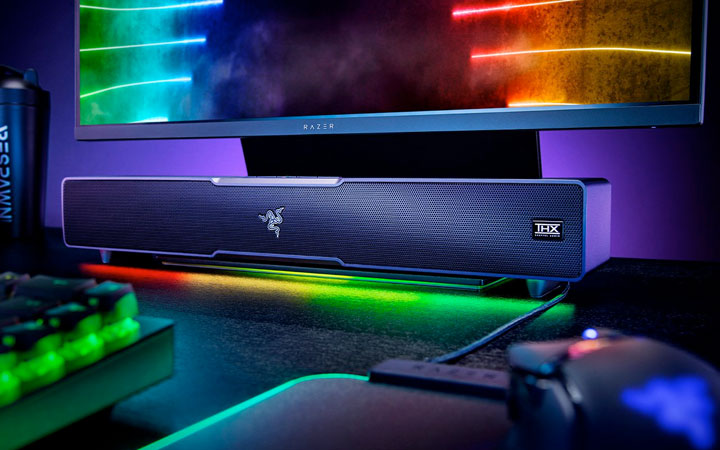 The 20-inch long soundbar itself is equipped with a pair of 2-inch full-range drivers, passive radiators, and tweeters.  Also bundled is a 5.2-inch downward-firing subwoofer that measures 9.5 by 8.7 by 8.7 inches.  With a frequency response ranging from 45Hz to 20kHz, the bass delivered on the Leviathan is massively improved and should be noticeably tighter than the last generation's 180Hz.  Additionally, Razer supplies removable feet that can be switched out for ones that are angled to aim towards the listening position.
In terms of connectivity, Razer has dropped 3.5mm and optical in favor of USB-C. The decision to remove these two tried-and-true ports is a controversial one.  This means the Leviathan is now strictly a Windows gaming soundbar that sits under a PC monitor as living room TVs don't usually work with USB audio devices.  For convenience, there's Bluetooth 5.2 (SBC & AAC), as opposed to 4.0 (SBC, AAC & AptX) on last iteration.  There isn't, however, a built-in microphone on the unit for it to double as a speakerphone.
Razer Leviathan V2 X USB-C Powered Soundbar
PC Soundbar with Full-Range Drivers: Armed with two full-range drivers and two passive...
Compact Desktop Form Factor: The most compact soundbar in our Leviathan V2 range fits perfectly...
USB Type C Power and Audio Delivery: Powered by a single USB Type C cable to deliver dynamic...
Panasonic SoundSlayer Neckband Speaker
---
Neck-worn speakers are something that you would see in a Bluetooth package but the SoundSlayer Wearable Gaming Speaker from Panasonic comes in USB and for good reasons.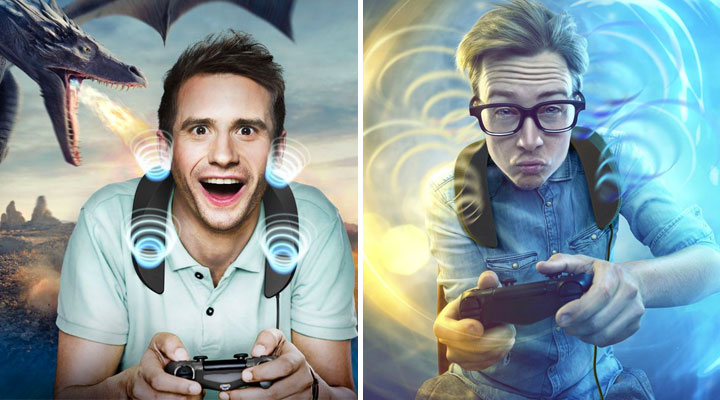 First and foremost, you get lower audio latency – something Bluetooth doesn't offer unless your PC comes with AptX LL.  Powering via USB also eliminates a built-in battery, hence saving some weight for the speaker.  As the 340g SoundSlayer requires USB 3.0, the extra power (900mA) should deliver more than a little oomph for your audio – especially when the upward-facing speakers are positioned close to your ears.  There's still a 3.5mm stereo jack for compatibility with everything else.  You will, however, need the SoundSlayer to be plugged into a USB port regardless of the choice of connection, however.
As a neckband speaker is aimed squarely at gamers, the SoundSlayer provides six different gaming audio modes, including role-playing, first-person shooter, and cinema.  The first mode is designed to work seamlessly with Final Fantasy XIV as the neckband speaker is a product of the partnership between Panasonic and Square Enix's sound team.  The cinema mode should also work well with the SoundSlayer's four full-range drivers positioned around your neck.
Sale
Panasonic SoundSlayer Neckband Speaker
Upgrade Your Listening Experience with Wearable Immersive Audio: Lightweight neck speaker...
Dimensional, True-to-Life Sound: True Majestic Augmented Gaming Environment Sound System...
A Lightweight, Wearable Speaker System with Built-In High-Performance Echo Canceling...
Logitech G560 LightSync Speakers
---
Logitech returns to the gaming speaker arena with its G560 after a long hiatus.  Like its competitors, the Switzerland-based PC peripheral manufacturer is already heavily invested in RGB lighting.  It seeks to raise its game further with LightSync, which aims to transform the ambiance in your room by throwing different lighting against the wall from the LEDs behind the speakers.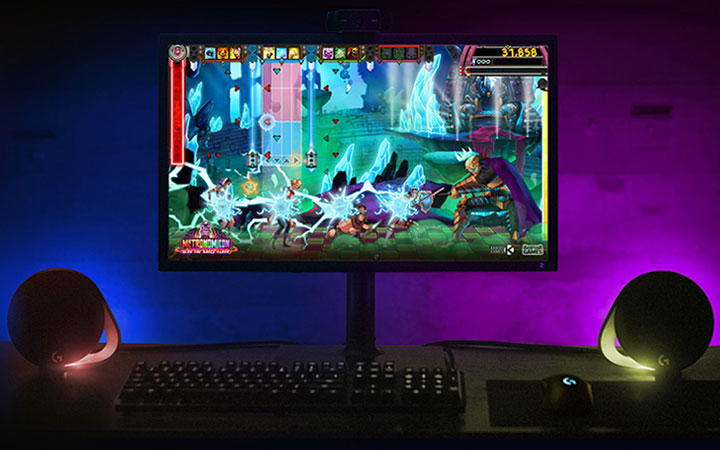 The G560's gaming software does all the heavy work of coordinating with the speakers' RGB lights to create custom lighting effects that reflect different gameplay scenarios.  If you are being chased by highway cops in GTA5, lights behind the two satellite speakers will start flashing red and blue.  Likewise, if you are getting low on health, the game developer could make the red ambient light, giving a rapid breathing effect to alert you of the current threat.
The same mechanism apparently works as well with movies as it does with games.  However, there's a slight lag for the reactive lights to respond since the software needs to process the screen refreshes before changing the colors to match.  Lastly, in the audio department, the $200 Logitech's 2.1 USB speaker set packs a downward-firing subwoofer and it is capable of delivering 120W RMS as well as simulating surround sound, courtesy of DTS.
Logitech G560 Gaming Speakers
Built-in LIGHTSYNC RGB lighting blasts game driven lighting colors and effects activated by the...
Explosive 240 Watts Peak power and unique driver design deliver a huge soundscape for a...
Integrated DTS:X Ultra surround sound renders 3D positional audio so you hear your gaming...
Razer Nommo Chroma Speakers
---
It's been ages since Razer released gaming speakers as the company has kept busy with everything from its first smartphone to powerhouse laptops to a variety of peripherals.  The $149 Nommo Chroma marks Razer's return to the desktop PC speaker market.  Made for gamers in mind, its RGB LED strip around its base can put on a light show and the bundled Synapse software can also synchronize lighting effects between compatible devices.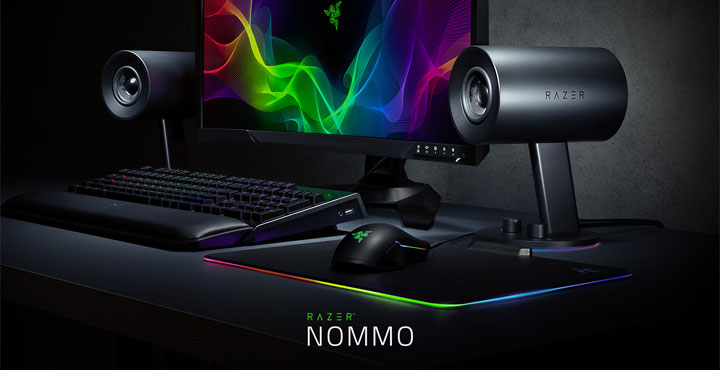 The core of the Nommo is powered by a 3-inch custom woven glass fiber driver in addition to rear-facing bass port in each of the two cannon-shaped speakers.  Interestingly, the streamlined design shares its aesthetic with Dyson's iconic Supersonic hairdryer.  Inside the Razer is a USB DAC but it's not rated for high-resolution audio playback.  But you will need to connect to USB as Synapse controls the lighting and allows you to toggle between sound modes (i.e. games, music, movies) to adjust EQ accordingly.
One of the circular base plates for the speakers has two knobs – one for volume and the other for bass adjustment.  Razer's Nommo Chroma lacks surround sound simulation which would otherwise add entertainment value to gameplay.  For that, you have to opt for Nommo's $499 Dolby-certified brethren which also comes with THX certification; a downward-firing subwoofer; silk dome tweeters; a discrete control pod; Bluetooth connection; and a hefty price tag.
Razer Nommo Chroma Gaming Speakers
Full Range 2.0 Gaming Speakers: Optimized drivers built for full range sound and extreme...
Custom 3" Woven Glass Fiber Drivers: Producting a tighter sound with higher frequencies,...
Rear-Facing Bass Ports: Deliver increased bass output for a fuller, richer range of audio
Creative Sound BlasterX Kratos S5 Speakers
---
Creative's well-known Sound Blaster brand still carries significant weight with many old-school gamers.  With its return to the gaming speaker market, Creative makes sure that its latest Sound BlasterX Kratos 5 adopts up-to-date technologies.  The 2.1 speaker set with onboard 24-bit / 96kHz USB DAC is the first from the company to equip with Aurora Reactive which is essentially Creative's solution to delivering ambient lighting that enhances immersion during gameplay.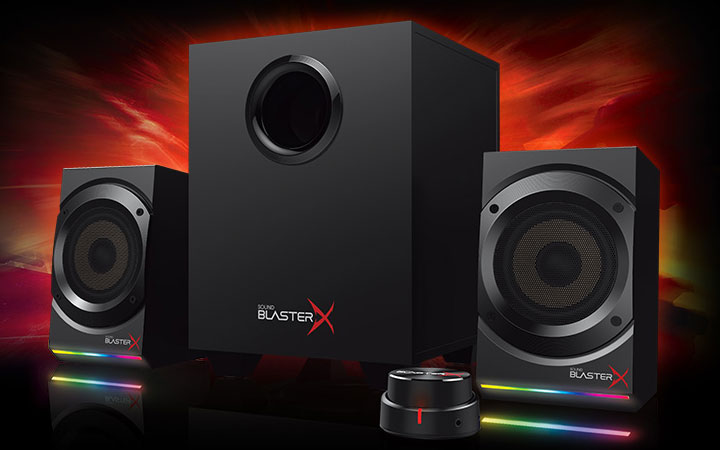 The LED lighting system is customizable with 16 million colors but you can also choose from 6 color presets.  Accompanied by Windows-only BlasterX Acoustic Engine Pro software, other Creative's RGB-enabled peripherals will work alongside the Kratos S5.  The same software also handles 7.1 virtual surround sound.  As a 2.1 unit, the Karatos S5 comes with 4″ satellite drivers and a 6.5″ down-firing subwoofer driver in enclosures made entirely out of wood for better resonance damping as well as optimized delivery of a warm and natural sound.  Last but not least is an audio control pod that provides convenient access to your choice of microphone and headset.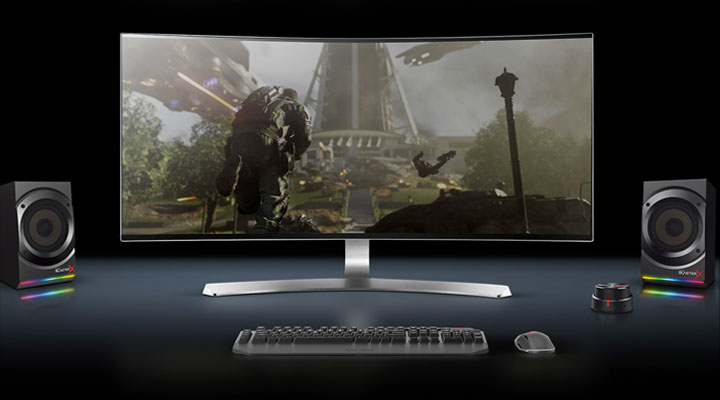 Creative Kratos S5 Gaming Speakers
Extend Your Entertainment Options - Use the dual RCA-to-stereo adapter and connect the speakers...
Audio Controls at Your Finger Tips - Control volume conveniently through the easy-to-access...
Experience enhanced levels of audio realism with immersive virtual 7.1 surround sound, clearer...
That's all for now.  Hope you enjoy finding these USB speakers suited for your needs.  If you find anything else that belongs to this list, please let us know by leaving your suggestion or comment below.

USB Duplicators By Nexcopy
Nexcopy manufactures a variety of PC-based and standalone
USB duplicator
solutions.
PC based systems support advanced USB functions such as write protection, CD-ROM partition and multi-partition creation, while standalone systems are ultra-fast, high speed USB copiers duplicating gigabytes of data quickly and accurately.